Whether you secure your Android phone with a fingerprint, face recognition or a passcode, sometimes it becomes difficult to unlock the phone too often. If you are annoyed by typing a passcode every time you want to unlock your phone, here is a trick that lets you keep your phone unlocked only when it is with you and lock itself when others try to open apps.
Let's get started.
Use Android Smart Lock to Automatically Unlock Your Phone
Android Smart Lock keeps your phone unlocked when certain conditions are met, so you can simply get into it with a swipe. Currently, it allows you to keep your phone unlocked while you're walking, at certain places, and when certain Bluetooth devices are connected to the phone.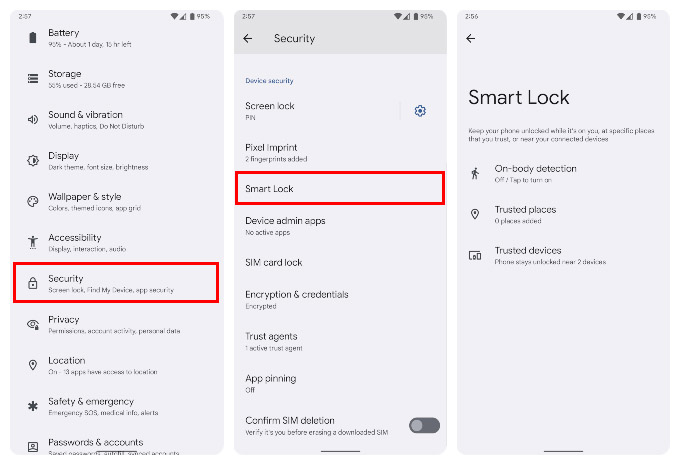 Open the Android Settings app from the quick settings page or the app drawer.
Scroll down and tap on Security.
Select Smart Lock on the next page.
Select any of the options from On-body detection, Trusted places, and/or Trusted devices.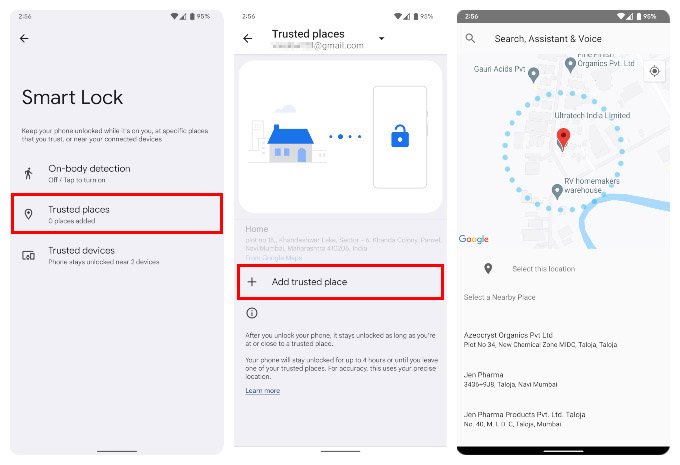 For On-body detection, you simply have to turn on a toggle. If you select Trusted places, you can then select Add trusted place. You will be taken to a map of your current location, where you can select a location.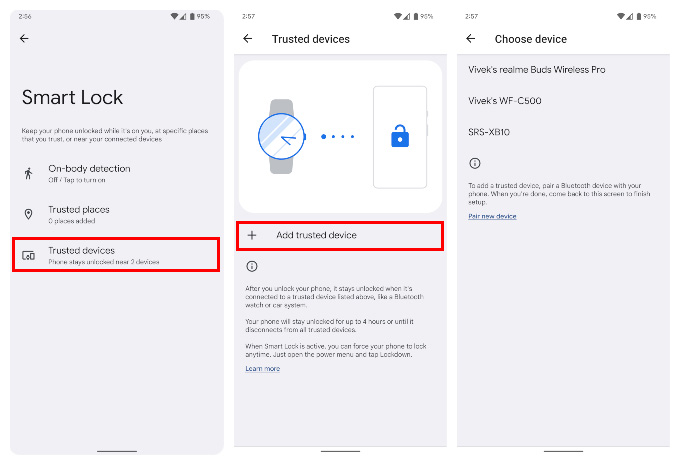 Related: How to Remotely Unlock Windows PC Using Android Fingerprint Scanner
Similarly, if you select Trusted devices, you can select Add trusted device. Select any device from the list of devices shown. You can select multiple devices, but you'll have to do that one by one. Keep in mind, that only Bluetooth devices that have previously been connected are shown.
If you don't see your device, you may have to go to the Bluetooth settings and connect the device to your Android phone first. It should also be noted that Smart Lock does not automatically unlock your device in any situation. You have to manually unlock your device the first time. If any of the conditions are met, Smart Lock will then only keep your device unlocked.
Android Smart Lock is an old feature, but it has undergone many changes. It is likely to gain or lose more features over the coming years as well.
Related: How to Secure Google Drive App with Fingerprint Lock on Android
FAQ: How to Automatically Unlock Your Phone with Android Smart Lock
What is smart unlock?
Android Smart Lock is a security feature on Android smartphones introduced with Android 5.0 Lollipop. It allows your phone to stay unlocked in certain situations. You can keep your phone unlocked while you're moving, or when you are at certain places, or when you have certain Bluetooth devices connected to your phone.
How do I turn off Smart Lock on Android?

Smart Lock used to have an easy toggle to turn it off, but that has now been removed on newer versions of Android. The only way to turn off smart lock on Android is to remove all trusted devices, trusted places and turn off On-body detection. You can do this in Settings > Security > Smart Lock.
Is Smart Lock Safe Android?
Android Smart Lock is a security feature, but as every security feature, it can be exploited if the user is not careful. For example, if you add a trusted place where your phone remains unlocked, someone else can use your phone too. Similarly, if you add a trusted device, your phone will stay unlocked while the device is connected, regardless of who is using the phone.

On-body detection, too, is not able to detect if it's indeed you who is walking with the phone. That said, Smart Lock does not automatically unlock your device. It only keeps it unlocked, once you unlock it yourself. There are definitely pros and cons.