The wireless connection of your Android Phone or Tablet will be automatically connecting to the Wireless Access Point or Router in normal circumstances. In such cases, the IP settings will be assigned by the Router during the setup phase of your wireless connection. The IP addresses will be different each time you are connecting to the wireless network.
In some cases, you may want to change the default IP settings to connect with a static IP setting or you want to see the IP Address details that are currently connected. We can see the IP settings of Android Phone or Tablet very easily and change them Manually if necessary by the following procedure.
Open Settings from your Android Phone or Tablet. Go to wireless settings. Now you can see the connected Access Points there. We can open settings by long press on the corresponding connection. It will show "Forget Network" and "Modify Network Config". Here, select "Modify network Config" to start with.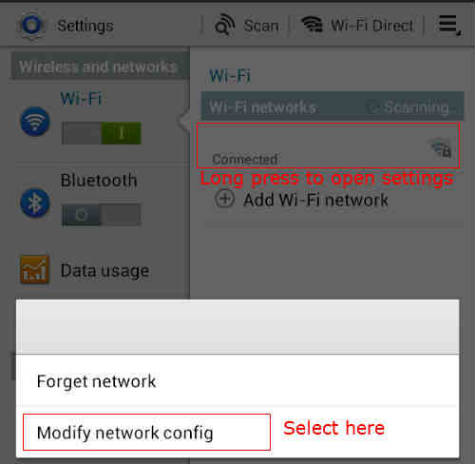 In the options, you can see the "Advanced options" along with your usual "Password" field. Selecting "Advanced options" will reveal further options for "Proxy settings" and "IP Settings". You can also configure the proxy server settings from here. For IP configuration, we will select "IP Settings" here.
In the IP Settings options, you can see the options for "DHCP" and "Static" options. DHCP options will be the default one which will automatically get the IP settings from the connected Router. Here we have to select "Static" option if we want to set the IP address manually.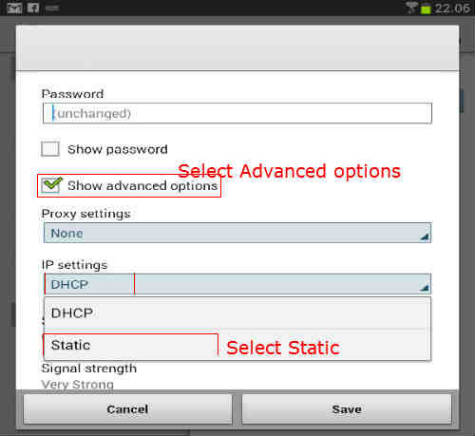 After selecting the "Static" option, the fields for entering the IP addresses will appear. Here we can enter the Manual settings like IP address, Gateway, DNS (primary & secondary) and the Subnet. Here Subnet can be entered as the "Network Prefix length". For eg: 255.255.255.0 can be entered as 24 and 255.255.0.0 can be entered as 16. After entering the details, Tap on "Save" to apply your settings.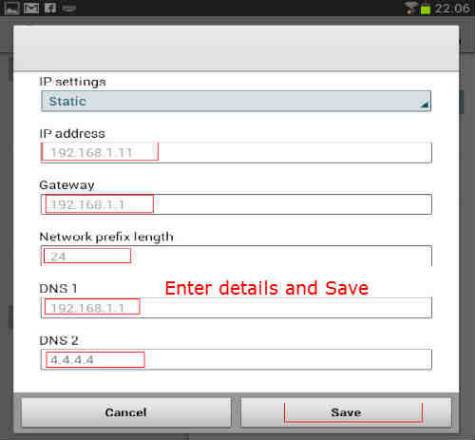 You can set the IP settings of your Android Phone or Tablet to connect with a constant IP address each time you are connecting. This can also be used to setup Advanced privileges in your Router if you are connecting the Android device with a constant IP every time.