I used to watch movies on my Netflix account while staying in hotel rooms. You may used to do the same. But sometimes, we may forget to sign out Netflix before leaving the room. The same may happen if you lose tablet or iPad that setup with Netflix. Some strangers may get access to your Netflix account and misuse them.
How do you sign out of Netflix from all devices instead of changing the password on Netflix account? Netflix made it so easy to sign out Netflix from all devices easily with few steps. You can do this on both PC or Netflix app installed on iPhone or Android.
Sign out of Netflix on Computer
Before you move to sign out from all account, you can check your recent Netflix account access with IP address. Please see the step by step instruction here to check the Netflix access.
To sign out Netflix from Mac or Windows, login to Netflix account on PC with any browser such as Safari or Firefox. Once you log in, click on your profile icon on the right top of the Netflix website.

From Netflix Account, select Manage Profiles to get My Account. On your account page, scroll down to SETTINGS.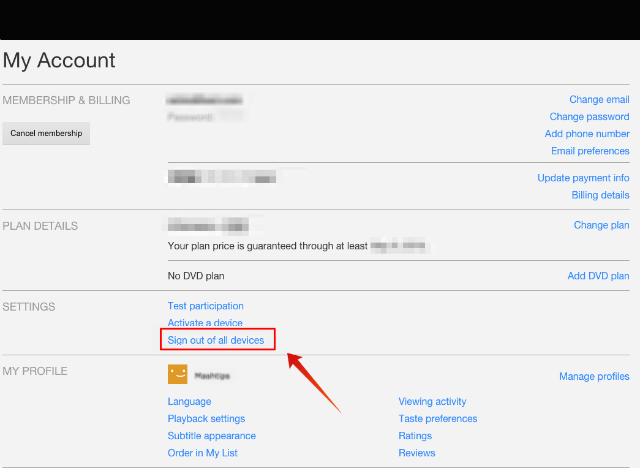 There is an option to Sign out of all devices from your Account Settings page. Click on this to Sign out of all devices that you logged in to your Netflix account.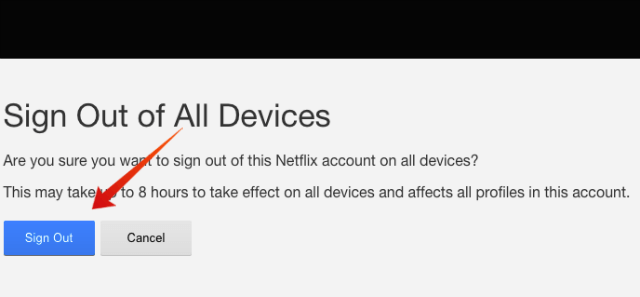 Netflix will confirm with you before you sign out Netflix account from all devices and that affect all profiles you have with that current account.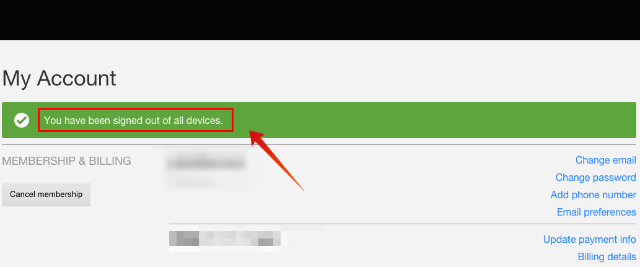 Finally, you will get a confirmation message from Netflix, You have been signed out of all devices. You are good to go at this point.
Related: How to Delete Netflix History of Shows & Movies Instead of Your Profile
Sign out of Netflix on Mobile App
The procedure is almost the same as the Netflix mobile app. You can use the Netflix mobile app on Android or iPhone to sign out of Netflix from all devices. Open the Netflix app from iPhone or Android device. We used the iPhone screenshot in this article, and the same can do on Android device too.
Related: How to Set Netflix Parental Controls on Kids Profile?
Open the Netflix app, make sure you log in to Netflix account with the same you want to sign out on all devices. Tap on the hamburger menu on the left top of the Netflix app. Tap on Account from the pull-down menu of Netflix. Now, Scroll down to SETTING and Sign out of all devices.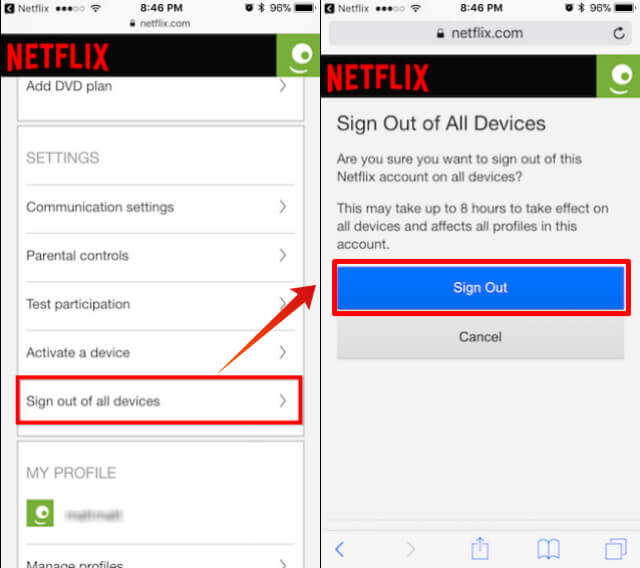 Netflix will bring up the confirmation screen to Sign Out of All Devices. Netflix is advising that it will take around 8 hours to take effect on all devices to sign out and of course, this will sign out all profiles, created under that account. Please tap on Sign Out to confirm the signout process and you are good to go.
This will take care if you forgot to sign out from any devices or somebody is using your Netflix account without your authorization. However, this will not make you safe if somebody stole your account details. It is better to change to a strong password if your Netflix credentials have been compromised already.