Google Home can work as a Bluetooth speaker to play local music from Windows and Mac. Google Home is built with high excursion speakers for crystal clear sound and passive radiators to deliver Hi-Fi sound. Well, you can play songs from Google Play Music, Spotify, or Pandora with voice commands on Google Home. But, what you do to play local songs on Google Home? You may have tons of MP3 songs and other music files on your local PC or external hard drive.
Google Play App support to play local music files, but there is a limit of 50K songs that you can upload. And the bad thing about Google Play Music is, you will lose access to this uploaded music goes away once you stop the subscription.
We are here to help you to convert Google Home to a Bluetooth speaker and enjoy crystal clear music from Google Home Speakers. This solution will explain how to play local music files and MP3 songs on Google Home device without using any paid apps.
Download Chrome Browser on Mac or Windows
Google Chrome is a free browser, and if you don't have this browser, you can download Windows or Mac from this Chrome Download link. The Chromecast plugin is coming as inbuilt with the Google Chrome browser. If you don't see the Chromecast icon on your browser, please go to this Google Article to add back the Chromecast button.
Related: How to Download Music with Windows 10 for Offline Access
Play Local Music on Google Chrome Browser
Now open Google Chrome browser. Google Chrome browser support to play most of the music formats without any additional apps, such as MP3, AAC, WMA, FLAC, etc.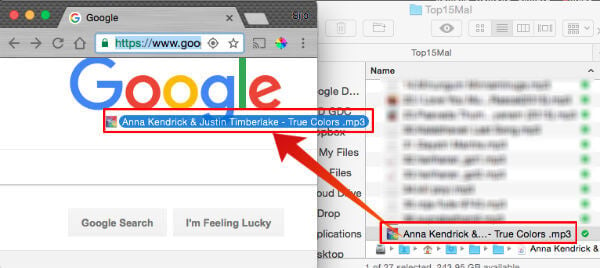 We demonstrated this with an MP3 file format. To play the music on Google Chrome browser, just drag and drop the music file from the folder to Google Chrome browser.
Related: How to Add Multiple User Accounts on Google Home.
Select Google Home Device to Stream Music
Please see the URL in the Google Chrome browser automatically pointing to your local file dropped in. This local file is ready to play on your Chrome browser. Click on the Chromecast button and select the Google Home device before you start to play the song on the browser. Your computer and Google Home should be on the same network to stream the music from PC to Google Home.

Now you see the available devices on the list to cast music. And here you can see TV is my Chromecast device, and Living Room Home is the Google Chromecast. Now click on Google Hoem Device to stream music.

Now Google Home is ready to play the music from Chrome browser. Just click on play button to stream the music on Google Home.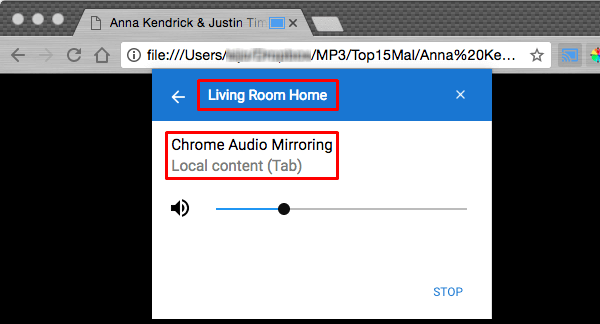 If you click on the Chromecast button on the Chrome browser, you can see Chrome Audio Mirroring to Google Home (Living Room Home). As usual, with voice commands "OK Google, Set Volume 7" you can change volume and also try other voice commands. The music will keep playing from Chrome to Google Home as long as you maintain the browser open.
Related: How to Retrain Google Home to Recognize your Voice again?
This is a simple and easy workaround to play music on Google Play. Google Chrome supports most of the music file format and powerful enough to play most of your local music files on Google Home.