Finally, It is time to make a decision. All the rumors and speculations set aside, Sony and Microsoft announced their next-generation consoles, PlayStation 5, Xbox Series S, and Xbox Series X. Guess what, most of the rumors and speculations were true, which makes it even more confusing on which console to buy. Let's deep dive into the information we have and find out what we require.
Here, we will discuss about the PlayStation 5, Xbox Series S, and Xbox Series X and help you choose the right one.
Content
What's New
PS5 is a huge improvement over PS4 and PS4 Pro in all aspects. Sony has managed to implement faster and more powerful CPU as well as GPU into the new PlayStation 5. It comes with the fastest SSD in the market. All-new Ray Tracing , DLSS, the new DualSense controller and 4K 60 FPS gaming takes PS5 to a whole another level.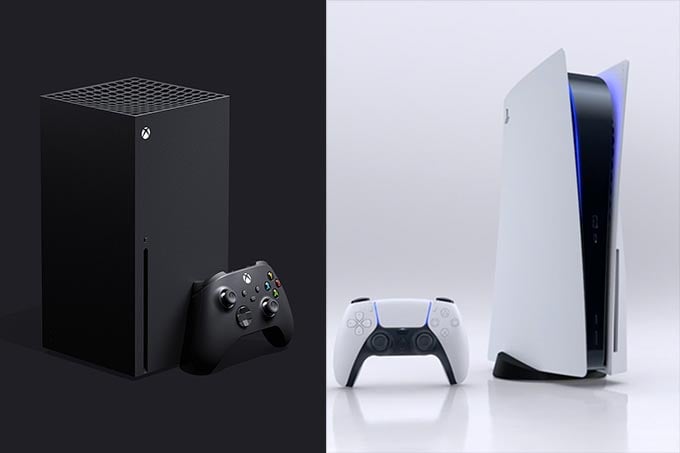 Xbox compared to previous generation has managed to become the most powerful console. It comes with the new velocity architecture and top of the line hardware. While the PlayStation 5 is Sony's first digital version, the Xbox Series S from Microsoft is the second most all-digital console.
There is a big jump in performance for both the Xbox Series X and Series S. But, when it comes to the resolution, only the Xbox Series X manages to outrank the older consoles from Microsoft. Anyways, the lower-prices Series S gets the same display output capability of Xbox One X, that is 1440p (but no 4K support).
We can see a massive upgrade in PS5's controller, both in aspects of design and functionality. Xbox, on the other hand, adds an extra share button and a little touchup to the D-Pad as well.
Hardware and Specifications
Sony and Xbox have been able to come up with the next-gen top of the line specifications with the latest technologies like DLSS(Deep Learning Super Sampling) Ray tracing and many more. Here is a complete specification comparison between PlayStation 5, Xbox Series X, and Xbox Series S.
| | PlayStation 5 | Xbox Series X | Xbox Series S |
| --- | --- | --- | --- |
| CPU | 8-Cores, 3.5GHz Variable Frequency Zen 2 CPU | 8-Cores, 3.8 GHz Custom Zen 2 CPU | 8-Cores, 3.6 GHz Custom Zen 2 CPU |
| GPU | 10.28 TFLOPS, 36 CUs @2.23 GHz Custom RDNA 2 GPU | 12 TFLOPS, 52 CUs @1.825 GHz Custom RDNA 2 GPU | 4 TFLOPS, 20 CUs @1.565 GHz Custom RDNA 2 GPU |
| Memory | 16GB GDDR6 | 16GB GDDR6 | 10GB GDDR6 |
| Storage | 825GB SSD | 1TB Custom NVME SSD | 512GB Custom NVME SSD |
| Storage Expansion | N/A | 1TB Seagate Expansion Card, USB 3.1 Ext. HDD | 1TB Seagate Expansion Card, USB 3.1 Ext. HDD |
| Optical Drive | 4K Ultra HD, Blu-Ray Drive | 4K Ultra HD, Blu-Ray Drive | No |
| Resolution | 8K TV, 4K 120Hz | 8K HDR, True 4K, 120 FPS | 1440p, 120 FPS |
| Sound | "Tempest" 3D AudioTech | Dolby Digital 5.1 | Dolby Digital 5.1 |
| Ports | 1x HDMI, 3x USB 3.1, 1x USB C | 1x HDMI, 3x USB 3.1 | 1x HDMI, 3x USB 3.1 |
Controllers
New generation Xbox consoles support all the previous generation accessories. The new Xbox controller has a few features extra added. This includes a new and improved D-Pad that offers more mobility, new texture in triggers, bumpers, and grips. The new controller also comes with a dedicated share button.
The controller, at a glance, looks same as the previous generation Xbox One controllers. You can now easily switch between your consoles, PC and mobile once paired.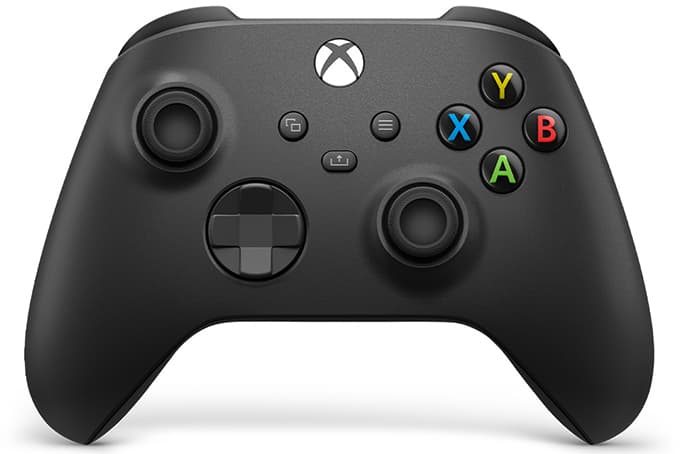 Sony on the other hand has a new dual sense controller that replaces the previous dual shock controller. The new controller has enhanced haptic feedback and adaptive triggers. It also comes with a built-in microphone array. You also get a USB C port for faster charging.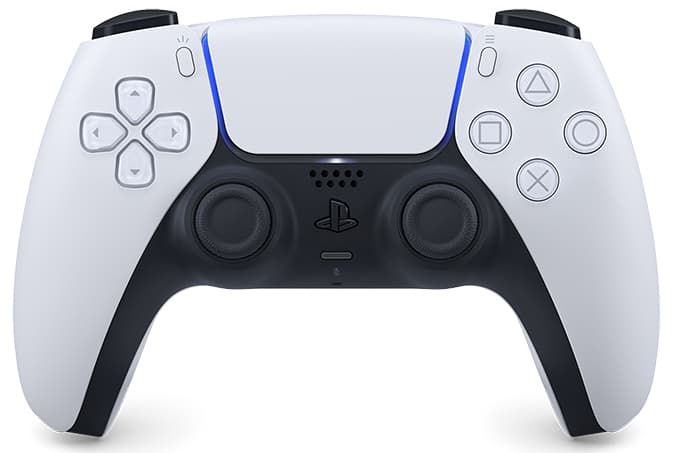 The all-new DualSense wireless controller from Sony sports many new features. It includes haptic feedback, a builtin microphone, headphone jack, and a share button to create and share gameplay, etc. The motion sensor now has an unmatched 8-direction control.
CPU
PS5 and Xbox series X both come with custom 8-core 16-thread AMD ZEN 2 CPU. The PS5 is clocked up to a variable frequency of 3.5 GHz. The Xbox series X is clocked up to a variable frequency of 3.8 GHz. In Xbox, the core performance varies from 3.80Ghz with SMT OFF(simultaneous multithreading) and 3.6 GHz with SMT ON.
While the PS5 digital edition is as powerful as PS5, the Microsoft's digital edition Xbox Series S is slightly less powerful than the Xbox series X. Xbox Series S comes with the same processor as Xbox series X but is clocked down to a lesser 3.6 GHz clock speed which further decreases to 3.4 GHz with SMT on.
GPU
Xbox series X and PS5 have an RDNA 2 GPU. PS5 offers 36 computing units that work at a variable frequency of up to 2.23 GHz producing a total power of 10.28 TeraFlops. Xbox Series X, on the other hand, has 52 computing units that work at a variable frequency of up to 1.825 GHz. This can produce a massive 12.15 TeraFlops of power which makes it more powerful than a PS5.
Xbox Series S has an RDNA 2 GPU with 20 computing units with a clock speed of 1.565 GHz, producing 4 TeraFlops of power which makes it optimum for 1440p gaming.
Memory
PS5 and Xbox series X offers 16GB of GDDR6 RAM. PS5 has a unified RAM pool that runs at a speed of 448 GB/s.
In the Xbox series X, it has 10 GB of RAM running at 560 GB/s and 6 GB of RAM Running at 336 GB/s. Xbox series S has a 10 GB of GDDR6 RAM in which 8 GB runs at a speed of 224 GB/s and 2 GB at 56 GB/s.
Storage
Storage is one of the most important things in a console. Sony manages to develop an ultrafast 825 GB SSD which offers an uncompressed bandwidth of 5.5 GB/s and a compressed bandwidth of 9 GB/s. They claim this as the fastest SSD on the market available right now.
Xbox is Nowhere behind, they provide an NVME 1TB custom SSD which offers an uncompressed speed of 2.54 GB/s and a compressed speed of 4.8 GB/s. Both of them also include the feature of the expansion of storage. Xbox supports a Seagate 1TB SSD expansion.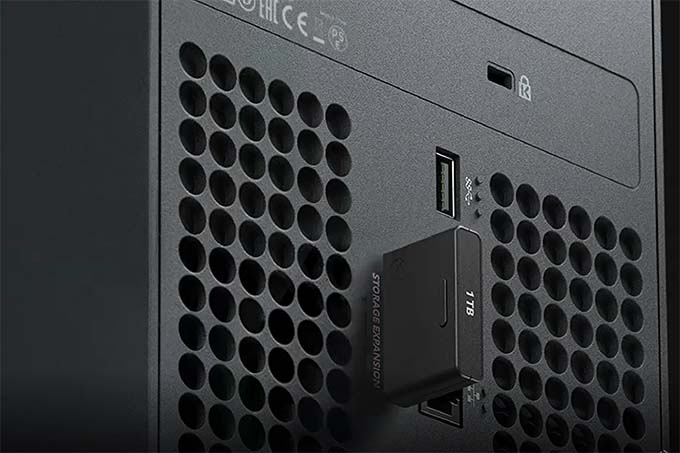 Xbox Series S will have a 512 GB custom NVME SSD, The storage details of PS5 digital is not yet published. Both the PS5 digital edition and Xbox series S do not possess a disc drive.
Audio
Xbox and PS5 come with impressive audio technologies. Xbox comes with 3D Spatial Dolby Digital 5.1 Atmos sound and the PS5 uses the new tempest 3D audio technology. Both of these consoles provide stunning surround audio with maximum quality which provides us an immersive gaming experience.
You can connect any 5.1 Dolby Digital surrounding home theatre with your PlayStation 5 and Xbox Series X & S to get the best out of these. Luckily, all the higher and lower priced variants of the gaming consoles come with the same audio technology.
Performance and Graphics
PS5 and Xbox series X offers very similar hardware which makes it somewhat clear that they will have similar performance.
PS5 and Xbox use newer hardware-accelerated ray-tracing technology along with DLSS which takes the new generation games to the next level.
Both the consoles aim for a frame rate of 120 FPS and can provide resolution up to 8K. Mostly these consoles will be targeting for an optimum 4K 60fps gameplay thereby standardizing 4K.
The PS5 and PS5 digital edition will have the same performance, despite of the price difference.
The Xbox series S will target the sweet spot of 1440p gaming as it is a lower-powered console. The implementation of SSD in the consoles has greatly reduced the loading time of games. So that means we don't have to wait for our favorite games to launch.
Xbox comes with the New velocity architecture designed by combining their custom SSD, direct storage API, hardware-accelerated decompression, and sample feedback streaming. This makes it easier and faster for gaming and streaming at the same time.
The new velocity architecture also induces slower load times of games with larger and much dynamic worlds. This also helps in easier switching between games and facilitate instant play.
Launch Titles and Backward Compatibility
Sony always manages to make some awesome exclusives for their consoles. This time is no different. The PS5 exclusive launch titles include the below-given games and many more.
God of war Ragnarok
Marvel Spiderman miles morales
Horizon forbidden West
Ratchet and Clank: Rift Apart
Gran Turismo 7
Returnal
Sackboy: a big adventure
Demon souls remastered
Destruction all-stars
Resident evil village
Project Athia
God fall
Sony provides backward compatibility with older PlayStations on a large number of games. They also facilitate crossplay where PS4 and PS5 players can play together. The console owners can go for the PS+ subscription which will give access to all the games available. Sony has announced that their next-gen games will cost on an average of 70$.
Xbox also has its share of launch titles. Even though Halo infinite was initially announced to be coming along with Xbox it has been delayed to 2021. The main launch titles of Xbox are as follows:
Assassin's creed Valhalla
The Ascent
Medium
NBA 2K21
Watchdogs legion
Xbox offers huge backward compatibility supporting games from Xbox One, Xbox 360, and Original Xbox games. They also provide upscaling of older games and even enabling of HDR into older games that do not have HDR.
The subscription of Xbox Game Pass will give the player access to all the available Xbox games, Xbox all pass will also help you to own a new generation Xbox console. keep reading to know how it can be done. And the good news is that since Microsoft has just acquired Bethesda, one of the largest console game publisher, Xbox gamers can expect loads more of game titles than PlayStation soon.
Accessories
Sony, to pair with PlayStation, offers the Pulse 3D gaming headsets come with a fine-tuned 3D audio system and dual noise-canceling microphones. The dual-lens 1080p camera can capture your best gaming moments and record live streaming. The media remote used for navigation and the dual sense charging station is also good additions.
With Xbox Series X and S, Microsoft does not offer many additional accessories this time. In fact, they are compatible with all the Xbox One accessories with a much better response time.
Release Dates and Pricing
The PS5 is launching as 2 different variants, normal PS5 and PS5 digital. The PS5 will be released on November 12th in the US, Japan, Canada, Mexico, Australia, New Zealand, and South Korea. PS5 will be launched to the rest of the world on November 19th.
The pricing of the PlayStation 5 will be as follows:
PlayStation 5: $499
PlayStation 5 Digital Edition: $399
Xbox has two different variants of Xbox series X and Xbox series S which are going to be launched on November 10th. They can be preordered from September 22.
The pricing of Xbox will be as follows:
Xbox Series X: $499
Xbox Series S: $299
With Xbox, you also get a feature of purchasing consoles by paying a small amount monthly. Microsoft is offering Xbox All Access across a few countries in which Xbox can be purchased along with Xbox all access.
The all-digital Xbox Series S can be purchased by paying $24.99 per month for 24 months. Xbox series X can be purchased by paying $34.99 per month for 24 months. These two plans include access to games that are present in the Xbox library.
As of now, Sony does not provide any similar payment methods for buying PlayStation 5.
Verdict: PS5 or Xbox?
If you have been paying attention to the above pieces of information you might have an idea of what to buy. Are you not still clear? Let us help you.
Looking for the most powerful console out there? You can either go for the Xbox Series X or a PlayStation 5.
If you are not willing to pay too much amount for each new-gen game but want to play 4K 60 FPS games, Xbox Series X along with the game pass suits great for you.
In case you wish to try the exclusives that are offered by Sony and an immersive 4K 60 FPS gameplay, you should go for a PS5. But, remember, you will have to pay more for each game title, compared to Xbox. If you move with the PS5 digital edition, you can save $100 more.
Now, if you are a budget gamer who wishes to spend time in casual gaming you can go for the budget-friendly Xbox series S which is a great value for money. It offers you a decent 1440P gaming.
When it comes to Xbox, whether you are buying Xbox Series X or Series S, the Xbox monthly pass can help you buy the desired console for your gaming needs. All you just need to do is to pay a fixed amount every month.
Guess this guide has helped you choose the right console for your high-end gaming needs. Whichever console you play, gaming is gaming, and it gives a lot of fun. Happy gaming!!