If you use your iPhone's camera often, there will be some favorite filters or camera settings you always want to use. We do change these settings just before taking the photo or video on iPhone, however, these settings will disappear once you close the Camera app. If you want to save iPhone camera settings permanently in the way that you want, we have a guide to help you with that.
Let us get into knowing how to save your iPhone camera settings and open the camera app with the last saved settings.
Save the Last iPhone Camera Settings
Suppose you put a specific filter, say Vivid, for every photo you take. Can't blame you, the filter pops out colors in the photo to make it look way better. But the next time you open the Camera app, the filter would be gone, so you have to apply the filter again. The same goes for the live photo, flash, portrait mode and all.
Related: These Hidden Features in iPhone Photos App will Make Your Life Easier
See, we all hate to do the same thing over and over whenever we have to take a picture. So, why don't go with the way to keep those iPhone camera settings and open the app with the same the next time you open the Camera? Well, here is how to preserve iPhone camera settings. Once done, you no longer will have to change the camera setting every time.
First, launch the Settings app on your iPhone.

Go to Camera settings.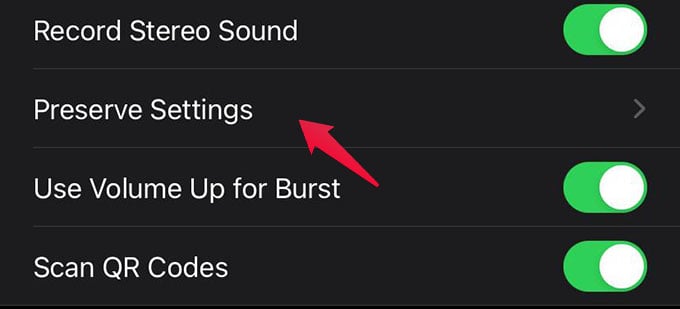 There you will see the option "Preserve Settings" option. Tap on it.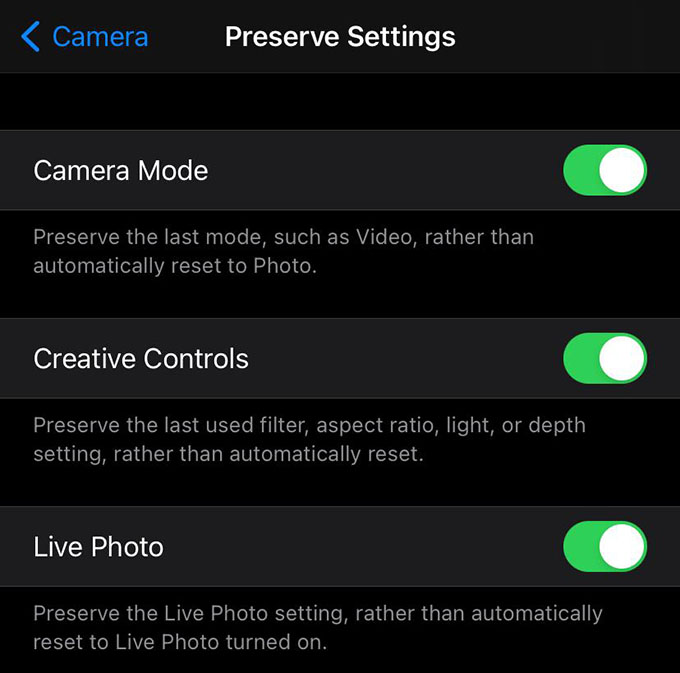 From the next screen, enable the necessary options depends on which settings you want to preserve or save on camera settings. Here is what these options will do when you enable them:
Camera Mode: The camera app will launch with the last camera mode you used. Instead of directly opening to Photo mode, it will open video/portrait/panorama/slo-mo/time-lapse mode, depends on what you used last.
Creative Controls: This saves all your last-used filter, exposure, flash, portrait depth, aspect ratio, video resolution.
Live Mode: When enabled, the Live Photo mode will be enabled forever once you turn it on until you turn it off manually. It will not reset the live photo option.
Related: How to Stop an App from Using Cellular Data on Android
Based on which type of settings you want to preserve even after you close the Camera app on iPhone, you can enable any of the above.
Once you turn on the options, the iPhone camera settings will be preserved as you like. It will not reset every time you close the camera app. Hope you got the solutions to your problems.