Smartphones are a part of our life now and most of us depending smartphones to check emails. Gmail is one of the best email services that can easily configure with iPhone email client. If you accidentally tap the delete or archive button using the iPhone Mail app, there is an easy way to recover back email those deleted emails. When you delete emails from Gmail, they are not deleted completely but your deleted emails are moving to the Trash bin.
These emails are kept until they are deleted by the owner of the account, or for another 30 days in most of the cases. If you delete any email in iPhone, there has a chance to recover it from All Email box depends on your email settings.
You can set up your mail account to either delete or archive e-mails in the iPhone email Settings. The difference is that Deleted messages will go to the Trash and Archived messages will go to the All Mail folder. Either way, you set it up, you can still retrieve messages that accidentally deleted from your inbox.
Related: How to Schedule Emails on iPhone to Send Later?
Find Email from Archive
You can check your Archive setting by going through these steps. Once you found that, you already turned on Archives on your iPhone, you have to got to All Mailbox to retrieve email.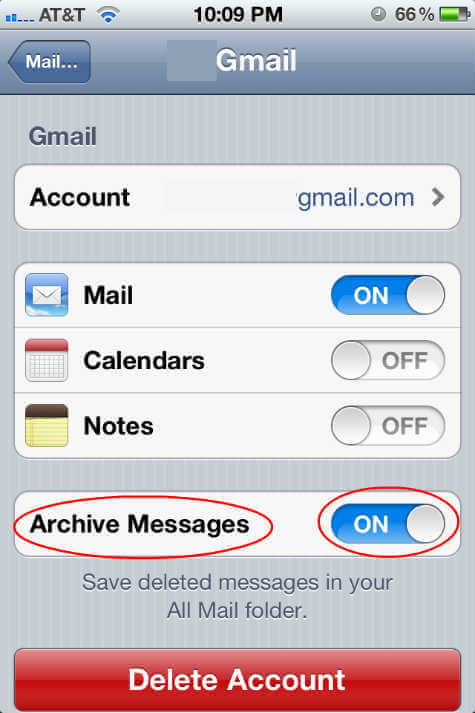 iOS old versions, Go to iPhone Setting > Mail, Contacts, Calendars > Gmail Account > Make Sure Archive Message turned on.
Related: How to Recover Deleted Files, Contacts, Calendars, Reminders & Emails in iPhone?
in iOS9, Go to iPhone Settings > Mail, Contacts, Calendars > Gmail Account > Account > Advanced > Move Discarded Messages Into > Deleted Mailbox / Archive Mailbox
If you already turned on the Archive Message, then, iOS old versions, Go to iPhone Email app, go to accounts in Mailboxes. Select the email account that you want to recover deleted email. Select All Email.
in iOS9, Go to iPhone Mail app > Accounts > Select the Email account you want to recover> Select All Mail.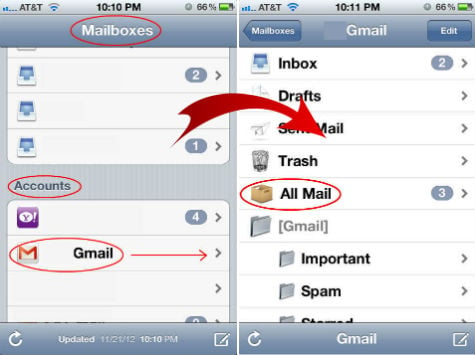 Now you will be able to see the archived message over there. You can select required email from the list and put it back to the desired location.
Find Email from Trash
If you didn't turn on your Archive Message option, then you can Recover Deleted Email from iPhone / iPad from your Gmail account. You have to login gmail.com in a browser, then find Trash and you can recover email from the trash.
Undo Email Delete
This feature introduced in iOS 8 and applicable for an email that you deleted accidentally and want to undo the delete action immediately.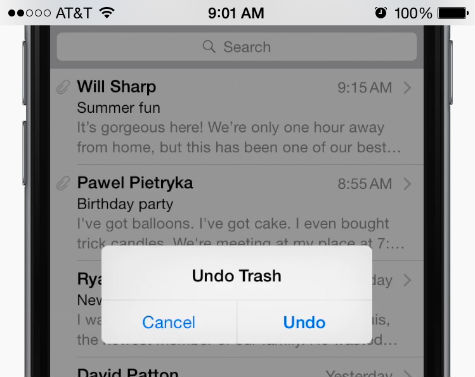 If you delete email from iOS Email client and want to undelete immediately, you can shake your iOS device to undo action before you leave the iOS email app. Please refer the instructions with screenshots to know How To Recover Deleted Email from Gmail.
This is a quick solution to recover deleted email if you deleted the email from your iPhone or any iOS device. This recover deleted email will work with all email providers on your iPhone like iCloud email, Gmail, Yahoo Email etc. This is pretty easy to undelete an email from an iOS device. Our advice is to act fast and quick to recover deleted email as soon as possible for a guaranteed result.