Your browser will display asterisks when you type anything on your password box in your online account. This is intended to protect your data by masking the password field. If you want to see what is hide behind this asterisks, you can reveal easily with a simple trick.
Some of the cases, the browsers will keep your password and username in memory and automatically fill out those credentials when you visit the same site again.
Once you allow your browser to remember the password, eventually you may forget the password behind these asterisks. You may see this password again to use in a different browser or n a different computer to open the same online account again.
We discussed the solution to find out auto saved passwords from your browsers like Safari, Internet Explorer, Chrome or Firefox in the previous article.
Here we are showing a simple solution to reveal the passwords those hide behind the asterisks on your login screen in any browser. This solution can be used in any browser and it will take only couple of seconds to find out that password behind this asterisks on your browser.
Get Webpage with Stores password
The example displayed here is applicable for any browser and most of the online accounts those are allowed to save username and passwords in browser.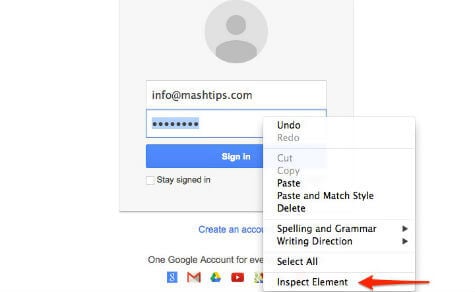 First, go to the web page on your browser that already saved your username and password. Your browser will auto-fill the username and password for the online account when it loads the web page.
Inspect Element with in Browser
Now, right click near to the password box on your browser and click on "Inspect Element"(This works in IE, Firefox, Safari and Chrome). This will open the source code of the corresponding web page.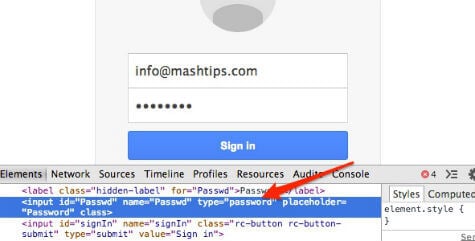 Now find out the code similar to type="password" placeholder="Password".
Change Password Parameter
Click your mouse on top of type= "password" to change it. Change "password" to "text" like the screen shot here.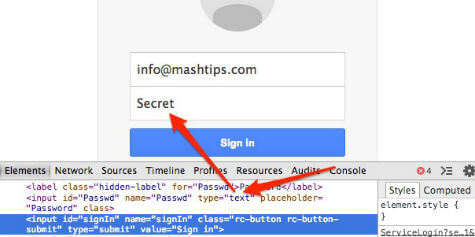 This will automatically reveal your password area asterisks to real text that saved by the browser and you can note down this password. Now you can close the code window and refresh the page to get back your actual page.
This is a simple HTML code trick that you can get back your auto saved passwords from the browser. Anybody can use this trick on your computer to get back your saved passwords.
We recommend you to visit our article to remove your auto saved passwords from your browser to avoid anybody seeing your saved passwords on your browser.