If you ever wanted to share memes or send DMs with someone on Instagram without announcing on notification, the option is out now. You can send silent Instagram DMs with s simple trick.
Let us see how to send Instagram silent messages and disappearing messages from your phone.
What Is Silent Message on Instagram?
An Instagram silent message, if you haven't already guessed, is one that does not send a notification to the recipient's device. This can be very useful when you know the other person is probably asleep or busy.
For example, if you're texting someone in a different timezone, they might already be in bed. When you sent a silent Dm to them, they will not be notified but they can see the messages when you open the Instagram app.
Related: How to Limit Comments on Instagram Posts to Avoid Spamming and Bullying
Send Instagram Silent Messages
Silent Instagram messages do not produce a notification, but they can still be read by the recipient, of course. They just have to open the inbox manually to see the message. To send Instagram silent messages, make sure you're on the latest version of the Instagram app.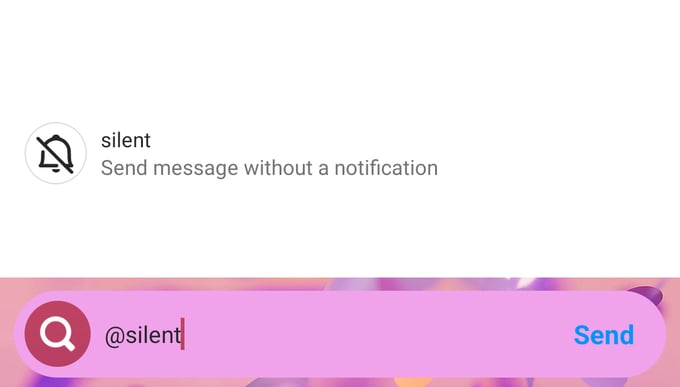 Open Instagram.
Tap on the messenger icon in the top-right.
Select a conversation thread to open it.
Tap on the text input box and type "@silent" and leave a space.
Type your message after @silent and hit send.
When you type @silent, you will see a confirmation that tells you this will be a silent message with a crossed notification bell icon. When you send this message, the recipient will not be notified. So, the next time you have something to say that's not really important, you can send Instagram silent messages instead of bothering someone.
Related: How to Turn On Notifications for Someone's Posts and Stories on Instagram
Send Disappearing Messages on Instagram
Another privacy feature on Instagram is vanishing mode. When you send messages in vanish mode, the messages disappear automatically after a while without any trace. It's almost like a built-in Snapchat on your Instagram. The difference is that you have the option to get in and out of Vanish mode.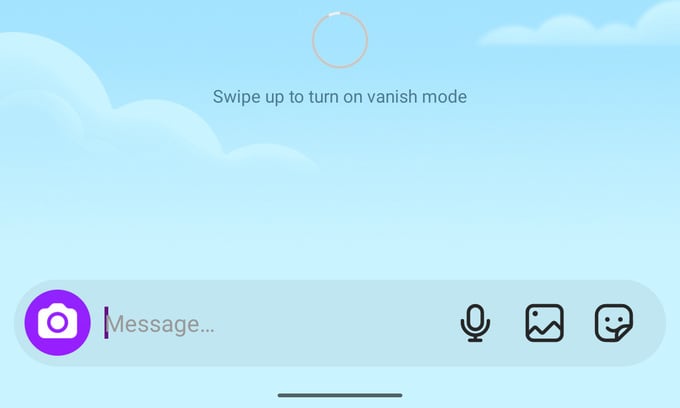 Open Instagram.
In the upper-right corner, tap on the messenger icon.
Open any conversation thread.
Swipe up from the bottom of the Instagram screen towards the center.
This lets you turn the Vanish mode on and off. So, if you're already in vanish mode, it will be toggled off. Whereas if it's already off, it will be toggled on. You can equate this to an incognito chat, which is deleted shortly. The developers have done a good job making it so convenient to use as well. Just like Snapchat and other implementations of secret chats on other apps, you cannot take screenshots in vanish mode.
Instagram's latest update focuses on the DM experience, and there are a few other features as well. This includes the ability to quickly share your favorite posts with your favorite people. You can also send music previews, reply while browsing and see whether someone is online or not.
Related: You Can Now Send Auto Disappearing Messages on Instagram
FAQ: Instagram Silent Messages
Why does Instagram DM say @silent?

Instagram now has a new feature called silent messages. When you type @silent in a message, Instagram treats it as a silent message. Silent messages do not produce a notification on the recipient's devices.