It has not been very long since phone cameras started to replace the actual cameras. Especially, iPhones have been the best choice for mobile photography lovers. Being that said, one thing iPhones lacked all these years was the RAW picture support for better post-processing of your photos. You can now capture stunning uncompressed RAW photos using an iPhone camera as well.
We will see how to shoot RAW photos on any iPhone model here, including the latest iPhone 12 Pro or 12 Pro Max.
Content
Shoot RAW Using Apple ProRAW
ProRAW is Apple's answer to RAW image photography for iPhone users. Even though many Android phones natively support RAW capture, this is the first time an iPhone model comes out with native RAW support. Apple ProRAW works with iPhone 12 Pro or higher iPhone models as of now. To enable Apple ProRAW on iPhone 12 Pro or 12 Pro max,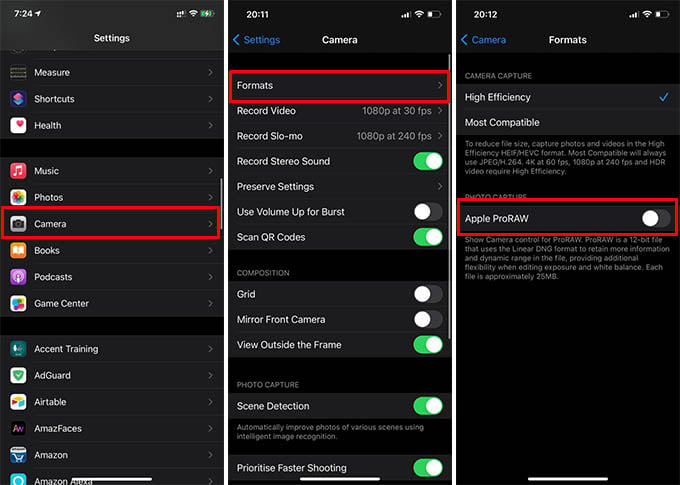 Go to iPhone Settings.
Tap on Camera, and then Format.
Toggle on the Apple ProRAW option.
There are more controls for RAW photography right on the iPhone camera app. We already discussed how to enable Apple ProRAW on iPhone 12 Pro earlier. Note that the Apple ProRAW feature only works with iPhone 12 Pro or higher models.
Capture RAW Photos Using Pro Camera App
You might not be using the latest iPhone model, so it obviously lacks the Apple ProRAW feature. Don't worry, ProRAW is not the only way you can shoot in RAW format. There are plenty of other apps available for shooting RAW photos on an older iPhone. Pro Camera app from Moment is an excellent advanced camera app that can capture RAW photos.
You can purchase and install the Pro Camera by Moment from the App Store. Once you open and start to use the app, you will see the options to shoot photos in JPEG or RAW formats. You can keep shooting RAW photos on any iPhone model using the Pro Camera app. Later these pictures can be edited using apps like Lightroom.
Related: 10 Best iPhone Photo Editing Apps
Shoot in RAW on iPhone Using Adobe Lightroom
If you are really into iPhone photography, you must really give Adobe Lightroom a try. The app is a compact version of powerful Lightroom CC on your PC or Mac. If you are thinking of processing your photos, especially the RAW pictures, Lightroom is the best bet. Well, the Lightroom app on the iPhone itself has an inbuilt camera that lets you take RAW pictures.
To shoot RAW photos on iPhone using Adobe Lightroom camera,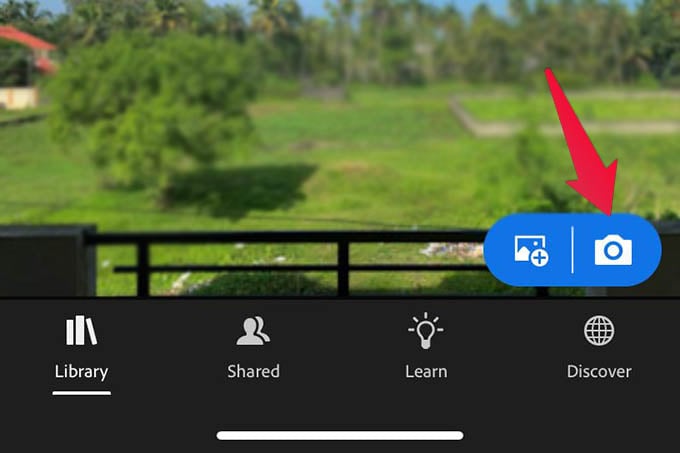 Open the Adobe Lightroom app on your iPhone.
Tap the Camera icon on the floating button at the bottom right corner.
See if the camera screen says "DNG" at the top.
If it shows JPEG, tap on it, and switch to DNG.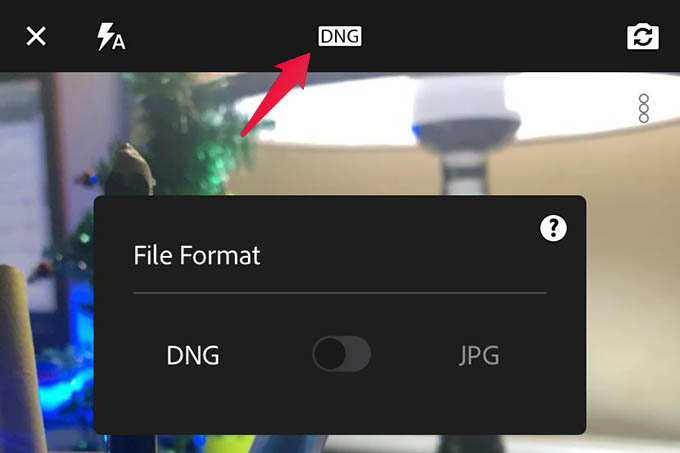 There you go, you can capture RAW photos right inside the Lightroom app on iPhone and edit in the same place. DNG format is Adobe's RAW picture format with lossless quality and enables advanced editing.
You can capture photos using JPEG and DNG and edit both using Lightroom. However, you will see the editing capability and picture quality of the RAW DNG image after all.
Related: 10 Best Video & Photo Editing Software for Mac Professionals
Take RAW Pictures on iPhone: FAQs
What is a RAW photo on iPhone?
RAW photo, as the name says, is the raw version of a picture that is unprocessed and uncompressed after capturing.
Are RAW photos too large in size?
Since RAW photos do not have any compressions, the file size would be up to 10 times larger than the normal JPEG photos.
How do I edit RAW photos on my iPhone?
You can edit RAW photos on your iPhone using certain apps like Darkroom and Adobe Lightroom.
Are RAW photos low-quality images?
No. RAW photos are actually the highest quality images in which you can make changes in color, exposure, etc. as you wish.
How do I convert a RAW image to JPEG on the iPhone?
You can open RAW photos in apps like Lightroom or Darkroom and save them as JPEG pictures.
Does iPhone 11 shoot in RAW?
No. Only iPhone 12 Pro and newer models are capable of shooting in RAW. However, you can still shoot in RAW on iPhone 11 or older models using third-party apps.
You can shoot in RAW on any of your iPhone models, with or without using third-party apps. Other than the ones mentioned above, there are plenty of other apps to help you take RAW photos on your iPhone.