How do you message your friends with their native language? How do you type other languages like Hindi, Arabic, Nepali, Greek, Persian, Gujarati, Telugu, etc from your iPhone? Well, you can change your iPhone keyboard to that language and start type on it.
I'd say this is not a practical solution if you are living in a foreign country where you need to message both foreign language to your colleagues over there and your native language to your friends and family.
First of all, you need to switch the keyboard between these two languages frequently.  The second problem is that your native language keyboard. Even though you are very expert in your native language, it is extremely difficult to type your native language from iPhone keyboard.
Editor's Note: Please see the updated version of this article to Change Language on iPhone Keyboard.
If you are the one like me that practiced with English Qwerty keyboard from the beginning, the better you find out some alternative solutions rather than switching your iPhone keyboard language.
You need an app that can help you to type your language easily and also it should be compatible with all messaging apps that you use iPhone. There is a good app we spotted (cost you $2.99 in-app purchase after trial) in the iTunes store that can help you to type from an English Keyboard to your native language. This app is compatible with almost all iPhone messages, email, and social media apps.
The best feature of this app is the ability to use the English Keyboard to type your mother tongue. There is no need to use a complicated keyboard to type your favorite language. KeyNounce uses a technique called "transliteration" that enables you to type the other languages pronunciation in English, instantly giving back the word written in your required language.
You don't need to worry about typing in the exact English spelling of the other language word, KeyNounce is smart enough to accept many input spellings for the same output word. One of the other features is KeyNounce can populate the suggestions to pick the right one you want to type in available suggestions. Now we will see how to install and type your required language on the iPhone.
Step1: Install iOS Language App from iTunes ($2.99 In-App Purchase)
Install your language app from the links provided below to your iPhone. You can go to this developer link to get the direct link to the iTunes store for the following languages. Currently Russian, Greek, Arabic, Persian,  Bengali, Nepali, Malayalam, Punjabi, Hindi, Tamil, Telugu, Urdu, Gujarati, Marathi.
Step2: Add additional Language Keyboard into your iPhone Keyboard.
Once you install the app on your iPhone, go to iOS Settings > General > Keyboard > Keyboards > Add New Keyboard > Select KeyNounce your language.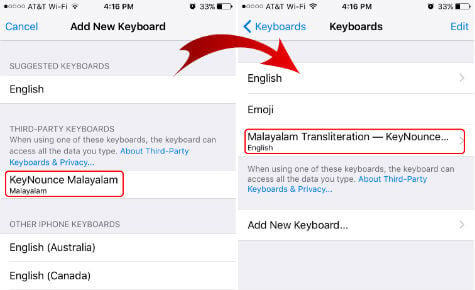 One more step before you go back, From Keyboards Screen> Transliteration KeyNounce > Allow Full Access > turn on.
Step3: Open Message or Text App in iPhone and Switch Keyboard to your Language to start typing.
Now open any message or text app and you can start type with your installed language. For demo purposes, we select the WhatsApp message app. When you open the app the first time, the default language will be English.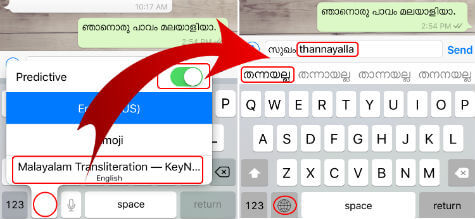 Now tap on the bottom globe icon on the keyboard to pick your language. Start type with English keyboard with your language pronunciation. It will give you suggestions (if you turned on Predictive) and you can pick the suitable one from predictions or keep type-on to automatically convert your English to the selected language.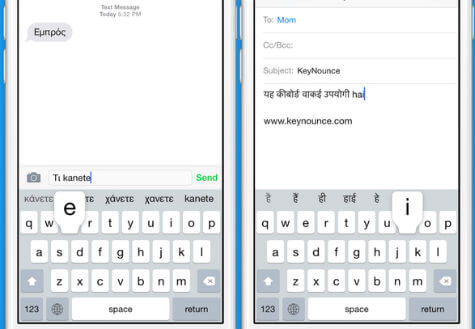 KeyNounce works in any app like messaging, social network, email or just typing app. Once you enable the keyboard you'll be able to easily compose texts, emails, tweets, Facebook posts, and search the web in your choice of language.
Now we have a bunch of messaging applications to contact our national and international friends for free. It doesn't matter whether they are in your own country or a foreign country, you can message than with their own native language with this app.
These apps let you type all these languages by installing them on your iPhone. You can install multiple apps and add to your iOS keyboard list to type multiple languages with your iPhone.
---
This is a Sponsored Article