Google Lens, with deep learning capabilities, can recognize what your camera sees, reads labels, make online searches on the identified objects and even take actions. For instance, point it to a WiFi label containing the username and password and it will automatically connect your smartphone to that WiFi network. Though identifying a WiFi label and reading it is fine, but there are definitely some activities that we do with our smartphone cameras that we will prefer to keep private.
If Google Lens analyzing your yesterday's activities makes you uneasy, fret not because Google does provide you with a way to delete this recorded Google Lens activity.
View Google Lens Activity
You can view all Google Activity including the Google Lens history from Google Activity Link. To proceed, open Google Lens Activity page from Google's MyActivity Page and sign in with your Google Account credentials. Here, all your Google services activity would be listed that includes Google Search, Ads, Drive, Gmail, Mobile activities, etc.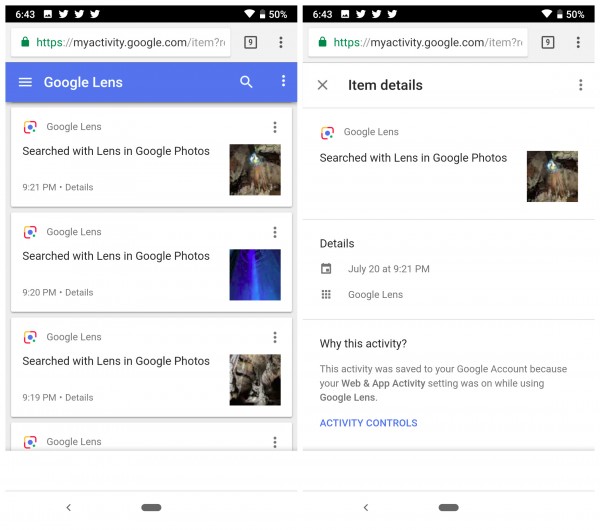 You can see the lens activity all the history of the incident that you used with Google Lens. In addition to this, you can group your activity and can do filter for activities to group the activities. You can also search for any particular activity with a keyword.
From the main screen, you can select the "Filter by date & product" option and in the " Filter by Google product " option select Google Lens. All your Google Lens activity would be listed along with the time when that activity happened. If you want to see more details about any particular Lens activity, you can click on that one Google Lens incident to see the details of that activity.
Also Read: How to Delete Android Phone Activity & Disable Google Voice History?
Delete Selected Lens Activity
Based on the activity and number of incidents you can choose to delete one activity of a group of activities based on a date or keyword.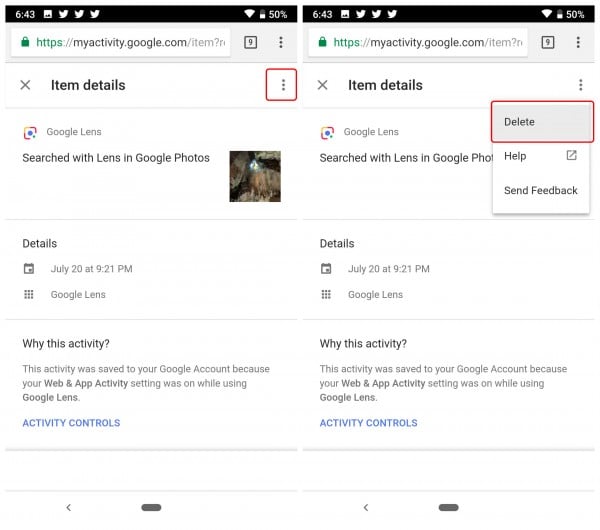 To delete an individual Google Lens Activity, open that activity and click on the three-dot button on the top right corner. A delete option will be visible which you can use to delete the activity from your Google MyActivity history.
Delete Lens Activity by Group
You can also select multiple activities from the page and delete them at once. Just click on the logo of Google Lens appearing beside the Google Lens heading and it would change to a checkbox.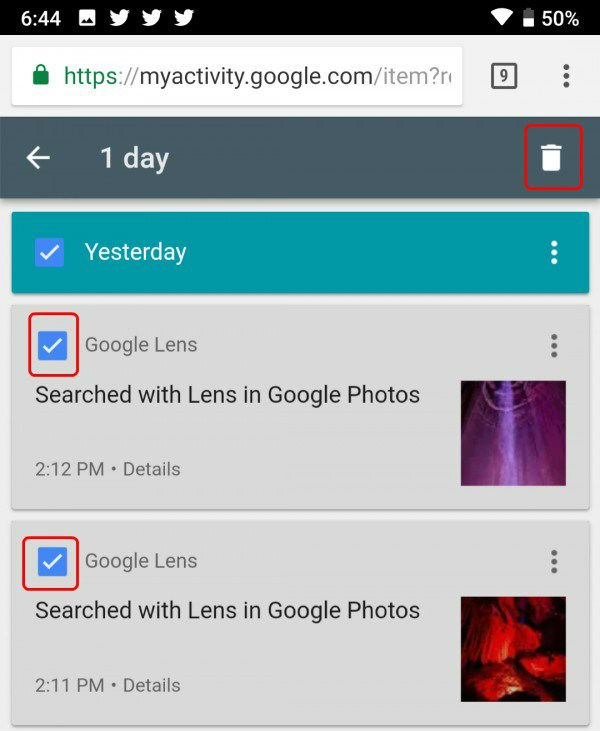 Once you selected a single activity, you can similarly select all other Google Lens activity you want to delete. just click on the dustbin button appearing on the top right corner of the screen to delete the selected activities.
Delete Activity by Date
After applying the filter above to see all our Google Lens activity, you will notice that there is a blue bar that has below its all activities of that particular day.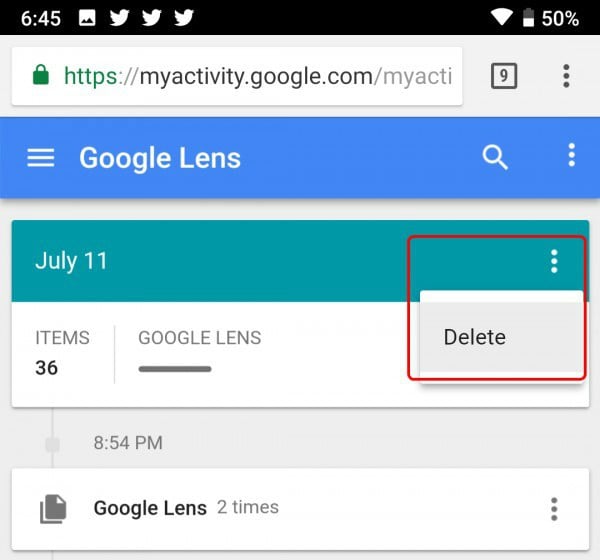 If you want to delete all your Google Lens activities by date, go to the activity section of that day and open the options menu using the three-dot button and click on Delete.
Also Read: How to Stop WhatsApp Saving Photos on Android Gallery?
Delete Activity by a Range of Date
What you do if you want to delete the lens activity for last month or year? If you want to do bulk deletion of your Google Lens activity using a data range, open the menu using the 3 dot button and select the "Delete Activity by" option. Select the date range on the page that open and click on Delete.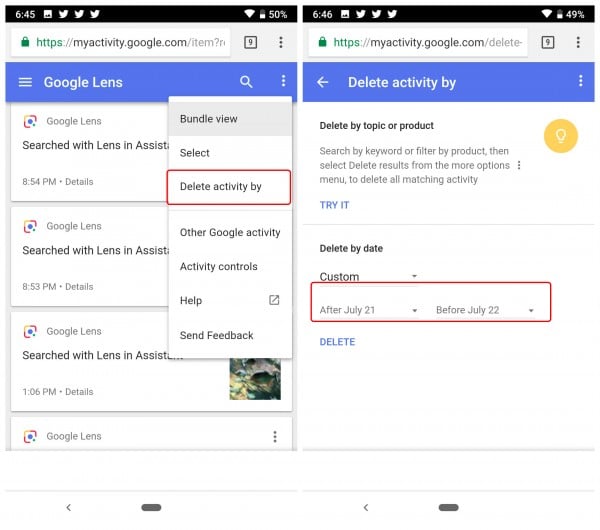 When you press on Delete, you will be shown a message telling you how the information collected will be useful for personalizing your experience when using Google services.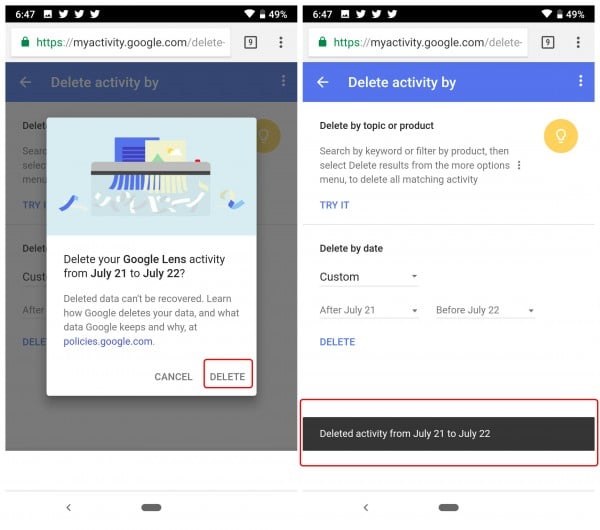 You can click "OK" and then give a confirmation to proceed ahead with the deletion if you really do want to delete some or all of your Google Lens activity.
Pause Google Lens Activity Logging
Whether you know it or not, the services are provided for free at the cost of surrendering our personal information to Google so that they can make a character map of us – what we like, where we go, when we travel, how often we travel, types of food we prefer and what not. There is probably more Google knows more about us than we know ourselves. Now with Google Lens, even your camera images and when you searched for them online is recorded as well.
These are multiple ways in which you can remove your logged Google Lens activity. If you want, on the same page you will find an option "Activity Controls". You can use it to tell Google to Pause recording your Google Lens activity. This setting will make sure that while the Google Lens functionality to work, but not to store Google Lens Activity on Google's servers for future data analysis. However, it does not affect your past data and you need to delete it manually using the methods mentioned above if you want it removed permanently.
Google Lens is an amazing app from Apple. Google is logging Google Lens activity to improve their service. However, the user has the choice to View Google Lens activity. When you concern your privacy and you don't want to keep the history, you can delete Google Lens Activity from your account.