Sanitizing your phone is your first line of defense against germs and viruses. Regular cleaning of the ports and screen is the best way to keep your device in pristine condition. However, wiping the phone may not be enough to protect you from dangerous microbes. Studies have established that smartphones can carry bacteria and germs easily. So you need a bit more care and attention to disinfect your phone properly.
It is not that tricky to sanitize your phone and maintain it germ-free. Below are the best ways to clean and disinfect your phone. This way, you can avoid the spread of germs and viruses, and maintain a healthy lifestyle.
Keep Phone in a Re-Sealable (Ziploc) Bag
This is the most practical method of keeping your devices clean. Put your smartphone in a Ziploc bag, and carry it with you as usual. Ziploc sandwich bags, which measure 16.5 x 14.9 cm, are ideal for most smartphones. However, you can go for a bigger one if your device is of a larger size.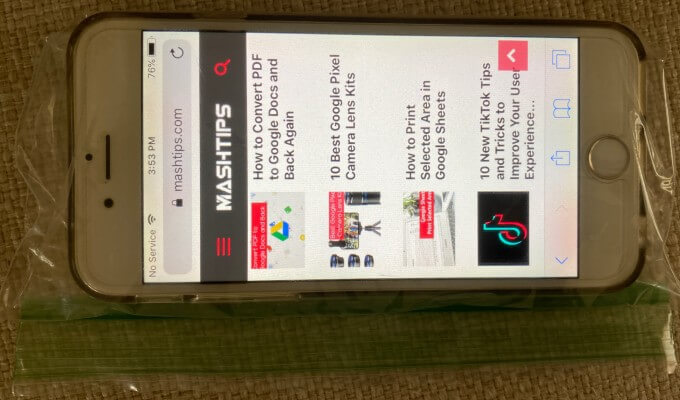 Before you seal the Ziploc bag, make sure to remove as much air as possible. Placing the device on a flat surface will work better here. Then snack-size Ziploc bag can seal the bag and fold the easy-open tabs towards the back of the phone. You can then secure it using a tape.
Today's Deal: $2.19 Off
Putting your phone in the Ziploc bag does not affect its performance in any way. You can easily use the smartphone touchscreen as usual for making/receiving calls. It does not even affect the sound quality at all. However, the fingerprint sensor will not work when you put the phone in a sealable bag.
Use a UV Phone Sanitizer
If you are looking for a more robust sanitizing solution, go for a UV phone sanitizer. This can be the best alternative to disinfect your phone thoroughly. You do not have to use any abrasive or chemical-based cleaning solution on the device. Just put it inside the UV phone sanitizer and let it kill the germs and bacteria on your device.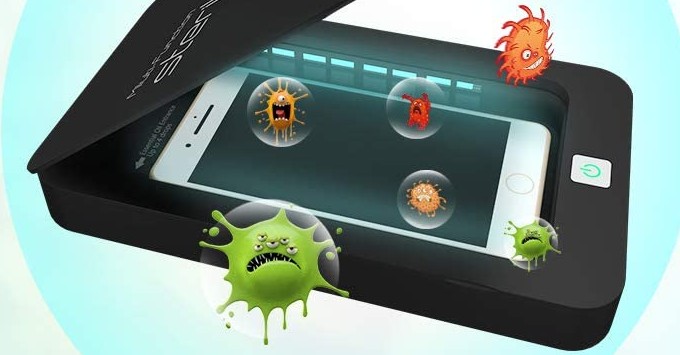 Exposing your phone to UV light will remove all kinds of microbes from its surface. This method will not damage the anti-fingerprint coating on the screen either. There are a lot of UV phone sanitizers available online. Some run on rechargeable batteries as well. So you can easily buy one to disinfect your phone efficiently. It just takes around 15 minutes and there is no waste at all.
Clean the Phone with Disinfecting Wipes
If you are hesitant to use a water-based cleaning solution on your phone, use sanitizing wipes instead. Disinfecting wipes come with special chemicals. These are meant to break down and kill bacteria, viruses, and germs. Most of the sanitizing wipes contain isopropyl alcohol, hydrogen peroxide, or ethanol. Some may even contain quaternary ammonium compounds.
Today's Deal: $3.25 Off
It is recommended to check with your phone manufacturer before using disinfecting wipes. Your phone manufacturer will have specific cleaning guidelines for each model. It will state which chemicals could damage the oleophobic coating on the touchscreen. This way, you will not end up damaging your phone in your attempt to destroy microbes.
Make a Homemade Cleaning Solution
One of the simplest ways to effectively clean your phone is by using a homemade cleaning solution. Yet you should follow this process only if your phone has a waterproof rating of IP67 or above. Prepare a water solution with mild soap and dampen a lint-free cloth with it. Turn off your device and use the slightly wet cloth to clean the front and back of the smartphone. Carefully wipe the side panel as well. Be certain that you avoid the charging port and headphone jack. Then let your phone dry for at least 5 minutes before powering it back on.
You can also use a mixture of distilled water and 70% isopropyl alcohol. Mix a one-to-one ratio of both. This will give you an effective disinfecting cleaning solution. Then use it instead of soapy water to clean your device as mentioned above. However, never immerse your phone in the homemade solution. Even if it is fully water-resistant, you should only wipe it clean with a lightly damp microfiber cloth.
You should not use bleach, vinegar, or other harsh cleaning chemicals on your phone either. Moreover, avoid using antibacterial hand gels that have alcohol content in it. These could damage the oleophobic layer on your smartphone's touchscreen. Viruses and germs are composed of genetic material, proteins, and fats. Using a soap solution can easily break down the viral lipids and sanitize your device.
Wash your Hands Before & After Using the Device
Prevention is better than cure, always. Germs and bacteria can easily get onto the surface of smartphones through your touch. If you ignore to wash your hands often, microbes can easily transfer to your device. This puts you at a higher risk of getting infected from the germs. Therefore, you should keep yourself germ-free as well. It is the best way to make sure that your device always stays clean.
Related Video: Simple Solution to Keep Your Cellphone Clean And Safe from Germs
One more good way to keep your phone protected from microbes is to avoid scrolling on public transit. Germs and viruses can easily come into contact with you when you use the railings and handles. They can then transfer to your smartphone as you scroll and use your device. If you cannot manage it, carry your phone in a Ziploc bag as mentioned above. Just make sure to clean your hands thoroughly when taking it out of the sealed bag.
You should also leave your phone out of the bathroom. Studies say that bathrooms and toilet seats can be the breeding ground for many microbes. So make sure to keep the texting and scrolling out of the bathroom. Moreover, wash your hands adequately before and after using the toilet. This will help to prevent any possibility of cross-contamination.