Are you working from home and participating in online meetings daily or frequently during the week? Then, if you find the Google Calendar's event not a great place to add meeting notes, Google Docs might be the best place for you. You can now use Google Docs to add meeting notes for your calendar events so that you can quickly refer to whenever you need them.
In this post, let's see how to create and share meeting minutes from Google Docs.
Create Meeting Notes on Google Docs
It doesn't matter whether you are the meeting organizer or the participant, as you can easily add meeting notes to any event in your Google calendar from Google Docs. Let's see how to do that.
On your computer, go to docs.google.com and open a new or existing document. Next, click the spot where you want to insert meeting notes. Then, click Insert in the top menubar.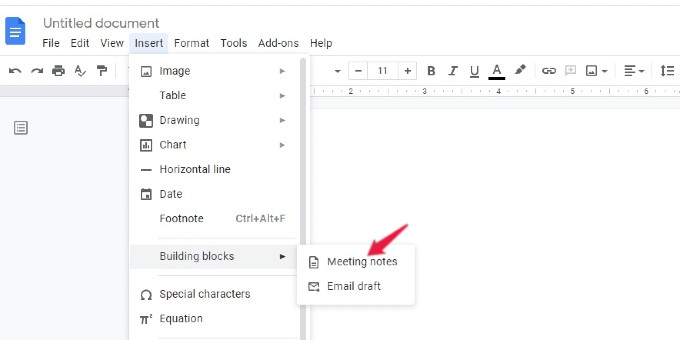 Move the cursor over Building blocks from the list of options shown and select Meeting notes in the pop-up menu.
Here, you will see the drop-down list of events from your Google Calendar. (By default, it will show the events from the Google account connected to Google Docs).
Go ahead and click on the meeting/event for which you need to add meeting notes. If you have a big list, use the Search box to find the event you are looking for quickly.

Now, you will see the meeting notes template on the Google document. You will see the date, title, and attendees of the event. If you click any of the attendees, you will see a pop-up menu with options to send an email, send a message, start a video call or schedule a meeting.
Below the attendees, you will see the title Notes pre-populated with a bullet point. You can add as many points as you like to the Meeting Notes.

Also, you can create an action list by clicking the Action items checkbox.
Related: You can Compose and Send Emails from Google Docs; Learn How
Share Meeting Notes With Others
After creating the meeting notes, you can easily share that with other participants without leaving Google Docs. In the Google document, you will see a small menu titled Share meeting notes. Click the Share button in that menu.

In the new pop-up menu that opens up, you can select Turn link sharing to provide access to anyone with the link. Or you can share the document only with the meeting participants. After selecting your desired option, click SHARE.
That's it. Now the meeting notes can be viewed by others by opening the link you shared.
Related: How to Add a Watermark in Google Docs
Shortcut to Add Meeting Notes on Google Docs
Another quick way is to add meeting notes to a Google Document without navigating to any menu. To do that, click the spot in the document where you need to insert meeting notes and type the symbol @.

Then, you will see a pop-up menu with many options. Look for the section BUILDING BLOCKS and click Meeting notes in that.
Now, the meeting notes template will get inserted, and you can create and share the meeting notes as mentioned in the earlier section.
Related: How to Use Voice Typing in Google Docs
FAQ: Meeting Notes on Google Docs
Does Google Docs have meeting minutes?
Yes, You can create meeting notes for any event in your Google Calendar from Google Docs and share that with others. You can add the notes either using the Insert menu or @ shortcut.
How do I take minutes in a Google Meeting?
You can use Google Docs to take meeting notes. To do that, open a Google Document and add a meeting notes template using the Insert menu or @ shortcut. Then, select the meeting from the list of options and add notes.