Why do you need to learn Human Anatomy? Because you want to live a healthy life. Understanding your body will help you make better and informed decisions at times when you are not sure what to do. If you are a medical student then having an anatomy app on your mobile is even more important. All the information you need on human anatomy can be accessed using apps on the Android smartphone. While medical books have illustrations, apps can offer 3D models and much more in the palm of your hands.
Let's take a look at some of the best Android apps to learn human anatomy.
1. Teach Me Anatomy
Teach Me Anatomy offers a detailed overview of the human body structure with over 250 in-depth articles for your perusal. There are colorful images and illustrations of internal organs with markings.
This human anatomy app for Android works offline so you don't need an active Internet connection at all times. Select a region of your body to dig deeper into its anatomy like head, neck, back, abdomen, limbs, and so on.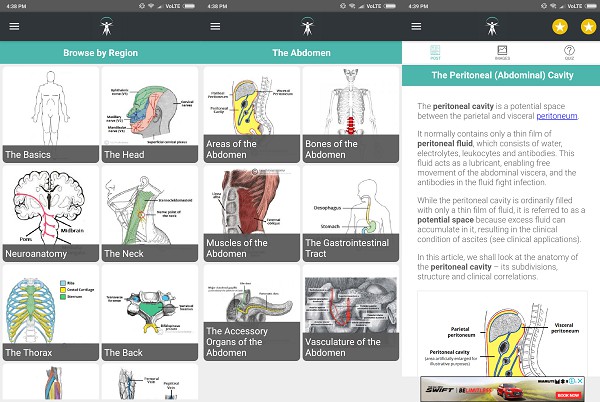 You can save articles and anatomy of body parts as favorites for quick access. If you are preparing for a test, there is a quiz section with over 800 multiple choice questions to help you get ready for the big day.
Teach Me Anatomy is free to use and ads can be removed for $4.99.
Teach Me Anatomy Link: Android
Also Read: Best Fitness Apps for Android and iPhone to Stay Fit
2. Anatomy Learning – 3D Atlas
As the name suggests, this anatomy app will let you learn more about the human body using 3D images and illustrations. The app is not available offline and for good reason. It can easily consume up to 1GB of space which is why it remains online.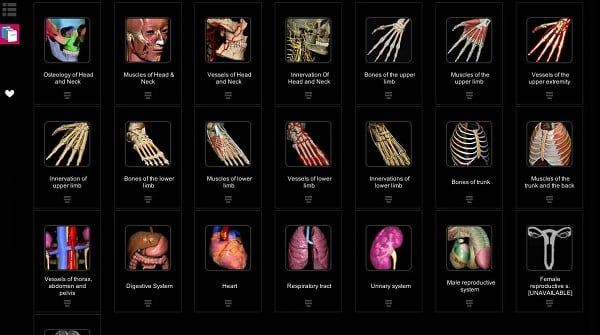 If you are a visual learner who appreciates attention to detail, Anatomy Learning 3D will make you feel at home. Note that it will take some getting used to before you get the hang of it. Comes with some learning curve and still in development.
Anatomy Learning 3D is a free app that comes with some in-app purchases which are not necessary though.
Anatomy Learning – 3D Atlas Link: Android
3. Essential Anatomy 3
Another human anatomy that comes with amazing graphics and detailed illustrations. Essential Anatomy 3 amazing replication of the human body in 3D. The 3D models, you will find, are detailed and you can rotate the models in 360-degree view to peek inside.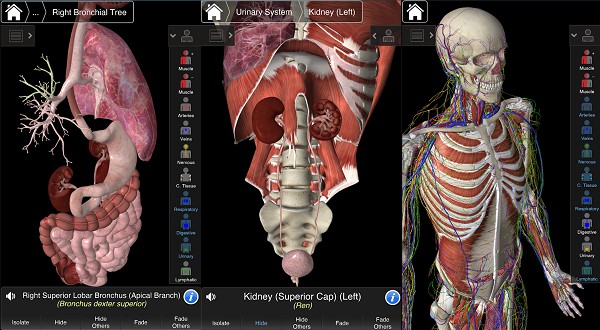 There is also a feature I personally liked was the ability to remove layers from the top of the body to examine what's on the inside. Like you remove muscles to see veins and then the rest to see the skeleton and organs.
The will cost you $11.99 and with no ads. A bit on the expensive side but worth it.
Essential Anatomy 3 Link: Android
4. Visual Anatomy Free
Visual Anatomy is a free human anatomy app that is ad-supported but comes with a lot of features including 3D designs of complex human parts. You navigate through the human body and use your fingers to zoom and rotate images.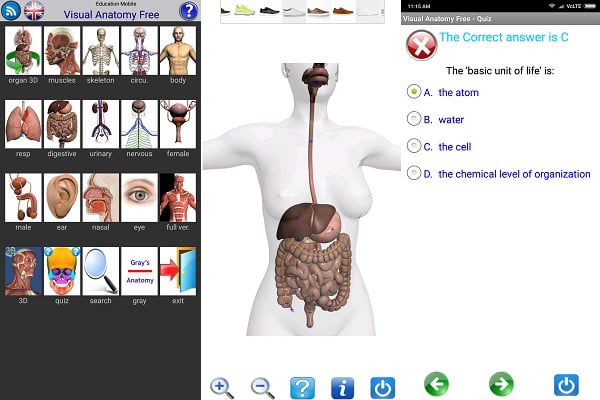 There is a handy feature called audio pronunciation which will help you understand how particular words are spoken in the medical terminology. They can be pretty hard to speak. Visual Anatomy comes with a built-in dictionary and offline mode. There is also a quiz section to refresh your memory.
During my use, some diagrams had labels missing. Not a bad deal for a free app though.
Visual Anatomy Free Link: Android
Also Read: 10 Best Smartwatches under $55 that work with iOS and Android
5. Human Body (male) Educational VR 3D
Technology is moving at breakneck speeds and mobile is already a thing of the past. The newest kid on the block is virtual reality and eventually, augmented reality. While the latter is yet to make inroads, VR is here.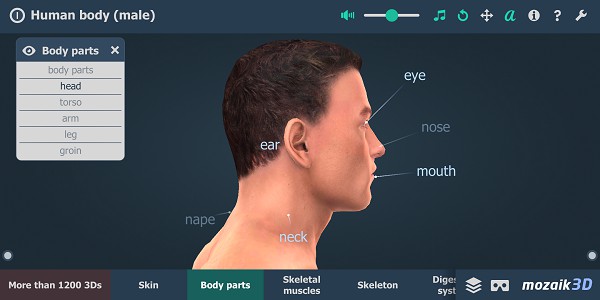 Human Body app is targeted at those who are studying male bodies using VR headsets. This presents a whole new way to learn about and interact with the male body anatomy. Designed for young students and enthusiasts, the interactive 3D images can be rotated and zoomed in and around, but only from preset angles. This works much like Google Street View.
The app is completely free to use and comes with no ads. Maybe they will launch an app for female body anatomy too!
Human Body (male) Educational VR 3D Link: Android
6. Anatomy Guide
While Anatomy Guide pocket edition has not updated since late 2020, it still makes a good human anatomy app for Android users. Why? Well, the human body has not changed since then either.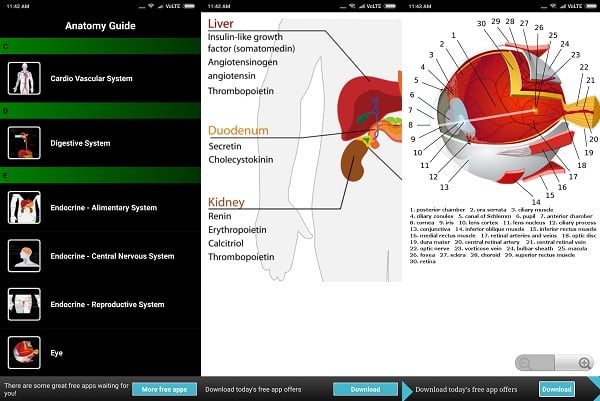 Anatomy Guide is not focused on teaching you the ins and outs of anatomy, an app for light reading and for enthusiasts. This is for serious readers. The graphics and illustrations are nothing to write home about when you compare it with 3D models presented in previous apps.
On the plus side, the app is free but ad-supported and offers good info.
Anatomy Guide Link: Android
7. 3D Bones and Organs
If you are studying organs, and bones specifically, 3D Bones and Organs is a good alternative. More focused on bones and the skeletal structure of the body, the app comes with rotating models and structures that you can study in a 3D environment.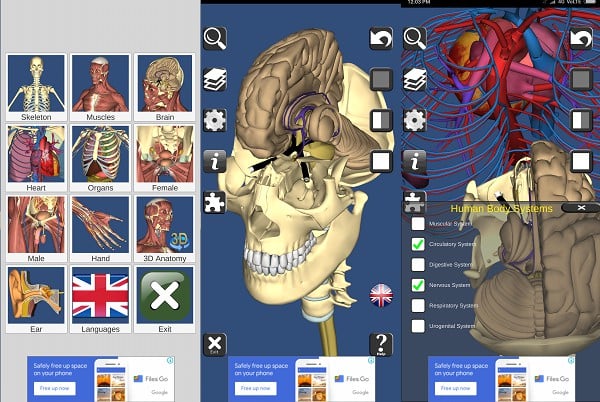 What I like about the app was the ability to peel layer after layer to reveal body parts and organs that lies beneath the skin and bones. Important organs and words have linked to Wikipedia for better research and understanding. Some additional features include audio pronunciation, bookmarks, quizzes.
3D Bones and Organs Link: Android
8. BioDigital Human – 3D Anatomy
The reason why BioDigital Human made the list is not because it allows you to zoom, pan, and explore human body in 3D or that you can dissect the entire body layer by layer which is very cool and high quality, it is because the app comes with a list of conditions related to different body parts that you can explore to understand what is ailing you.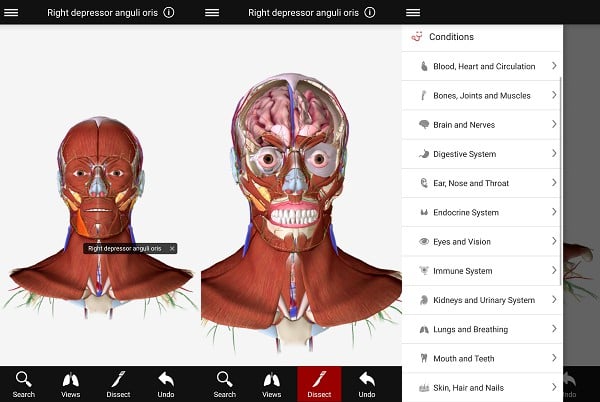 This is very helpful if you have a particular condition. You can learn more about it and understand the treatment and options better at the time of consulting doctors. The human anatomy app for Android also comes with 3 different view modes: standard, x-ray, and isolate. While not useful for the uninitiated, it is a good tool for medical students.
The app is free to download and use but comes with in-app purchases and no ads.
BioDigital Human – 3D Anatomy Link: Android
Also Read: Best Weight Loss Apps for Android and iPhone
9. Complete Anatomy for Android
The developers are making a bold claim here, especially when there are so many 3D anatomy apps available for Android platform. The app is large but models are very detailed and high quality. There was no loss of quality upon zooming in and out of body parts.
The free version is limited to the skeletal structure and 7 different layers of tissue. The entire library with over 7100 structures and body systems, however, is set behind a paywall.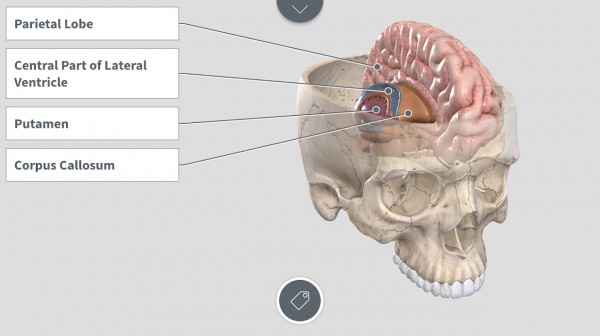 Like anatomy apps before, you can zoom, pan, move, dissect, and play around with the models. There is an additional feature called motion where you can see body parts like muscles in motion to better understand how the part functions and moves. This is cool to look at.
The Android app lacks AR which is available in the iOS version. I guess the smartphone is to blame here rather than the app. The level of detailing will leave you impressed though.
No ads but comes with in-app purchases.
Complete Anatomy for Android Link: Android
10.  Sobotta Anatomy Atlas
While the name of the app is not so impressive, the anatomy app for Android is and works just fine. Anatomy Atlas doesn't offer 3D models of the human structure or organs but the images are high quality and you can easily zoom in.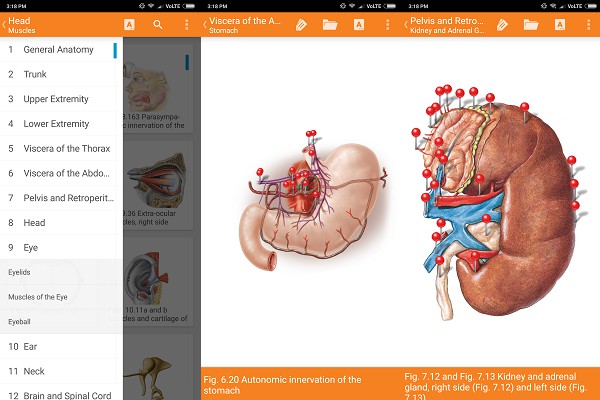 Different parts of the organ have been marked, as you can see in the screenshots above, and selecting any particular point will show you more details. Easy to navigate around and full of details.
The free version of the app will provide 40 images and an upgrade will give you access to over 1600 figures with clinical notes. It also comes with a quiz section designed to help you prepare for exams. Think of it as a digital textbook.
Sobotta Anatomy Atlas Link: Android
Android Apps to Learn Human Anatomy
The human body is complex and consists of many different organs that work together to make sure we are alive and kicking. Thanks to all the breakthrough developments in medical technology, we are in a much better position to understand our body than say, a hundred years ago.
There are quite a few options available in the Play Store to learn human anatomy and the inner workings of your bodily organs. These apps will help you prepare for exams or understand your body better in case you are suffering from a condition. Either way, there is an anatomy app for you.