These Fitness Apps for Android and iPhone help you to workout on your daily workout routines. These health apps can also act as a personal trainer with your Smartphones. In this busy lifestyle, it is quite hectic to maintain our body's fitness level and health quotient. Everybody is entangled in their daily routines and are not able to focus on their health. There are several fitness apps and workout apps helping you as your personal trainer, chef, fitness tracker and in many more ways to reach your goal faster. With these health apps, you can easily cover each and every aspect of your body fitness.
There are an infinite number of fitness apps, giving you similar functionality; here is the list of best workout apps for Android and iPhone your device.
Related: Best Home Automation Software for Android Phone and Tablet
Calorie Counter – MyFitnessPal
Known as one of the world's most popular health and fitness apps, MyFitnessPal helps you in body maintenance, calorie awareness and food variety giving you overall satisfaction while working out. This workout app is available for free and helps you to take those extra lbs off.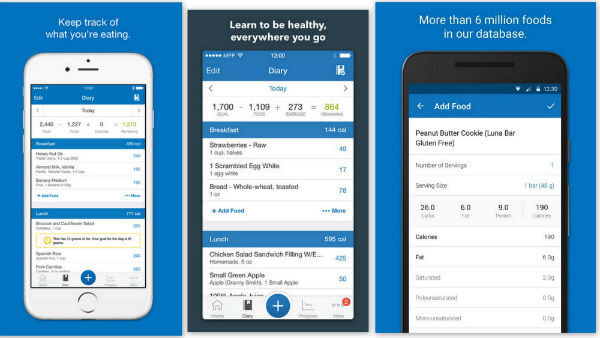 MyFitnessPal has the largest food database with over 6 million foods and tracks your diet as well as exercise routine in less than 5 minutes a day. You can easily get the nutrition facts regarding more than 2 million foods. It claims to be the fastest and easiest-to-use calorie counter that it delivers fully.
Download: Android | iOS | Windows
Runtastic
If you are thinking that this a just health tracking app, then you are wrong. Runtastic is there for much more, tracking your data regarding the cycling, hiking, skiing and kayaking activities done by you. With the app, you are able to get training logs and detailed data chart that can be compared with any other app user easily.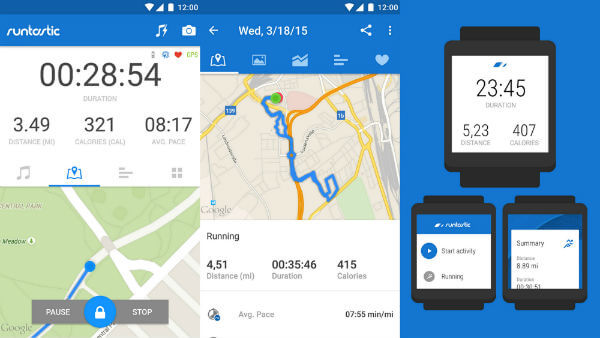 Runtastic includes modes for workout, competition, and training coming along with integrated music player. It supports voice feedback in multiple languages with the auto – pause feature. It almost has everything that is needed by a person to improve their overall fitness of the body.
Download: Android | iOS | Windows
Runkeeper – GPS Track Run Walk
When it comes to apps that track a person's running, Runkeeper is considered as the best health app in the business, coming with many features making it quite popular among the masses. Through the app, you can be closer towards the social aspects of running making your own running club by finding new friends through the app. The app is there to supercharge your training regime.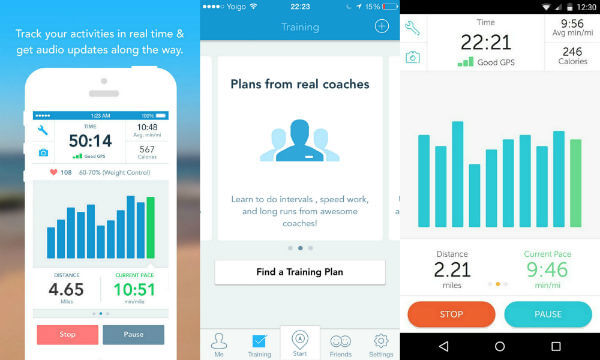 Track your workouts in real time and get updates in audio form on the way. Make and go on pre-planned routes to run while mapping them on the go. Personalize your running routine to get more time for it in your busy schedule. Want to know how much you have run in an entire week then you easily get it.
Ingress
Many people think playing video games makes them fat and sluggish turning into a person that loves the couch. But with Ingress app, you can get fairly back into shape. The augmented reality app makes the surroundings better and motivating you to go out even for a small walk. No matter what mission you play, you have to get out of the house to get the brilliant experience.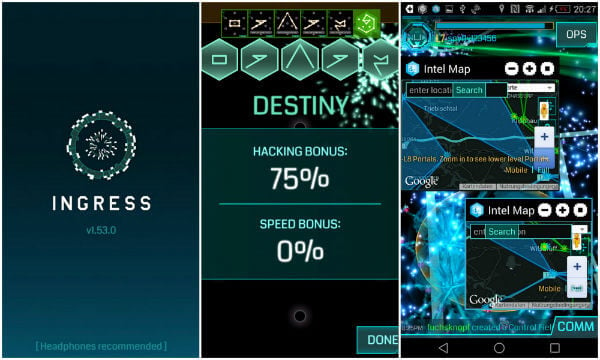 It gives the person something different than the usual workout regime. Take mobile gaming to a whole new level by being more active and constantly moving around. Build alliances and hack the enemy portals by roaming around to get extra points.
Endomondo
Endomondo is a simple app tracking your running, bike rides and activities performed outdoor with a detailed accuracy, giving you better fitness goals with its training and coaching feature. For long it has been a favorite fitness app and workout app for people who want to get more out of their walks and runs.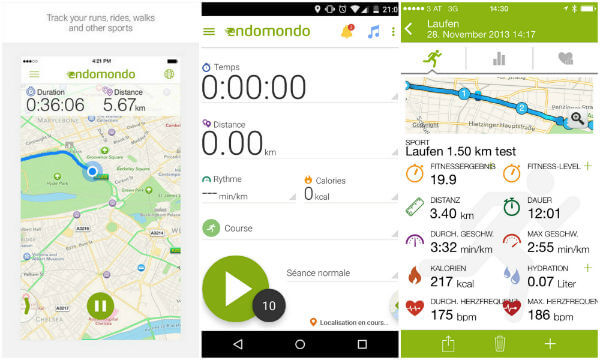 Through the app, you can get the exact data regarding your physical activities and other 40+ sports with the help of GPS. For every mile/km, you get the necessary audio feedback and giving the log regarding your daily training. With the audio coach, you can get the guidance to reach your fitness goal.
Download: Android | iOS | Windows
Google Fit
With Google Fit, you make your every effort, step, sit-up and good night sleep count. From cardio to weight training the Android workout app is there to coach you on every step of the way. Google Fit helps you to make a healthy change in your life by becoming more lively, self-conscious and motivated.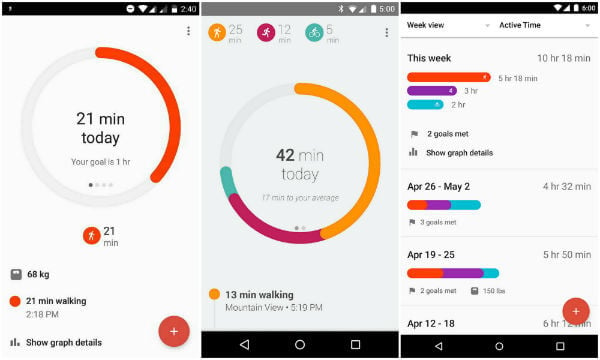 Effortlessly track any activity along with real-time stats for your runs, walks, and rides. Measure your wellness with Google Fit and get daily, weekly or monthly data from anywhere. It inherits total integration with Android Wear giving more flexible control on your fitness goals.
Download: Android
Strava Running and Cycling
For the athletes, by the athletes. Strava has a unique catch as compared to other health apps that are competition. When a person runs or rides a bicycle with the app, that person is actually competing with other users of Strava and with a huge user base of the app; you need to set up goals a little higher. This personal app offers the users a clean and friendly user interface; you get more control on your training methods.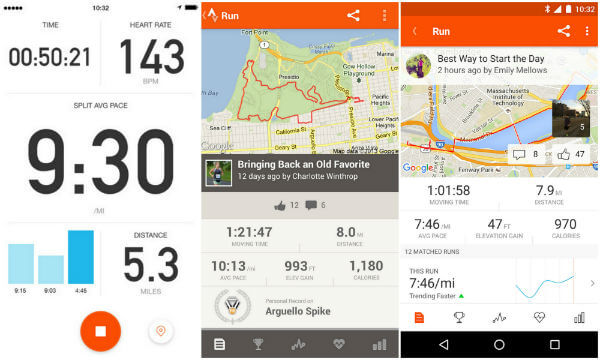 You can easily get the nearby places to run and ride with friends. Join the monthly challenges that are designed to push you further. After completing a segment, get the performance results immediately and match it with others. Strava gives you all your training history all in one place.
Related: Best Trick to Find out Local Data Providers in your area.
Simply install these fitness apps and workout apps for getting the assistance to keep your training and regime. With the regular exercise and physical activity these Android workout apps, lower your risk of heart diseases and fatigue. Give the listed apps a try to be fit for being a part of the society that is healthy.