Apple Watches are no longer just smartwatches. Apple keeps updating Apple Watch into being an all-day health monitoring device for your physical and mental wellness. Your Apple Watch can now even measure sleeping respiratory rate and tell you if you have a healthy breathing rate. Even if this may sound unnecessary for you, keep on reading to know why you should check your sleeping respiratory rate on Apple Watch.
Let's see what is Apple Watch respiratory rate measure and how to use it in your daily life.
Content
Disclaimer: Apple Watch might not be as accurate as certified medical devices to calculate respiratory rate always. We do not recommend taking any actions based on the results without consulting a doctor or a certified expert in the same. If you find any abnormal reading with the respiratory rate measurement on Apple Watch, consult with a doctor, and please avoid any kind of self-treatment.
What Is Apple Watch Respiratory Rate Measure?
The new watchOS 8 comes to the Apple Watch Series 3 or newer models (Series 4, 5, 6, SE) with a bunch of features. The new Sleeping Respiratory Rate measuring is available on all the supported Apple Watch models. So, what is Apple Watch sleeping respiratory measure?
In simple words, Apple Watch will calculate the number of times you breathe while you are sleeping. But why is this important? Many sleep disorders, sleep apnea, COPD, asthma, and numerous other diseases are related to the sleeping respiratory rate.
Measuring your daily respiratory rate and monitoring will let you identify any abnormality in breathing while sleeping. Early diagnosis with the help of the Apple Watch respiratory rate lets you prevent any risk of injury or sudden death.
Can Apple Watch Measure Respiratory Rate Always?
Apple Watch respiratory rate measure, unlike heart rate measure, is not an always-on feature. As of now, the Apple Watch respiratory rate measuring works only while you are sleeping. Apple has limited the feature to sleeping time only due to many reasons sun as,
Abnormality in respiratory rate while you are active can be easily identified and you can act fast. While sleeping, Apple Watch will do the job for you.
Measuring respiratory rate all-day costs a huge chunk of battery charge and will result in poor battery performance of your Apple Watch.
That being said, Apple decided it is better to keep the Apple Watch's respiratory rate measure only during sleep. So, Apple Watch respiratory rate measurement works only while you sleep, and not all day.
Is the Sleeping Respiratory Rate Same as Blood Oxygen Level?
Since breathing involves "Oxygen", you probably will get confused between the Apple Watch Series 6's SpO2 measurement. But both are different (but correlated in some way).
The Apple Watch Sleeping Respiratory Rate measures the number of times you breathe in a minute. That is just the "rate" of your breath in and out. On the other hand, the Blood Oxygen Level or the SpO2 defines the concentration of oxygen in your blood. This just denotes the capacity of oxygen blood cells can carry towards your tissues and organs.
To clear the air, here is a table of comparison between respiratory rate, blood oxygen level, and heart rate.
| Measure | Description | Unit |
| --- | --- | --- |
| Respiratory Rate | Rate of breathing in a minute | Brpm |
| Blood Oxygen Level | Oxygen saturation in blood | % |
| Heart Rate | Number of heartbeats in a minute | bpm |
Related: 12 Best iPhone Health Monitoring Devices: The Best Apple Health Devices to Ensure a Healthy Life
How to Enable Sleeping Respiratory Rate on Apple Watch
Now you know what Apple Watch Respiratory Rate Measuring does. It will help you measure your breathing rate and find if there is any anomaly in your breathing while you sleep. You can easily enable sleeping respiratory rate on Apple Watch if your Watch runs on watchOS 8 or newer.
First, you need to make sure your Apple Watch is updated. Check our guide to update Apple Watch to the latest watchOS software update.
Now, you need to enable sleep tracking on Apple Watch in order to start using sleeping respiratory rate measure. For that, open Watch app on your iPhone.
From the My Watch tab, scroll down and go to Sleep settings.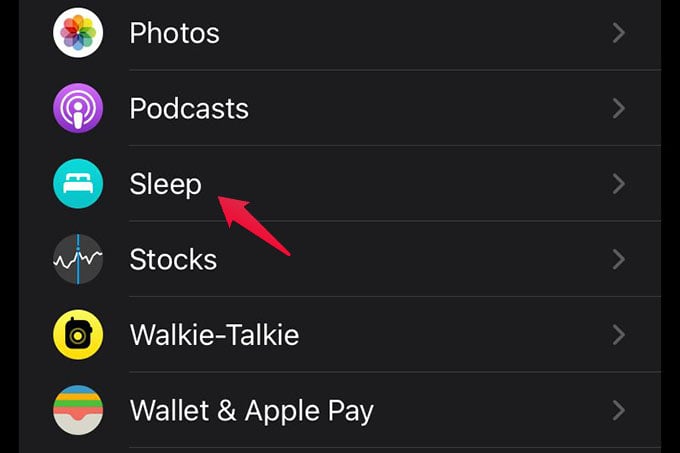 On the next screen, toggle on "Track Sleep with Apple Watch." You are all done now. There is no manual toggle for sleeping respiratory rate measures. If your sleep tracking with Apple Watch is on, it will automatically measure your respiratory rate as well.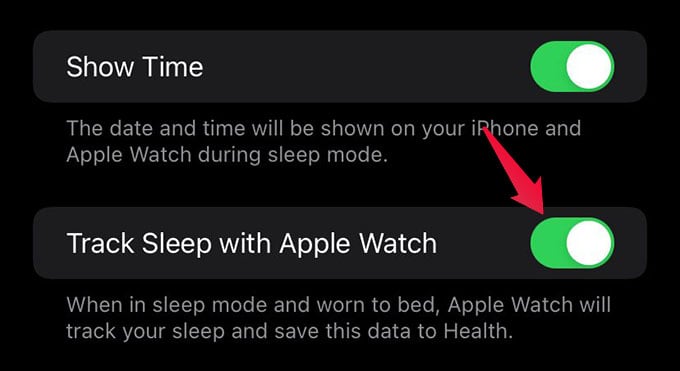 After enabling sleep tracking and respiratory rate tracking on Apple Watch, you can now wear Apple Watch to bed. It will automatically start calculating your sleep time, breathing rate and more when you fall asleep.
Related: 10 Best Sleep Tracker Apps for iPhone and Android
How to Find Your Sleeping Respiratory Rate on Apple Watch or iPhone
All your health data is stored in the Health app on your iPhone. Although your Apple Watch can show the sleeping data, there is no respiratory rate data yet. You can in fact look it up from the Health app on your iPhone.
Once you open the Health app on your iPhone, look for the "Respiratory Rate: Sleep" card under the Summary tab.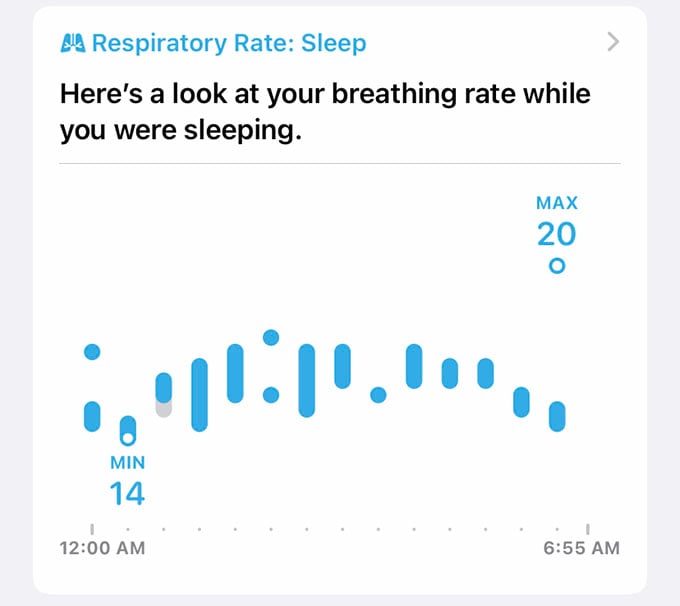 In case you cannot find the respiratory rate summary, go to Explore tab from the bottom. Tap on the "Respiratory" option on the screen.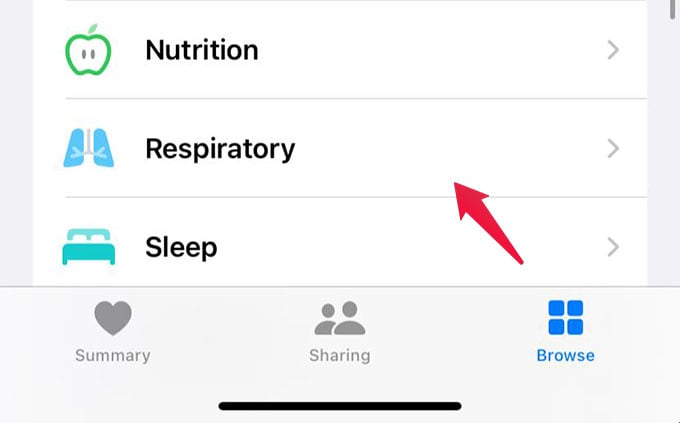 Select Respiratory Rate from the next screen and there you go. You can see a summary of your recent sleeping respiratory rate data.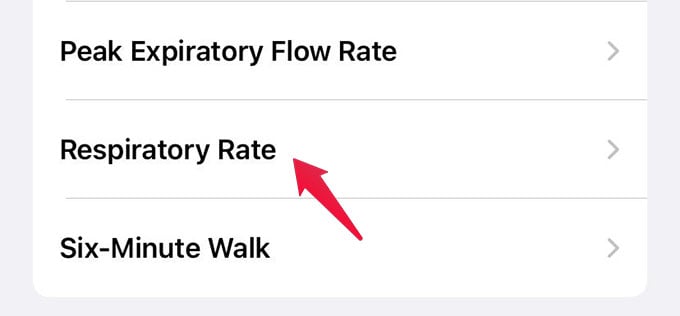 To get more details on your sleeping respiratory rate, you can tap the "Show More Respiratory Rate Data" link. It will popup the screen where you can see hourly, daily, weekly, monthly, and yearly sleeping respiratory rate.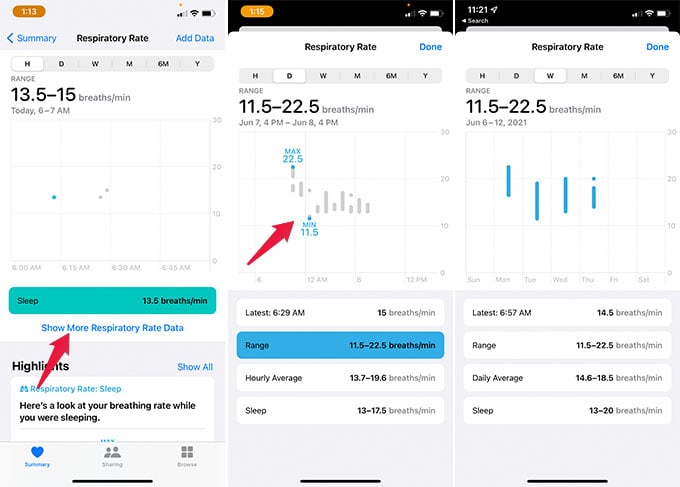 Understanding Sleeping Respiratory Rate Data on Health App
Take a closer look at the sleeping respiratory rate graph and you will see some figures. You will see some number between 10 and 20 that denote the respiratory rate while you were sleeping. So, how do you understand and analyze the Apple Watch respiratory rate data from iPhone Health app?
You can select the "Day" graph and look for the minimum, maximum, and Hourly average data. If your hourly average respiratory rate is below 12 or above 20, that means you have an abnormal respiratory rate while sleeping. For an average healthy adult, the sleeping respiratory rate should be between 12-20 BrPM. Children breathe at a range between 18 to 20 BrPM.
If you find your sleeping respiratory rate from Apple Watch too low or too high, you should immediately seek expert advice or consult your doctor. You can also bring your iPhone along to show them your recorded sleeping data.
Related: 12 Best Apple Watch Sleep Tracker Apps
How to Share Your Sleeping Respiratory Rate Data with Your Doctor
Once you start recording your sleeping respiratory rate, you can easily share your health information with your doctor. If you have any health concerns related to your sleeping respiratory rate, you can share your respiratory rate data from the Health app on your iPhone.
You can use the Sharing tab on the iPhone Health app to share your Apple Watch sleeping respiratory rate with your doctor. Check out our step-by-step guide to share your iPhone health information with your doctor.
Apple Watch sleeping respiratory rate is a lifesaver feature that makes it a perfect all-day health tracker. Right on your wrist, you can now get a peek at your heart rate, blood oxygen saturation, breathing rate, and much more with an Apple Watch. Hope this guide walked you through the Apple Watch respiratory data set up and usage.