Although WhatsApp is a secure way to message others, your WhatsApp account can be hacked without your knowledge. Mostly, hackers use social hacking methods to get hold of your WhatsApp accounts, which is by tricking you into giving them access. But there are certain measures you can take to avoid this.
Let us find out how you can protect your WhatsApp account from hackers.
How to Protect WhatsApp from Hacking
There is no one-step or single failproof method to protect your WhatsApp account. The best measure is to be conscious and careful about your privacy, and do not end up giving up your personal chats with a stranger. Here are the most effective steps you would take in order to secure your WhatsApp from hacking by any means.
Related: 15 Ways to Protect Your YouTube Channel from Hackers
Enable Two-Step Verification
You must have been hearing this term a lot these days. Two-Step Verification, aka Two-Factor Authentication or 2FA, is the primary key to protect any account online. If you already haven't, make sure to protect your Google account and Apple ID with Two-Step verification. Now, let's find out how to enable Two-Step verification on the WhatsApp account.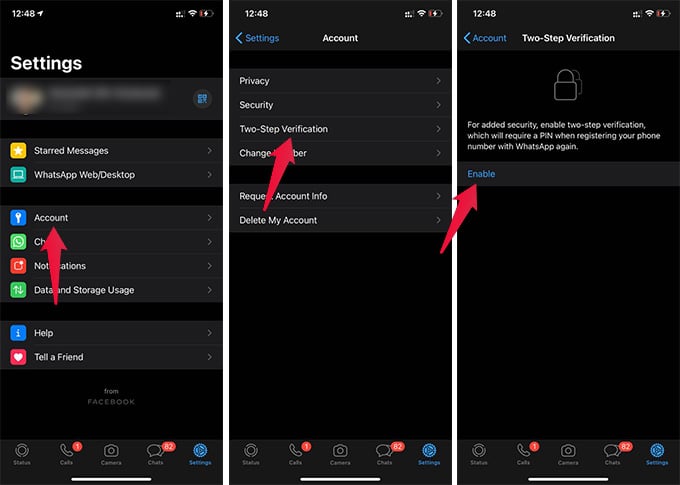 Open WhatsApp and go to Settings.
Select Account option.
Tap on "Two-Sep Verification" option and select "Enable" from the next screen.
Provide a passcode for the WhatsApp 2SV and make sure to remember it.
You can head on to our detailed guide to enable Two-Step Verification on WhatsApp to get a clearer idea. Once you enable the Two-Step verification for your WhatsApp, it will ask for the secret passcode the next time you try to login to WhatsApp on a different device. You can log in only if you have memorized it and no one else can access your WhatsApp account without getting this passcode.
Set Up Screen Lock for WhatsApp
If you have the habit of leaving your phone unlocked on the work desk or somewhere, chances are others can easily check your WhatsApp without your knowledge. A screen lock for WhatsApp will prevent this by asking for the screen lock password or PIN.
You can enable the screen lock and unlock WhatsApp using your Face ID or Touch ID/fingerprint. To enable the screen lock for WhatsApp using Face ID or Touch ID on your iPhone or Android,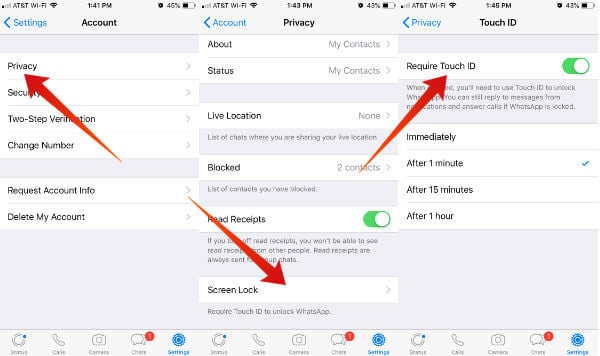 Open WhatsApp and go to Settings.
Select Privacy settings.
Tap the "Screen Lock" at the bottom.
Toggle on "Require Touch ID/Face ID" from the next screen.
Then, authenticate your Face ID or Touch ID to lock WhatsApp with your screen lock passcode.
You can also choose from WhatsApp when to lock the app when you close or minimize the app. Choosing "Immediately" will ask for Face ID or Touch ID verification every time you open WhatsApp. This is by far a really good method to protect your WhatsApp chats from others. If you are not convenient enough with WhatsApp's Screen Lock method, you can choose any other App Locks for Android or App Locking methods for iPhone.
Related: Your WhatsApp Web Can Get Hacked Easily If You Don't Take This Step
Check for Unauthorized WhatsApp Web Login
If somebody ever accesses your phone without your knowledge, they can easily hack your WhatsApp by connecting to WhatsApp Web on their PC. Anyone can simply scan a QR code using your WhatsApp and get all the chats on their PC. Thus it is important to ensure nobody has access to your WhatsApp via Web login.
On your iPhone, open WhatsApp and go to Settings. Select "Linked Devices" or "WhatsApp Web" from the menu on WhatsApp.
Look for any computers that are active or previously logged in. If you do not recognize any of them, select the computer from the screen.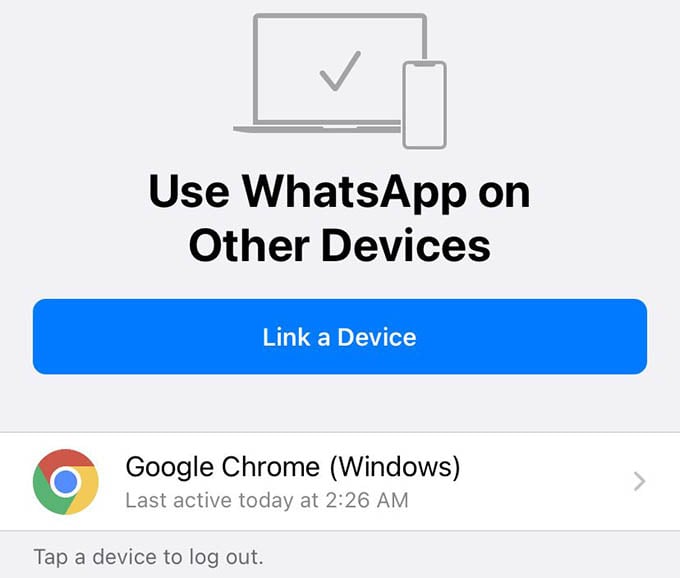 On the next screen, tap "Logout" to remove access to your WhatsApp through WhatsApp Web. Although they would have already seen your chats, you can prevent them from looking at your WhatsApp messages ever again.
You need to be cautious with the WhatsApp Web or Linked Devices section on your WhatsApp since it is the most vulnerable and easiest gateway to see all your chats.
Verify End-to-End Encryption
WhatsApp chats are always end-to-end encrypted. That means any message or text you send to your friend will only be visible to you and your friend. The message will be encrypted into a secret code while sent over the internet. It will be decrypted on the other person's phone and only they can read the messages.
That's how all the WhatsApp messages and calls work. So, there is nothing serious to worry about being monitored or watched over WhatsApp. But if you have doubts about a contact, you can manually verify the End to Encryption security code so that you can be sure if you are actually sending messages to your friend and no one else is reading them.
To verify someone's WhatsApp code, select the contact's chat in WhatsApp on your phone first. Then tap the contact name at the top. From the opened window, tap on "Encryption."
There you will see your security code with a QR code. To verify it with your friend's security code, open the same screen from your chat on the other person's WhatsApp. Tap on "Scan Code" on your phone and scan the QR code on their phone.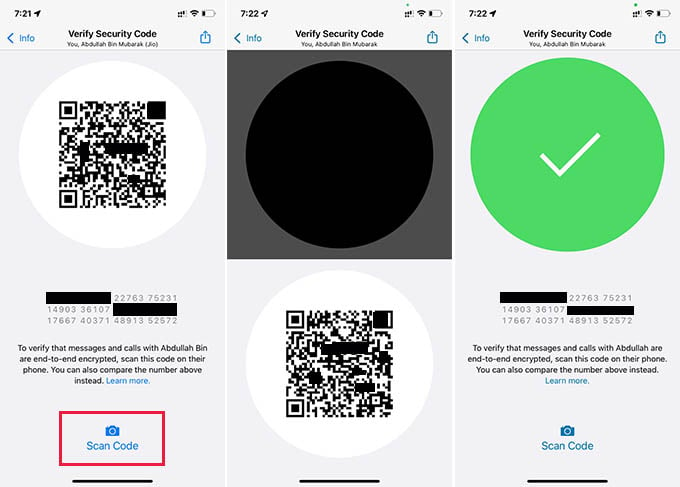 If the security code is verified, you will see a checkmark on the screen. If it ever happens to be different codes, it means your messages did not reach your friend's phone but someone else's. This can happen when someone switches the contacts on your phone and you end up sending the wrong message to the wrong person.
WhatsApp's end-to-end encryption security codes for chats will change when either of you switches to a new phone, uninstall and reinstall WhatsApp or change the account.
Deactivate WhatsApp Account if Your Phone Is Stolen
What if your phone is stolen? If you had an Android phone, chances are the person who snatched your phone could unlock it with some techniques. Your data may get compromised, so will your WhatsApp chats. The best approach to avoid this is to deactivate your WhatsApp the moment it is stolen.
If you are wondering how you can deactivate your WhatsApp account remotely, there is a perfect workaround. Simply log in to your WhatsApp on a new device. This will deactivate and log out the WhatsApp from your stolen phone.
If your SIM card is on the stolen device, make sure you get a duplicate from your carrier so that you can sign in to your WhatsApp on the new device ASAP.
Report Suspicious Chats
Are you getting intimidating messages and strange texts from unknown numbers? Many people regularly get such unwanted messages from suspicious numbers, which mostly leads to social hacking and privacy loss. To prevent any of this, WhatsApp allows you to report any shady numbers.
To report a chat in WhatsApp, go to the chat and select the contact name or number at the top.
Scroll down on the oncoming screen and tap "Report Contact."

You can then choose to simply report it or block it along with reporting. We always recommend blocking such unusual numbers so that you can have some peace of mind later.
Be Extra Careful with Privacy Settings
WhatsApp has some privacy options which lets you choose who can see your information in WhatsApp. This includes your profile picture visibility, about, status, and much more.
You can tweak your WhatsApp privacy features by heading to WhatsApp Settings > Privacy.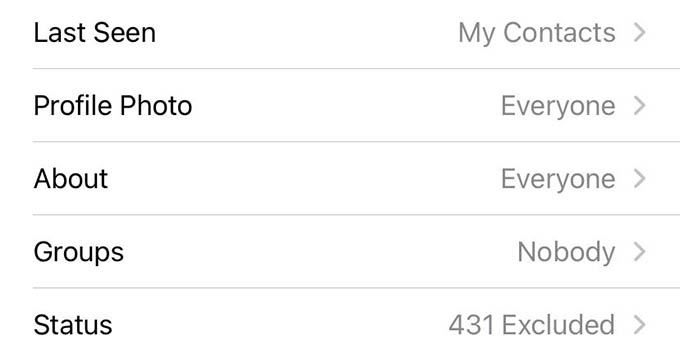 You can then select any of the privacy options for your WhatsApp account. It is up to you whether you want to show your information publicly or not. Most of these privacy options do not apply to WhatsApp Business accounts since their identity cannot be hidden from other WhatsApp users.
Control Who Can Add You to Groups
There is this one option in WhatsApp that allows you to block everyone else from adding you to a group. Normally this is turned off by default so that anybody can add you to a WhatsApp group. This can be dangerous since they might try to make you click on some phishing links.
You can avoid others from adding you to the WhatsApp group by enabling this privacy feature. To do the same, head on to WhatsApp Settings > Account. From the WhatsApp settings screen, tap on Privacy.
Tap "Who Can Add You to Groups."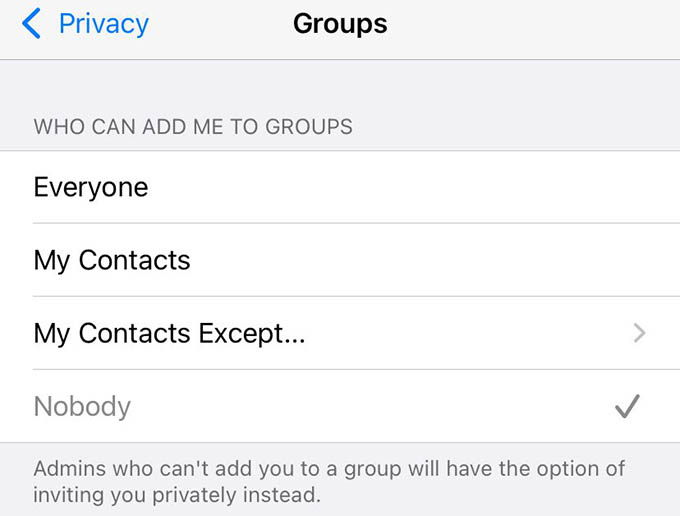 The default option would be "Everyone" on the next screen. You will have to switch it to "Contacts" or "Nobody" from here.
Once you set "Nobody" for the WhatsApp group adding permission, no one else can add you to a group without your permission. If a contact tries to add you to a group, they will be forced to send you an invitation first. Then it is up to you whether to accept or delete it.
Hide Bluetick from Others
If somebody keeps messaging you about something you do not like, you can simply avoid them. But if you read the messages once, they will a "blue tick" on your WhatsApp chat and they will know you already read. To avoid any such chats, you can just disable this "blue tick" from WhatsApp so that they will not know whether you read or ignore the messages.
To hide WhatsApp chat bluetick from others, go to WhatsApp Settings > Account. Go to the Privacy option. Toggle off the "Read Receipts" option.

When the WhatsApp read receipts are turned off, others will not be able to find whether you read a message or not. But there's a catch, you too will be blocked from seeing if others have read your message. It's a two-way bridge, but worth the setting.
Send Disappearing Photos in WhatsApp
Are you trying to send a media file to someone but do not want them to save it? You can now send WhatsApp disappearing photos or self-destructing photos to your contacts. Any such photo or video will self-destruct once they view it.
Sending disappearing photos in WhatsApp is easy. You just have to pick a photo or video from the camera roll as usual. Before sending, look for a circular icon with "1" inside it on the image preview screen. Tap on it to enable self-destructing mode for the photo.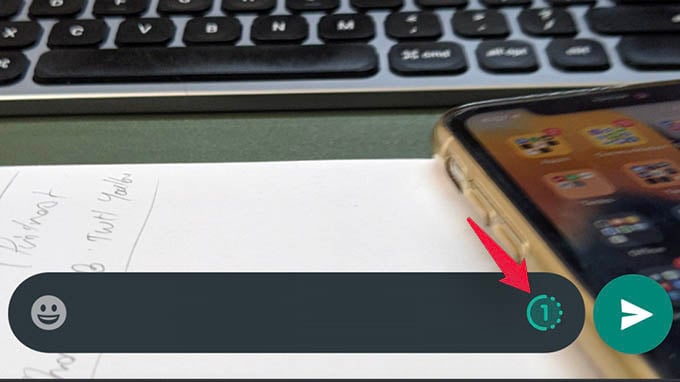 Now you can send the photo and it will be sent as a disappearing photo to the chat. You can know once they view the image and will not allow seeing it afterward. Although, the recipient can still screenshot the disappearing photos and the is no way to prevent or to let the sender know about it.
Send Disappearing WhatsApp Messages
Like you can send instantly disappearing photos, there is a disappearing messaging option too. Unlike the photos, the disappearing messages do not vanish right away the other person sees them. It works by deleting the messages older than 7 days from all the devices.
If you are in a WhatsApp group where you are an active member but do not want others taking a look at the older messages, you can go ahead and enable disappearing messages. Take a look at our guide to enable WhatsApp "disappearing messages" on your phone.
Check for Live Location Sharing
Somebody who has access to your phone can turn on and share live location with their number. You might be even surprised what this is. Well, WhatsApp has a live location feature that allows you to share your real-time location details with a contact. This turns out to be a good spying tool for someone who knows your phone lock passcode. They can simply share live location from your WhatsApp to their number so that they can watch your moves all along.
Whether you accidentally shared your live location or somebody tricked you, you can check if your location is being traced by someone over WhatsApp.
For that, open WhatsApp, go to Settings. Select Account and then go to Privacy. From the next screen, tap on Live Location.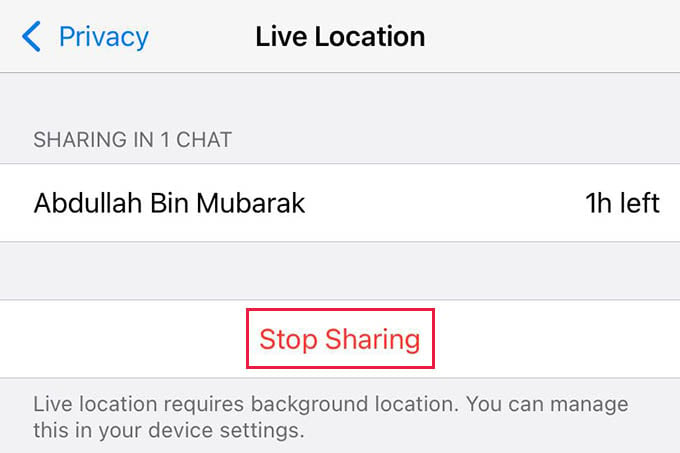 If you see any contacts there, it means they can now watch your movements. Simply tap "Stop Sharing" to block them from seeing your live location over WhatsApp.
Do Not Click Suspicious Links
Everything you see on WhatsApp need not be true and sometimes falls back as dangerous stuff. Hackers might try to snatch your WhatsApp or other personal information through malicious links. If you get any forwarded links on a group or direct links from a strange number, do not open them unless you are sure of their credibility.
Such phishing links usually come as some brand offers in plain sight. But deep inside, they will take you into a lookalike of your favorite website where they will try to gather your login information by tricking you. So, don't ever try to open any suspicious links unless you are very sure about them.
Do Not Share OTP with Anyone
OTPs or One Time Passcodes are the primary way of verifying your phone number all over the internet. This applies when you create or sign in to WhatsApp as well. If somebody wants to "hack" your WhatsApp account, they simply try with your phone number and trick you into giving them your OTP.
One thing every company keeps saying but most people won't listen to is " DO Not Share OTPs." Many will fall for prey calls where they ask for the OTP code received in the victim's phone. If you ever give up your OTP to someone, you are definitely compromising your WhatsApp account.
Plus, if the "hacker" signs in to your WhatsApp account using the OTP you gave them, your phone will be logged out immediately. You don't want to imagine the situation where the person who got your WhatsApp account puts a Two-Step Verification code to it.
It will be almost impossible for you to get back your WhatsApp account again. So, before somebody else takes your WhatsApp account and enables the 2SV, you have to do it yourself and protect your WhatsApp account. And remember, nobody legit will ask for a code received on your mobile number.
Make Sure Nobody Is Spying on Your Phone
Even though you take all the above measures to protect your WhatsApp from hacking, there is no point unless your phone is secure. If your smartphone is ever compromised to any spying tools, the person behind can still see all your chats, calls, and even call recordings.
Figuring out the spy tools in your phone might not be easy. We figured some of the effective methods in our own way and explained them in a guide to find if your phone is being spied on or monitored. The privacy should not be a myth and we all have some part to do in order to keep ours. The above methods will help you find out how well you can protect your WhatsApp from hackers.