Are you worried that your friend or someone else might see your messages against you, at least after a long time? You can now send disappearing messages on WhatsApp. The new self-destruct message feature on WhatsApp is available for everyone, and you can send these disappearing messages easily.
Here, we will see how to send disappearing messages on WhatsApp using your Android or iPhone.
Enable WhatsApp Disappearing Messages on iPhone and Android
Before looking to send disappearing or self-destructing messages on WhatsApp from your phone, make sure you have the latest update of WhatsApp installed. If not, go to App Store or Play Store and update WhatsApp or WA Business. Steps are pretty much the same, whether you are using an iPhone or Android phone.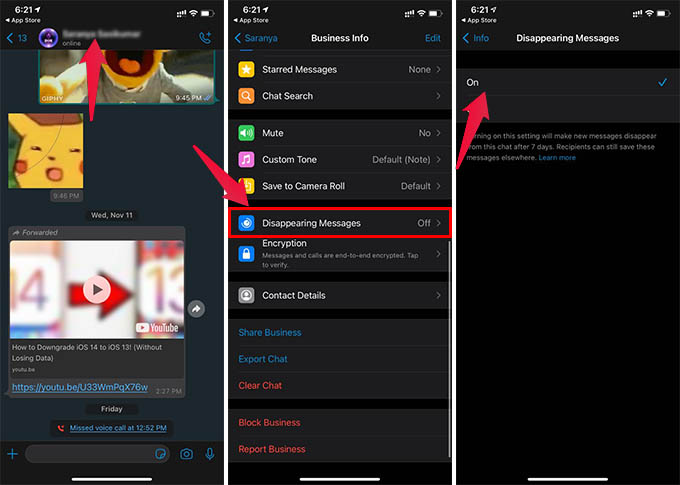 Open WhatsApp on your iPhone or Android phone.
Open any individual chat (not group chat).
Tap the contact name at the top.
From the next window, tap the "Disappearing Messages" option.
Tap "Continue" if a prompt shows up.
Choose "On" from the screen and go back to the chat.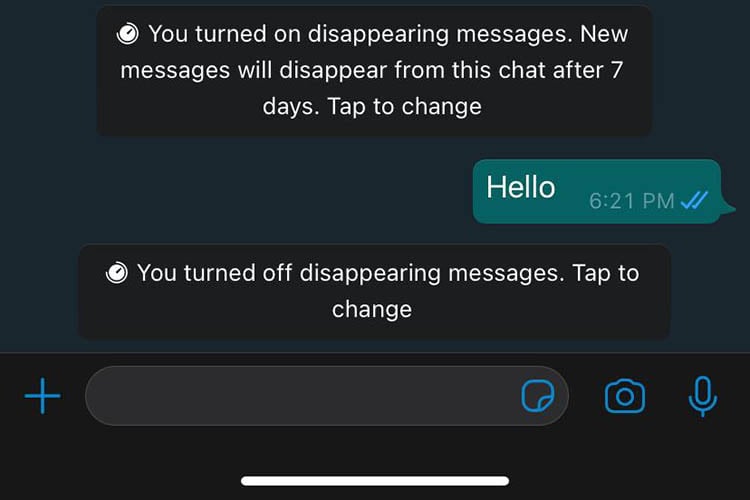 Once you turn on WhatsApp disappearing message for a chat, all the further messages will be deleted in 7 days. All messages sent when the feature is enabled will be cleared automatically. You can go ahead and disable disappearing messages to keep messages you send afterward.
Related: How to Use WhatsApp Storage Management Tool to Free Up Space on Your Phone
It does not let you set a time limit for a message to disappear, as of now. Also, the new disappearing messages on WhatsApp does not offer any protection from screenshots or forwarding.
WhatsApp disappearing messages might not be a great option to send sensitive messages that you want to remove instantly. Even if you enable the disappearing messages feature, WhatsApp will keep them for 7 days and the other person can still screenshot or forward messages to others. There are even apps like Telegram that offers instantly disappearing messages.