Tired of keeping a stack of business cards? Never fumble a card again with business card scanner app for Android, which supports to manage contacts at your fingertips. Rather than typing down everyone's contact information individually, these business card apps practice Inbuilt Optical Character Recognition (OCR) engine to scan contact information from the business cards. An integrated camera imaging technology can estimate the best business card scanner app for Android.
In order to help you pick the best business card scanner app, we have selected some Visiting Card Scanner Apps to examine and see what works for you the best.
CamCard
CamCard is the most downloaded business card scanner app for Android. Once you complete adding your contact details to create an "E-card" which can exchange with other CamCard users nearby using card radar or QR code. The complete profile provides a better impression of your contacts. Furthermore, CamCard auto-detects disorientation for every card and enhances the way it looks. Scanned documents are easy to search, sort, merge, and you can upload files to cloud storages.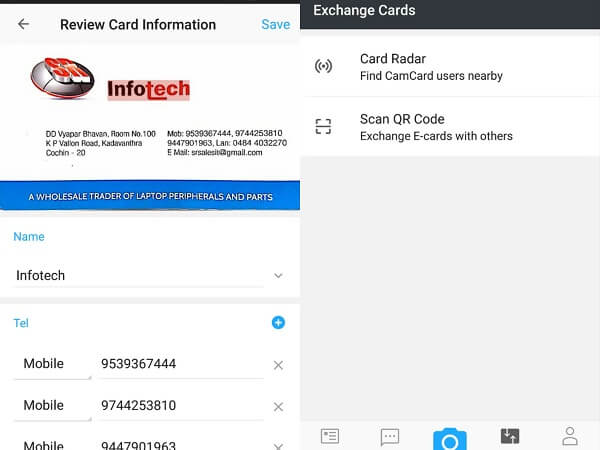 When you scan the business card, you can synchronize documents across various devices in real-time. CamCard offer you many features to manage business cards by adding notes, setting a reminder, and adding the tag to any document for quick search. In addition, Camcard recognizes 17 languages and scans up to 200 cards in the free version. The premium version offers some additional features and is ad-free.
Download from PlayStore: CamCard
Also Read: 7 Best Android Apps to Scan Old Photos
Abby Business Card Reader
When it comes to scanner apps, Abby business card reader seems to be rated very well by users making it one of the top business card scanner apps for Android. Unlike other apps, Abby does not demand to press the shutter button to scan. Once the camera identifies the card and on focus, this Android scanner app will auto-click a picture and stores pieces of information on the cardholder, the BCR's own storage.
The cardholder feature provides a convenient business card search so you can quickly find a contact you need and allows saving business cards in different languages. From cardholder, you can share contact data via e-mail as Vcard and JPEG file or via text messages and export to MS Excel. Abby sync cards across several devices so you can backup, update, and restore from all your devices.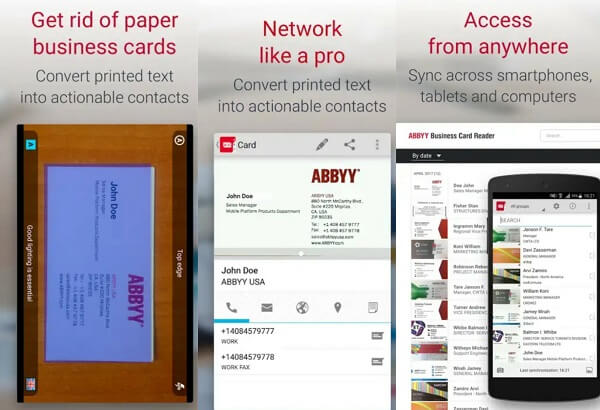 This biz card reader sorts out our first and last names and includes fields for the social network- Facebook, LinkedIn, and Twitter. The app supports 25 languages and reads a maximum of three languages simultaneously. It is free for first 10 card scans. The premium version is available for $14.99.
Download from PlayStore: Abby business card reader
Wantedly People Scan Biz Cards
What makes Wantedly People stand out is it can scan up to 10 business cards at once. All you need to do is lay the cards side by side in any direction without overlapping each other. The app, recognizes all of these cards in a raw, indicating a circle on each card. Sign up with Wantedly app profile to display yourself as professional with a self-introduction, work history, education, achievements, projects, social media links and more.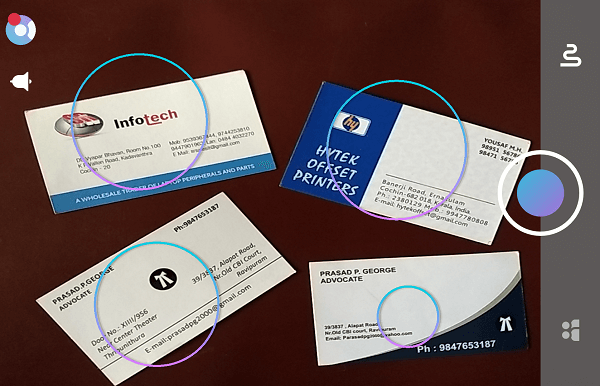 This free app assists to find contacts by name, company's name, and job position in a matter of seconds. Further features like Wantedly chat, the business chat platform that allows sending messages to contact, and share biz cards with others. For privacy purpose, it shares a card with a temporary URL that will disappear after a set amount of time.
Download from PlayStore: Wantedly People
Also Read: 7 Best Android OCR Apps to Scan Image to Text
FullContact Address Book
Looking for biz card reader, which easily transcribes business cards to the Android address book, FullContact is the one to consider. This app lets you take a photo on both sides of biz cards and turn partial contacts into full contacts. Each card passes through two-person verification process where real human works on your card to make the information more accurate. Because of this additional feature, the app attaches new contact information to the current address book and eventually merges duplicate contacts.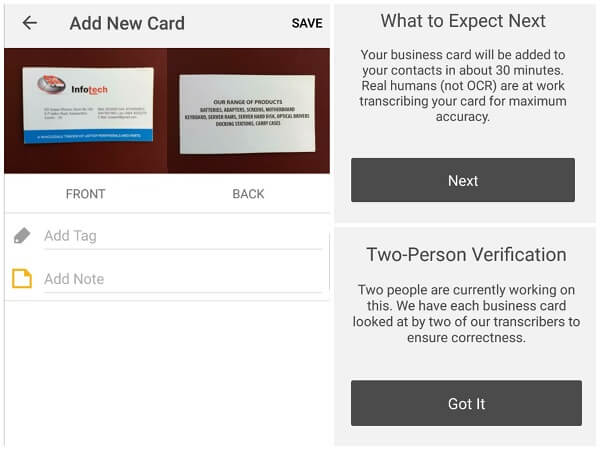 In order to get a perfect aspect of contacts, this Android business scanner card app combines Google contacts, Android contacts, and social media accounts. This Android Scanner app synchronizes across devices so that you can exchange contacts between iPhone and Android device. To associate with other teammates, it forms a single contacts list so that any member of your organization can access and update it.
The basic version is free to download and use and the premium version carries a monthly plan of $9.99. The additional features in premium version allow you to store 25,000 contacts and sync up to 5Gmail and iCloud accounts.
Download from PlayStore: Fullcontact
Evernote
There is no special introduction is required for Evernote. Evernote captures business cards, notes, and pictures and organizes these with tags. The new notes can be taken in a variety of formats. The note can be a photo clicked with your camera, an attachment, an audio clip, a reminder, a handwritten note or a text note. Seems like, you can make use of Evernote app in everyday life as well in business or education to keep up with the personal checklists so you do not miss anything.
You can manage it as a digital notepad and attach office documents, PDF's, and photos. Like all other apps, Evernote also provides the facility to sync everything automatically across any device. By creating and sharing agendas, memos, and presentation with colleagues eventually get your project done faster and maximize productivity.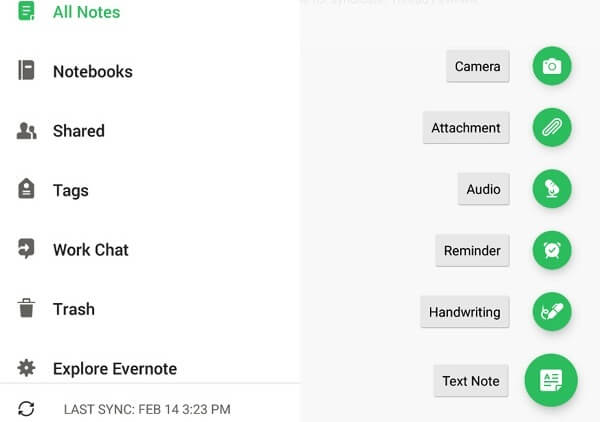 Evernote app is available in four tiers of services; Basic plan, plus plan, Premium plan, and Business plan. Evernote pricing starts with a free basic plan of 60MB monthly upload. Basic plan provides the feature to sync your notes up to two devices. Plus plan offers offline notebook access, email integration and up to 1GB monthly upload.
The Premium plan let you search in docs, present notes, notes history, annotate PDFs, related content, and upload 10GB per month. Plus and Premium plan can sync your notes across unlimited devices. The business plan features to connect with your teammates, which helps you to keep the track on your project details.
Download from PlayStore: Evernote
Sansan- Biz Card Management
Sansan solely focuses on managing a whole company's business card. The features of this visiting card scanner are available in both web app and mobile app to keep contacts organized into company database. After signing up with the company's profile, you can share scanned contact information with colleagues. Sansan also combines contact profiles to keep the track on everyone's latest information.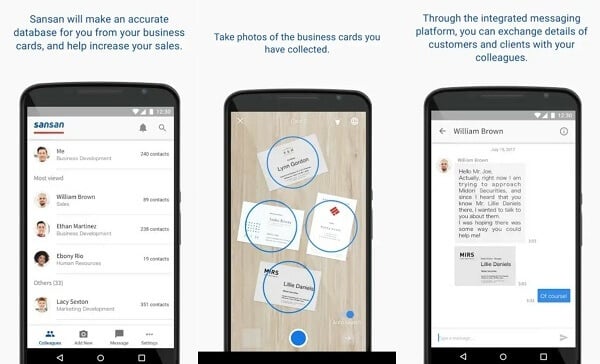 The app is coming with OCR capability to digitize business cards to the database or you can request service from Sansan team members. Sansan recognizes 6 languages and its ability to scan 55 cards per minute helps your staff to bulk scan cards as quickly as possible. Sansan can be sync with Salesforce, email services, and address books.
Download from PlayStore: Sansan
Eight- Manage Business Cards
The Eight app, launched by Sansan provides a secure way to organize business cards and elevate every connection with its social media feature. Eight is designed for individuals while Sansan was introduced for businesses. Here, the Sansan team, for maximum speed and accuracy, does digitization manually.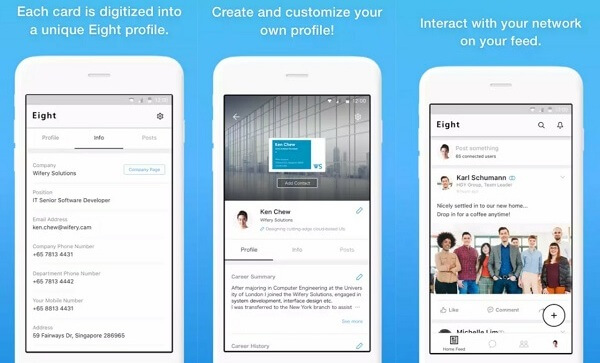 To set up an Eight profile, you first need to scan your own business card. Then Eight users can interact with each other directly in the app and view insights through a real-time news feed. The updated network helps you to utilize your career and sales opportunities to the maximum.
The standard version is free to use. In-app purchases range from $3.23 to $32.26 that provide further benefits such as data exporting.
Download from PlayStore: Eight
ScanBizCards
With ScanBizCards either you can scan the card on your device or send the card for manual transcription ($0.18 per card). This app offers a cloud backup to ensure that your card scans are securely backed up and available when you need them. You can create personalized cards by editing the contact information and organizing it with custom folder names.
The app generates new contacts on your device by merging with existing contacts and even captures email signatures that convert them into address book contacts. Apart from all these features, it supports double-sided biz cards, allow you to view in 3D gallery mode, finding contacts easily and sharing business cards via email and SMS.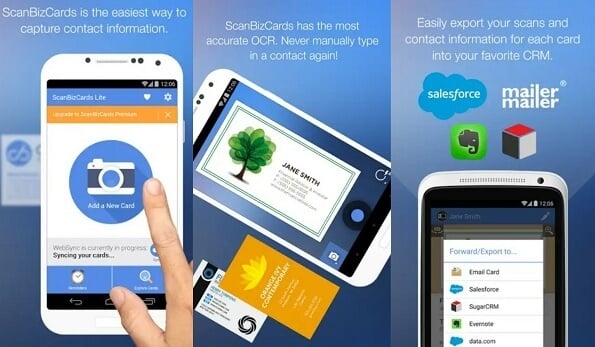 ScanBizCards supports 22 languages and can export your business cards to act, Salesforce, SugarCRM, and Jigsaw. The Lite version is limited up to add 2 contacts per week, export five contacts, and no clipboard scanning. The premium version is available from $0.80 to $2 per item.
Download from PlayStore: ScanBizCards
Android Business Card Scanner Apps
There is no better way to have organized contact information than digitalizing your business cards. The simple features of these business card scanner apps are enough to handle your networking at any scale that eventually escalates your business relationships. With these visiting card scanner apps, you can digitize all your business cards in bulk and convert to digital format and save into a database or Android contact list.