Video editing has become more accessible than ever with the proliferation of smartphones and tablet devices. For Android users, there are many great video editing apps available on the Google Play Store. These Android Vidoe Editors offer a range of features and functionalities to help you create professional-looking videos. Whether you are a beginner or an experienced video editor, there is an app that suits your needs and budget.
In this article, we will be taking a look at the best video editing apps that you can install on your Android device. Let's take a look.
KineMaster- Video Editor
One of the most popular videos out there for the Android device is the KineMaster video editor. You might have seen a number of short videos that have been posted either on YouTube Shorts, Instagram, or TikTok that have the KineMaster watermark at the opposite corners of the video. The app lets you edit videos that you have either taken on your mobile device or from a video camera. The video editor lets you do all basic functions such as cut, crop, trim, mask, and zoom as well as add elements such as stickers and special effects.
KineMaster is perfect for those who are new to video editing. The video editor has a number of video templates that you can download and insert into your videos. KineMaster also has al[rge number of audio and video effects libraries that you can choose from. KineMaster also lets you share your projects so that you and your friends are able to collaborate on a project. With KineMaster you can also create videos from scratch.
Pros:
Easy To Use Interface
Perfect for beginners
Cons:
Locked to 30 FPS
No Copy and Paste Option
The yearly Subscription Price Is Very Expensive
Watermark In Free Versions
Key Features: Green Screen Editing | Multiple Audio and Video Libraries | Video Templates | Supports Multiple Audio and Video Layers | Volume Control | Chrome Key Edits | Keyframe animation | Quick and Easy Share To Social Platforms | Stickers Support
Download: KineMaster- Video Editor (Freemium)
10 Best Free Video Editors for Windows 11 Users
VivaVideo Editor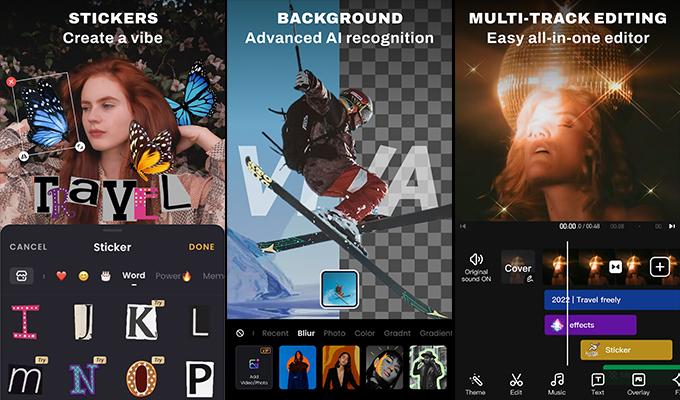 Netxt onthe lsit is ViaVideo. This is another popular video editor that is used a lot by Android users to create short-form videos and long-form ones. With Via Video editor you can not only edit your videos with the basic tools but also create and make your own videos right away. ViaVideo also lets your merge videos, add sound effects, and transitions, and change video speeds on the go. The Music Library for ViaVide a has large collection of music that is updated on a regular basis. If you are a regular uploader on TikTok, you can easily lyrical music videos that can be shared on similar platforms.
ViaVideo also has tools that allow you to blur videos, add tets you even add subtitles to videos that might be having audio from another language altogether. Such video editors are useful for those who like to edit videos easily on their mobile devices for free. Purchasing the premium monthly subscription will unlock more features as well as eliminate the ViaVideo watermark.
Pros:
Supports Multiple Audio and Video Layers
Multiple Video Effects
Best For Short Videos
Cons:
Some effects need To Be Purchased
Watermark
Unstable and Buggy Updates
Key Features: Large Music Library | Blur backgrounds | Remove Backgrounds | large Video Effects and Transitions | Merge Videos | Slow Motion Vidoe Creator \ Multiple Themes Available | Keyframe Animations | Add Stickers | Insert Texts and Subtitles
Download: ViVaVideo Editor (Freemium)
Splice – Video Editor abd Maker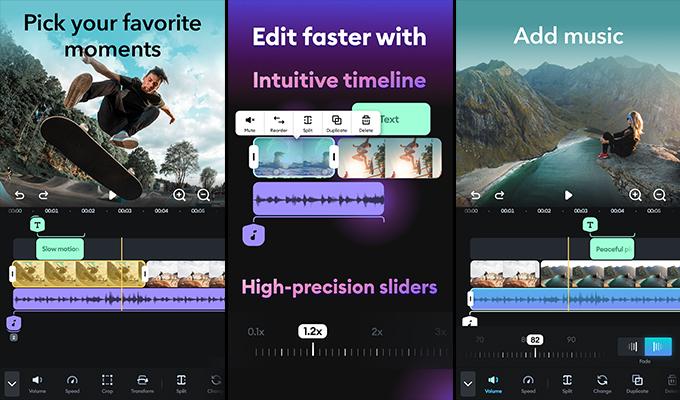 Looking to create professionally edited videos on your Android device? You might want to give the Splcie video editor a try. You see, Splice is all about how you can easily make these cuts, trims, and merges to your videos. You can easily change the playback speed between fast and slow. Apart from using your own audio files and audio effects, Splice has a large collection of such effects and around 400+ songs for you to choose from. You can even create and add your own styled text and text overlays to make your videos even more interesting.
Splice lets you choose the aspect ratio of the video depending on the platform that you wish to export to. Splice allows you to create unique videos thanks to the timelapse and hyperlapse effects. You can also add text animations so that your videos stand out and get a lot of views on social media. While the free version of Splice should be good enough for most users, the premium version of Splice allows you unlimited access to its resources as well as unlocking additional features and tools to edit your videos.
Pros:
Simple and Intuitive Interface
Feature Rich
Supports Multiple Video Resolutions
No Watermarks
Cons:
Free to Use for Limited Time
Requires Premium Subscription To Export Videos
Free Tools Require Subscriptions
No Multiple Audio and Video Layers
Key Features: Create Text Overlays | Large Music Library | Slow Motion Video Creator | Easily Cut, Trim, and Merge Videos | High-Resolution Video Exports | Timelapse Creator
Download: Splice Video Editor and Maker (Freemium)
15 Best Instagram Video Editor Apps for Android and iPhone
Filmora Video Editor and Maker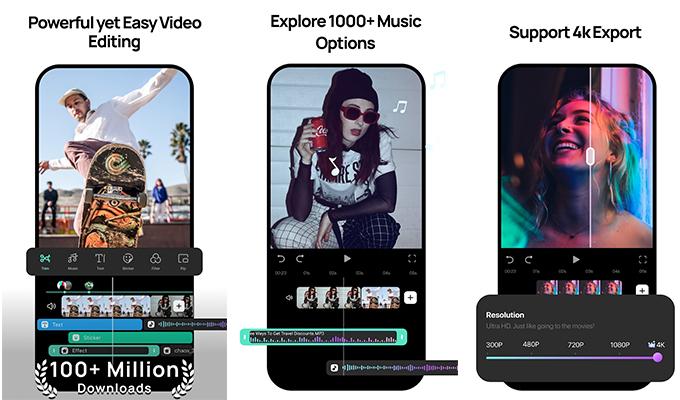 Filmora is a popular video editor not only for PC but is also available for Android devices. The free version of Filmora lets you perform all basic functions such as cut, trim, crop, merge, and insert audio, text as well stickers to the video. The video editor for Android has multiple-layer support as well as the option to add multiple video filters to your videos. You can also create keyframe animations with Filmora on your Android device.
Filmora has a large library of over 100+ songs that can be added to your video's background. Having issues with the voiceovers or dialogues on the video? Filmora has you covered thanks to the voice enhancement tool. If you want, Filmora can also hp you extract audio from any video file right away. With Foilmora, you will be able to export high-quality videos upto 4K to any platform like TikTok, Instagram, or anywhere you wish to upload.
Pros:
Good For Beginners
Quick Share To Social Media
Create New Videos
Cons:
Watermarks in The Free Version
Requires Premium To Remove Ads
Issues With Effects
Key Features: 5000+ Stickers | 1000+ Music FIles | AR Camera | 4K Video Exports | Dual Camera Shoots | Unique VIdeo Filters | Large Theme Options | Cloud Storage With Premium Version | Insert Locally Stored Music and Audio Files
Download: Filmora- Video Editor and Maker (Freemium)
PowerDirector- Video Editor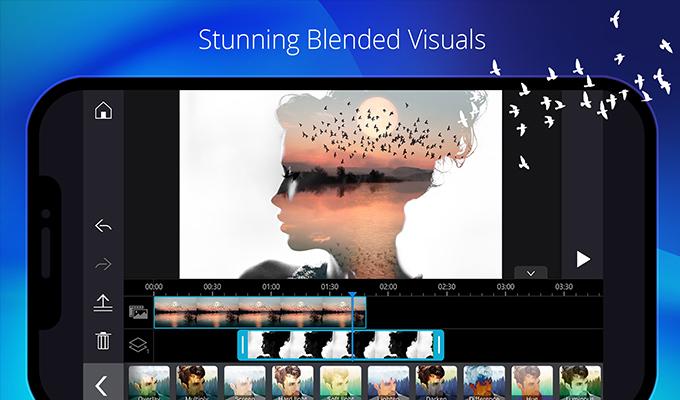 While there are a good number of video editors out there, the PowerDirector video editor for Android is its own league. A lot of people continue to make use of this video editor simply because of the features as well as its asset library. While you could easily edit videos using the landscape mode, PowerDirector also lets you easily edit your videos in portrait mode. PowerDirector has all the basic tools you would need to edit your videos. The editor has a number of video presets, transitions, video effects, and motion titles for your videos.
PowerDirector also has a few features up its sleeve that can put any other video editor in the back. The video editor has a large number of stock audio and video that can be used for commercial projects. You can also add PIP overlays with collages to your videos with PowerDirector. Overall the video editor is free to use. You can remove ads by subscribing to a premium plan.
Pros:
Easy Understanding Interface
Rich With Features and Tools
Cons:
Glitchy Updates
Poor Customer Support Service
Key Features: PIP Collages | Portrait Mode Editing | 4300+ Video Templates | 4K Resolution Exports | Voice Changer | Chrome Key Edits | Bleding, and Double Exposure Effects | In Built Voice Editor | 10K+ Music Tracks | 2.7M+ Photos | Stickers | Frequent Updates and Updated Content
Download: PowerDirector (Freemium)
10 Best Android Video Editor Apps for Tablets and Phones
Adobe Premiere Rush: Video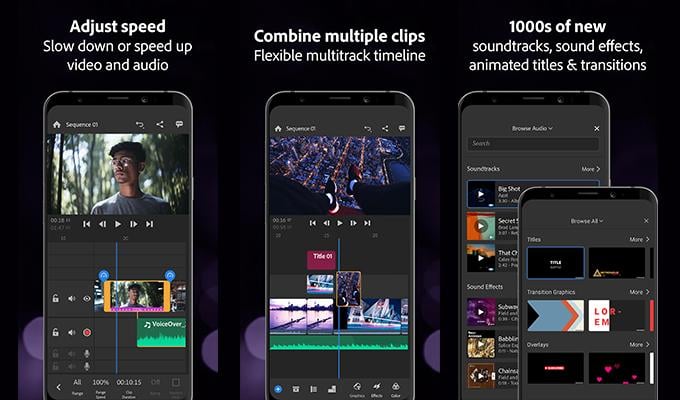 Adobe's video editing software, Premiere Pro is a well-known professional software used by people in the professional industry. Now, Android users can easily access the popular video editing software on their devices via the Google Play Store. This a video editor that works across any device. You need to have an account in order to sync your edits and update them as and when you want. Adobe Premiere Rush lets you edit your videos, and add texts, transitions, and effects right away.
There are all the tools you need to edit your videos such as crop, cut, trims, merger, insert, audio, video, and graphics as well as shoot videos in high quality from the app itself. Adobe lets you customize the numerous title overlays and add audio effects with ease. The best part about Adobe Rush is it has no ads.
Pros:
Simple User Interface
Cross Sevice Sync
Cons:
Issues With Annual Subscriptions
Has Some Bugs
Key Features: Adobe Sync | Adjust Audio and Viedo Speeds | Merge Clips | 1K+ Sound Effects. And Soundtracks | Animated Titles and Transitions | Insert Voiceovers | Video Fresets and Filters | Auto Reframe | Pan and Zoom |Portrait Editing | Ad Free
Download: Adobe Premiere Rush (Freemium)
Canva- Photo and Video Editor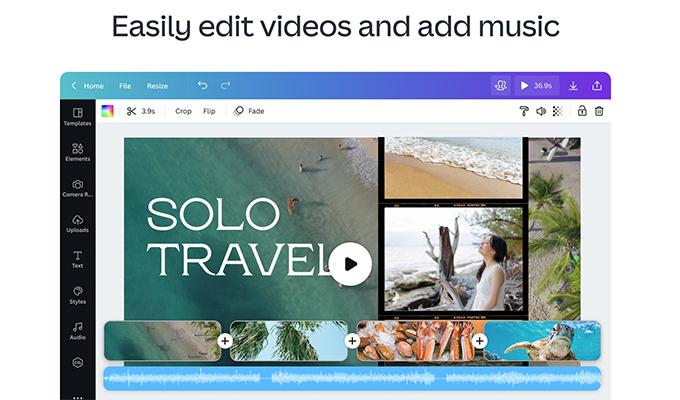 Canva is a well-known application used by graphic designers and users who want to make their posts unique on social media, While it has good tools for editing images, you can also create and edit videos easily on Canva. Canva however is great when you want to make videos for an ongoing festival or for a trending topic. The user interface is so simple that even a person who has never used a video editing program will be able to use it with ease.
The app has audio and video layers and all the basic tools like crop, trim, resize, flip and merge tools. You can easily animate with ease in Canva with just a single tap. You can use the video editor to create short videos for Instagram, YouTube, and TikTok. The video editor also allows you to create slideshows that can be shared quickly on any social media platform.
Pros:
Good For Beginners
Simple Interface
Cons:
Not Recommended For Advanced Video Editing
Key Features: Simple Easily Create Short Videos \ Slideshow Creator \ Multiple Vide Themes and Templates Multiple Audio and Video Layers | Simple One tap Animations and Transitions \ Create Video Collages
Download: Canva- Photo and Video Editor (Freemium)
These are the best video editors that you can install and try on your Android device to edit and even create videos from scratch. Looking for a video editing app can depend on the type of videos you might be creating or editing. For social media, Canva is a good option. But, if you are looking for serious video editing software on Android, you can choose between Splice, PowerDirector, and any pro version of the other video editing apps that have been mentioned in this list.