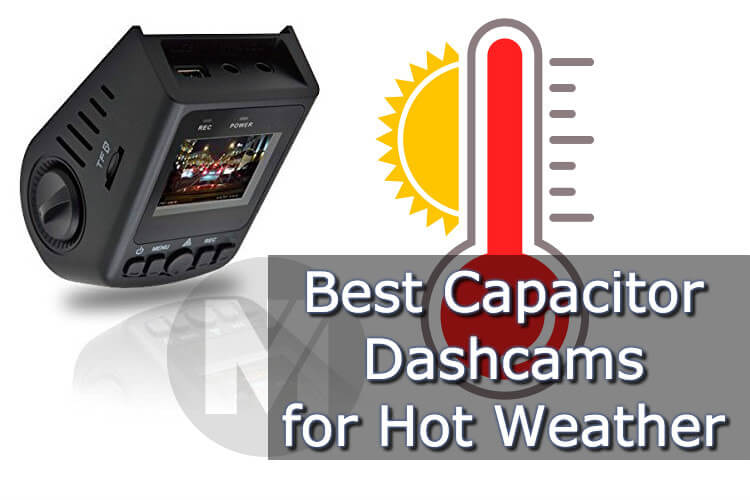 Are you looking for dashcams that can work in hot weather? Most of the dash cameras are coming with a lithium-ion battery. The dash cameras with batteries can't perform at high temperature. The supercapacitor, which replaced lithium batteries is the new trend in Dashcams. Supercapacitors, perfect air vents, and compact design increased the lifespan of dashcams in extreme weather conditions. The capacitor dashcams are build to survive extreme weather conditions and ideal if you are living in Arizona, Florida or Texas up to 160F.
Listed below are some of the heat resistant dashcams that can withstand extreme temperature without affecting its health.
Street Guardian GC V3 Dashcam
Like all dash cams, Street Guardian provides good video quality, loop recording, Expandable memory space, etc. But, an all-temperature camera needs some upgrades to withstand the varying temperature. This is where Street Guardian capacitor dashcams show off its power. The main highlight of Street Guardian is its metal cased lens.
These metal case gives extended life to your camera lens and won't disturb the video quality. External GPS component for more air flow in dash cam cases and less heating inside the casing. GPS component gets heated quickly. Providing it outside the case helps in reducing the extra heating to the dash camera. Street Guardian has supercapacitor to protect the dashcam from extremely hot weather.
This heat resistant dashcam has 120 degrees, 7 element lens to provide video recording at 1080p in crystal clear quality. Although IR LEDs are not present, a Sony IMX322 sensor can record videos at low lights. A 32 GB class 10 memory card is present with the device and we can extend memory up to 256 GB. With 3M Tape, you can fix the camera anywhere inside the car. G-sensor to record emergency videos when an intruding activity occurs to your car is also available in Street Guardian.
DashCam Working Temperature: -4F-158F | PowerSupply: Super Capacitor | Buy on Amazon Street Guardian
Related: 8 Best Parking Mode Dash Cams for 24/7 Surveillance
Vantrue T2 Dashcam
Vantrue T2 performs well in accordance with your car, efficiently and smartly. The built-in super capacitor saves the dash camera from extreme climates and prevents it from exploding. The life-span of this capacitor dash camera is higher than lithium-ion battery dashcams.
The GPS module got excluded from the case to avoid overheating inside the case. GPS modules produce more heat and cause damage to the internal parts of the camera. Even though the GPS module is not included with the dash cam, it is compatible with the camera. So, an external GPS can easily connect to the dash camera.
Vantrue T2 records video at 1080p at 30fps, thanks to 6 element lens and NOVATEK NT96655 processor. A wide 160 degrees angle is available for wider recording. Sony Exmor IMX323 sensor plus the HDR technology makes it possible to record videos in low light without the help of IR LEDs. HDR technology balances the exposures to provide finer details in low light videos.
The memory extends up to 256 GB and the company recommends using a 32 GB class 10 MicroSD. 24Hours Wave Guard Parking mode adds more security to your car. This heat resistant dash camera emits microwaves whenever your car gets parked in a parking spot. These microwaves pick up any motion around your car and start recording. This method is more efficient than current motion-sensing technologies. G-sensor protects emergency videos from becoming corrupt or overwriting.
DashCam Working Temperature: -4F-158F | PowerSupply: Super Capacitor | Buy on Amazon Vantrue | Discount Code for 15%
Thinkware F800 PRO Dual Dashcam
Thinkware produced a dual dashcam for high temperature that can withstand both hot and cold climates. What they did was to remove one camera from the main body. They sold the mini camera separately. Thinkware's main camera sits on the windshield, watching the road while mini cam can settle anywhere (usually set for rear view). Most of the people use it to record rear view. Removing one camera from the body reduces the processor's work. This will result in healthy, long life processors with efficient working.
The mini camera gets connected via Wi-Fi and the same Wi-Fi gets connected to your phone app. F800 Pro uses supercapacitor for temperature cut-off. So, whenever the camera goes above high temperature, the camera automatically turns off.
F800 Pro has Ambrella A12A55 chipset for simultaneous recording of both cameras. Sony Starvis IMX291 helps 1080p camera to record in low light conditions. Advance Driver Assistance system alerts the coming red lights and speed cams.
Both cameras have 140 degrees wide angles with 6 element lens for high-quality recording. Although the company recommends 32GB microSD, it can expand up to 128GB. F800 Pro has built-in Wi-Fi reader and GPS module for better connectivity. The above heat resistant design with capacitor power supply make F800 as one of the best dashcams for hot weather.
DashCam Working Temperature: -4F-158F | PowerSupply: Super Capacitor | Buy on Amazon Thinkware
DDPai Mini2 Dashcam
DDPai's Mini 2 is a compact version of dash cameras. Compare to traditional dash camera, Mini 2 removed its LCD screen, physical buttons, and Lithium batteries. Instead of Lithium batteries, Mini 2 uses super-capacitor which gives longer lifespan. By removing these parts, Mini 2 can reduce the internal heating and thus increase the lifespan.
Supercapacitors can also withstand both higher and lower temperatures. Mini 2 is a dash cam designed for high temperature, that can connect via WiFi to your smartphones. All you got to do is to download the DDPai app and connect to the camera for better control of your dash camera. A simple snapshot button is also available with the device so you can snapshot whenever you need, instantly. Since the button is not on the device, you don't have to reach the camera to take a snapshot.
Although most of the components got removed, DDPai has maintained the quality of the camera. Mini 2 can record 2K videos at 25fps and 1080p videos at 30fps. 6 element lens with one lens for IR and CMOS image sensor record videos even at low lights. 140-degree medium wide angle rotatable lens for recording both road and cabin visuals.
The app-controlled User interface provides much more comfort than the LCD screen. G-sensor completes the full protection promised by Mini 2. The time-lapse recording uses 1fps saving for longer videos. The snapshot button can take a snapshot and record a 10 seconds video for more clarity. This Mini2 is one of the best dashcam built for hot weather.
DashCam Working Temperature: -13F-185F | PowerSupply: Super Capacitor | Buy on Amazon DDPai
BlackSys CH-200 Dual Dashcam
CH-200 is a flagship product of BlackSys. Created with 2 separate cameras that can work as a dual dash cam. Even though the mini cam is called rear cam, it can sit inside the car, viewing the cabin for Uber, Lyft, and Taxi drivers. BlackSys introduced super-capacitor into the chipset and removed GPS module. This is to prevent the internal heating of the camera. The GPS module is sold with the package which can connect easily to the dash cam.
CH-200 comes with full HD 1080p front and rear recording cameras. They can record videos at 30fps and record low light videos, too. Sony EXMOR sensor helps the camera to record low light videos. True Pre-buffer Parking recording that can see 5 seconds before the car detects any motion. A 16GB class 10 MicroSD comes with the package. The internal memory space extends up to 256GB. CH-200 takes power from the cigarette lighter and has a 6 months extended Warranty.
DashCam Working Temperature: -4F-158F | PowerSupply: Super Capacitor | Buy on Amazon BlackSys
Related: 10 Best Front and Rear Dash Cams for Complete Video Footage
Black Box B40-C Dashcam
A matte finished Black Box B40-C to secure your car. With cooling vents and supercapacitors, you can fix it and forget about it even in extremely hot weather. No matter whether it's cold or hot, the black box can withstand any climate change. With an external GPS module, the internal heating gets reduced to zero percentage.
Even when the temperature inside the car rises, it doesn't affect the dash camera. The supercapacitors replace the lithium batteries in the Black Box. Lithium batteries tend to explode in high temperatures. This problem is solved using supercapacitors.
About video recording, Backbox capacitor dashcam can record 1080p videos at 30fps and 720p videos at 60fps. Aptina AR0330 6 element lens for high-quality video recording even in low light conditions. The lens is of 170 degrees wide for a better angle of roads in front of you.
Novatek NT96650 chipset used for lower power consumption and HD video compression. The compact design of the casing helps the camera to fit in any section of the car without temperature and space is a problem. The spontaneous G-sensor starts recording videos as soon as any unnatural event occurs to the car.
DashCam Working Temperature: -4F-160F | PowerSupply: Super Capacitor | Buy on Amazon Black Box
Rexing V1P Pro
V1P Pro from Rexing reinvented the dual cam recording. They separated their dual dashcams and created 2 cameras with dual recording. This way, you can place the main camera in front and the secondary camera in the rear. If you want to record the cabin, you can place the secondary camera in the cabin.
This provides freedom to place the cameras anywhere you want. And also, removing a lens from a camera reduces the job for the processor. This prevents internal heating and destruction of the chipset. Rexing heat resistant dashcam installed supercapacitors in V1P Pro for coping-up with extreme high and low temperatures. Both cameras connect together via Wi-Fi and controlled by a mobile app.
V1P Pro can record Full HD videos at 30fps. Both cameras have a wide angle degree of 170 degrees for wide recording. Built-in GPS helps to record videos and assign speed, time and location to it. This GPS module is compact enough to reduce heat dissipation. Air vents are present on both cameras and can withstand very high temperatures. G-Sensor helps V1P Pro to start recording when sudden movements occur to the car. These recorded videos cannot be overwritten while loop recording and are protected from being corrupt.
DashCam Working Temperature: -20F-176F | PowerSupply: Super Capacitor | Buy on Amazon Rexing
AUKEY Dashcam
Aukey entered the competition with their stealth dash cams. These dashcams fit perfectly behind the rear view mirrors and record the road. The case is matte finished and with a lot of vents. The strong 3M pads keep the camera in position and stay there even in hot weather.
The perfect placed vents provide air circulation to the circuits inside. This prevents internal heating issues which in turn increases the circuit's life. GPS module is not present inside or with the package. You have to buy it separately and connect it. Aukey heat resistant Dashcam uses latest supercapacitors for better performance and longer lifespan.
Aukey can record 1080p videos at 30fps and 720p videos at 60fps. 6 element lens is present for high-quality video recording even in low light conditions. 170 degrees wide angle will capture good quality videos of roads in front of you. Novatek NT96650 chipset consumes less power for working and records high-quality videos with ease. The G-sensor starts recording videos as soon as sudden vibrations or motion occurs to the car.
DashCam Working Temperature: -4F-158F | PowerSupply: Super Capacitor | Buy on Amazon Aukey
EACHPAI X100
Dual dash cams that can withstand high temperatures are rare. They need temperature withstanding batteries, better vents, internal parts that emit less heat. EachPai X100 heat resistant dashcam is the perfect solution for an all-weather dual dash cam. X100 has supercapacitors instead of lithium batteries.
These supercapacitors stop internal heating and provide a better life to the camera. They removed the GPS logger from the case and made it available externally. You have to plug the GPS module to get location-based videos. This way, heating inside the casing gets reduced by a lot. Excluding lithium batteries will also help in reducing internal heating.
X100, hot weather resistant dashcam has a 3 inch IPS screen for clear visuals of recorded videos right after recording. Both cameras record at 1080 FHD at 30fps. 6 element lens with 4 IR LEDs for each camera helps X100 to record highly detailed videos even in low light areas. Sony IMX323 sensors govern the low light recordings.
Both lenses have a wide angle of 150 degrees and can rotate 180 degrees. The GPS logger can record videos with speed, location and time, for further uses. An active G-sensor is also available to record unusual activities that happen to a parked car.
DashCam Working Temperature: -4F-158F | PowerSupply: Super Capacitor | Buy on Amazon EachPai
Z-Edge F1 Dashcam
Z-Edge F1 is a model with in-built GPS that doesn't affect the performance of the camera and can work at any temperature. The GPS module inside the casing produces very less heat compared to other GPS modules. Z-Edge F1 heat resistant dashcam replaced the lithium batteries and used supercapacitors for improving product life. Even with 2 cameras to record both cabin and road, F1 produces very less heat and can withstand very high temperature.
Sony IMX323 sensor and 4 IR LEDs help the cabin camera to record high-quality videos in low light conditions. The cabin camera record videos in 1920x1080p at 30fps. The front camera record videos at 2560x1440p at 30 fps. 150 degree wide angle is available for both cameras. The front camera has WDR sensor for color contrast.
DashCam Working Temperature: -4F-150F | PowerSupply: Super Capacitor | Buy on Amazon Z-Edge
Best Dashcams for Hot Weather
Removing dashcams while parking under the sun is in the past now. Thanks to supercapacitors, air vents, and compact construction of heat resistant dashcams, we can leave it at any temperature. These technologies added more life to the dash cams and more security to the cars. The above list contains single dual dashcams for hot climate. Choose the perfect one for your perfect car and keep it secure, all the time.