The Parking Mode Surveillance Dash Cams can record video footage of hit-and-run or vandalism incidents. The surveillance dashcams with parking mode are coming with a motion sensor that can trigger and record footage in case of any movement in front of the camera. The camera would shut down after a period of time if it did not sense any movement or vibration.
We've listed the best surveillance dash cam with parking mode for recording while you park the car.
MashTips Best Picks:
ThinkWare F800
Thinkware F800 is a 2 channel dash cam with Sony STARVIS Image Sensor. The ThinkWare offers a 140-degree wide-angle lens to cover the street footage for multiple lines. Thinkware F800 records footages in HD quality 1080p at 30fps both front and back cams. The STARVIS image sensor ensures noise-free maximum clarity night recording even at acute lighting.
This dashboard surveillance camera includes advanced safety technologies like the collision warning, lane departure, and camera alert warning system. The Thinkware Dashcam also offers built-in WiFi allowing you to configure the settings with a smartphone. With this app, you can adjust the features, control video durations, adjust sensor sensitivity without even touching the camera unit.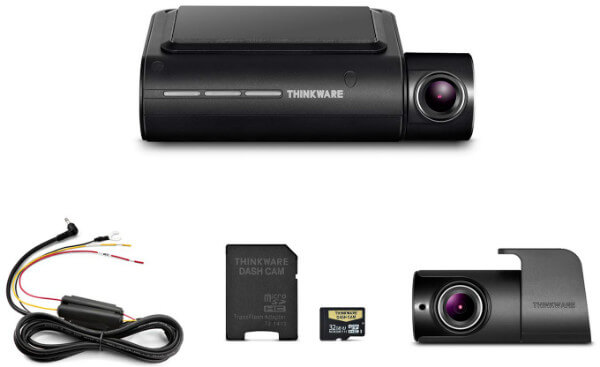 The parking mode feature uses the device's inbuilt G sensors and Motion sensors to detect motion or vibration. This triggers the dashcam to record quick footages. The ThinkWare parking mode cam records a quick 20-second video when it detects motion/vibration and also locks it from being overwritten. You can enable time-lapse recording, for additional surveillance purpose.
The dashcam draws power from the cigarette lighter port. If you require 24*7 recording even when your vehicle is in parking, hardwiring the dashcam to car's inbuilt battery could be a great option. This dashcam also comes with a hardwiring kit if you require complete video recording at all the times. The time-lapse and loop recording features take care of managing storage to a great extent. The GPS function enables location notification, and moreover, you can turn off the speed stamp from the settings.
Editor's Note: You don't need to hardwire the unit to use for regular dashcam function. The inbuilt battery is capable to record short length videos if any motion or collisions are detected. If you require 24*7 recording, then hardwiring (fuse kit is coming with this dashcam) with the car battery is advised. The rear camera cannot be used as a reverse camera with a regular setup.
Key Features: 1920×1080 at 30fps | G-Sensor | Built-in WiFi | Parking Mode: Motion Sensor & Time Lapse | Buy from Amazon
DDPai Mini2 Wi-Fi Dash Cam
The DDPai dashcam is a well-built surveillance camera designed for the windscreen experience. The recording quality is just magnificent with HD 1440P(2K) at 25fps. The wide-angle encompasses a dashing 140 degree and the dashcam comes with 4 megapixels CMOS Sensor, 6-glasses lens combined with an infrared filter.
This parking mode dash cam features a 330° rotatable lens that can record not only outside but also inside of the vehicle. Moreover, this cool dash cam comes with a built-in supercapacitor, instead of Li-ion battery power to work efficiently even at high temperature. The DDPai mini2 comes with night mode and gives clearcut visuals even in dim lights.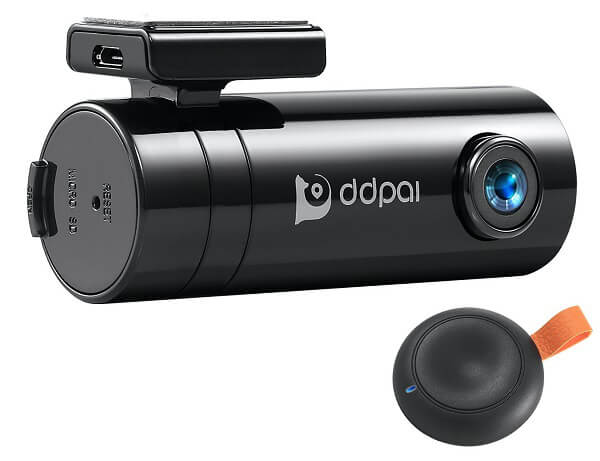 The G sensors and the motion sensors enable auto loop recording of critical and important footages and let you lock them from future overwriting. The supercapacitor provides the charge required to auto-record footages when your vehicle is parked.
Additionally, the remote snapshot button helps to capture pictures and directly saved to the TF card. The long pressing enables you to capture a small 10sec long video also. The dual USB 2.1A car charger also helps you charge your phone while you drive. Also, this dash cam supports max storage of 64 GB.
You can use DDPai Mini3 hardwire Car Battery Voltage Protection Cable with the dash camera. There are three options (11.8V, 12V, 12.4V) to set the cut of voltage for the car battery. This power cable support input voltage of 12-30V dc and provided an output voltage 5V dc with 1.5A. This battery protection power supply for dash offers the protection for over-voltage, over current, over-temperature, short circuit, low car battery voltage auto cut off.
Key Features: [email protected] | 330° Rotatable Lens | G-Sensor | Accelerometer | Snapshot Remote | Parking Mode: Impact Sensor & Time Lapse | Buy from Amazon | Hardwire Kit
BlackVue DR900S-2CH
The BalckVue dashcam is coming with Power Magic Pro Hardwire Kit. This dashcam offers the highest resolution recording, which is 4K Ultra High Definition. Even though the dashcam is recording in the highest possible resolution, the H.265 Compression Codec reduces the file size before writing into the SD card. for Parking Mode, the parking cam supports impact detection and motion detection and lock the even footage in SD card from overwriting.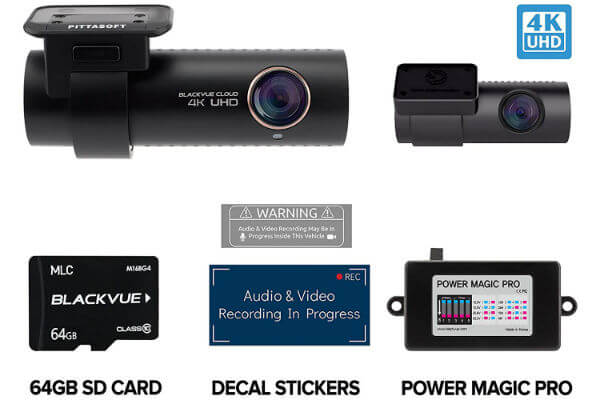 The camera offers WiFi connectivity in both 2.4GHz and 5GHz mode ensure fast video transfer from dash came to mobile or PC. BlackVue is cloud compatible and you can view the recorded footage anywhere from the world. The hardwire fuse kit is coming with this model dashcam for Parking Mode operation.
Key Features: 4K Ultra HD | G-Sensor | Dual Band Built-in WiFi | Cloud Compatible | Parking Mode: Impact Sensor & Motion Detection | Buy from Amazon
Goluk T3 Dashcam
The Goluk T3 Car Dashcam is a tiny and highly durable, offers 1080p video playback with loop recording. The recording angle exceeds a dashing 141 degrees, and the camera itself can rotate to around 360 degrees.
You can easily shoot carpool videos and connect them to your smartphone through the Goluk T2 Smart App. Goluk features a wireless remote button that helps capture snapshots, videos, etc., and a highly sensitive silicon microphone for recording the onboard audios. Moreover, the superior night vision recording helps capture HD videos even in low light.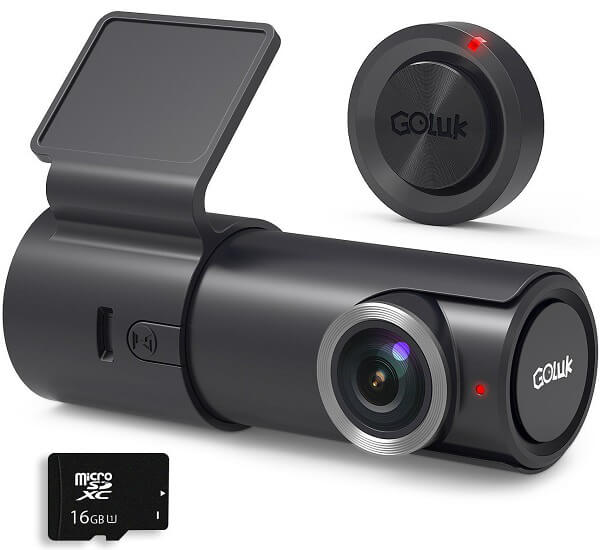 This parking mode of a dashcam is designed for the windshield/dashboard, and being compact and small, doesn't hinder with the view. This cool dashcam comes with the modern parking mode video recording feature, which is ideal for working when the car is parked. The parking mode recording triggers immediately when the dashcam detects motion or vibrations. The cam will record a 16 seconds long video once it triggers parking mode.
With the G sensor, the Goluk dashcam can record footage when a crash or collision takes place. The dashcam will lock the video into the storage card and restricts this footage to be overwritten. This parking mode dash cam does not come with an inbuilt internal battery, and you have to plug the device at all times. Moreover, you can equip an external power source or a power bank for continuous power supply. The device supports external storage capacity up to 64 GB, which supports about eight hours of video footage.
Editor's Note: The motion detection technology and the parking mode requires an additional voltage regulator cable. The connection cables are combined with cable routing clips that take care of the safe assembly of the power cables, adapter, and USB cables.
Key Features: HD 1080P | G-Sensor | Built-in WiFi | Remote Button | Parking Mode: Impact Sensor & Motion Detection | Buy from Amazon
Vantrue N2 Pro
The N2 pro comes with 1.5 inch TFT LCD screen, combined with image enhancing optimizers. Also, Vantrue offers a recording angle of 170° front cam and enhanced 6 layer glass with F/1.8 wide aperture gives clear-cut details to a great extent.
Here, equipping a 32GB SD card will fulfill most of your needs. Also, the loop recording enables that additional space gets created by overwriting. The front cam captures footages in HD 1080p with a wider viewing angle of 170 degrees. The secondary cam is a cabin recorder that encompasses a viewing angle of 140 degrees.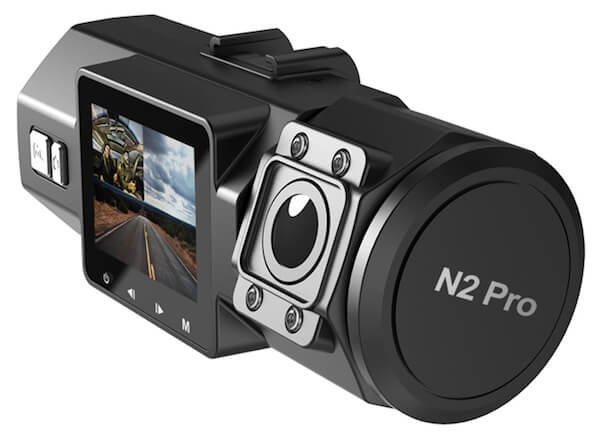 In addition to the HD drive recording, the N2 is also capable of recording visuals when your car is in a parked condition. The built-in parking mode enables the rapid recording of footages when the slightest of the motion occurs.
The motion sensors present inside the module helps to detect motion that occurs near the vehicle and triggers an action to activate recording. Also, you can adjust the sensitivity of the motion sensor accordingly from the menu. The 13 feet hardwire kit is available from Vantrue with 12V to 24V input support, which costs around 13 bucks from Amazon. The dashcam accepts storage devices up to 64GB. You can read the complete review of VanTrue N2 Pro here.
Key Features: HD 1080P | G-Sensor | Built-in WiFi | Parking Mode: Impact Sensor | Buy from Amazon Vantrue N2 Pro | Hardwire Kit | 15% Discount code
VAVA Dash Cam
The Vava Dash Cam is just sheer power combined with visual aesthetics, robust designs, Sony Sensor and 6 Glass Lens. The Vava Dash Cam stand out with bright and vibrant 1080p video recording with the help of an innovative SONY STARVIS Series IMX291 CMOS sensor coupled with a Six-layered Glass Lens.
You can efficiently use this dash cam to record on-road view up to 5 wide lanes angle (up to 155 degrees). Vava dashcam comes with a great magnetic mount that lets you swivel up to 360 degrees.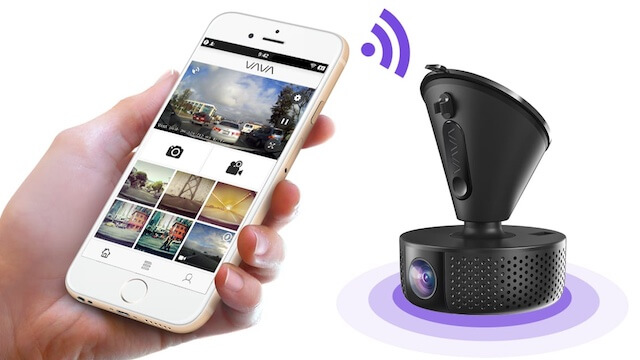 This parking mode dash cam comes with 3 Axis G sensors combined with motion sensors. These sensors play a vital role in the smooth functioning of the parking mode recording. Whenever a vibration occurs, the Vava dash cam detects it, starts itself and records a short video. With the inbuilt 320 mAh battery, this cool dashcam records footage during parking mode even without external power supply. Moreover, with VAVA Dashcam, you can equip an external power source such as a power bank if you require 24*7 recording.
This dashboard surveillance camera can be controlled with the VAVA smart app, lets you download, edit, and share the onboard footage. The app supports all major smartphone platforms. Another feature is the Bluetooth driven Snapshot Remote Button that is designed to be attached to the steering wheel. This button helps you capture snapshots within a tap. Moreover, long-pressing the snapshot button lets you record a 20-second long video also. The Vava smart app supports iOS 8.0/Android 4.3 and above. See the complete Vava Dashcam review.
Key Features: 1080P HD quality | G-Sensor | Accelerometer | Snapshot Remote | Parking Mode: Impact Sensor | Buy from Amazon
Also Read: Best Budget Dash Cam in All Price Ranges from $25-$200
Roav DashCam C1
The Roav dashcam compact in design, and comes with parking mode feature. This surveillance dashcam comes with the new advanced Sony Exmor sensor that offers high quality(1080p) road traffic videos at 30fps and a 6 element lens. Moreover, the wide-angle lens can record footages up to 4 lanes of traffic in HD 1080p.
You can access the recorded footage from the innovative ROAV app through Roav's inbuilt wifi network. The night recording is splendid and gives clearcut details even in low light. Additionally, the Roav dash cam has an inbuilt 2.6-inch compact screen that gives you live footage while you drive.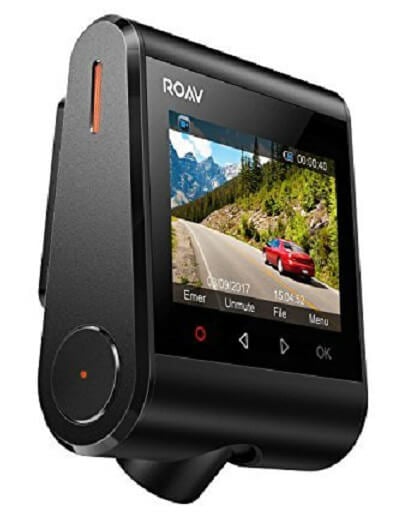 The parking mode feature that comes with this dashcam is worth mentioning. The dashcam detects motion or vibration around your vehicle with its motion and gravity sensors. The sensors trigger the dashcam and record a 30-second long video. Moreover, this dash cam inbuilt 430 mAh battery helps to capture videos in parking mode.
Editors Note: The Roav App is compatible with Android 5.0 and up and iOS 9.0 and up. Also, the product doesn't come with an SD card. You need to equip them additionally.
Key Features: 1080P HD quality | G-Sensor | Accelerometer | Parking Mode: Impact Sensor | Buy from Amazon
KDLINKS R100 Dual Dash Cam
The KDLINKS R100 is one of the best dash cams for surveillance in parking mode. With 140 degrees wide-angle coverage, combined with the superior night mode recording, you never really miss any details on the roads. This dashcam surveillance comes packed with a dual-lens, can work well in Single Front Cam mode or Front + Rear Dual Cam Mode. This parking mode dash cam comes with an anti-glare rearview mirror that acts as your screen to display the recorded footage.
A unique feature worth mentioning is its auto-off mechanism. If the R100 does not detect car movement within a 5 minutes interval, it will shut itself off automatically. This feature is useful for some cars that always supply power to the cigarette lighter port.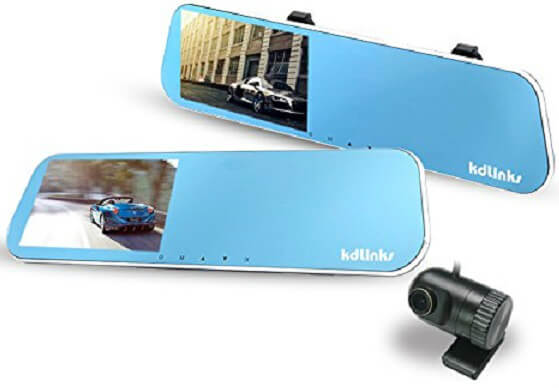 The key feature is the new parking mode footage recording that lets you record even when the car is parked. This parking mode dash cam comes with the advanced parking mode combined with movement detection. Hence the R100 starts itself and record short duration footage. Although this feature is a great aid when you are parking in a strange place. Moreover, the dashcam features accident detection (with G sensor) that enables you to lock that specific footage into your storage device during the impact.
This dashcam with parking mode supports up to 128GB and comes with a 64 GB TF card. Again, the cable that comes with this dashcam is quite long, and you don't need any extra connectors. Hence the assembling part is comparatively easy. Another feature is that you can get the rearview on the mirror cum dash screen when the gear's changed into reverse. This feature helps give a great wide-angle view while you take the vehicle backward.
Key Features: HD 1080P | Mirror Dash Cam | Dual Lens | G-Sensor | Parking Mode: Impact Sensor & Motion Detector | Buy from Amazon
Related: 5 Best High Endurance Micro SD Card for Dash Cams & Drones
CHICOM Mirror Dash Cam Touch Full Screen
Chicom offers a mirror dash cam with 9.66 Inch big media Touch Screen. The front camera has a 1080P resolution with a 170° ultra-wide lens. The back camera is coming with 1080P featured F2.0 6-glass lens for enhanced night vision. The built-in G-sensor will lock the video on any impact from overwriting.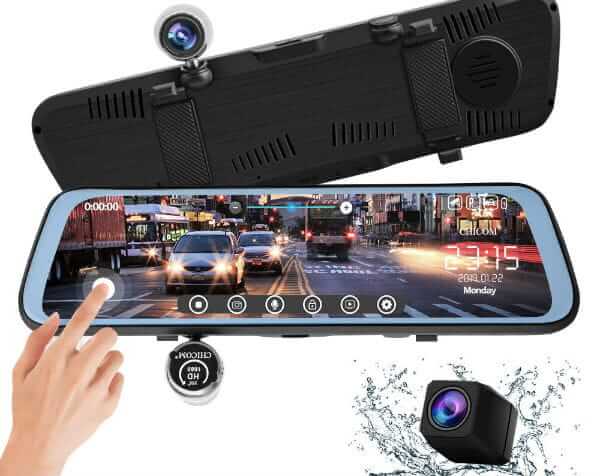 The dashcam supports up to 64GB size SD card. The camera can be set for parking mode surveillance with an additional external fuse wiring kit for 24/7 power supply. The supercapacitor power supply extends the working temperature range. The dashcam can operate within 158F to -4F.
Key Features: [email protected] | 9.66″ Touch Screen | Dula Camera | G-Sensor | Accelerometer | Parking Mode: Impact Sensor & Time-Lapse | Buy from Amazon
Parking Mode Dashcam Recording Modes
Parking Mode dashcams are supposed to work 24/7. When you consider the surveillance dash cams, there are three different types of dashcams are there based on the mode of operation. Here are three types of Parking Dashcams:
Simple Recording (Impact/Motion recording)
Continues Recording (Recording continuously in parking)
Time-Lapse Recording (Snapping a picture in every second)
The Simple Recording Dashcams are cheaper, and record in parking mode. These type of parking mode dash cam trigger by motion or impact to start recording. The impact detecting dash cams are cheaper compared to the dashcams featured with motion detection. In both cases, the camera will record for a certain time (a few seconds/minutes) after an impact or motion detection.
The Continues Recording Dashcams recording the footage 24×7 in parking mode. These dashcams should have an SD card to record more than 24 hours without overwriting. In addition to this, a hard-wired power connection is necessary to record for a long time.
The Time-Lapse Recording Dashcams are recording 1FPS. Basically, it's taking a picture per second and you can get a time-lapse video by combining all these images. This doesn't need a large SD card, but recommend to use hardwire fuse kit or battery back for constant power supply.
How to Setup Parking Mode Dashcams
When you want to use a dashcam as a surveillance dashcam, the dashcam needs to connect power supply 24×7. As we mentioned above, most of the dash cams with parking mode come with an internal battery, that might not enough capacity for continues recording. These internal batteries are just built for emergency motion recording for a short time. To operate a dash camera as a surveillance dash camera, you need the following.
The dash cams will overwrite (loop recording) on SD Card when they run out of space. The large capacity SD cards will make sure you get at least the entire night footage without overwriting.
The modern dashcams are supporting up to 512GB that can record for many days without overwriting.
Parking Mode Dashcam Hardwire Kit
The parking mode dash cams are coming with a fuse wire kit to connect directly to the car battery for continues power supply. There is additional low battery protection built-in with this hardware kit to avoid the car battery over draining.
NUNET MicroUSB & MiniUSB Dash Cam Hardwire Kit
This is a universal hardwire kit than can be used for most of the dashcams to convert into 24×7 dash surveillance. The hardwire kit protects the battery from over drain, with a pre-set cutoff voltage from 11.6V to 11.9V. The kit is also suitable for 24V systems.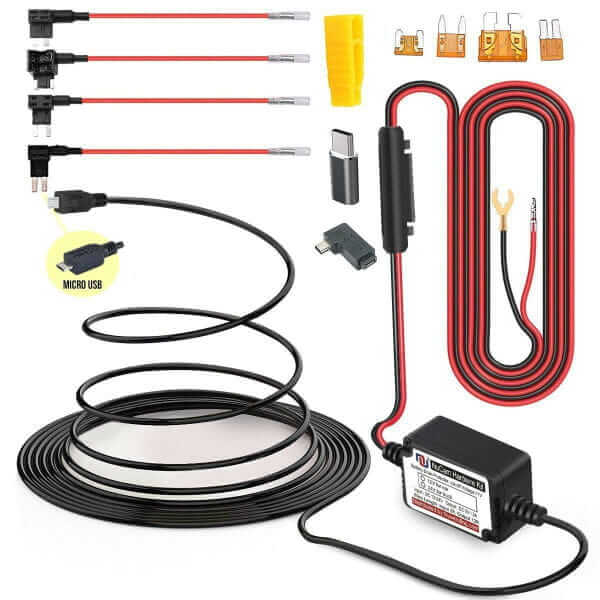 The hard-wire kit has 15 feet wire length, more than enough to wire through your car dashboard. The hardwire kit comes with the connectors compatible with most of the dashcams available in the market.
The kit includes Micro to Mini and Micro to Type C port converters. The fuse type includes Low-Profile Mini, Mini, ATO(Regular), Micro2, etc. This hardware kit is suitable for NuCam DL, Wireless Charger Phone Holder Nucharger Auto, Rexing, ROAV, Zero Edge, Anker, DDPai, Papago, etc.
Buy from Amazon
BlackVue Power Magic ProFuse Kit
Dashcam draws very low power to operate, and you can use the vehicle battery itself to power the dashcam. However, if you have an old battery, it main drains out with the dashcam itself.
To be safe, there are hardware fuse kits available to turn off the dash camera before the car battery drain out. The dashcam fuse kit from Blackvue, BlackVue Power Magic Pro with 2 x Low Profile, 2 x Mini, 2 x ATO Fuse Taps and 5amp Fuses for Blackbox Dash CAM Parking Mode.
Buy from Amazon
Spy Tec Dash Cam Hardwire Fuse Kit
The Spy Tec Dash Cam Hardwire Fuse Kit is by far a necessary item that helps you protect your battery from dying out. This hardware fuse kit is ideal for parking mode and in fact, helps your battery stay healthy. This dashcam hardware fuse kit can connect the camera directly to the fuse box under the dashboard for continuous power from the vehicle's battery for a 24×7 setup.
This fuse kit comes with 10-foot cable and can be used with the Mini 0806, Mini 0805 and Mini 0803, K1S Zero Edge Rexing, Black Box and more. This product is ideal for a permanent setup with the dashboard surveillance camera that can record even you turn off the ignition switch.
Buy from: Amazon
The parking mode dash cams with the surveillance feature are good to record your surroundings while you parked the car. If you look for a budget dashcam with reliable parking mode feature, we have the best one on this list. Equipping them can not only help you stay safe on the roads but also gives you peace of mind when your vehicle's parked near your street or strange place.