Booking flight tickets at cheap rates are quite challenging when it comes to international flights since there are lots of them. Various websites offer numerous offers and discounts for booking flight tickets, apart from the base fare which the airlines set. Some websites offer first time booking offers, which others try to keep users forever with further off on tickets. But still, it is not that easy to find the best platform to book flight tickets on the cheapest rates.
Here are the top five apps you can use to get the cheapest ticket fare for your next flight.
Skyscanner
Skyscanner is a flight ticket comparison platform, and metasearch website based on Scotland. The flight ticket comparison and booking service is available worldwide. Therefore, you can use it for both international and domestic trips. Talking from the experiences, not many international flight ticket booking platforms are not supporting domestic flight comparisons in India. However, I managed to travel within the country using Skyscanner, which helped me save at least $40 on a one-way trip.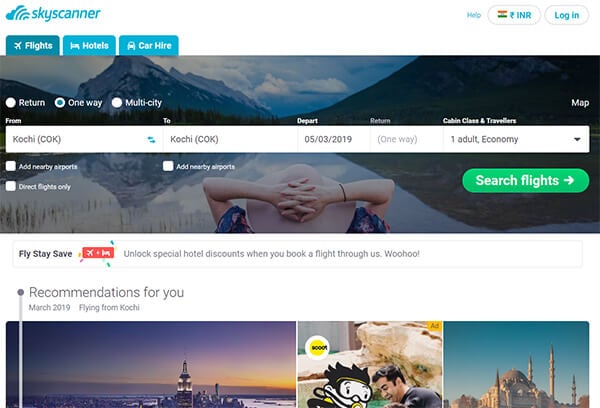 When you are on the Skyscanner app or website, enter the origin and the destination along with the trip date to get the best flight deals. If flying to any nearby, cheaper airports does not bother you, you can opt to "Add nearby airports" option before start searching. When you are on holiday, there might not be a precise date you want to fly either of the sides. So, you can check for the cheapest date within the whole month using Skyscanner. Click on the Depart date and choose Whole Month tab from the menu. It is also possible to get the cheapest flight across the year by choosing the "Cheapest Month" option. The search results will be sorted as per the fastest, cheapest as well as the best ones. Choosing the "Best" one could save you both money and time.
Booking from Skyscanner is very easy since it takes you through the corresponding websites as an anonymous user and could save you some more money.
Get Skyscanner: Android | iOS | Website
TripAdvisor
American-based TripAdvisor started-off as a hotel booking and restaurant comparison platform, which is now an all-in-one trip planning platform for everyone. It is the new facebook for travelers, where users can post videos, photos, and travelogues about their recent travels, ask suggestions and get help from the massive community. People can even vote for their favorite holiday destination. So, when you are on vacation, you can both check for the best destination and book the flight tickets, hotel rooms and check out the restaurants in the locale directly from the TripAdvisor website.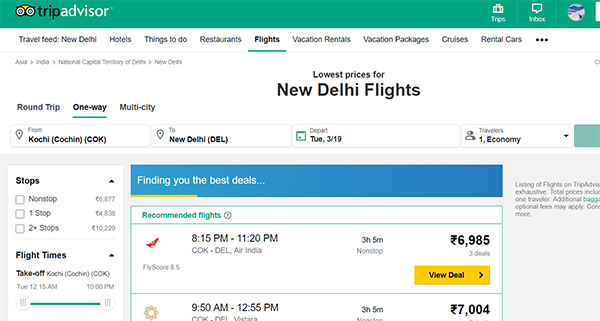 Similar to the Skyscanner, the TripAdvisor website compares the various ticket fares from the platforms across the web and shows you in a list. Although, there are no such tabs to choose the best, cheapest or the fastest ones. It offers a vast sorting facility and lets you choose the booking sites to get tickets from reliable platforms. Mostly, the price shown on the website will be final and there will not be any additional charges or convenience fees during the time of payment.
Get TripAdvisor: Android | iOS | Website
Google Flights
Google's Flights is just another add-on service which Google runs alongside the search engine. The search engine giant adopted the algorithms and mechanism used in ITA Software after its acquisition and started Google Flights. Google offers seamless, unlimited flight searching capabilities through Google Flights since it is attached to the search engine. You can get a personalized, convenient flight search result based on your Google Activity, through Google Flights. Even though it is a flight discovery platform, it only lists the third-party flight booking websites with the available best rates.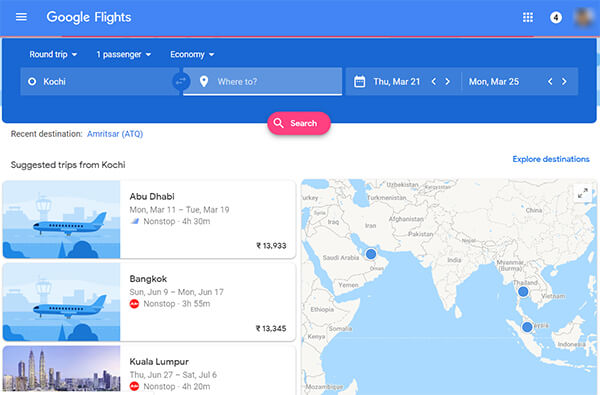 One of the best advantages of Google Flights is that you can directly search flights from the Google homepage or app without installing any third party apps. You can even add more preferences, alongside the route and date. It picks the best flights that match your preference and discovery history (the fact that Google knows everything about you is no joke). It allows you to change currency, explore various regions and get various fares from Google itself.
Get Google Flights: Website
Also Read: Save money with Google Flight Search and Google Hotel Finder 
Priceline
Priceline offers extensive offers on various classes on your trip. You can book your flight tickets, hotel rooms, and even cab. It offers everything under one single package. You can save a lot during your entire journey by choosing the travel + stay package which Priceline offers. Priceline ensures savings up to $500 when you book flight tickets and hotel room together under a single package. You can get international flights lower than most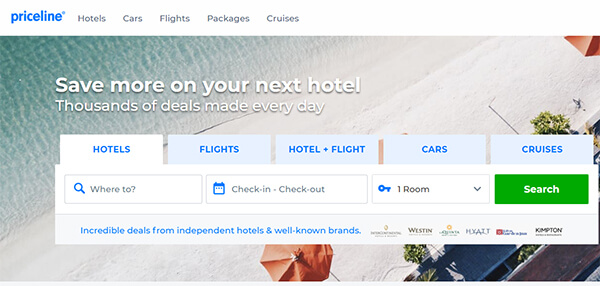 Additionally, Priceline offers a Rewards program for frequent users. You can apply for the Priceline Signature VISA card to redeem your points and rewards. Having 5,000 Reward points on your card will translate to $50. When you use points for booking tickets, you could get at least 10% of the points and reward back. The platform also offers 24/7 assistance, when you have trouble booking tickets.
Get Priceline: Android | iOS | Website
Kayak
Kayak.com is also popular among the frequent flyers across the globe. It is the auxiliary unit for the Booking.com, which is the largest hotel listing and booking platform on the internet. The subsidiary flight ticket comparison and booking platform Kayak is operated under the Booking.com, so you can use the same account on both the websites. Generally, the Kayak.com will take you to the regional versions of the website, based on where you are. By detecting your location, Kayak will show the best destinations to travel from your hometown. It is also a great feature to plan a vacation.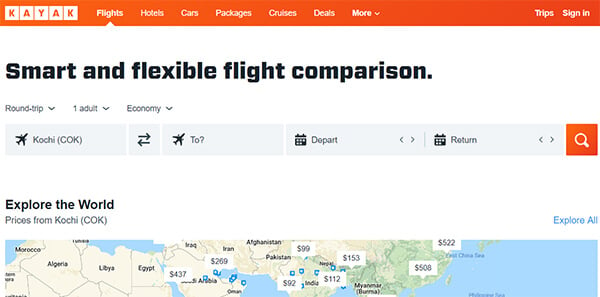 Apart from the flights, you can also explore car rentals, trip packages, and even cruises right from the app itself. Kayak aggregates various travel offers and flight ticket rates from a number of platforms and lets you book right away. The award-winning flight booking platform is renowned for its multi-language support and cheap rated tickets.
Get Kayak: Android | iOS | Website
Related: 10 Best Mortgage Calculator Apps for Android and iOS
Expedia
The Global travel technology company is one of the most favorite flight ticket comparison platforms apart from the others mentioned above. It has been listed as the most-admired travel company by Forbes and still, it continues to be one among the best. Expedia has the most powerful flight ticket comparison engine, which iterates through almost every ticket booking sites and lets you know the best fares. Generally, individual flight booking sites access your cookies and show higher rates based on your flight search history. But using platforms like Expedia, you could avoid such hikes by turning anonymous.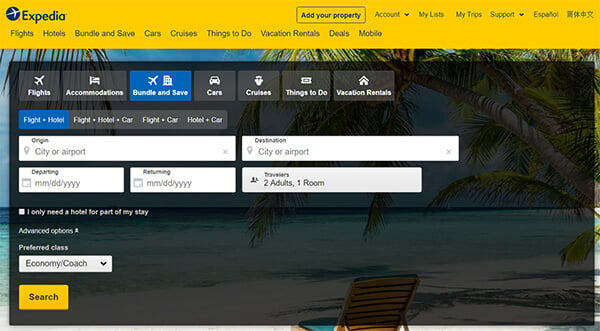 Even though it is the best for international flights, Expedia might not deliver the best experience in your domestic flights, especially in Asian countries. However, this can be your best companion on an international trip. The site offers everything you want to get on your holiday trip including hotel rooms, cabs, rentals, and even best deals on each category. By choosing the last minute deal, you can try your luck by getting way cheaper ticket for an imminent flight.
Get Expedia: Android | iOS | Website
Orbitz
Orbitz is another travel fare aggregator platform, which acts as a subsidiary to the Expedia Group. Apart from Expedia's own flight ticket comparison and booking platform, Orbitz is more of a competitor to the Priceline.com. You can book a flight ticket and hotel room in a single package to save more money. It also offers a rewards program which is absolutely is free to join. Whoever creates account and book tickets will get free rewards from the first order itself and be able to redeem them on future orders.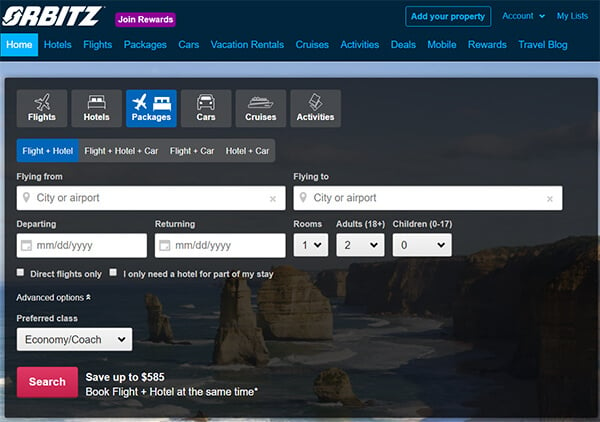 You can also get extra off on certain trips and several hotel bookings based on the season. Scrolling down from the website, you could find several categories like "destination of the week," and reviews for many spots.
Get Orbitz: Android | iOS | Website
Extra Tips to Book Flight Tickets for Cheap
Apart from using the above-mentioned apps, you can save more while booking a flight ticket with some simple techniques. Here are a few of them listed one by one.
Book Flight tickets 2 months prior.
Clear cache, cookie, and history before searching for flights.
Choose Tuesdays for your flight if you have a choice (does not work every time).
Check fare difference for a two-way trip, if you have plans.
Check your credit card offers for flight tickets off.
Choose off-seasons, if you are heading a tourist destination.
Booking early is not necessary at every time, but you can get some last-minute deals as well. To avoid risks, it is always best to book as early as you can, but no earlier than three months. If you are using any other apps for cheaper flight tickets, do let us know.