When it comes to music editing and podcast creation on Mac, Garageband is the primary option for everyone. It is the Final Cut Pro for Audios, that lets you turn your Mac into an audio-music workstation. Those who get used to the GarageBand on Mac seems to be suffering when it comes to the Android. There is no official GarageBand app for Android so far. Are you seeking some GarageBand Alternatives for Android?
Here are some of the best GarageBand Alternatives for Android now. These apps could help you mix tapes and recording, and produce music on the go.
Best Android GarageBand Alternatives
GarageBand is a complete virtual studio app that is available for Mac and iOS platforms. Even though there are plenty of similar apps available for Android, the compatibility and complete functionality cannot be assured. However, following a list of top-picked, competing GarageBand Alternatives for Android.
Music Maker JAM
The Music Make JAM is not limited to any single genre, and you can make music in the genre of your interest. The app comes in handy with almost every musical instruments, that let users create music without limits. One of the major parts of the app is the "loops." You can mix new songs with multiple studio-quality loops and mixtape with preset packs to make your music publish-ready.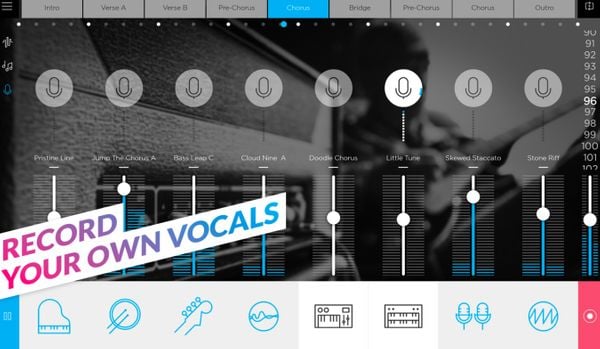 The recording option lets you record your own voice to play in a loop, or add all along the entire track. The app has also various unique gestures including shake the device to remix the tracks. Additionally, the live recording is made possible by the inbuilt 8-bit channel mixer. You can share music with your friends after you are done and these features make this app one of the best Android GarageBand alternative app.
Pros
Mix packs.
2000+ loops are available.
Create music from any genre.
Cons
Given importance only to the mixing, and not audio manipulation.
Less control over the recorded voice.
Download Music Maker JAM: Google Play Store
Stagelight
This is a completely free-to-use app that has numerous music composing and mixing capabilities. Stagelight is like GarageBand for everyone, which is available o every platform including Android, iOS, Mac, Windows, and Linux. You can make use of the 9+ built-in instruments in the app including synthesizer, MIDI Keyboard, Guitar, Drums, etc. to create music.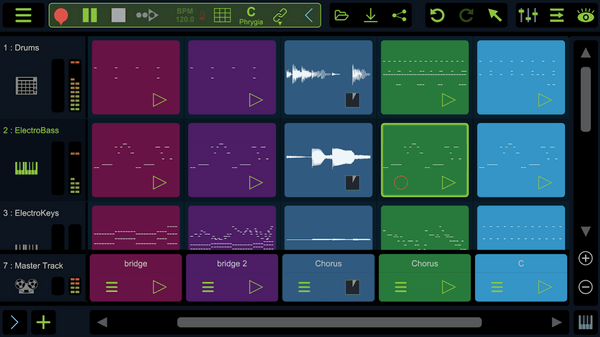 The Android GarageBand app also supports hardware MIDI devices by connecting to your smartphone. The free version of the app includes all the above feature, but for a limited amount of usage. You need to unlock the app for unlimited usage by paying US$14.99.
Pros
Cross-platform.
Plenty of instruments.
Be a DJ using Loop Builder.
Cons
Very less plugin support.
Latency issues while recording.
Best only when used in tablets.
Download Stagelight: Google Play Store
Caustic 3
If you were a person of hardware controllers and synthesizers, the Caustic 3 is or you. The app has design elements and buttons inspired by rack-mount synthesizers and rigs. The single virtual machine can render up to 14 other synthesizer machines like Subsynth, PCMSynth, BassLine, etc.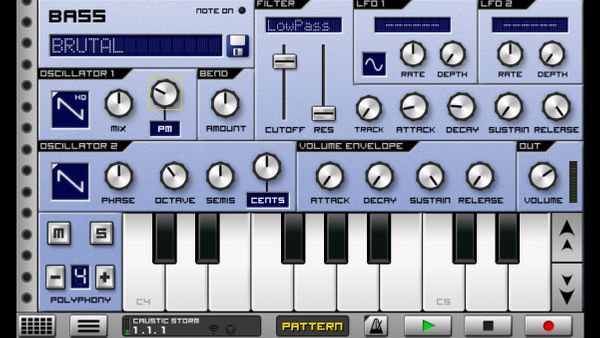 You can record your sample voices, but the app is given primary priority to music synthesizing only. Most of the controls support automation and even apply those curves on recorded samples as well. If you want to use your hardware MIDI device along with the app, you can connect them using OTG cable.
Pros
Various machines on a single app.
Control automation.
Supports Hardware MIDI controllers.
Cons
The free version does not support save/export.
Supports WAV files only mostly.
Some people may find the UI boring.
Download Caustic 3: Google Play Store
n-Track Studio Music DAW
The n-Track Studio offers a complete studio within your Android smartphone. Unlike most other apps, you can mixtapes during the playbacks. Using this Android GarageBand app, you can record vocals and mix music and add effect while it is playing.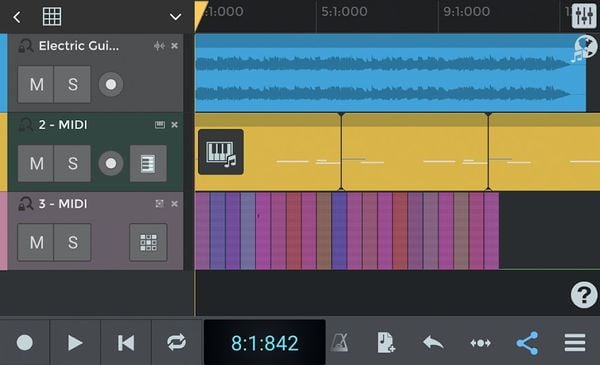 You can either mix two tracks together with effects and MIDI tracks or add your own music with the inbuilt MIDI Keyboard. The free version has 5 audio tracks in the timeline, and you can get more with the paid version.
Pros
Easy music remix.
Virtual MIDI Keyboards.
Audio effects.
Automatic Pitch Correction.
Cons
Compatibility issues with several smartphones.
Limited free version.
Download n-Track Studio Music DAW: Google Play Store
FL Studio Mobile
The app is here on the list for a reason. This is the mini version of FL Studio on PC, which is one of the most popular digital audio workstations. You can create instrument notes, record voice and add instruments to the track as same as you do in the PC version.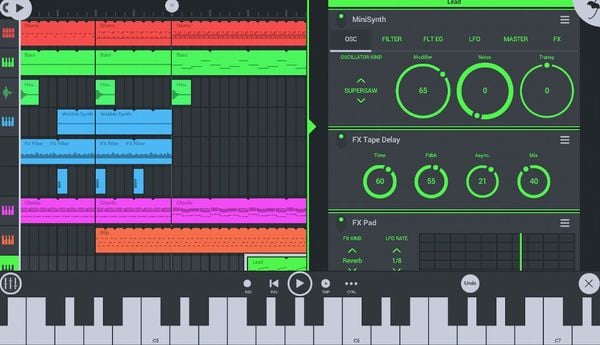 The FL Studio Mobile on Android comes with a feature-rich UI, with certain presets and samples. Almost every feature from the PC version is moved to the Mobile edition of FL Studio, makes it a perfect GarageBand Alternate for Android.
Pros
Easy-to-use interface.
High-quality synthesizers and devices.
Share and edit project data with PC/Mac/iOS apps over Wi-Fi.
Cons
May stutter in low-end smartphones.
Download FL Studio Mobile: Google Play Store
Also Read: 7 Best Music Player with Lyrics for Android and iPhone
Walk Band
This simple multitrack music mixer app is for those who are seeking for apps with not-so-many confusing features. The app has some simple MIDI keyboards, guitars, and drum pads which can be included into the track. You can add songs of your own and add instrumentals in parallel tracks to start mixing.
Your MIDI creations can be converted into MP3 directly from the app itself. Also, it supports uploading your works to cloud platforms of your choice.
Pros
Simple and easy-to-use.
MIDI to MP3 conversion in a click.
Peripheral Keyboard Support.
Cons
Only a limited number of instruments.
Not suitable for long tracks.
Download Walk Band: Google Play Store
Audio Evolution Mobile Studio
The Audio Evolution Mobile Studio is a fully fledged DAW (Digital Audio Workstation) available for Android. The app focuses more on the professionals and exerts with MIDI Interfaces and Studio rigs.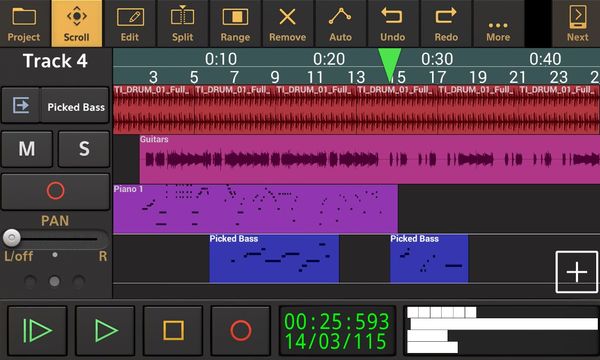 The multi-rack audio workstation app, which can be a great GarageBand Alternative for Android, has all the controller buttons from a real-world device and lets you adjust precisely. The separate Drum Pattern editor is helpful to change the beats you just added.
Pros
Virtual instruments based on SoundFonts.
Individual track controls.
Real-time effects.
MIDI Remote Control.
Cons
Complex functionalities.
Require too much of hardware resource.
Download Audio Evolution Mobile Studio: Google Play Store | US$6.99
Soundtrap
Soundtrap is a music composing and remixing app online. This is the online substitute for the GarageBand for Android. Being an online music composer for everyone, anyone can collaborate, make changes and share the music projects on Soundtrap.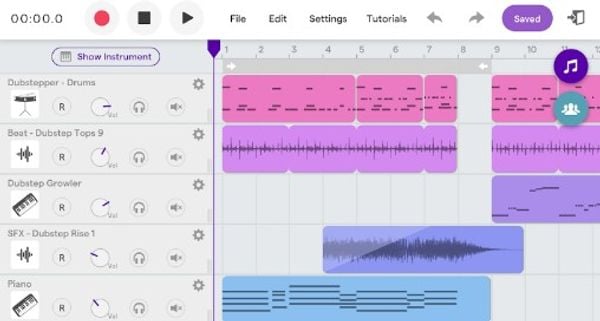 The Soundtrap has a simple user interface, in portrait mode. There is no limitation in the timeline, and lets you use the inbuilt instruments. The Android GarageBand app also has one of the most needed features – Autotune.
Pros
Online collaboration.
Autotune.
Cross-platform.
Automation of functions.
Cons
Not many audio editing tools.
Download Soundtrap: Google Play Store
ORG 2020
It is just another MIDI Keyboard and Music Mixing app for Android. The app has thousands of musical instruments presets, including rare drum sets and organs. Using an OTG Cable, you can connect to the real MIDI Keyboard. You can use the smartphone microphone to record songs, and the app can filter the noise.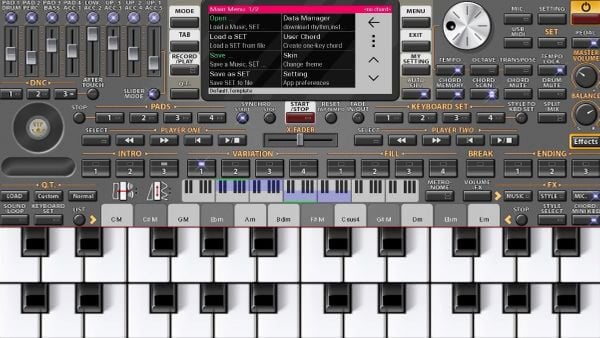 The app can resize the keyboard dimension based on your screen size, which will be helpful in using 2-row keyboards. The timeline also allows you to change the sound of each instrument separately.
Pros
Thousands of musical instruments.
Simulate KORG Keyboards.
Programmable sound and loop buttons.
Cons
The beat-match is not precise for every track you make.
Not beginner-friendly.
Download ORG 2020: Google Play Store
Also read: Best Audio Tools to Create Game Sounds
BandLab
The BandLab is the modernized version of other "classic" GarageBand Alternatives for Android you have seen before. The app comes with material design, cloud support, and online instruments. You can use 100+ guitars and mixtape our music using 12 tracks.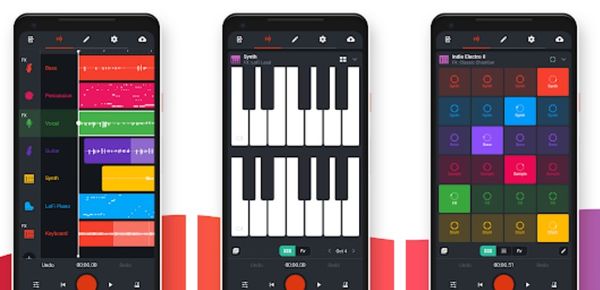 Interestingly, the BandLab app comes with completely free-of-cost features. You can compose music and save in an instant. The platform is also a musical social media, through which you can share music among others.
Pros
Material design.
Cloud and Online services.
Social Platform.
Cons
Not all manual controls are available.
Not any near to the apps with classic keyboards. (The app is more of dubpads and similar interfaces.)
Download BandLab: Google Play Store
You are now aware of the best GarageBand alternatives for Android. We cannot make sure the experience from every app as same as on GarageBand on iOS or Mac devices. However, these are the best GarageBand Alternatives you can now avail on an Android smartphone.