As the use of computers grows so does the threat of malware, amongst other kinds of cyber attacks. This is especially true if you're using Windows 10 because Windows is just the most popular desktop OS. It's the obvious target for malware and other kinds of security threats. It only helps their cause that Windows isn't as restrictive as iOS or even macOS. This is why having a malware removal tools is quite necessary.
We have compiled a list of tools to remove malware from Windows, including Windows 10.
Best 7 Tools To Remove Malware
Malwarebytes
Malwarebytes is quite a popular malware removal tool and certainly one of the best tools to remove malware. There have been countless times before Windows 10 even arrived when my Windows machine would catch something off the internet. It would then start doing things it wasn't supposed to. I used to use all kinds of Anti Virus software that made it seem like they did it but nothing worked really.
Then I stumbled upon Malwarebytes and it has never failed to deliver since. It could be the nastiest of spyware, viruses, or anything but Malwarebytes always gets the job done.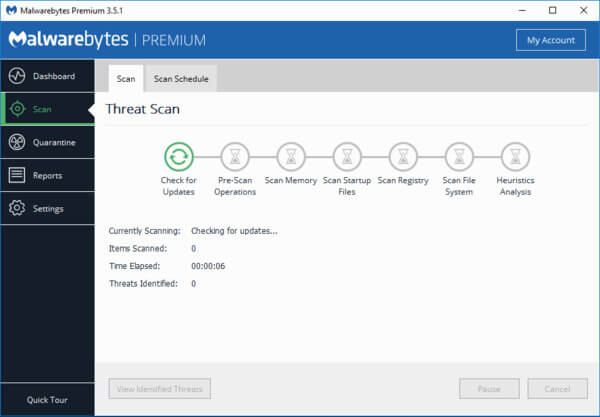 Malwarebytes' Anti-Malware suite is even free to use but it's best features are not. Its real-time protection and chameleon technology include deeper root scans and tools for blocking malicious websites. Those will cost you £19.95 per year. There are some "free" tools that ask you to pay before they actually do anything about detected malware. Malwarebytes is not one of those.
It does remove anything that it finds suspicious and you only have to pay if you want to upgrade. That just speaks for the authenticity of the tool itself. The premium features are available as a trial for 14 days too.
Download: Malwarebytes
Related: 8 Best Malware Removal Tools for Windows and Mac (2018)
BitDefender Antivirus Free Edition
BitDefender rose to fame in 2012 when several publications lauded it as the best Antivirus of the time. Others have caught up since then and so BitDefender has moved on as well. It now provides full protection against online threats such as trojans, viruses, spyware, etc. It's also one of the best tools to remove malware. Its best feature is that the free version too is ad-free.
BitDefender not only protects your PC when it's turned on but it even before it's on. The tool performs a boot scan every time that you boot your computer. There are many kinds of malware that target that boot time when they know anti-virus software won't be running. So the boot scan is a really great feature.
If you decide to upgrade to the paid version, the anti-malware also encrypts all your internet traffic. Basically, it provides you with a VPN, keeping your online presence safe. It also includes multi-layered protection against ransomware. There's also a feature called B-Have, which tames the apps that aren't behaving themselves. Windows 10 does let you choose which apps can access your webcam. But BitDefender also lets you know when an app is trying to access it and even blocks unauthorized access.
Download: BitDefender Antivirus Free Edition
Adaware Antivirus Free
Adaware Antivirus is a great tool to remove malware from your Windows 10 machine. It's most unique feature is a virtual environment. It analyzes suspicious programs in the virtual environment. This lets Adaware see if the suspected program behaves like malware. People in the security business call this heuristic analysis. What this means is that you're always safe. Even if you're the first person ever to run into a certain malware which is not yet in Adaware's database, your computer isn't infected.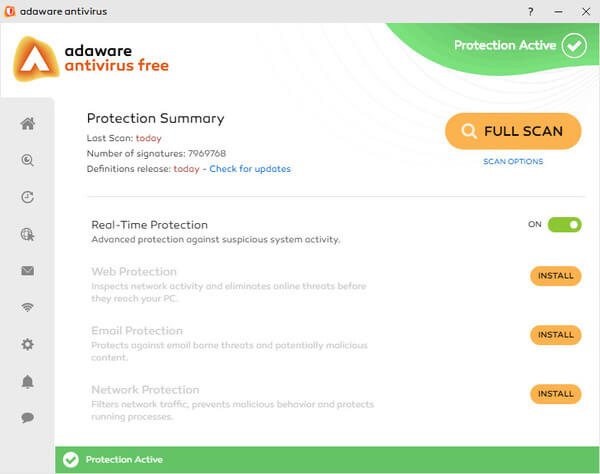 Once a malware is detected, it is safely contained and removed in the background. If you have to suspend the background process you can do that too. That's helpful when you need your computer's full processing power for another task. It will scan your downloads as well, thus, preventing any new malware infestations.
Best of all, Adaware offers a version of the antivirus without real-time scanning. That helps in avoiding conflicts if you're looking to add another Antivirus software in your arsenal.
Download: Adaware Antivirus Free
Related: 7 Online Virus and Malware Scanners for Mac, Windows, Files & Websites
AVG AntiVirus Free
Don't let the name fool you, AVG AntiVirus takes care of not just viruses, but it is a good malware removal tool too. Not only malware that might be on your computer but also new infestation attempts.
AVG is a popular name when it comes to virus scanning tools. AVG has evolved a lot since then. They offer everything from basic internet security to complete and total malware protection. Therefore, AVG Antivirus is one of the best tools to remove malware. It provides real-time protection against all kinds of malware now and gets security updates regularly.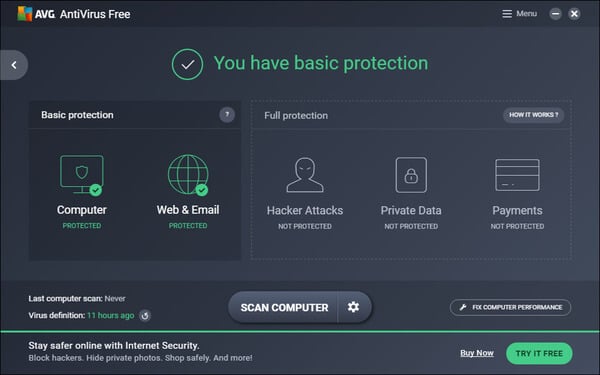 Not only that, but it also scans for performance issues. That makes it kind of an all-in-one tool to keep your PC safe and clean. The software also has a more modern, flat UI design now. It's much simpler to use compared to the old clunky AVG that used to be a confusing mess. With all of that built into a tool that will require starting along with your system, you have to wonder whether it will cause performance issues itself. AVG promises that it won't (if that helps).
There's also a PRO version which offers more robust download protection, offers data encryption and includes a firewall. That will set you back $50 a year, however.
Download: AVG Anti Virus
SUPERAntiSpyware
SUPERAntiSpyware's free version detects all kinds of malware, including adware and spyware. That it is good at the job makes it one of the better tools to remove malware. Like with Adaware Antivirus, you can check whether a suspicious file or program is malware before opening it.
However, the process involves submitting the file to SUPERAntiSpyware's threat labs. They'll analyze the file there but at least it would not be using your computer's resources. The interface and their website look like they came straight from the previous decade.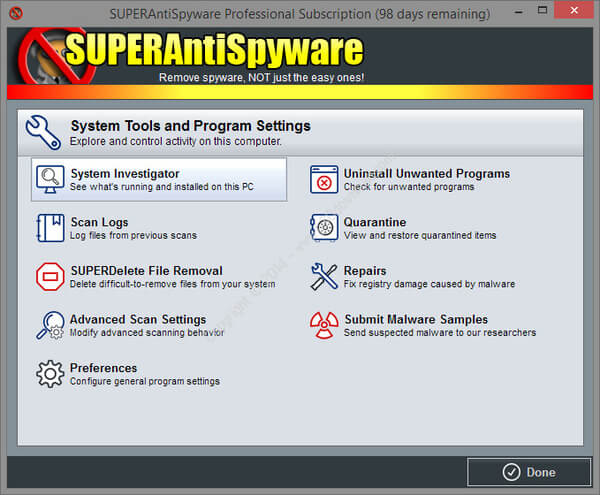 It's not as fast or convenient as Adware's method. However, it's more suitable for computers that are a bit low on resources. This anti-malware tool can scan archive files with directly, even before they're opened if you make it.
A lot of malware comes concealed in archives that are supposed to contain something else. Therefore, this is a great feature. Thanks to the granular control it offers you get to decide which files to scan. Scans, however, have to be started manually.
Download: SUPERAntiSpyware
Related: 8 Best Free VPNs for Chrome Browser
Microsoft Malicious Software Removal Tool
This malware removal tool comes straight from Microsoft, the maker of Windows, as the uninspired name tells you. This anti-malware utility can obviously remove malware and does a decent job scanning for infections by specific, prevalent malicious software. It works for Windows 10, Windows 8, and most other versions of Windows.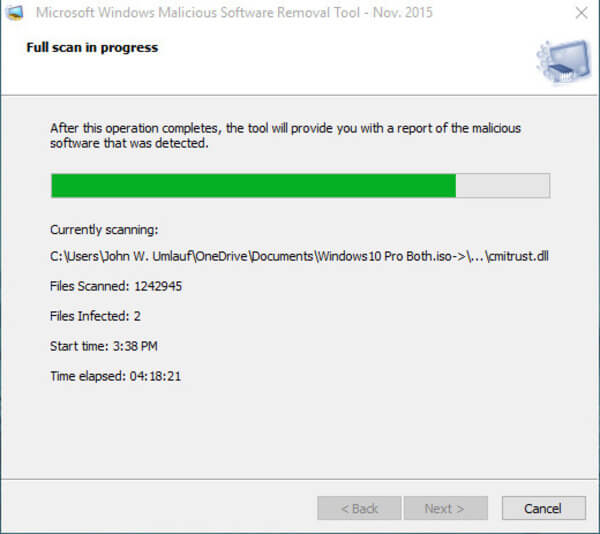 It's completely free to download. It's a simple, no-fuss, easy-to-use anti-malware tool. Frankly, it should probably ship pre-installed on Windows. I mean, just look at all the other not useful crap Microsoft bundles with the OS.
Download: Microsoft Malicious Software Removal Tool
Panda Free Antivirus
Even though it's 2019 not everyone is rocking a Windows machine with an SSD. Many people also don't use expensive high-end computers or even computers with decent hardware. The reasons can be various. A malware removal tool will just bog down such Windows computers.
Especially something heavy like AVG which is constantly running and starts up with the system. Panda Free Antivirus is one of the lightest antivirus software you can get. It's definitely one of the best tools to remove malware from your Windows PC as far as performance is concerned.
Panda manages this by doing most of the heavy-lifting in the cloud. That is, on Panda's servers, instead of your computer. That means you'll have to stay connected to the internet for it to work. That's not a real problem in today's world for many people, but privacy might be.
The anti-malware secures your computer from all kinds of malware as well as online threats. This includes protecting your WiFi from hackers. It also has built-in ransomware protection for your photos and personal data. For parents, it provides parental control tools to ensure your kid's safety online. There are some other features as well such as URL filtering, process monitoring, etc.
Download: Panda Free Antivirus
What is A Malware?
Malware is a term attributed to computer programs that are created and distributed to infect computers and cause harm. Most often we hear people say a computer has been infected by a Virus. It's a term that's quite viral (pun intended). Anytime someone thinks their computer has been infected they will mostly lead to the conclusion it's a virus.
It could be, but it could also be spyware instead, or ransomware, or trojans. A more accurate term would be malware which is a superset of all of those things. In other words, viruses, trojans, spyware, and ransomware are all types of malware
A system can get infected by malware from a number of different sources. The most popular ways attackers infect a host computer is through emails containing nefarious attachments. Attackers can also potentially exploit vulnerabilities in outdated software. A computer can also be infected when an infected storage media such as CDs, DVDs, and USB sticks are inserted.
The Best Anti-Malware Tools
As with all lists of best apps, software or tools, this list only contains some of the best tools to remove malware that you'll find on the internet. There probably are dozens more that we couldn't yet. Do you think we missed any great anti-malware tools that should be on this list? Sound off in the comments below.