The online Antivirus and malware tools offer to clean up your infected system. The online virus scanner can scan your system without installing the software. Most of the online scanning tools are deployed in a cloud-based server and perform the cleaning action online. The online scanners are better than installed software since they will always remain up to date and lightweight. You don't need to install the online scanner on your personal computer or test for malware. There are many online virus scan options available for free and you should choose the best.
Check out a couple of online Virus and Malware scanners for your file, websites, Windows PC and Mac system.
TrendMicro HouseCall Online Scanner
TrendMicro is One of the most popular on-demand anti-virus software scanners. The TrendMicro online virus scanner "HouseCall" is good for identifying or removing viruses, worms or any kind of Trojans. The virus scanner is supplemented with easy to use interface system. The TrendMicro custom scan lets you clean the folder to effectively scan. The scanner eliminates compatibility issues associated with browser-activated scanners.

HouseCall reduces download times and can new threats and restores recovered files. This free online virus scanner can addresses rootkits; other sophisticated threats. The tool offers enhanced scanning speeds with PC.  HouseCall also has automatic virus updates supplemented with a personal firewall, all possible kinds of spyware detecting and removal. In addition to this, this online tool offers spam blocking, enough protection against identity theft and absolute Wi-Fi network protection.
Support Online Scan: Yes | Work for: Windows & MAC | Link: TrendMicro
Eset Online Scanner
With Eset online scanner, you can detect and remove malware from the personal computer. This is a user-friendly, but powerful tool to clean the infected system. Eset uses efficient ThreatSense® scanning technology. This provides the powerful signature of ESET smart security and ESET NOD32 Antivirus system.

When you download scanner installer for offline use, the software promises an advanced solution to clean the system. The Eset online scanner is powerful enough to scan windows OS through the browser tool. Eset software provides instant security removing the threats from the system. Most of the users approve this software as the world's best anti-virus protection.
Support Online Scan: Yes | Work for: Windows & MAC | Link: Eset
Bitdefender Online Scanner
Bitdefender a scanner uses the cloud scanning technology in order to detect any kind of active malware on the system. An online virus scan eliminates active threats, uses a fraction of system resources required by any regular virus scan. With the online scanner, the user doesn't require any major time-consuming updates. The scanning and virus detection is done by Bit defender servers.

An online antivirus scanner can be accessed from an Internet-connected Personal computer. The user can use these scanning tools offline by installing the browser extension or widget. Since the online scanner tools are always updated and powerful. these are very effective in removing the possible malware. The tools can point out the possible threats in the files present in the memory or the PC system. Bitdefender is supplemented with Bitdefender technologies, detects all viruses and spyware without even slowing down the system.
Support Online Scan: Yes | Work for: Windows | Link: Bitdefender | Get $40.00 Discount: Bitdefender Total Security 50% off
F Secure Online Scanner
Among the other available list of Windows cleaning software and tools available, F Secure is the cleanest and fastest of them all. Many features are obtained when you have this application on the device. F Secure helps you with emergent kind of banking protection in Windows device, gives you awesome support and browsing protection.

In addition to this online scanner features,  the tool includes- Anti-theft, parental control, and app scanning. F Secure is one of the lightweight best anti-virus scanner offering the online scanning tool. The f-secure online scanner would help even if other security systems are in place without any conflict. For the users, F Secure can be downloaded and scan all malware on PC.
Support Online Scan: Yes | Work for: Windows | Link: F Secure
BullGuard Online Scanner
The BullGurad scanner has ultra-fast scanning speed. BullGuard Online Scanner can clean systems in lesser than 60 seconds. There is no need to download the software to scan the PC. It can detect all Trojans on the personal computer. This is also yet another kind of an elevated experience for Windows cleaning. With this free anti-virus scan, you can get the best protection to your device from all the other kinds of malware.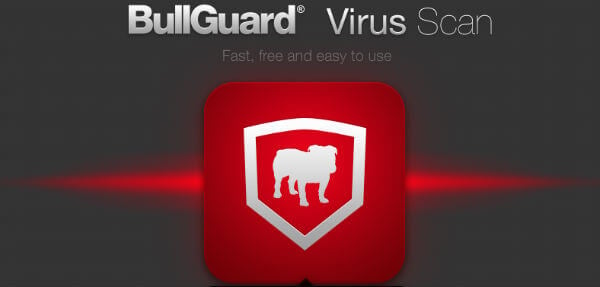 This offline version of BullGuard can stop any other kind of virus entering the system. With such a kind of protection, you can get an alert yet effective protection against spyware. The  BillGuard can keep your device in safe mode.
Support Online Scan: Yes | Work for: Windows | Link: BullGuard
VirScan.org
VirScan is the best tool for online file scanning. With this file scanning tool, you will be able to upload files which have a 20 MB limit. The file scanner will scan the upload file and clean it if there have any threat. Such a kind of quick and safe malware removal is hard to find. VirScan is a quick and easy tool to scan files. All the possible kinds of Trojans, worms, malware,  and every other kind of backdoors could be easily removed. VirScan is one one of the best file scanner to scan files in any system.

In addition to regular file formats, VirScan file scanner support RAR / ZIP decompression and scanning. The number for files in a zip file should be less than 20 files. To make sure the maximum performance, the file scanner can scan compressed files which are encrypted with a password. It is a scanner which can defeat all possible kinds of threats which can affect your system or document files.
Support Online Scan: Yes | Work for: Files / URLs | Link: VirScan
Virustotal
The VirusTotal file scanner provides a free service of spyware scanning. The URL Scanner analyzes any suspicious files or URL which may be infected. The tool is powerful to make a quick detection of Trojans and viruses and also all other kinds of malware.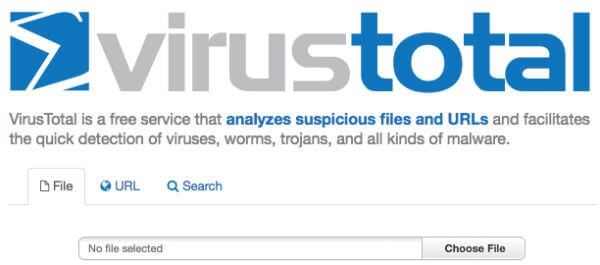 Virustotal URL scanner is fast, sturdy and quick enough to provide the warning about all the possible kinds of threats of the given website URL. It also alerts all suspicious threats and URL's. Thus, Virustotal is one of the best website scanner avilbale for free.
Support Online Scan: Yes | Work for: Files / URLs | Link: Virustotal
Related: Best 7 Free Apps to Lock your WhatsApp and Facebook in Android
Best Online Virus and Malware Scanners for Files and OS
Once your PC affected with the virus, things could be the worst. Not only does it affect your device, but it may also affect everywhere in the connected network. You are not completely secured from malware or virus attack in this online world. It is important to have a good antivirus or antimalware on your system. But once Mac or Windows system is affected, it is the time to find out a good antivirus or malware scanner. There are dedicated software available for Windows or OS X platform to scan for possible infections. If you see any unusual activity on your online account, please see the article 10 Steps You Should Know to Protect Your Online Accounts.
Thus, online scanners are a quick fix when your system under attack. If your system already infected, you can try one or more online scanners to make sure your system free from all threats. Please make sure you install at least one Antivirus and Malware tool installed on your system to protect your system in real-time. There are tons of free lightweight anti-virus and malware tools are available online, choose any one of them to keep your system virus free.