The new digital era that we now in demands utmost security and reliability for the systems we use. Whether you have Windows or Mac machine, Security is one of the most significant concerns and malware tools are becoming an essential part of the system.
As you have already been accustomed to, for Windows users, Microsoft comes with the already efficient Windows 10 Defender anti-malware tool built-in. For most cases, this Antivirus tool is more than necessary. Coupled with the famous Malwarebytes, your Windows 10 PC can be kept quite safe. But if you are looking for some serious virus remover or malware scanner, this will surely benefit you.
Before you go further, let us must have some basic idea of malware. Malware is a malicious program or file that can cause severe harmful effects to your system. The malware attacks on your system might come at different levels and methods. These malware attacks on your privacy and data with viruses, worms, Trojan horses, adware, and spyware. Long story short- they are terrible! With rootkits, viruses and deadly Ransomware on the loose, you just can't be ignorant of any vulnerabilities.
If you are feeling a little intimidated by all of this, fear not. When you have the top of the line malware protection software along with some basic security checks, you are definitely on the safer side. So to help you with choosing the right anti-malware software, here are our top picks for the best malware tool for your PC.
Malwarebytes
Ever since its initial release, Malwarebytes have been synonymous with the leagues of the best antivirus and anti-malware software for 2018 available on the market. Currently, it has grown to such caliber that we review it as the number one virus removal tool for your PC. You get a premium malware protection with this best Anti-malware software for your PC. Malwarebytes has software for Windows, Mac, and Android devices as well. The business version supports fast cloud protection services.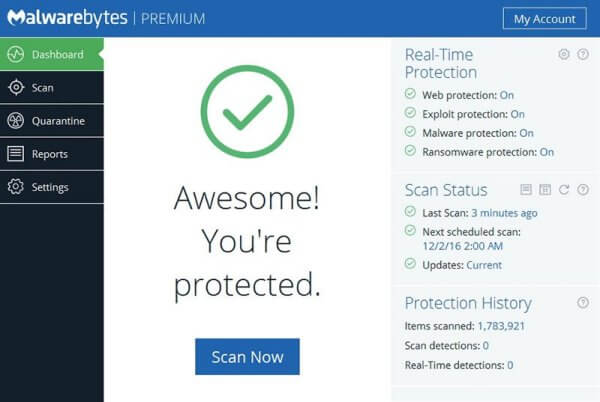 What sets these Anti-virus solutions for the multiple operating systems apart from others is its magnificent design along with an impressive detection ratings. Ransomware and malware are targeted quite efficiently. Same is the case with some pretty nasty adware. The free trial gives you a free malware protection and free malware scanning for 14 days. The premium version though offers one-year subscription at a price of 65$.
Download: Malwarebytes Anti Malware Free
Related: 8 Free Light Weight Antivirus for Windows & Mac for 2018
Bitdefender
We are featuring the virus protection pioneers Bitdefender Free edition product as the second one on our list. Although free, Bitdefender has got a massive reputation for being brilliant regarding security. Accessibility and ease of use is the mainstay feature of the Free Antivirus from Bitdefender. This malware remover is very lightweight and uses minimal system resources while running in the foreground and background alike. Just install and let it do its job.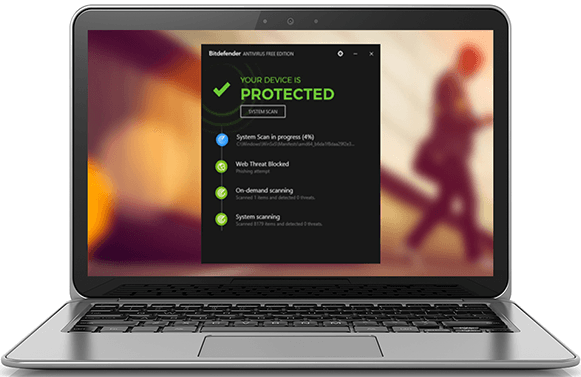 Along with the several security benefits, what sets Bitdefender apart from the rest is the consistent high rating in the malware detection and virus detection. Detected malware programs and virus affected files are quietly quarantined until the user makes an action. But its simplicity does come with a cost. Standard operations like scan scheduling and quick scanning functionality are not available. Also, Users who want more control of the process will be very much disappointed.
Download: Bitdefender Free Edition
MalwareFox
MalwareFox is a relatively less popular name for the users but has been quickly gaining attention due to its superior malware protection. Its been quite some time that we have been testing the quality of the performance of the software. Due to the positive feedback gained from both our testers and users alike, we recommend MalwareFox Anti-Malware for the best malware removal tool for 2018. The interface is quick and easy for new users to follow through. The lightweight nature of the program makes little effect on your PC performance.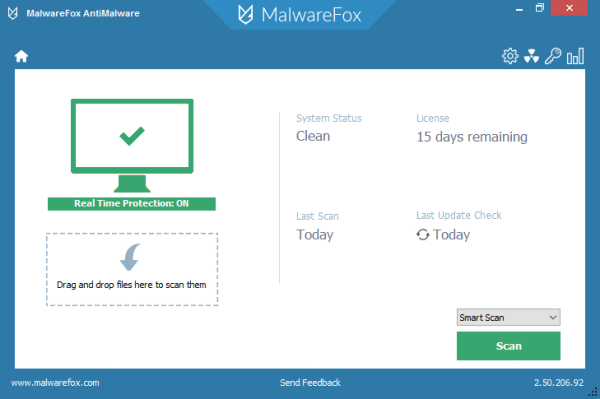 Even though the malware scanner has great features, it usually reports too many false positives. The best antivirus and malware cleaner tool comes as both free and premium versions. Most noteworthy is that the premium version does not offer Real-time protection. Also features like Ransomware protection, Zero-day attack prevention, and behavioral scanning is only present for the premium version.
Download: MalwareFox Anti-Malware
Spybot
If you are inclined towards more of a spyware removal tool than the standard malware removal tool, look no more than the Spybot Search & Destroy spyware protection tool. The straightforward software is one of the top quality best free malware removal tools of 2018. Much to the lovers of portability, there is a separate portable version of this malware removal tool. The portable anti-malware tool can be installed on a removable USB drive and used on the go.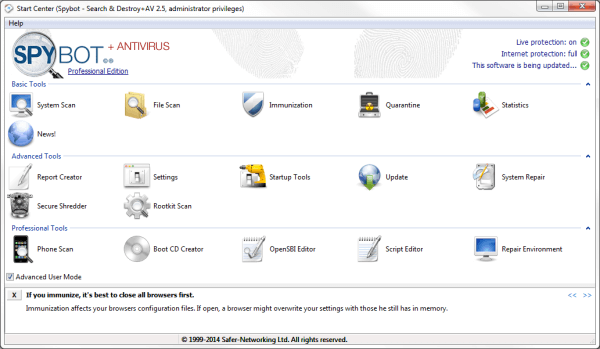 There have been a few comments made about the efficiency of the malware protection software. Some tests by PCMAG states that the removal of malware can be incomplete and rootkit removal creates program crashes. The free version cannot schedule scans. Also, the malware protection comes with lightweight package making it one of the best lightweight Antimalware software for 2018. Furthermore, Phishing and unwanted sites can be nullified efficiently. Hence makes this worthy of being the best security protection tool for your PC.
Download: Spybot – Search & Destroy
Emsisoft Emergency Kit
Emsisoft Emergency Kit is the relatively newer addition which has become a favorite for the tech support users who would need a portable Malware removal tool for 2018. The portable version of the premium software can be helpful when you need to fix malware infection and rootkits on the go.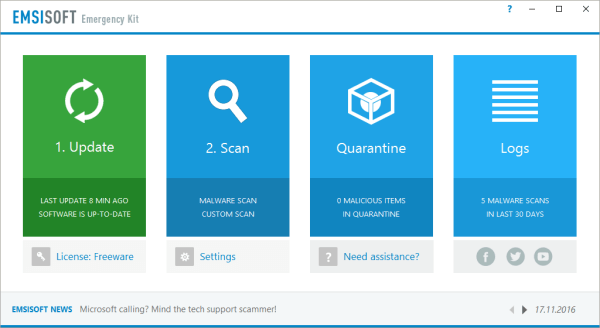 The malware removal tool has a rich database of the threats which can be updated efficiently with virus definition updates over a working internet connection. Furthermore, PUP (Potentially Unwanted Programs) detection and removal is a highlight feature. This malware removal tool only helps in removal of the already infected systems. Hence real-time protection is outside the software capabilities.
Download: Emsisoft Emergency Kit
adaware Antivirus
Ad-aware Antivirus software is more useful for users who are desperately trying to get the ad contents away from your PC. Much more than the standard antivirus and malware protection features, Adwares are efficiently detected. The malware removal tool can be used as a complementary security tool alongside any security software that you might be using already. This is done at the time of installation by setting it up as a 'second line of defense.'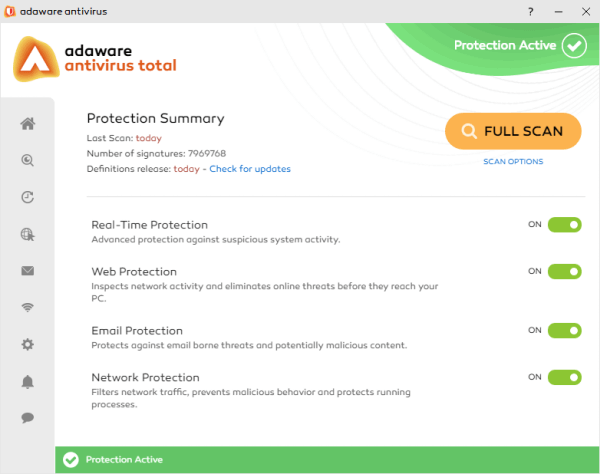 The security software is very minimalistic and does not include any top of the line feature sets. The free version is stripped of any of major features which makes you prefer the pro version. Even though it offers lightweight malware protection with heuristics analysis and real-time security, there are issues with the inaccurate malware blocking.
Download: Ad-aware Antivirus: Free Spyware and Malware Removal Tool
HitmanPro
HitmanPro is an interesting choice for anyone who is looking for reliable virus protection against Trojans, spyware, malware, rootkits, and worms. The excellent malware removal and security features in this best malware protection tool help to protect your PC. Most noteworthy is the Kickstart feature. This feature is helpful in case of a ransomware attack as it bypasses the system normal boot prevention caused due to the attack.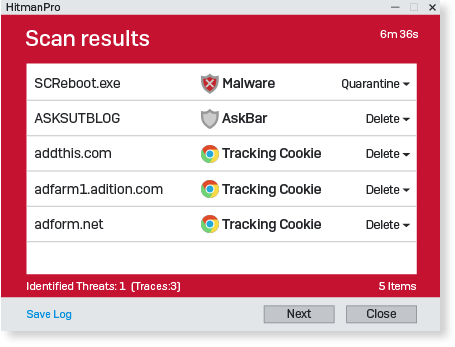 The HitmanPro lived up to its expectations for the most part but was plagued with a few false reports along with a lack of real-time protection. Also, the software is not free like its similar competitors who put it in an unfavorable condition. Nevertheless, a straightforward interface and the ability to scan the system without installation makes this a perfect malware removal tool for 2018.
Download: HitmanPro Malware Removal
SUPERAntiSpyware
SuperAntiSpyware malware removal tool focusses more on the adware and spyware attacks that may occur on your PC. The smart detection features including the real-time protection and the behavioral tracking ensure that you are protected with the most impressive tools. In addition to this, you can send suspicious files to the lab for inspection.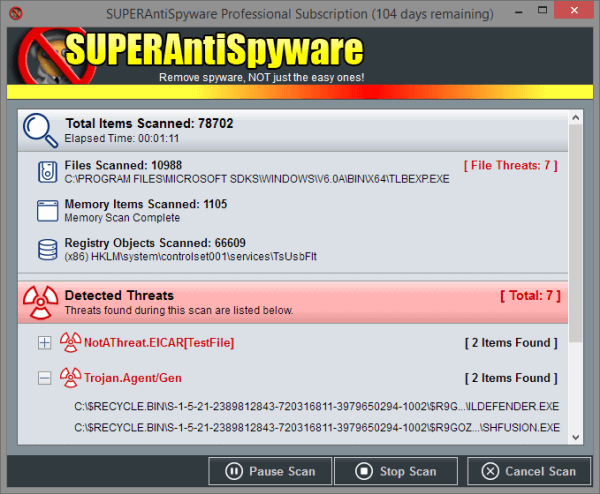 Do note that this best Adware and spyware removal tool is equipped with manual scans. The users must set the scan manually. Still, the advanced control mechanisms on the scan properties make the process much more efficient. Whether its shortcuts or zip file archives, SUPERAntiSpyware probes them all.
Download: SUPERAntiSpyware
Microsoft Windows 10 Malicious Software Removal Tool
Other than all these security tools, Windows provides its own built-in software specifically for the malware protection. The malware removal tool runs in the background and checks for any malicious software. Normally, the anti-malware tool runs in the background and doesn't interfere with your work.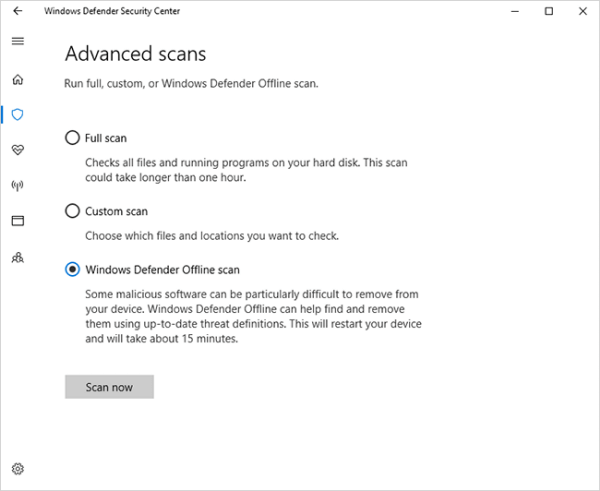 If you want to manually run the tool, Go to Microsoft's download page and run the .exe file normally. Running this manually shows you a graphical interface for scanning of your device. Furthermore, if you want the log files of the actions performed, head over to C:\Windows\debug\mrt.log directory. Do note that all of this is integrated into the Windows 10 OS as Windows Defender Application.
Download: Microsoft's Malicious Software Removal Tool
The lightweight security tools for malware protection may seem too basic. Try out the more advanced best Antivirus Total Security suites for 2018. Most of these Internet security suites are not free. Premium Internet security comes with a periodic subscription for the complete malware removal for your PC. There are powerful tools, like Kaspersky Total Security, one of the best malware scanners scans your system with the minimal effect on your performance. Bitdefender is one of the best lightweight Total security pack for Windows 10, Mac and Mobile phones Bitdefender Total Security that you can download. You can see more list of best Total Internet Security for Windows, Mac & Android.
Malware Removal Tools 2018
We have listed the top best Malware Removal Tools in this article. These Anti-malware tools and software provide the best malware protection with high-quality spyware and malware removal tools. Most of the malware protection tools stated here will offer you free virus removal and free malware scan features.
We know that this is a pretty long list. But when you want the best Malware and virus protection for your PC, you will need it. Security is something that all of us wants. But in this digital age, it may be one of the most prized attributes of them all. These Malware removal tools for 2018 will surely protect your PC from all malware and ransomware attacks. If you find any security suite that you like more, leave a comment below. Stay safe folks. Cheers!