Always be updated with the weather information right from the Mac Menu bar with these Mac weather apps. These advanced weather forecast apps can help you to plan your trips ahead. Instead of Googling for weather all the time, you can get updated weather information and alerts right from the Mac menu bar. These Mac weather apps are feature rich and give a lot of information like Wind Speed, 7 days forecast, Rain chance, etc., The nice feature of this Mac weather app is these apps can give 3-7 days of advanced weather information, including sunrise and sunset times. And finally, you can set attractive backgrounds and themes on these Mac Weather Apps to impress your colleagues.
Look for the best Mac weather app from the list and have a profound Mac weather in the menu bar.
Weather Dock
With the help of this Weather Dock app, you can have a weather forecast right on the Mac screen. The Mac weather app comes in two versions, free and premium $2.99 versions. Weather Dock inherits an animated dock icon showing current weather with a symbol along the temperature for a quick view.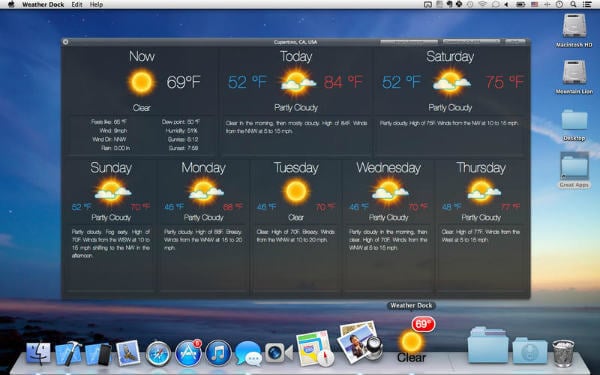 The animation speed of this weather app is adjustable, and one can set it to slow, normal, or fast. This weather dock app lets you know the weather conditions right from the dock three days in advance in free versions.
3 Days Forecast in free version |Key Features: Weather Info from Weather Underground, Imperial or Metric Units and Changeable weather conditions text color | Download: AppStore
Weather Live
Weather Live is the perfect choice for people who want an elegant weather app on Mac. This Mac weather app provides gorgeous moving images on the weather app UI screen. The ticker of this app automatically alerts about severe changes in weather. You can display simple weather information or a detailed view for more advanced information.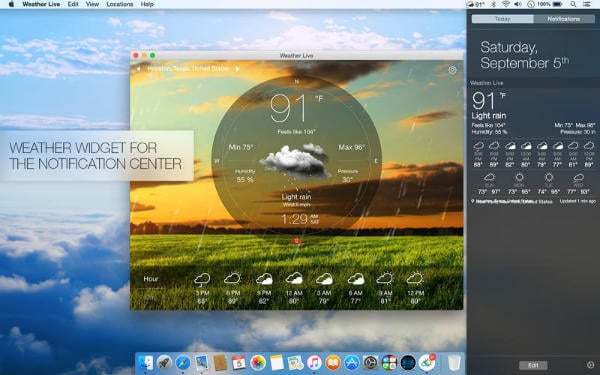 With this gorgeous Mac Weather app, you can easily view the pressure in inches, mm, or bars. In addition to the temperature information, you can get wind chill info, sunrise time, etc. If you want to monitor the weather at multiple locations, this is the best Mac weather app for your Mac. With Weather Live, you can set multiple cities and navigate between these cities with one touch on this Mac weather app.
7 Days Forecast |Key Features: Tells Moonrise, Moonset as well as Sunrise and Sunset time, Day and Night Time Modes, Circle View of details |Download: AppStore
Swackett
This Mac app is dedicated to offering a fresh weather detail experience on your Mac screen. Swackett gives a new look at the weather and simplifies the complex weather raw data. You can easily see hourly forecasts for the upcoming 24 hours and daily forecasts for the next 5 days fair enough to plan your weekdays.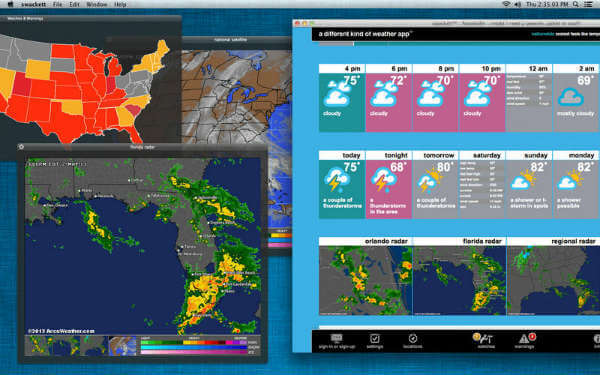 With this weather app, you get to know real feel temperature and dew point easily right from the menu bar. This Swackeet weather contains attentively crafted symbols of people named peeps to give a better preview of the prevailing weather conditions. Swackett comes with a ministry apparel edition to give perfect weather look advice and alerts from your Mac screen.
5 Days Forecast |Key Features: Multi-platform location sync feature, Share the forecasts on many social media sites and Gives Weather update of more than 65 countries |Download: AppStore
Weather HD
Weather HD is known as one of the best weather apps for Mac. The app shows you animated weather wallpaper matching current weather conditions. You can easily adjust the desktop weather widget themes and select the most attractive one among the five offered styles. You can save more than one location according to your preference to know the prevailing weather conditions in different cities instantly.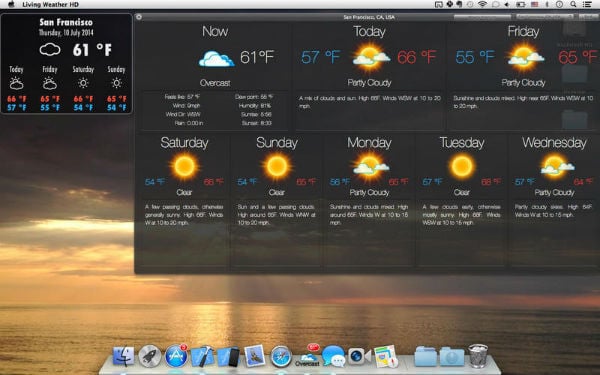 This Mac app for weather automatically detects the primary location of the user with a Mac location sensor. The weather reports are automatically refreshed after every 60 minutes. Rainfall information and accurate weather data come from reliable sources of Weather Underground. You can set the units from Fahrenheit to Celsius and mph or km/h based on your location and the standard.
3 Days Forecast in Free version |Key Features:  Gives Weather Forecasts for more than 140,000 places, Quickmenu toolbar for quick access to weather, and Attractive Backgrounds for users |Download: AppStore
Forecast Bar
Using Forecast.io, Forecast Bar is a simple and feature-packed Mac weather app. Inheriting a bunch of customizable settings, you can customize this app interface with more details or only the minimum data you require. The weather report is available in more than 17 languages. This app comes with visibility reading and UV index to give advanced notification on a sunny day, which helps you to plan your family beach day.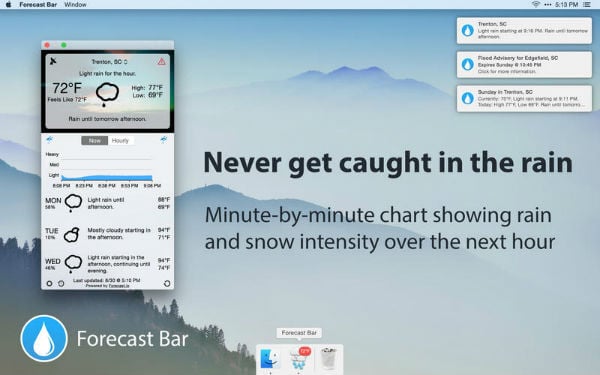 In addition to these weather features, you can store unlimited weather locations and easily switch between them with one click. Mac weather in the menu bar comes with full support for light and dark menu bar modes. The boasting notification forwarding feature lets you forward the notifications to your iPhone and iPad.
6 Days Forecast |Key Features: Allows to check weather conditions of past and future, Updating on a minute basis to give correct precipitation report, Automatic sync of locations and settings to iCloud |Download: AppStore
WeatherBug
WeatherBug is a simple weather app on the Mac Apple store. This simple weather app gives all the detailed weather information straight on your menu bar. This Weather Mac app lets you know the real-time weather conditions through the app. The app gathers the info from 10,000+ professional weather stations at a lighting-fast speed and displays it on your Mac desktop.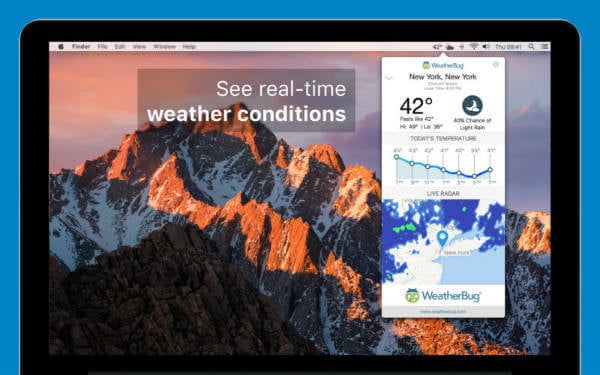 This WeatherBug app alerts you of serious Thunderstorms Alerts and gets instant notifications on severe weather conditions. This weather app is one of the simple weather apps for Mac that brings you a simple weather interface and feature-rich tools.
7 Days Forecast |Key Features: Gives forecasts for about 2.6 million+ locations, Check through traffic cameras and Live weather map with inserted locations |Download: AppStore
Weather 5 Days
Weather 5 Days is a free weather app allowing you to get detailed weather data. This weather app provides an hourly forecast for the next 24 hours and a daily forecast for 5 days.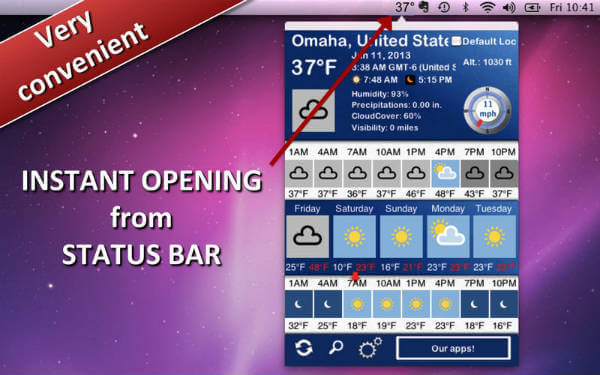 This app aligns all the weather information like temperature, humidity, cloud cover, visibility, wind speed, direction, etc., in a proper way to read. The user can easily create and browse the locations that they like and prefer to show whenever they need. This app gives minimal customization options that provide easy control to the user.
5 Days Forecast |Key Features: Hourly Weather for 5 days, Uses the weather data from best weather models and Great geolocation support |Download: AppStore
Weather Widget: Desktop forecast
Minimalist and always ready to use are the elements that clearly define Weather Widget: Desktop forecast Pro. There are wide widget design options to help the person choose the best aesthetic-looking UI. You can place your widget anywhere you want by dragging the app from one location to another. Through the hot corner functionality, the widget reveals itself by moving the mouse over a defined corner.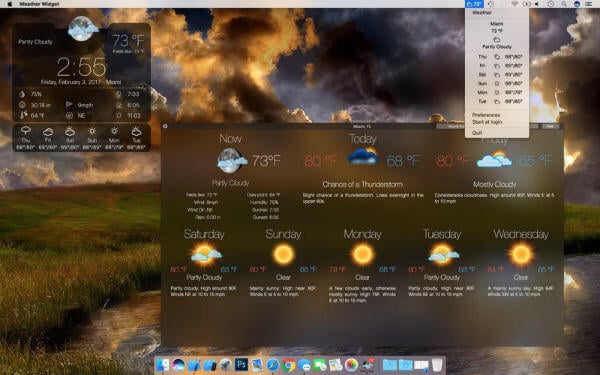 The dock icon appearance is customizable, and it can be set to show only temperature or forecast. You can switch between locations simply by using the drop-down menu available for locations. Just one click on the menu bar brings you a detailed forecast in dropdown format.
3 Days Forecast |Key Features: Option to Change the Opacity, Start at Login option, and Provides 3-day 2-hourly forecast |Download: AppStore
There are a bunch of apps that will come up when you search for the best weather app for Mac. Sometimes you may want detailed weather information rather than basic information. A Mac weather app in your Calendar or Mac is helpful when you plan your office meetings and vacation days. You can plan your day efficiently and plan with these weather apps for Mac.