Passwords have become a part of our day-to-day digital life. We use passwords for a lot of things, like bank accounts, streaming websites, or for that matter, anything that is connected to the internet. The problem with passwords is that they are usually complicated, and it can sometimes be a headache trying to remember them. The solution for all of this is to use a good password manager.
Today, we will be taking a look at the best password managers that you need to install and use on your macOS-powered device.
Apple KeyChain Access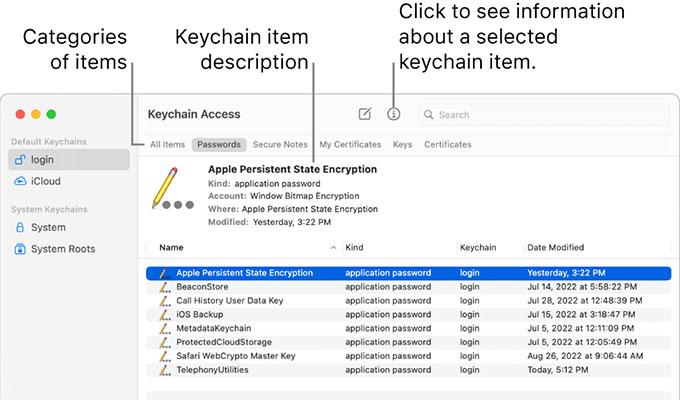 Here's a good free password manager that comes built-in with macOS devices. Apple KeyChain stores not only usernames and passwords but also other information that is tied to the particular account. You can also choose to create individual strong passwords so that your accounts are always secured.
Because this is an Apple product, you can rest assured that all of your passwords are safe from any leaks or breaches. One cool feature of Apple KeyChain is that you can easily sync and share your passwords with other Apple products that you own, thanks to iCloud KeyChain. One reason why you need to use KeyChain Access is that it's supported by Safari and a few of the other web browsers for macOS.
Pros:
Securely Store Passwords
Create Strong New Passwords
Cons:
KeyChain Access Isn't Supported By All Web Browsers for macOS
Only USeable with Apple Devices
Key Features: Free To Use | Built-in With macOS | Supported by Safari Web Browser | Create Strong Passwords | passkey Supported | 2FA Supported
Get Apple KeyChain: Apple KeyChain Access
BitWarden Password Manager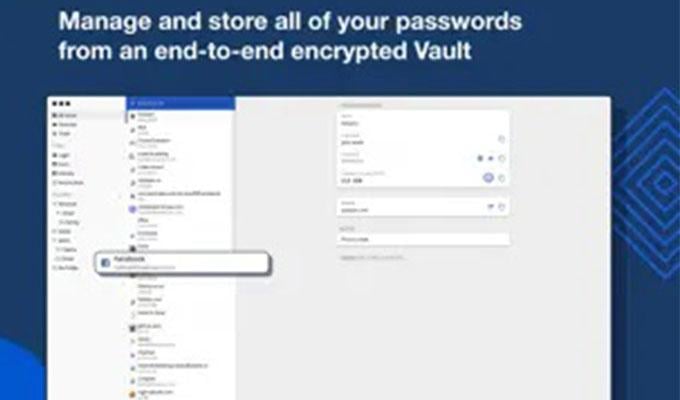 BitWarden is a very well-known password manager that is used by a lot of people simply because it is free and is supported on a large number of platforms. Apart from the password Manger being open source, BitWarden also has zero knowledge encryption and has support for 2-step login. One cool feature of Bitwarden Password manager is that one single account can be used with unlimited devices you also get the passwords and usernames synced between all of the devices at no cost.
With the BitWarden Password Manager, you can easily store notes, credit cards, and identities safely and securely. Because you can sync between different devices, many people use the web browser extension. This browser version is also free and supports a large number of the popular web browsers out there. You can also generate usernames and passwords if you cannot come up with something unique and strong.
Pros:
Free For Personal use
Reasonable Business, Premium, and Family Plan Prices
Supports Unlimited Devices
Cons:
No Passkey Support Yet
No breach Checker
Unable To Automatically Change Passwords
Key Features: Supports Multiple Platforms | Extensions Available For Most Web Browsers | Username and Password Generator | Unlimited Vault Items | 2 Step Login | Encrypted Exports | Open Source | Unlimited Devices Can Be Added To SIngle Account | Easy SCloud Sync Between Devices | Free Sharing With Other User
Download from Apple Store: BitWarden Password Manager
KeePassXC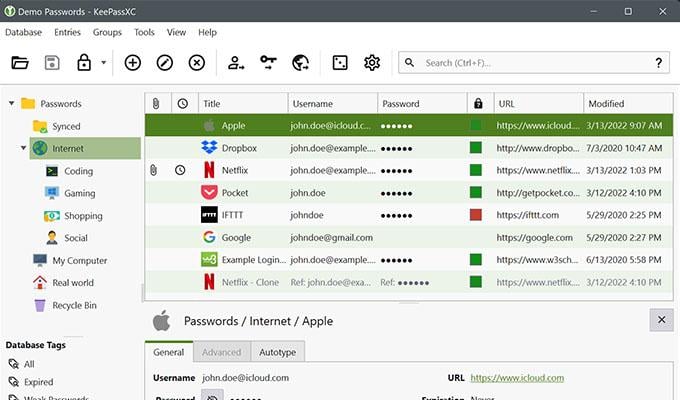 KeePassXC is another great password manager that you can use on your macOS device. You can easily store usernames, passwords, URLs, attachments, and even notes securely. All of this encrypted data can be stored on a local storage drive or cloud storage platform.-Because there are a large number of usernames and passwords that will be stored, and you can easily create your titles, and custom icons can be added so that you can easily identify and distinguish between numerous entries that have been saved.
KeePassXC also can search for entries that have been stored with KeePassXC.You can even generate several password styles that you can later use for any of your accounts. KeepAssXC also has a dark mode theme that can be enabled whenever you want. KeePassXC works on several supported platforms and operating systems.
Pros:
Open Source
Free To Use
Zero Knowledge Encryption
Cons:
No Automatic Password Changer
Unable To Add Trusted Emergency Contacts
Key Features: Save Databases in KDBX File Format | Password Generator | Auto Fill Passwords | Import CSV Databases | Shared Vault | Completely Offline System
Download from Website: KeePassXC
NordPass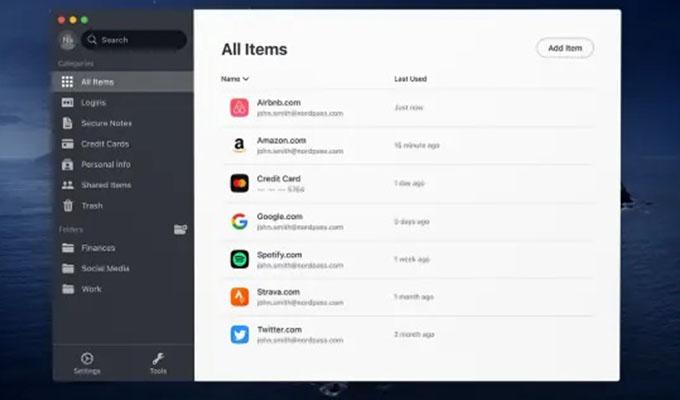 From the makers of NordVPn, NordPass is a password manager that lets you access it for free only for personal use. The free version has several features that are good enough especially if there's just a single account and user. NordPass has Zero Knowledge Encryption and a dark mode theme. With NordPass, you will be able to easily search through all of the events as well as be able to sort and categorize each event. This makes it easy for you to view what is important and what isn't.
NordPass also supports auto-fill for passwords. This is useful when you might want to quickly login without wasting any sort of time. Since you can make use of NordPass on different devices, you can easily sync your passwords thanks to NordPass's cloud sync system.
Pros:
Free To Use for Personal
Autosave and Autofill PAsswords
Cons:
Requires Re Login When Switching Devices
Share Feature Only For Paid Users
Key Features: Dark Mode | Sort and Categorize | Quick Search |Checks For Login Breaches | Add trusted Emergency Contacts | Securely Stores Credit Card Details and Other Information | Password generator | Export Passwords | Supports Popular Web browsers
Download from Website: NordPass
MacPass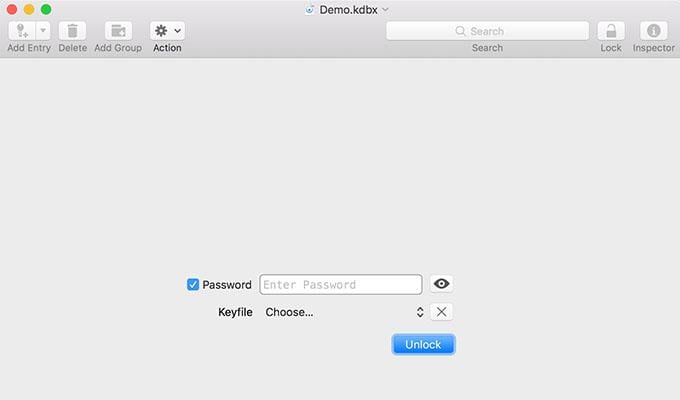 MacPass is an interesting password manager for macOS devices. While it does a good job of being a password manager, this is the only password manager that has support for various plugins such as AutoType URL and MacPass HTTP. MacPass is directly compatible with one other password manager KeePassXC. MacPass lets you view files either within a single window or use tabs to view them in different windows. macPass also lets you save previous versions of the file. This is also the only password manager that has the Undo Redo option when you might have entered something wrong.
You can easily import KDB and KDBX files as well as convert each file to the other format. Finding and identifying groups -within MacPass is easier, thanks to the numerous custom icons that you can choose and apply to your groups and entries. With MacPass you can also easily set a date for a password's expiry. Best of all, MacPass is free as well as open source.
Pros:
Completely Free
Open Source
Compatible with KeePassXC
Cons:
No Authenticator Option
No support for PAssKey As Of Now
Key Features: Dark Mode | Shared Family Vault | Sort and Organize | Quick Search for Entries | Password Generator | Plugin Support | ViewEntry history | Easy Sync between MacPAss and KeePassXC | Password Expiration Dates | Custom Icons For Entries | AutoType and Auto Fill
Download from Website: MacPass
Google Password Manager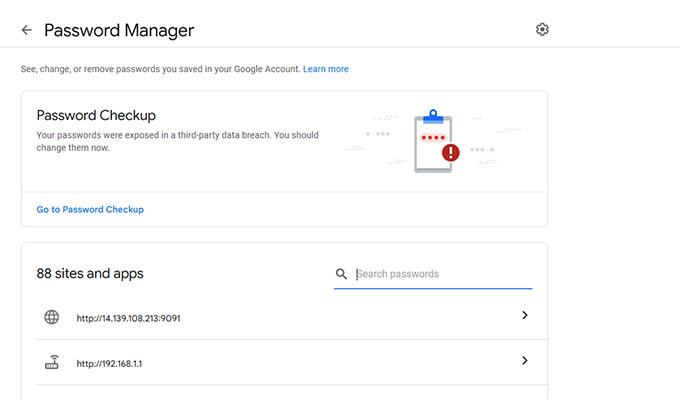 This list would be incomplete if it weren't for the Google Password Manager. This password manager is useful and works best only if you are making use of the Google Chrome web browser. The password manager lets you save usernames and passwords for different websites on Google Chrome itself. While it is a free password manager, one shouldn't underestimate its usefulness and features.
First off, this od the only password manager after Apple KeyChain Access that has support for Passkey. Google PAssword manager is a web-based password manager. You do not need to download any app or software to make use of the password manager. The platform has support for Dark Mode and the ability to change old or breached passwords for you.
Pros:
Free To SUe
Web-Based Password Manager
Cons:
Authenticator Support For Android Only
Unable To Export Passwords
No 2FA Login Options
Key Features: Dark Mode | Free |Passkey Supprtvia Google Chrome | Sync passwords Across Devices With the Same Google Account | Search through various entries | generates Stronger and more Secure Passwords | Checks for Login Breaches
Download from Website: Google Password Manager
LastPass Password Manager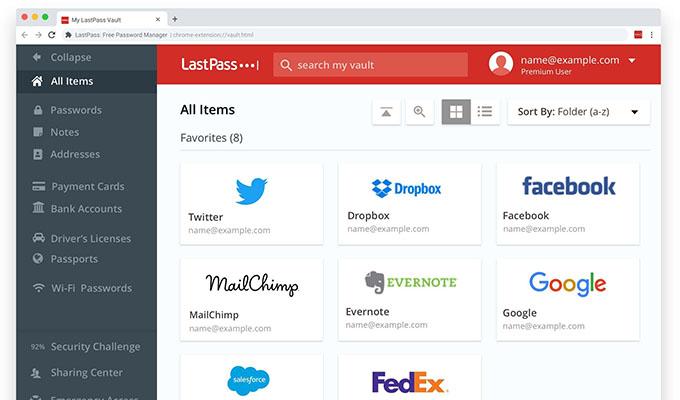 LastPass is a well-known password manager that has been around for quite a while. This a good option for those who just want to make use of a password manager that is free and helps them remember passwords without having to worry about sacrificing anything. LastPass helps you to easily sync your passwords across any device and any platform that it supports. With the free version, you can add an unlimited number of passwords
With the free version of LastPass, you also get to make use of the 30-day free trial to the premium plan. There is also the option to share your passwords easily with a single member on the free plan. LastPass can securely store all sorts of information by encrypting them so that no one else has access to the information except you.
Pros:
Open Source
Easily Share Passwords With Single Member
Cons:
No Checker for any breaches
File Storage Unavailable On Free Plan
Family manager Dashboard Not Part Of Free Plan
Key Features: One To One Sharing | Dark Mode Supported | Secure Notes | Multifactor Authentication | Dedicated LastPass Authenticator. Auto Sync between Devices | Autofill PAsswords | Password Generator | Passwordless Login | Add Unlimited Number Of Passwords
Download from Website: LastPass
These are the best password managers that you can install and make use of on your macOS device. Each password manager is unique in its way, and there is no such thing as the best password manager of all time. If you are looking for a password manager that is simple and easy to use, you can choose between AppleKeyChain Access and BitWarden's Password Manager. If you care about features and a whole lot of other things, you can choose between NordPass and KeepAssXC.
How to Select the Best Password Manager for Mac?
When choosing a password manager for your Mac, there are several factors to consider:
Security: Look for a password manager that uses strong encryption to protect your stored credentials and also offers additional security features such as two-factor authentication.
Ease of use: Choose a password manager that is easy to navigate and has a user-friendly interface.
Compatibility: Make sure the password manager you choose is compatible with your Mac and also other devices that you use.
Features: Consider what features are important to you, such as password sharing, dark web monitoring, or biometric login.
Cost: Compare prices and subscription plans of different password managers to see which one fits your budget.
Reputation: Research and read reviews of the password manager to ensure they have a good reputation in terms of security and customer service.
Support: Check if the password manager has good customer support and if they have an active community.
By considering these factors, you can select a password manager that is best suited to your needs and provides the highest level of security for your stored credentials.
FAQ: Password Managers for Mac
How does a password manager for Mac work?
A password manager for Mac typically uses a master password to encrypt and store login credentials for various websites and applications. The user only needs to remember the master password to access the stored credentials.
Is it safe to use a password manager for Mac?
Generally, yes. Password managers use strong encryption to protect stored credentials, and many also include additional security features such as two-factor authentication. However, it is important to choose a reputable and well-established password manager and to use a strong and unique master password.
How much does a password manager for Mac cost?
The cost of a password manager for Mac can vary depending on the specific software. Some password managers are free to use, while others may require a subscription or a one-time purchase fee.
Can I use a password manager for Mac on multiple devices?
Yes, most password managers offer cross-device syncing, allowing the user to access their stored credentials on multiple devices such as smartphones, tablets, and laptops.