USB-C external hard drives offer fast data transfer and work well with new Macs and Windows laptops. It's always best to back up every bit of data, and having a copy in your external hard drive can help during tough times. This time, we thought to deal with the new USB C external hard drives for a change. These are some excellent ways to increase your storage and offer quite a lot of features of their own. We have gone on a quest to find some of the best USB C hard drives to watch out for this year.
We've got some of the best USB C external hard drives that feature phenomenal transfer speeds and great storage capacity.
LaCie Rugged USB C SSD
The LaCie USB C is for those who need portable storage when on the go. It suits the need for photographers and videographers thanks to its rugged outer casing and transfer rates. It comes in two storage options, the 500 and 1 TB versions online. Yes, you have to pay around $500 to get this but believe me, it is worth each penny. This 1 TB USB C external hard drive comes with 510 MBps read speeds and 400MBps write speed.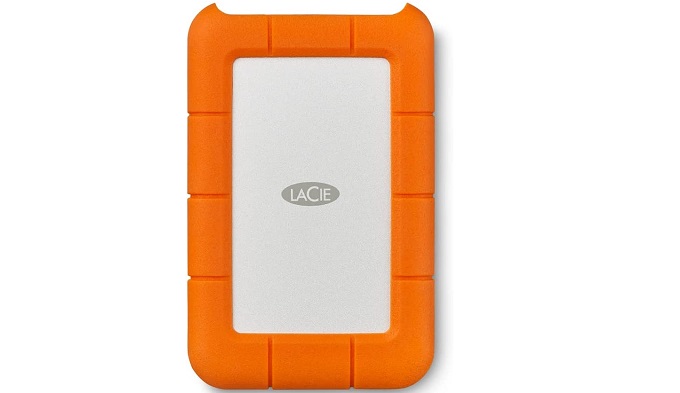 LaCie has metal confinement around the internal part as well as an outer rubber shell. This makes it highly durable and strong. It can, in fact, withstand a fall from a height of even two meters. The rubber shell gives it protection against rain and comes with IP54 certification. You might feel the device is a bit bulky, but considering the fact that its made for the outdoors makes it stand high. The LaCie Portable SSD comes with data encryption thanks to Seagate's Secure Technology. There is also data recovery and accidental-erase protection.
Pros:
Large storage capacity
All file formats support
Cons:
Bit Bulky
Portability issues
Key Features: USB type C enabled | Transfer speeds of up to 510MBps | Comes in two storage variants | inbuilt encryption | Water and shock resistant | data Backup
Western Digital My Passport SSD
The WD My Passport is a quick and reliable solution for all your storage needs. It is compact and comes in a stylish yet durable metal casing. The My Passport series offers you quite a lot of storage options unlike those above. It comes in storage options from 256GB to 2TB. This USB C SSD can give you up to 540MBps transfer rates.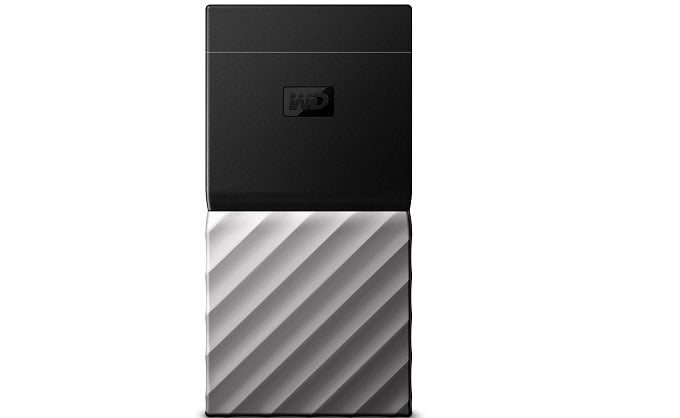 It is one of those quite a few devices that show near-expected values of transfer speeds. My Passport is compatible with USB 3.1 and USB 2.0 apart from the type C port. Furthermore, this USB C external hard drive comes with data encryption and password protection standards. Western Digital is also built to meet day to day use. WD assures that it can withstand a fall from up to 2m high.
Pros:
256-bit AES hardware encryption
Reasonable price
Cons:
Not a fast-performing one when it comes to bulk copying
Key Features: USB Type C | Reverse compatibility | Comes in 4 storage variants | Upto 540 MBps transfer speeds | Data encryption and password protection
Today's Deal: $70.00 Off
Samsung T5
The Samsung T5 comes with sheer built quality and lightning-fast performance capability. The T5 comes with an express transfer rate that no rivals of it can oppose. With a transfer rate of 540MB/s and the new USB 3.1 tech, this USB C external hard drive is the standout performer in this class.

Samsung T5 has a sleek and decent look of its own. You can easily slide the SSD into your pockets and walk around without even getting noticed. The whole casing comes in metal. This USB C external SSD comes with a password and AES 256 bit protection.  Most of electronic devices, laptops, and smartphones are compatible with the T5. You also get a Type C to Type A adapter with the retail package. It is compatible with the USB 2.0 ports as well. Apart from the Mac, it works well with your Windows PCs and Android smartphone.
Pros:
Small and portable
Transfers huge files with ease
Cons:
Low Build quality
Prone to scratches
Key Features: USB Type C | Inbuilt security features | Reverse compatibility | Password protection | Upto 600 MBps transfer speeds
G Drive USB C SSD
The G Tech G Drive is by far the best portable USB C SSD you could ever get. It comes with strong and reliable build quality and offers storage of 1 TB. It looks cool, has good metal casings, and comes with USB C to USB A converters and cables. Being a solid-state drive, you can get phenomenal read and write speeds all the time. The G Drive offers you up to 140MBps transfer speeds at 5400RPM.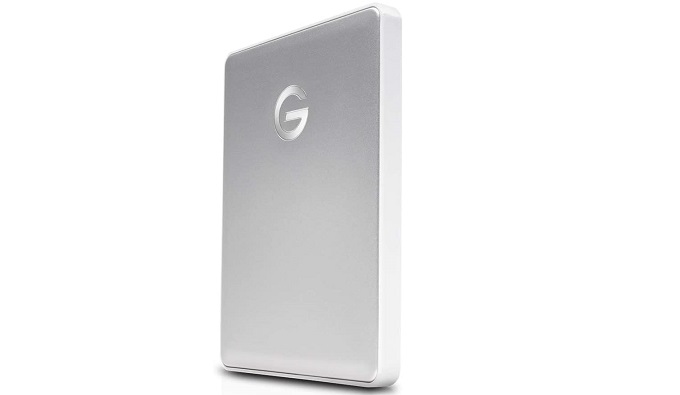 But on practical terms, it showed a read speed of 130MBps and write speeds of 110MBps. Out of the box, the G drive comes with the HFS+ file system. This means that you can couple it up with your Macs within a jiffy. Also, a quick reformating will do the job if you're planning to couple it up with Windows. It comes with all protection standards and data encryption protocols. This makes it safe and secure while dealing with huge amounts of data.
Pros:
Value for money
Decent and reliable performance
Cons:
A bit expensive
Protection standard issues
Key Features: USB Type C | Upto 130 MBps Transfer speeds | Works well with all OS |Data encryption | Formatted for Mac out of the box | Maximum Capacity: 400lb/180kg
Today's Deal: $43.95 Off
Related: 10 Best MultiPort USB C Hub Adapter for MacBook
Samsung X5
The Samsung X5 is the first-ever NVMe based SSD with USB C ports. It features the reliable Thunderbolt 3 technology, making it the best with the Mac. When it comes to design, Samsung gave more importance to the style and durability factors this time. The X5 comes in a stylish metal casing that's far more rugged and sturdy that the T5 or T3. This portable USB C SSD is can give you a sequential read speed of 2800MBps and write speeds of 2300MBps.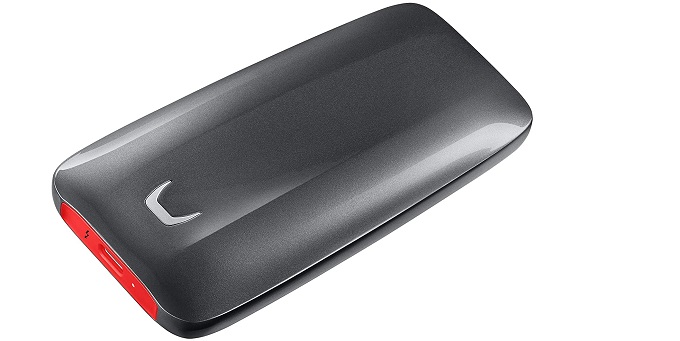 It is by far the best portable storage device to meet the needs of videographers. You get the X5 in 1TB and can by far meet a lot of storage issues. The device is exFAT formatted and comes with Samsung's own software. Samsung X5 includes Password protection and has AES 256 bit data encryption. Apart from the price you pay for the device, there's nothing that much to consider as a negative side. If the price comes as an issue, then you could always go for the T3 or T5.
Pros:
Stylish, streamlined design
Phenomenal Transfer rates
Cons:
Stability issues with lower operating systems
Prone to scratches
Key Features: NVMe-based SSD with Thunderbolt 3 technology | Transfer speeds of up to 2300 MBps | Comes in 3 storage variants | Built-in encryption/decryption | password protection
Sandisk Extreme 900
The next SSD on our list is the SanDisk Extreme 900 Portable SSD. This USB C External Hard Drive SSD helps you move photos, videos, and graphics-intense files within the nick of time. The SanDisk Extreme 900 Portable USB C SSD delivers up to 850MB/s read and write speeds. Extreme 900 promises up to 9X faster performance than any external hard drive available in the market.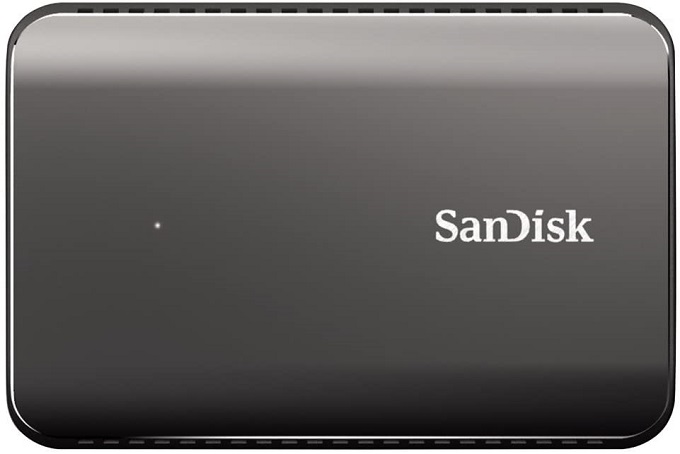 It comes with the 128-bit AES encryption tool that lets you protect all your private files. The SanDisk SecureAccess software which comes with the product manages all this. With the new cutting-edge technology, the SanDisk Extreme 900 Portable SSD is far cooler, quieter, and more efficient. You get Type C-Type C and Type C-Type A connectors with the complete package. Now coming to the compatibility part, this SSD works well with Mac OS X v10.6+, Windows 10, and older versions.
Pros:
Quick data transfer
Excellent file security features
Cons:
Highly expensive
Data Encryption issues
Key Features: USB Type C enabled | Comes in three storage variants | Upto 850 MBps transfer speeds | Aluminum/Rubber casing | SanDisk Secure Access
Related: 10 Best USB C Car Chargers for MacBook, iPads & Phones
Lexar SL200 USB C SSD
The Lexar SL200 is a USB C SSD that comes with USB 3.1 technology. You can get it online in two storage variants, 256 and 514GB. It is sleek and slim and comes in a premium aluminum casing. This external USB C SSD gives you a decent transfer rate of above 500MBps. Lexar features a Read speed of 550 MBps and Write speeds of 400MBps.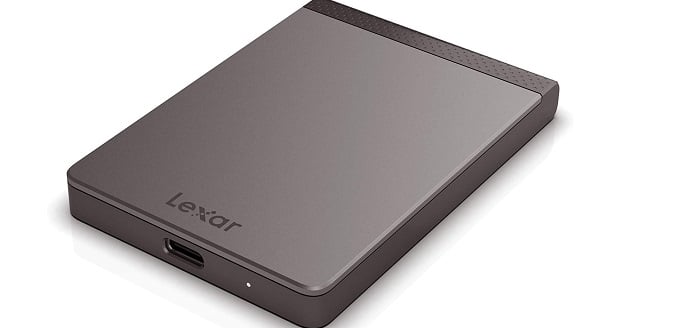 The durable outer casing can withstand high temperatures and harsh climatic conditions. There is also data encryption and file recovery software with this portable SSD. The presence of the DataVault Lite software makes it easy to protect your files from data loss. Furthermore, you get a type C to type A cable to extend compatibility. There is also an extended 3-year warranty by Lexar.
Pros:
Best Budget oriented SSD on net
Secure data transfer
Cons:
High price
No protective outer casing
Key Features: USB Type C | Very compact size | DataVault Lite software | Comes in two variants | Upto 550MBps Transfer speeds
Today's Deal: $20.04 Off
Seagate Barracuda USB C SSD
The Seagate's one of the pioneers when it comes to storage devices. It offers quite a lot of models that have gained a lot of reputation worldwide. The Seagate Barracuda comes in a single 1TB version. It is capable of giving phenomenal transfer speeds for a fraction of the price you saw with the other ones on the list.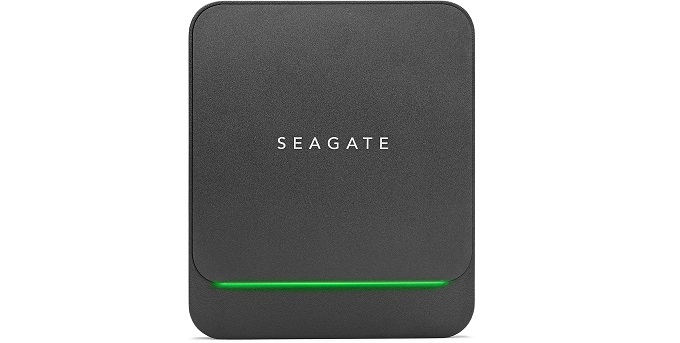 This USB C SSD is capable of giving read speeds of up to 540MBps and write speeds of up to 400MBps. It's a pretty decent transfer rate compared to the price you give. Coming to the design, the Seagate Barracuda comes in a complete metal design that's slim and quite portable. Seagate is sleek and portable to a great extent. The device is cross-OS compatible. Hence, it works well with all major operating systems without any drivers. You get an additional Type C to Type-A cable for extended compatibility.
Pros:
Stylish Design
Handles graphic-intensive files with ease
Cons:
Limited file security options
Durability issues might pop up
Key Features: USB Type C | transfer speeds of up to 540Mbps | Metal casing | Cross OS compatibility | 1TB Storage | Type C to Type A converters available
Related:10 Best 1TB & 2 TB external Hard Drives for 2020
Glyph Atom Raid
The Glyph Atom is a decent performer and has gained quite a lot of reputation lately. With phenomenal transfer speeds that clock up to 950MBps, it's a worthy contender to watch out for. This external USB C hard drive SSD comes with three storage options. It comes in 1TB, 2 TB, and a 4TB storage version.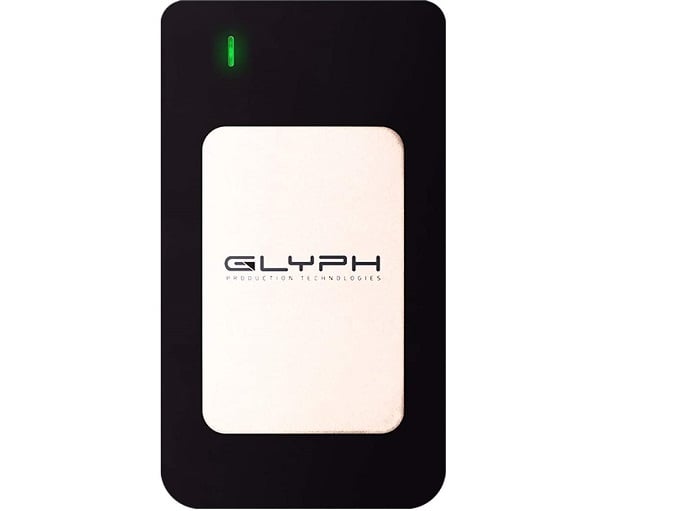 Glyph comes formatted for Mac, but a simple bit of tweaks can make it work with Windows. The device comes in an all-metal layout. There is also a nonslip shock resistant cover to protect it during a fall. A thing that you could feel as a flaw is the limited security features. But there is the data encryption and that's all we know. One more thing, the device is a bit expensive.
Pros:
4 TB storage space
Made to withstand harsh usage
Cons:
Durability issues
expensive
Key Features: USB Type C | Comes in three storage variants | Transfer speeds of upto 950MBps | All metallic body | Mac-formatted
G Drive R-Series Mobile SSD
The G Drive R Series Mobile is a premium external storage option that comes in three variants. It comes in 500GB, 1TB and 2 TB storage options. What makes it stand out is its build quality and design. There is a signature of great styling that you could at the first look.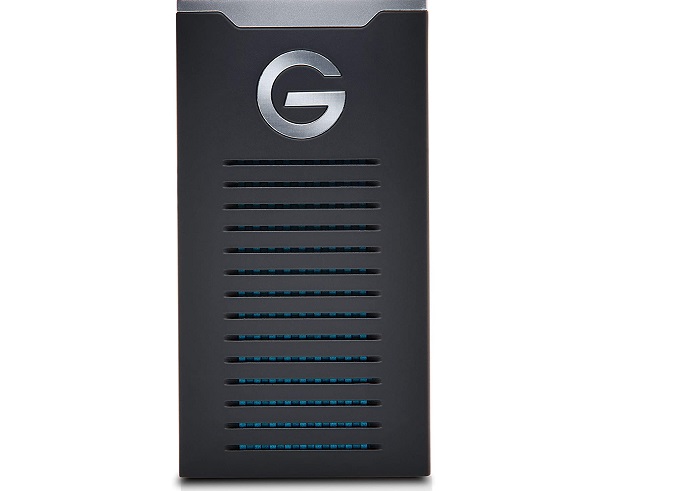 Apart from its style, the outer casing is of shock-resistant metal. Although it's complete metal, there ain't a rubber shield unlike the others on the list. This could have improved the durability sky to sky levels. There is IP-67 water-resistant certification and works like a breeze during harsh conditions. This external USB C hard drive offers transfer rates of up to 560MBps. You also get an additional Type C to Type A connector with the package.
Pros:
Affordable
Comes in plenty of storage options
Cons:
High price
Lack of proper file security features
Key Features: USB Type C | Transfer rates of up to 560MBps | Comes in three storage variants | Very fast read/write speeds | shock-resistant metal casing
The USB C ports are built for fast data transfer compared to USB-A drives. The latest MacBooks come with USB-C ports. You can use these USB-C drives to backup through a time machine with the MacBook. These drives can also use the latest Windows laptops to backup data.
Is USB FAQ
USB-C External Hard Drives of 2022-FAQ
Is it better to have an external HDD or SSD?
Both the external storage drives serve your purpose. The HDDs are cheaper and you can get more storage space. SSDs, however, are incredibly faster, lighter, and more durable, and they use less energy but are expensive. 
Is the USB C hard drive faster?
The USB 3.1 Type-C is far more reliable and faster than its lower versions. It delivers a 10Gbps data transfer rate. This is twice as fast as the USB 3.0.
What is the lifespan of an SSD?
SSD's if used in optimum conditions and could last up to 10 years. That's more than twice the life span of the normal HDDs out there.
What is the best way to store data long term?
The best possible method to store data for the long term is Cloud Storage. They do come with limitations on the amount of data that you could store, but as of now, it's the best method.