Word processors are arguably one of the most used application software for creators. The iPad serves as a great tool to create and edit documents on the go. If you are switching to the iPad from a computer and looking out for the best word processor software to use on it, this article is for you. There are plenty of free and paid word processor apps on your App Store that can be used on an iPad.
Here are some of the best word processor apps for the iPad you can get today.
Pages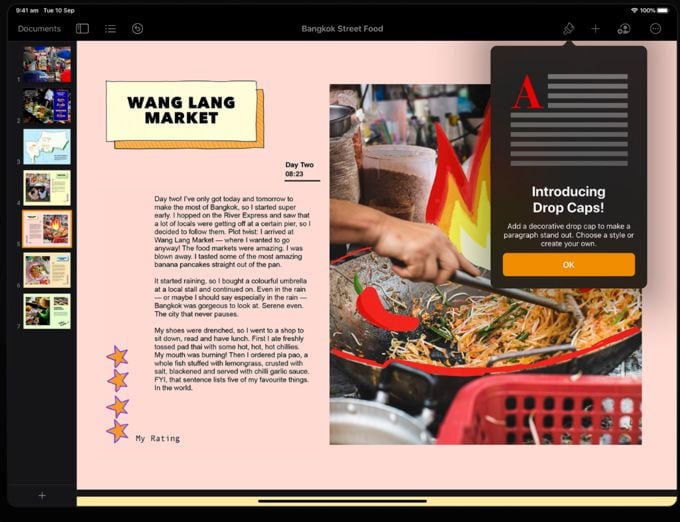 Pages is one of the best word processor apps for the iPad. Being Apple's very own word processor program, it blends well with other iPad features. This makes it stand apart from the rest. Pages offer plenty of free templates, built-in styles, document layouts, and many more features to help you create great documents at your fingertips. Formating is much simpler, with just a few taps in Pages.
Additionally, You can use Pages along with Apple's other programs like Numbers spreadsheet and Keynote presentation to form a versatile editing tool. The documents can be saved in multiple formats and support collaborative work.
Pages sync all your document to iCloud, thus enabling you to access documents across all your Apple devices. The only downside is that it only supports iCloud sync. Pages don't support other storage services like Google Drive and Dropbox. The app is available for free to download from the App Store.
Download Pages: App Store
Microsoft Word

Undoubtedly, Microsoft Word is one of the most widely used word processors on the desktop. The best thing about Microsoft Word is that if you're planning to replace desktop to an iPad, you can still use Microsoft Word with your iPad. The mobile version of Microsoft Word offers many features for creating and editing documents online.
However, you need to subscribe to Microsoft's 365 service to avail all the features found on the desktop. Similar to Pages, the app is free to use on iPad and enables collaborative work with others. Unlike Pages, Microsoft Word lets you sync documents on Google Drive, Dropbox, and other cloud storage services.
Download Microsoft Word: App Store
Google Docs

Google docs is a free word processing app that can be used with an iPad, desktop, Mac, Android, or any device. It provides numerous formatting tools and layouts to create, edit, and collaborate documents. All the documents produced are synched to Google drive and can be shared with others. However, the app can not be used to collaborate with other cloud storage services.
The mobile version of this app supports only the basic features and lacks some web version features. One of the main advantages of using this app is it is compatible with Doc and Docx files so that you can easily open and collaborate Word files.
Download Google Docs:  App Store
WPS Office

WPS Office is an all in one Office suit app that comes with integrated office word processor function. It integrates documents, spreadsheets, presentations, and PDF all in one application. Using the mobile version of WPS, you can easily create, edit, and share the documents on the go. It offers an easy to use interface, making it an ideal word processor app for the beginners.
Like other word processor apps, it supports effective collaboration and allows you to save the documents in a variety of formats such as Doc or Docx files. The app automatically saves the Office documents to cloud services like Google Drive, Evernote, Dropbox, One Drive, etc. for safekeeping.  WPS Office for iPad is available both as free and paid premium subscription.
Download WPS Office: App Store
Notes Writer

As the name suggests, Notes Writer is mainly aimed at writing notes. Although it is not meant to create a professional document like the other apps mentioned here,  you can use Note Writer to jot down your ideas quickly, annotate, create a form, and much more. That being said, this app is perfect to use for meetings and lectures to write down your ideas quickly.
Additionally, Notes Writer makes it convenient for users by featuring dark mode and distractions free mode. Notes Writer enables you to collaborate across a wide range of cloud services. However, it doesn't support Doc or Docx files. The app is free to use for limited notebooks. You can get the Pro version to access unlimited notebooks and other additional features.
Download Notes Writer: App Store
iA Writer

iA Writer is a powerful word processor app suitable for all types of writers. Slightly overpriced than the other word processor apps mentioned here, it is still a worth document editor for any crucial work. Its friendly user interface, versatile keyboard design, unparalleled workflow, and markup language support makes it unconventional.
With the help of this app, you can format the text, insert multimedia into the document, adjust document layout, check for grammar, and do much more. Like other apps, you can save the individual document files in cloud storage services.
Download iA Writer: App Store
Werdsmith

Werdsmith is one such app that emphasizes mainly on creating content. Rich in features, this app helps you to quickly jot down your thoughts anytime, anywhere. The app helps in creating a handy writing studio that lets you write more anywhere.
Werdsmith's custom themes and formatting options help you personalize your writing studio. The app keeps you motivated to reach your daily targets by allowing you to set daily word goals and writing rituals. The files are backed up in iCloud storage. The app is available for free, and you can avail of unlimited features with the paid version.
Download Werdsmit: App Store
With so many word processing apps available on the App Store, choosing the best for your work can be difficult. Hope this article helps you to find the best iPad word processor program to match your needs. Which is your favorite word processor app on the iPad? Write to us in the comments below.