Naturally, phones are the best way to reach someone, even for scammers and advertisers. Robocalls and scam calls are so common these days, even Google has taken initiatives to counter them. But for anyone not using a Google Pixel, the CallApp Caller ID feature can be very useful, or when all you want to do is an easy reverse phone number lookup.
Let's see how you can use the CallApp to get rid of the vishing scammers and other spam calls.
What Is a Vishing Scam?
These days, with phone scams on the rise, it never hurts to be sure who you're talking to, or who you talked to. It's easy for scammers to pretend that they're calling from your bank. These scammers will show up on your screen as a number that they actually aren't. They wi.ll then trick you into giving up your personal information and will use it against you. This is called a Vishing scam. It's like Phishing scams, except it happens over the phone instead of emails.
With CallApp Caller ID for unknown numbers, you can be sure that the person you talked to was actually who they said they were. So when a Vishing scammer pretends to be from your bank and asks for your details, you will already know if it's a genuine call or a scammer calling you by using CallApp.
Use CallApp Caller ID to Find Scammers
A great feature of CallApp is caller ID for unknown numbers. Reverse phone number lookup is good for when you've already answered or missed a call. It can be a tedious process to do when you're actually getting the call. The other party might hang up while you're busy doing a reverse phone number lookup.
For situations like these, CallApp also shows called IDs for incoming calls from unknown numbers. CallApp makes it totally free for you to use the caller identification and blocking any scammers. Follow the steps below to enable real-time caller ID on CallApp to detect and block scammers right away.
Firstly, on your Android phone, go to Settings > Apps & notifications > CallApp Contacts > Display over other apps.
Turn on the toggle to let CallApp display over other apps when you get a call.
Open CallApp from your app drawer.
If you wish, choose CallApp as your default phone app and select Set as default.
Alternatively, you can just tap Cancel.
Once you're on the app's main screen, head to CallApp+ on the bottom left.
Tap OK on the free-trial pop up.
Select CallApp on the Notification Access page.
Turn on the toggle and tap Allow on the pop-up.
Next time you get a call, you should see the CallApp dialog pop up with the caller ID.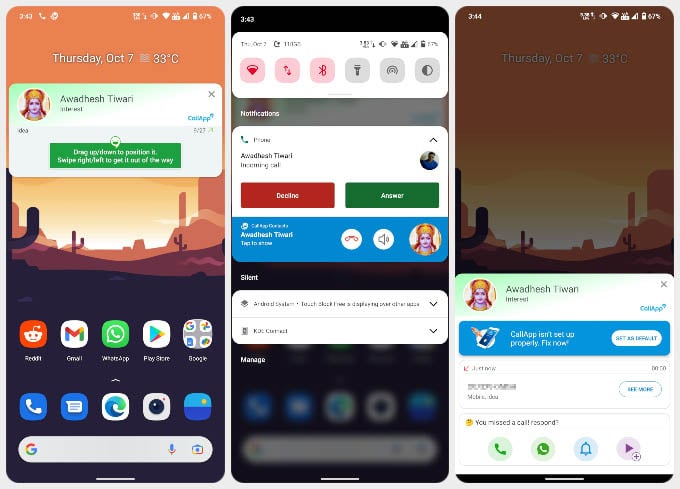 Normally, you know the name of a person or business, and you search for their phone number. A reverse phone number lookup, therefore, is when you know the phone number, and you're looking for the name of the person or business to know who it belongs to.
This can be useful if you've already talked to someone or missed a call, or if you just found the number in an ad somewhere and want to look it up.
Related: 8 Best Caller ID Apps for Android to Identify Incoming Numbers.
Use CallApp for Reverse Phone Number Lookup
There are not many apps with phone directories as expansive as CallApp's. In fact, CallApp claims it uses the largest such directory in the world. So, you're more than likely to find information about any phone numbers that you might be looking for.
Open CallApp and tap on the search bar at the top.
Type in any number that you to know who uses it.
If the number isn't already in your contacts, tap 'Search for number' at the bottom.
CallApp will do a reverse phone number lookup and display any available information about the number.
How Does the CallApp Scam Call Prevention Work?
CallApp syncs your contacts to its database as well, so you will see known callers with the same name. The numbers stored in your contacts will be assigned the caller ID associated with them in your contacts, in the CallApp database, if no caller ID was previously associated with them.
If you have a privacy concern, it is quite valid. But that's the cost of maintaining a public database of phone numbers where reverse phone number lookup is so easy. Being an app installed on your phone, CallApp can also act as your default phone app, or simply display over it, with information about incoming calls.
The app also stores this information, and you can even see infographics based on this data. In exchange, however, you do get peace of mind. CallApp does assure us that they "do not sell, share data with any third-party application and/or organization" so there is that.
Related: How to Block Your Number on Caller ID: 5 Solutions
Is the CallApp Safe to Use?
With the reverse phone number lookup, you can confirm that the person you talked to was actually who they said they were. You can be sure that the last call from the bank was actually from the bank. By this means, CallApp works perfectly genuine and is trusted.
Although the CallApp asks for contact permission, you don't have to worry about any privacy risks. Clapp ensures they are using to improve community contributions and will be served with utmost importance.
With Caller ID for unknown numbers, you can be sure of those things even before you pick up a call. If you're someone who talks on the phone a lot, the infographics can help you cut down on your talk time.
If you set the app as your default phone app, you can even record your calls. Getting CallApp to do the scammer identification and blocking will be totally worth it at any cost. With the CallApp, your phone can predict if the caller is a scammer even before you pick up. You can then choose to block or avoid the call without any worries.