This is the time to check whether your email account has been compromised or not. It is relevant today especially the news spreading out and Yahoo confirmed around 450,000 Yahoo users' email addresses and passwords have been leaked. If you suspect that your email account has been compromised, you can take all security measures including the change of your email password to protect your account. This is not the first attack against users accounts, we heard about 480,000 users credentials were exposed in a December 2010 hack of Gawker and 860,000 hit by Anonymous' hack last year of StratFor, unfortunately, it is happening all the time.
There are a couple of websites that check your email with leaked database and tell you whether your email compromised or not. This first tool is for checking your yahoo email whether it is compromised or not. Please click here to go the site Sucuri Malware Labs.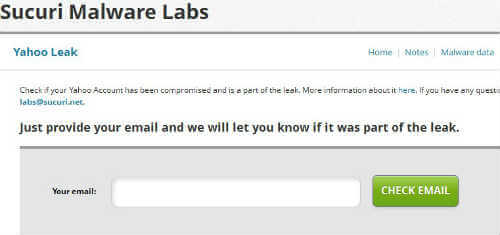 Those who suspect that their Yahoo email hacked, they can check here to make sure their email address not compromised.
The next two tools applicable for all of your email accounts that may be compromised. It will check your email with a large ever-growing list of known password breaches, including the latest Yahoo hack. Please click here to go to site Breach Alarm.
The site will let you know, and advise you to change it right away if your account compromised. Just enter your email address, and check it. This website won't save your email address unless you ask them to store it.
The third site will be called PwnedList is a tool that allows an average person to check if their accounts have been compromised. No passwords are stored in their database. Please click on here to get the site pwnedlis.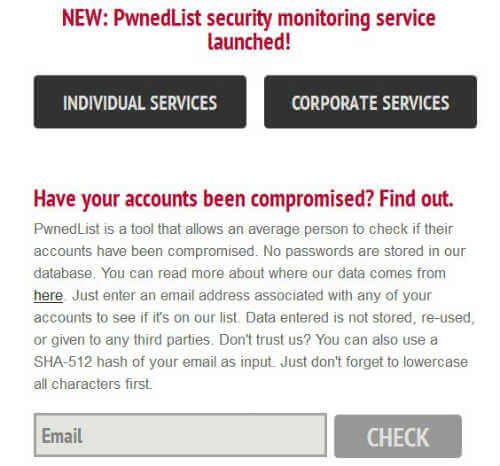 Just enter an email address associated with any of your accounts to see if it's on our list. Data entered on this site is not stored, re-used, or given to any third parties.
Please see here if your email already hacked. Even though these sites shows you a green signal that your email account is secure, still it is good to set a secure password for your email and all other online accounts. Please read this article to protect your online account from hackers in future.