It's very likely that you probably hadn't heard of something called TPM until Windows 11 happened. But now that you know, Windows 11 requires TPM 2.0 you might want to check the TPM version on your PC. The good thing is that it's very easy.
In this guide, we will see how to check the TPM version on Windows 11 and Windows 10.
Check if Your PC Has TPM for Windows 11
TPM is an abbreviation for Trusted Platform Module. It is an international standard for a secure cryptoprocessor. This secure cryptoprocessor is a microcontroller designed to protect user credentials, encryption keys, and similar sensitive data through encrypted cryptographic keys in case of a malicious attack.
Before you go ahead and check the TPM version on your Windows PC, you might want to check if there is a TPM on your PC to install Windows 11 at all. As mentioned before, TPM 1.2 must at least be present even to bypass the TPM 2.0 requirement.
One of the easiest ways to know if you have TPM is whether you have the BitLocker feature on your Windows machine.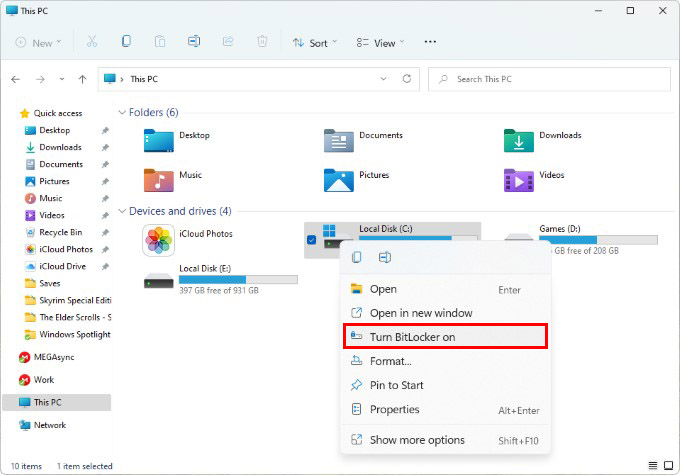 Open File Explorer and go to This PC.
Right-click on any of your connected drives.
Check for the Turn BitLocker on option.
If you see the BitLocker option, then you have TPM, and if you don't have the BitLocker functionality, your machine lacks any TPM at all. This means your PC may not even run Windows 11.
Related: Upgraded to Windows 11? Here are the Best Windows 11 Tips and Tricks
How to Check TPM Version in Windows
Now that you're sure you actually have a TPM to install Windows 11, you can check the TPM version and find out if it is compatible.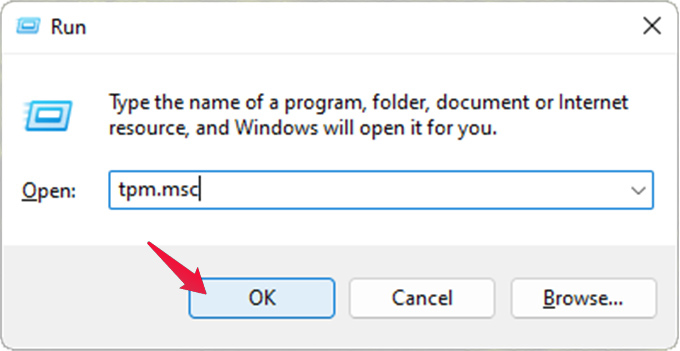 Open Run on your Windows PC by pressing Windows + R on the keyboard. Alternatively, search for Run and open it.
Type tpm.msc and click OK or press Enter.
This will open the Trusted Platform Module Management console window.
Check TPM version under TPM Manufacturer Information.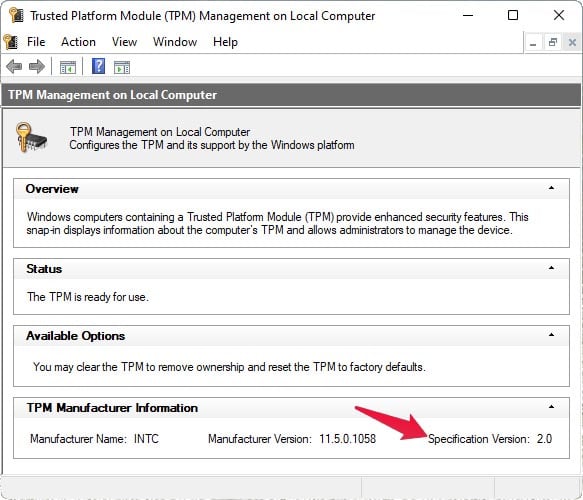 If the TPM Specification Version is 2.0, your PC is ready for Windows 11. However, if the TPM version is 1.2, you can still use a workaround to upgrade to Windows 11. Check out our guide to install Windows 11 on unsupported PCs if you just checked your TPM version.
Related: How to Change Taskbar Size in Windows 11
Even though Windows 11 has a TPM 2.0 requirement, Microsoft has now released a way to upgrade to Windows 11 without TPM 2.0. However, you will still need TPM 1.2 for that. Either way, you will need to check the TPM version on Windows.