Modern surveillance technology allows you to keep an active live eye out for the most important articles in your house, such as your security vault, pets, and the underlying technology that has changed radically with the introduction of Smartphones.
The methods of surveillance for several objects of importance to you such as your house security vault, pet or baby. From baby cameras and radios to hi-tech multi camera home security systems, the technology has evolved and become more and more efficient and easier to use.
While few years back you needed to keep security personnel in-charge for the security of your most prized possessions. Nowadays the system is completely automatized and work  through out the year without the hassle of human interaction.
While large houses and buildings have their multi-channel home security systems inbuilt to work for 24/7. In most cases a small family need a temporary fix for observation of a particular room in your house or monitor a precious object for a while.
There are a couple of wonderful applications available for free for your Android as well as iOS market to help you in these kind of short needs.
Here we present one of the best available Android security camera application to meet your security demands. This article help to setup your own home security camera with an old Android Phone and PC.
Install Security Camera App on Android Phone
Web of Cam is a free App that can download from Google Play Store with this Link to your Android phone. This app let you use Android Phone Camera as the surveillance camera while using PC as the control and monitoring device.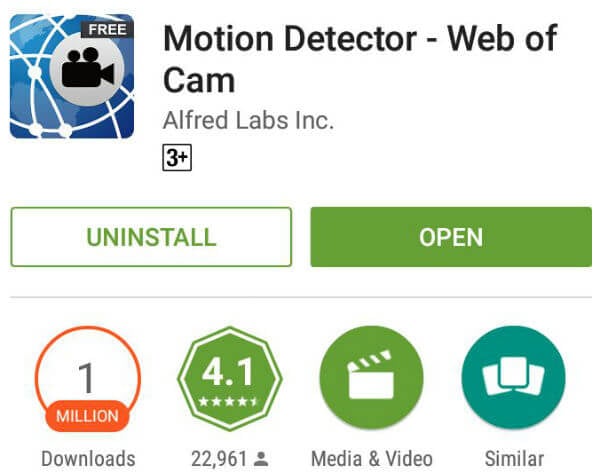 Once you install the app, the very fist step is to establish a connection between Android phone and laptop. Please follow the steps given below to establish a reliable connection between your phone and laptop.
Related: Best Garage Door Monitors with Remote Access
Establishing PC and Android Phone connection
Turn on WiFi on both devices and make sure both are connected to the same Wi-Fi network. If you have ethernet connected PC, it will work with this app as long as it is under same network. Turn on the application on the phone and choose the device as the camera.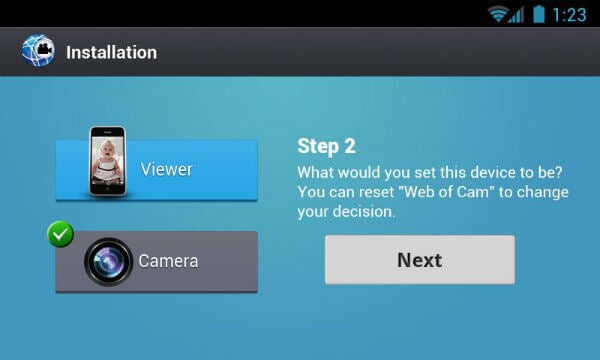 The Web of Cam App will display one dedicated IP address on the App window of the phone and note down that IP address to use later.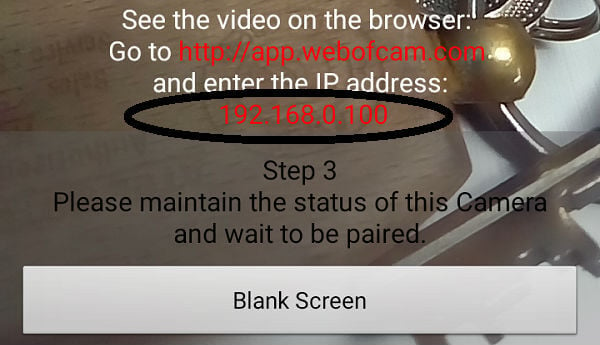 Now you can place the device in a suitable location to get the view of the place you want to monitor.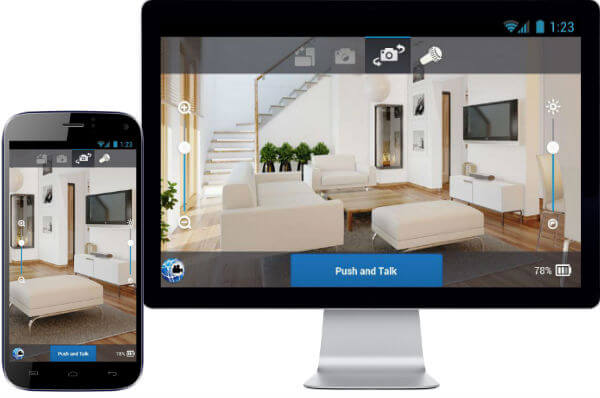 Now you can watch your Android Phone camera on PC, open your web browser like firefox or internet explorer and go to website
You will be asked to enter an IP address, enter the address that you note down from the Android device earlier.
Also read: Top Smart Gadgets Built to Protect Your Home
Use the Security Cam App with custom settings
Once you enter the IP address, you will see the streaming video from your Android Phone Camera on your Desktop PC screen. The video that you see is a live stream with a few seconds lag from the real scene. This application lets you control the features of the Security Cam app from your PC itself. As you see in the image below, there are several options displayed on your PC screen.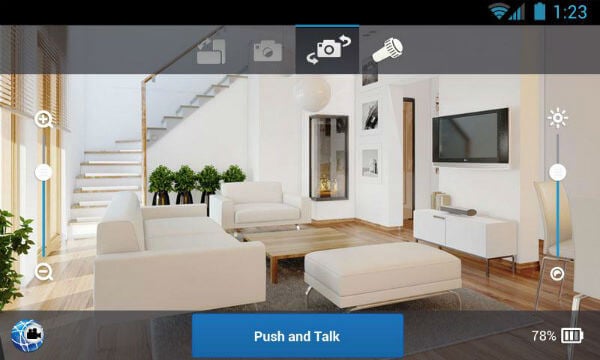 On the control panel of the application displayed on your browser screen, you can control the brightness, zoom, switching between the front and rear camera, the LED flashlight on the camera device, rotation of video screen. Also the screen allows you to take quick snapshots of the displayed video.
There are several other interesting features coming with this App. This app support 2 way audio connect between monitor device and camera (if the monitor device is a smartphone as well). You can set blank screen on the Android Camera device to conserve battery for long time use. These Android Security Camera app with nice features are enough to monitor any room or your front door efficiently without having a costly home security system.
Related: Do Not Throw Away Your Broken Phones; Recycle Old Phones These Ways (and Earn Cash)
Alternative Android Security Camera Apps.
Alfred is another one of the surveillance applications that is presented by the same who developed Free Wi-Fi Camera (Web of Cam). This application works pretty much similar to the Free Wi-Fi Camera application with some additional nice features such as free motion detection and video quality auto-adjust capability.
This is one of another good applications available for free on the Google PlayStore. This application does everything that Free Wi-Fi Camera (Web of Cam) does with additional features like Night Vision, Motion and Sound detection and Cloud push notifications on sound or motion detection
All these applications work best with a WiFi connection in handy and can connect to multiple devices at a time to give multiple video feeds to whomever you want to that can provide a free solution to costly home security systems.
So with these we would like to wrap up and advise you to install any one of the mentioned Android Security Camera App to monitor your pet, baby or to serve as a security monitor for your house when you are away.