iPads are not built to work as GPS out the box like iPhones or Android GPS tablets. Apple's Cellular iPads can track your location while you travel. Unfortunately, we cannot use this feature for our GPS map applications. Most of the time, iOS is using the cell tower location and other data connection networks to track iPad rather than using any dedicated built-in GPS unit.
However, you can easily convert your iPad into a car GPS by spending some additional bucks to buy some gadgets. This solution will work for any model of iPad (like iPad mini or iPad Air) with both WiFi and Cellular iPad models.
External GPS for iPad
Now let us see what other devices you required to convert iPad into a dedicated GPS Unit. The first one you need a GPS sensor that should be compatible with iPad. The compatibility of the external GPS depends on two factors, iOS version, and the supporting app.
When you select the wired GPS Sensor, please make sure the GPS unit is compatible with iPad connector. Old iPad versions are coming with the 32 pin connector while the new ones are with lightning connector. We are using, a Bluetooth based GPS sensor and we do not need to worry about the hard wiring. Also, I can use the iPad port to connect my car power supply to charge the battery while driving.
XGPS150A Bluetooth GPS Receiver
This is a multi-purpose Universal Bluetooth GPS Receiver with Wide Area Augmentation System and Portable Attachment. This GPS model is powerful to connect multiple satellites to provide high accuracy and GPS coordinates (+/- 2.5m).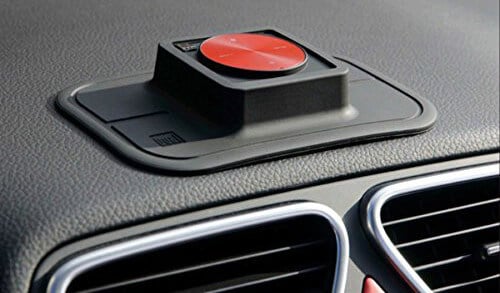 You can connect to this GPS model to your iPad via Bluetooth and the app coming for this GPS model help you for additional settings and customization if required.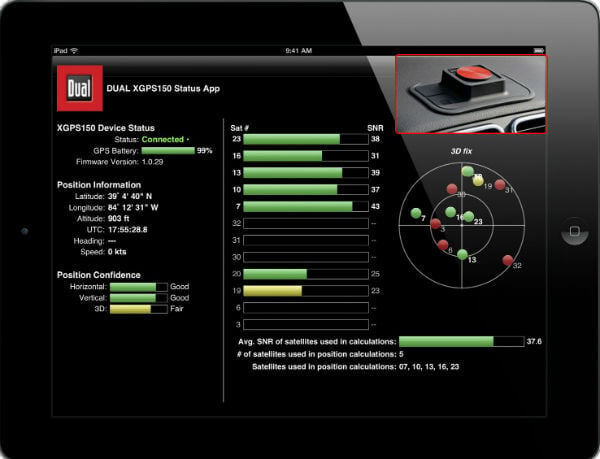 The GPS unit supports up to 8.5 hours of battery life and you can connect the USB charging cord to the GPS unit to recharge the internal battery while using the GPS unit.
Connectivity: Bluetooth | Accuracy: +/- 2.5m, Max speed: 1,150 mph | Max altitude:  59,000 ft | Battery Life: 8.5 hours  | Free App | Supports: iPhone, iPad, Android, Mac, Windows | Download app: Website Link | Buy from Amazon
Alternative Solution: You can have an alternative GPS sensor for iPad, from Garmin, called Garmin GLO Portable GPS, that is coming with same Bluetooth connectivity and a battery life for 12 hours, that you can get from Amazon
Stand Cradle for iPad
This Universal Tablet Mount supports iPad and easily mount on your car Dashboard. This iPad mounter has a sticky gel pad attaches securely to most surfaces. This car dash mounter has a telescopic arm to bring the device screen closer to you and 360-degree twist knob. There are a bunch of good iPad mount brackets are available from Amazon.
Supports: iPad Air/4/3/2 iPad Mini/Retina, Galaxy Tab 4/3, Nexus 7, Kindle Fire HD /7/6/ Fire HDX 8.9/7/ Fire 2 | 360 degrees twist knob | Buy from Amazon
Alternative Solution: There are alternative iPad cradle APPS2Car, Magnetic CD Slot iPad Car Mount, that you can get from Amazon. Once more Long Arm Universal Car Phone Mount Holder – Windshield with two clamps are available on Amazon for a pretty good price.
24W Car Charger with Lightning Cable
To complete this setup, you must have a car charger and cable for the iPad to charge iPad battery while driving. You can use the same charger unit to charge the GPS unit battery. There are tons of car chargers are available on Amazon, and we selected Anker Ultra Compact 24W Charger with Lightning Cable.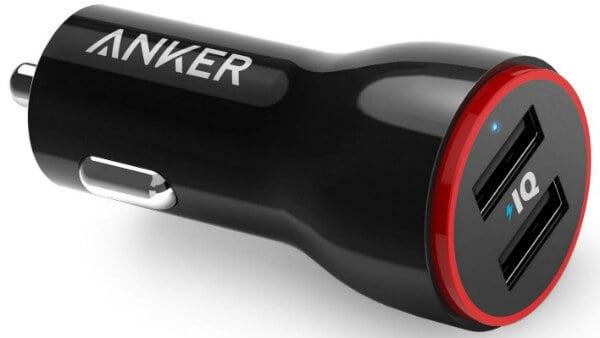 Alternative Solution: You can have an alternative iPad Car Charger with a power capacity of 24W and coming with Dual USB Car Charger, from Amazon.
GPS Map Apps for iPad
To complete this article, we need to have a Map app on the iPad. Fortunately, there are offline and online GPS Map application is available for iPad from PlayStore. If you have cellular iPad and unlimited data plan, better to go for online Map app, featured with real-time traffic updates and traffic alerts. Offline Map apps are preloaded apps on iPad, that does not need a data plan to work.
Online GPS Map for iPad
There are remarkable benefits of using online GPS applications. With online GPS Map,  you can get real-time traffic updates, road hazard warning, and weather alerts while you driving the car. For those who are planning to use an online map please make sure they have a data connection on their iPad and make sure they have enough signal strength while they drive to communicate the map application to the server.
Download Online Map Apps from iTunes: Waze | Google
Related: How to Get Waze and Google Map Offline to Save Mobile Data
Offline GPS Map for iPad
With offline GPS applications, you don't need to depend on your 3G data and worry about cell signal if you are driving in a remote area. The pre-installed offline map will work with external GPS sensor like a dedicated GPS Device.
Download Offline Map Apps from iTunes: CityMaps2Go | Galileo | HemaExplorer (Off-Road Navigation)
Related: Top 5 Offline Map Apps for iPhone to Save Data Plan
Convert iPad to GPS
Don't throw away your old iPads, you can easily convert iPad into GPS with few additional devices and Map app. iPad GPS is a good choice for long-time drivers and business folks. The tablet converted GPS offers extended battery backup (compared to dedicated GPS device), large screen, and also you can switch or upgrade any GPS apps on iPad based on your choice.  We explained the best combination of software and hardware that goes will with your iPad to convert iPad into GPS. These iPad GPS can be used as a dedicated Car GPS or you can plug on car dash when required.