Google search has tons of search tricks hidden under the sleeves. You may not even have imagined many of those Google search tricks, including the movie watchlist. Whether you are surprised or not, Google has a hidden personal movie watchlist in which you can add your want-to-watch movies.
Let's get into more details of the Google Watchlist on Google search and learn how to use it.
Add Movies to Google Watchlist from Google Search
We all search for movies and TV shows almost every day, or at least a handful of times in a week. What do you usually do when you find a movie worth watching? Add to a ToDo list, reminder list, or a note-taking app, right? You no longer need any apps if you can just search the movie name on Google. Make sure you signed in to your Google account to use Google Watchlist.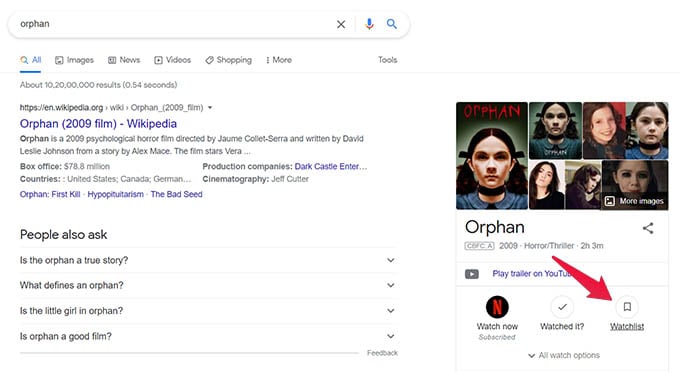 To add a movie to your Google watchlist, the first search for the movie. To show you an example, I searched for a movie as shown in the image. Now I can see the movie details card at the left of the search results page.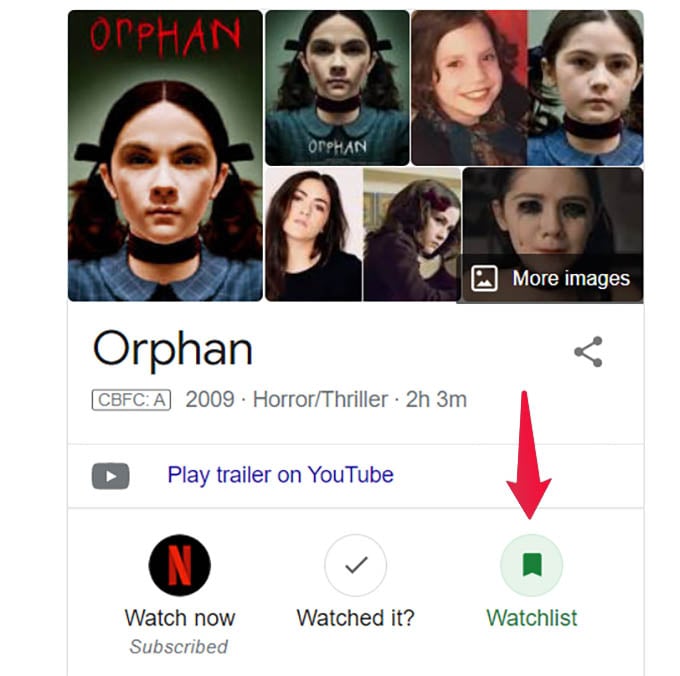 Now, click on the "Watchlist" button next to the "Watched It?" option. When you click Watchlist, the button should turn green. The green "Watchlist" button means you added the movie to your Google Watchlist. Click again to remove the movie from your watchlist.
Related: 10 Best Online Video Streaming Services for Movies & Shows
See Your Movie Watchlist on Google
You can add as many movies or TV shows as you want to the Google Watchlist. but how do you find all the movies you added to your watchlist? That is also an easy task with Google Search.
Go ahead and search for "my watchlist" in Google. Make sure you are signed in to the same Google account which from you added movies to the watchlist.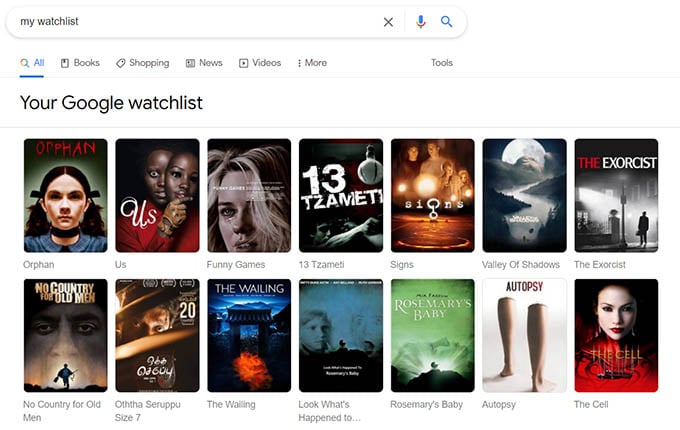 You will then see "Your Google Watchlist" in the search results that enlists all your favorite movies in your watchlist. You can then select any movie and mark it as "watched" or remove it from the watchlist itself.
Related: 20 Best Free Movie Download Apps for Android (2021)
Get Random Movie Suggestions on Google
If you are confused about what to watch this weekend, Google has it covered too. Google search can suggest random movies or TV shows which you might be interested in. Plus, you can sort them by genre and mood.
To get movies suggestions in Google Search results, search for "what to watch" from your computer or phone. You will find the popular movies, best-rated TV shows, and much more from the Google search result.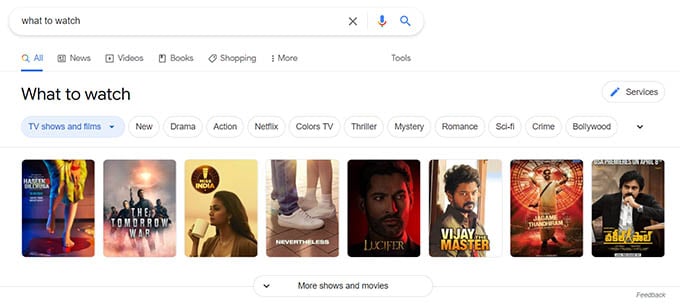 Related: 12 Essential Google Search Tricks That You Never Used Before
Apart from many of its features, the Google Watchlist within the search is really helpful for anyone. I personally add any movies and shows that interest me to the Google Watchlist. It also makes it easier to find where to stream the movie from. Do try out the Google search movie watchlist and see how that works for you.