Windows has had some iconic startup sounds from Windows XP to Windows 7. But not everyone loves the startup sound. Windows 8 and Windows 10 got rid of it. Windows 11 brings it back, but you don't have to stick with it. If you don't like it, you can disable Windows 11 system sound for start up.
Let's see how to turn on or off the Windows 11 startup sound.
Enable or Disable Windows 11 Startup Sound
One of the many changes in Windows 11 is the setup wizard when you first boot into Windows. The other is the reintroduction of a startup sound. However, just like many of the new features on Windows 11, you can easily disable it. Unfortunately, though, you cannot change Windows 11 startup sound.
Related: How to Turn Windows 11 Taskbar Into Mac Like Dock
The Windows 11 Settings app is more evolved and useful than the one on Windows 10. It now houses pretty much every configuration option you may need. You may still see some old pop-up Windows if you dig deep, but for the most part, you will not need the Control Panel. The Settings app is also where you find the option to disable Windows 11 startup sound.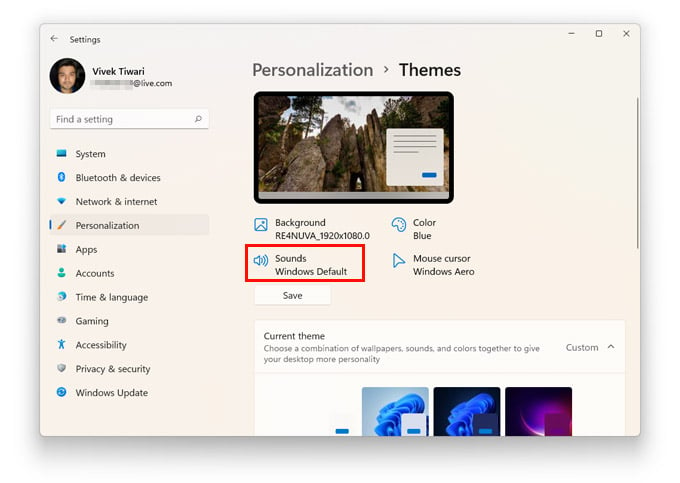 Open the Settings app from the Start menu or press Windows + I on the keyboard.
Select Personalization from the left column.
On the right, click Themes.
Next, click on Sound to open the Sound properties window.
On the popup window that opens up, uncheck Play Windows Startup sound.
Click Apply and then OK.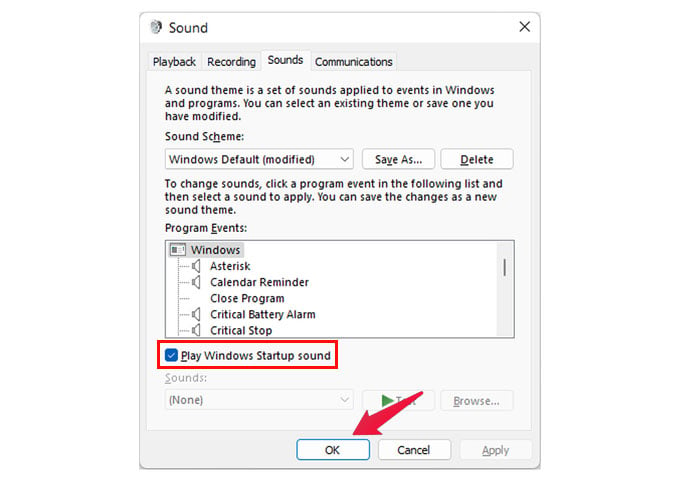 You can open this sound properties window via other ways as well. For example, you can right-click the volume icon in the taskbar and select Sound Settings. Then in the Sound settings, scroll down and click More sound settings. When the sound properties window pops up, select the Sound tab. It's a slightly lengthier process but equally valid.
Related: How to Customize Lock Screen on Windows 11
Another easier way to do this would be to search for Change system sounds using Windows search. Regardless of how you get there, you then simply have to uncheck the Play Windows Startup sound to disable Windows 11 startup sound. Similarly, to enable Windows 11 startup sound, you just have to check the same option.