The Clubhouse app is getting more and more interesting with the new clubs and yeah, the interesting people we get to speak and listen to. If you are hearing about Clubhouse for the first time, the Clubhouse is a drop-in audio chat app where you can create room and meet people to talk about any topics. No censorship whatsoever. Enough of the intro, we need to know how to get the Clubhouse on Mac and Windows PCs.
In this guide, we will walk you through the steps to install the Clubhouse app on Mac, Windows 10 computers. By this, you can install the Clubhouse app on Windows PC, laptops, MacBook, Mac Mini, and iMacs.
Get Clubhouse on M1 Mac
The Clubhouse app is available for iPhone users as of now. So what? If you have heard, your M1 Mac or MacBook can run iPhone apps. So, you are in luck if you use an M1 MacBook or Mac. Let us see how to sideload and install Clubhouse on Mac with an M1 chip.
On your new M1 Mac, open the Spotlight search by pressing Command + Space bar and search for App Store.
Open App Store and search for "Clubhouse" using the search bar at the upper left corner of the window.
From the search result page, you may not find any Clubhouse app. That's why you have to click the "iPhone & iPad Apps" button right at the bottom.
There you will see the Clubhouse among the search results. Click on the "Get" or "Download" icon to install the Clubhouse app on your Mac.
You can now close the App Store and wait for the Clubhouse app to finish installing. Once done, you can open the Clubhouse app on your Mac.
Just like on your iPhone, you can open the Clubhouse on Mac and run it. While you are running an iPhone app, like Clubhouse, on Mac, there are a few things to keep in mind.
All iPhone apps on Mac do not have a full-size width interface.
Apps for iPhone are designed to work with a touch interface. You may struggle with the keyboard and trackpad to control iPhone apps on your Mac.
Get Clubhouse on Mac (Intel)
Only the M1 Mac models support sideloading iPhone apps. But, you don't always need to rely on the iPhone apps to get the Clubhouse on Mac with Intel CPU. There are third-party Clubhouse client apps available out there with a cool interface and feature-rich environment. We have to try one of them now to get the Clubhouse app on your Intel Mac.
On your Mac, head to Clubdeck app website and download the Clubdeck Clubhouse client for Mac.
Install the app on your Mac, or MacBook.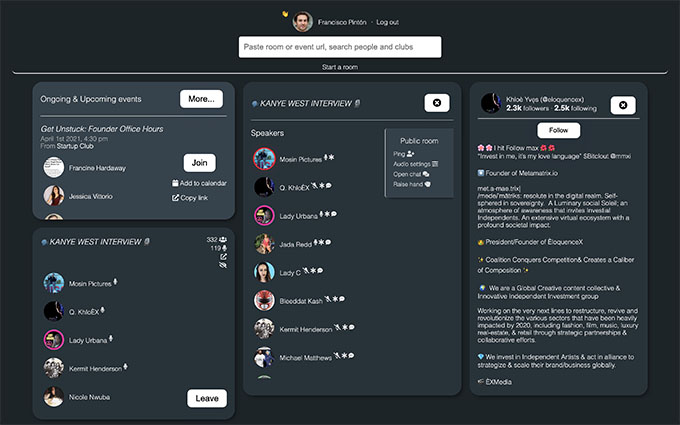 Open the Clubdeck app on your Mac and sign in using your Clubhouse login.
Once you are in, feel free to use the app to speak and listen to the interesting voice chat from your favorite clubs on Clubhouse. More interestingly, you get an intuitive card view with dark mode to step up the experience. Plus, the keyboard shortcuts for several actions make it worth a shot to use Clubhouse on Mac.
Get Clubhouse on Windows 10
Windows 10 users are no different than Mac users; there is no native app to use Clubhouse from your PC. Well, the Mac users can go with the Clubdeck app to get Clubhouse on their computer, so can you. You can use the Clubdeck to use Clubhouse on Windows PC.
First, download and install the Clubdeck app on your Windows PC.
Next up, open the app and sign in using your Clubhouse log in.
The Clubdeck app with Clubhouse on Windows welcomes you with a decent, minimal card interface. You can navigate and go through all the Clubhouse features, clubs, rooms, chats, profiles, and more easily. That too with the easy keyboard shortcuts for easy navigation.
Instead of getting Clubdeck for your PC, you can go for the APK installation method as well. You can straight up install the Clubhouse APK file using any Android emulator apps like Bluestacks. It has its own limitation when your PC does not have a touchscreen.
The Clubhouse was first released for iPhone users and then later for Android phones. As of now, there is no reason to wait for an official app for Clubhouse on Mac or Windows. That being said, it is worth trying out the above methods to get Clubhouse on your computer and have interactive talks with interesting people anytime.