The Weather app on your iPhone can show only the weather forecast of your location. It will mostly be your hometown or nearby places. What if you are traveling and want to get weather along the route? No major weather apps or navigation apps provide realtime weather forecasts when you are traveling. However, you can get a travel weather forecast using this one app named Weather on the Way. It can help you stay alert of the weather along the way and stay safe from extreme weather conditions.
In this article, we will show you how to get road trip weather along the route on your iPhone.
Get Weather on the Way on iPhone
With the "Weather on the Way" app on iPhone, you can get the real-time travel weather forecast. This is ideal when you are going for a long ride. This app lets you travel anywhere in the world with the help of navigation from Apple Maps. You can navigate and get the realtime weather forecast at a time using Weather on the Way app.
When you choose source and destination locations, the app can show you the weather forecast along the route, by calculating the time you would take to reach each point. To get travel weather forecast using Weather on the Way app, follow the steps below.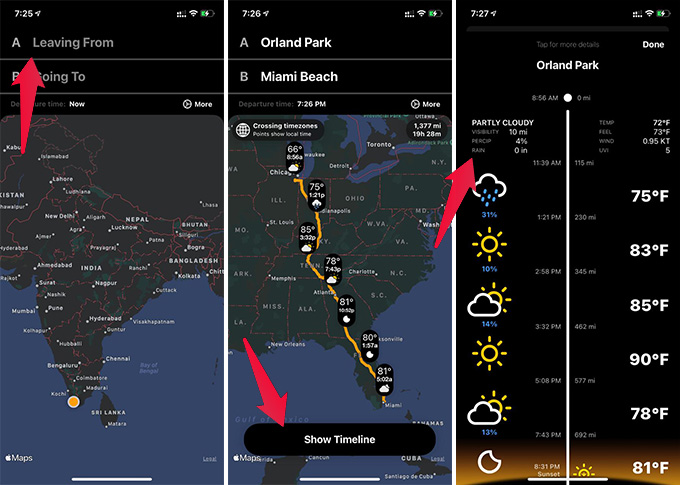 Install Weather on the Way app on iPhone.
Open the app on your iPhone.
Tap the "Leaving From" field on top and choose your source location.
Tap "Going to" and choose the destination.
Wait until the Map refreshes and shows the route map with the weather on the route.
The app shows the temperature and weather conditions on the route map.
Tap "Show Timeline" to see the weather changes with approximate time and distance.
From the timeline, tap on each weather condition to get extra details, including visibility, feel, rain, wind, etc.
It can also show you if your route includes crossing a timezone.
The Weather Along the Route app shows the travel weather forecast with temperature in both Fahrenheit and Celcius units. If you want to change the unit, on your iPhone, go to Settings > General > Language & Region > Temperature Unit.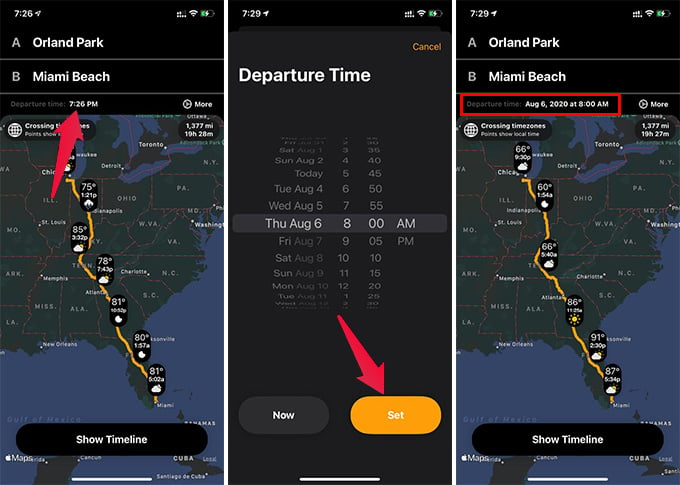 To change the departure time in Weather Along the Route app, you can tap the "Departure time" just above the map and choose a date and time to get the exact weather forecast for the day you wish to travel. Therefore, it can help you plan your trips with the weather forecast for the entire route anywhere in the world.
Related: Top 5 Offline Map Apps for iPhone to Save Data Plan
Weather Along the Route app is indeed one of the best road trip weather planner apps available out there for iPhone users. The app comes with a Free PRO version so that users can get five trips for free, each up to 24 hours. To get the PRO version, you only need to pay US$9.99 per year or $0.99 per month.