Smart Lights are the newest and most cost-effective way to create a bit of ambient lighting all around your living room. These smart lights are pretty much innovative and can change the whole mood in your living room or bedroom. This time around, we've got the Govee Flow Plus, a one of its kind smart LED monitor light that can bring life to an enormous range of color scales.
The vertical Govee Flow Plus has arrived and here are our hands-on impressions of this cool ambient smart light.
Govee Flow Plus: Overview
The Govee Flow Plus is basically a set of smart WiFi RGBIC vertical light bars that offer 12 scenic lighting modes. The Flow Plus comes with both WiFi and Bluetooth and connects with your smartphones on the go. The app-based settings and tweaks are what make the Govee Flow Plus all the more intriguing.
The 10" vertical light bars offer a max brightness of 400 lumens and work on the corded AC supply. Talking about some of the stand-out features, the Govee Flow Plus comes with Music Sync. There is an internal microphone that senses music and lets the LEDs sync themselves with the sound around. It can take in audio from the nearby speakers or from your TVs.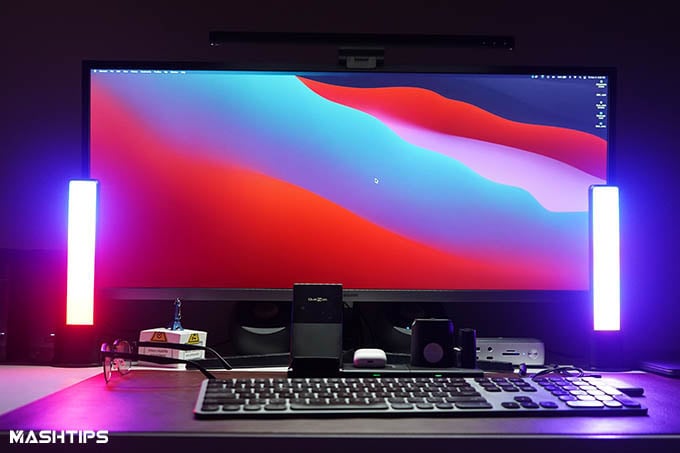 What's more, the Govee Flow Plus comes with Smart Home integration. This means that you can control the light bars by linking them with Amazon Alexa or Google Home via WiFi. Although the features get limited when you connect it with the Smart Assistants, there is always the option to control the light bars using your voice. There is no HomeKit support for this light bar at the moment.
We'll be talking more about both the physical and app-based setups, specs, and much more as we go on.
Related: Govee Immersion WiFi TV Backlights with Camera Hands-On Review
Govee Flow Plus: Specifications
Here are the complete specifications of Govee Flow Plus smart RGBIC light bars.
| Specifications | Govee Flow Plus |
| --- | --- |
| Model | Govee H6056 |
| LEDs | RGBICWW |
| Controls | Voice Control + App + Control Box |
| Sensor | No |
| Dimensions | 10.47 x 3.31 x 3.31 inches (HxWxB) |
| Working Voltage | AC 100-240V |
Design and Installation
The Govee Flow Plus comes packed with two 10-inch light bars. With the whole package, you'll find the vertical light bars, a power adapter, two table brackets, and a control unit. These smart light bars feature the new RGBIC technology with additional warm light to create a warm environment.
Govee Flow Plus light bars give enhanced ambient lighting and work for hand in hand with external sound and voice thanks to the inbuilt microphone. There aren't many design gimmicks to boast about the Govee Plus. All that matters is the way you wish to install them.
The Govee Flow Plus offers two modes of installation. One, you could fix it on the vertical bracket. The vertical brackets are sturdy and durable. What I felt is that the vertical brackets are more than enough to get the job done.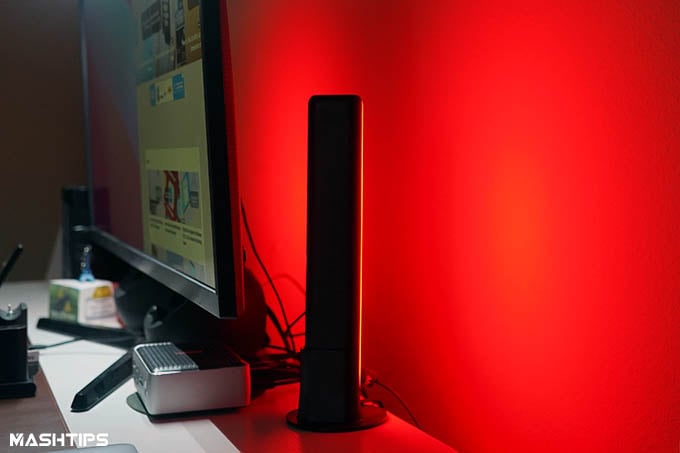 Second, you could simply stick it horizontally to the rear of your computer monitor or TV with the help of the adhesive pad. If you're using the Adhesive pads then make sure to clean the rear side of the monitor. The adhesive pad is super strong and once you attach the light bar, there is no going back. Another thing to keep in mind is that you'll need to place both the units near a power socket.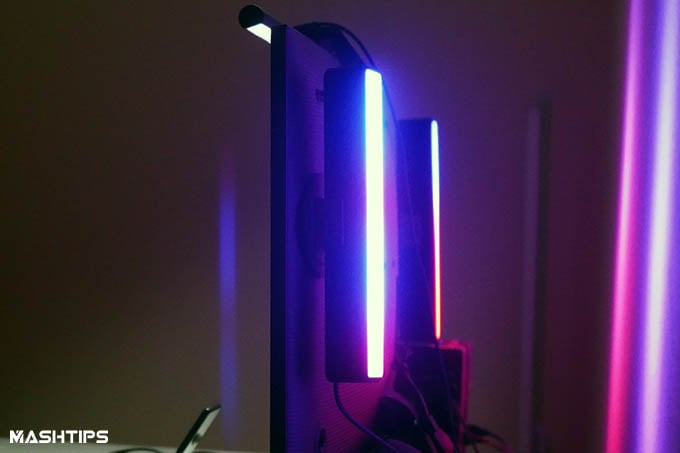 Once you've put the light bars in place, it's time to connect them with the control box. The control box includes two ports, one a USB C port to the light bars and the other a normal power port for the power adapter. The control box is nothing but a wired control panel with minimal physical buttons. Once you set up the light bars and the control box, it's time to get on with the in-app setup.
Govee Home App
The Govee Home app is where the real fun starts. The app is available both on the iPhone as well as Android phones. The app is user-friendly and takes you through all the necessary setup and tweaks. On the top of the home page, you'll find the search bar. Search and add the Govee Flow Plus to get into the app-based setup.
Once you're connected over Bluetooth, you'll be asked to enter the WiFi details. Once that's done, the app-based settings are complete.
Within the app, there are tons of options that you can choose from, ranging from music mode, effects lab, and much more. There is also some pre-set light shades, and a music control coupled with a host of some more intriguing features.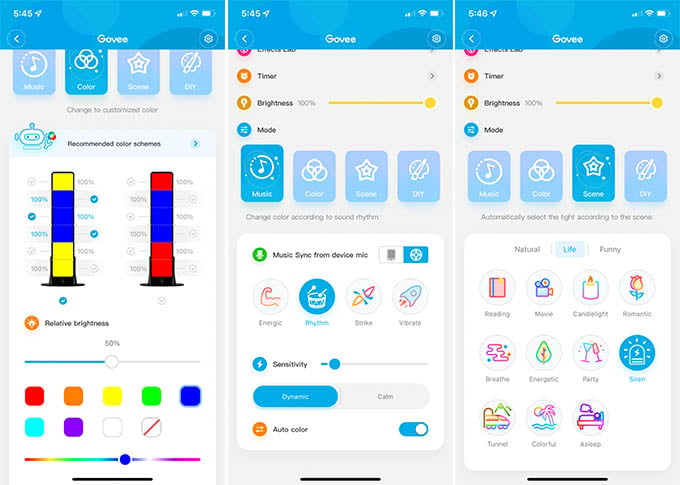 From within the app, you can set color ranges for each light bar, set different brightness ranges, on different zones. Apart from setting manual lighting, there are different scene presets and rapid music modes to add a bit of fun to your leisure time.
Related: Govee Lyra Corner Floor Lamp: A Unique Smart Lamp for Your Living Room
Govee Flow Plus Features
The Govee Flow Plus is a great set of ambient lights that you can use to enhance your living room experience. These vertical smart light bars are eye catchy in design and easy to set up. The Govee Flow Plus isn't the brightest vertical light on the market but does give a pretty soothing and eye comforting ambient lighting to your TV or monitor.
The light bar offers 400-lumen brightness and features the new RGBIC technology. Apart from setting a combination of lights, as you saw in Govee Lyra, the Govee Plus can light up with a single colored light. This comes in handy as the Govee Plus can be treated as your substitute bed lamp or living room light. The warm and the white lights both were pretty much soothing to the eyes and to me, they were splendid.
The Govee Flow Plus comes with good flexibility in bright colors, thanks to the RGBIC technology. Coupled with that, the light bar eases with modes like the Music, Color, and Scenic modes. There are 4 music modes that you can choose from depending on the scenarios you're in.
There are also 12 Scenic modes to choose from and keep in mind that all these are accessible via the Govee Home app. Another good feature is the Effects Lab. The effects lab lets you play with colors, mix and match your favorite shades so that the light bar illuminates your rooms the way you wish. The RGBIC LEDs inside can be controlled quite easily if you switch to the DIY mode. The 3 segment Lightbar shows no hesitation to blend in with the color scales you think are adorable.
Pros and Cons
The Govee Flow Plus is a great smart vertical light bar that you can get for your homes. Apart from being an ambient smart lamp, this light bar works well as an ambient TV or monitor light. The Flow Plus surely has some good sides and bad sides, let us take a look at those in a jiffy.
Pros:
RGBIC technology
Advanced lighting controls
Two ways of mounting possible
Good build quality
12 scenic modes and 4 Music modes
Alexa and Google Home Integration
Cons:
Limited brightness
No cable management
Limited Smart Assistant support
Key Features: RGBIC technology | WiFi and Bluetooth connectivity | Govee Home App | Alexa, Google Home support | 400-lumen brightness | Lighting modes | 4 Dynamic Music mode | inbuilt Mic | Effects Lab | DIY Mode | 12 Scenic Modes
Pricing and Availability
The Govee Flow Plus is a great way to get yourself a portable ambient lighting setup for your TVs or Monitors. It can even be a good substitute for your normal outdated bedlamps and living lights. Not only does it come with Smart Assistant Integration but also features quite a lot of native app customizations. If you think the Govee Flow Plus needs a try, then head to Amazon right away.
Final Thoughts
The Govee Flow Pro has its own pros and cons. If you need something that's rather innovative and durable in design, then the Govee Flow Plus is definitely for you. But if you consider the mainstream features like the brightness, color ratio, and even the Smart Assitant Integration, the Flow Plus can be seen stumbling. Also, at a pretty affordable price tag, this smart lightbar is really worth your investment.