Voice assistants, according to many, are the next frontier of web searches. You can't expect Google to stay behind. But Google Assistant is so much more than a voice-enabled search assistant. To prove that, Google is now rolling out a new article-reading feature. If you've ever wondered how you can read webpages aloud on Android, Google Assistant has finally got an answer. It's a bit like doing a text to speech on a webpage.
Read Webpages Aloud on Android
Back at CES in January, Google gave us a preview of what this feature was going to be like. Since the feature is still rolling out as of this writing, you may not have it yet. The best way to check is to try to use it.
Step 1. Load The Webpage on Android
The first step is to load the webpage you want to read. Once you load the webpage, you can trigger the Google Assistant pop-up on top of it. Just for the screenshot, we load the webpage "How to Make Phone Calls From Your Windows 10" on Android.
Step 2. Bring up the Google Assistant
Naturally, the first step is to launch the Google Assistant. There are several ways to do that.
Say "Hey Google" or "OK Google"
Swipe in from the bottom screen corners if you're using Navigation gestures on Android 10.
Long press the home button if you're using the two-button or three-button navigation.
On a Pixel, squeeze the phone to bring up the Assistant.
Step 3. Command Google Assistant to Read Webpage Aloud
As is the case with any voice assistant, once you've launched it, you have to say something. In this case, there are two commands you can use to get it to read a webpage aloud.
Say "Read it"
Or say "Read this page"
You can combine the two steps above into a single step as well. You don't need to launch the assistant and then waiting for it to listen to you. Instead, you can do both at the same time. Just say, "Hey Google, read it" or "OK Google, read this page" or any other variation of it.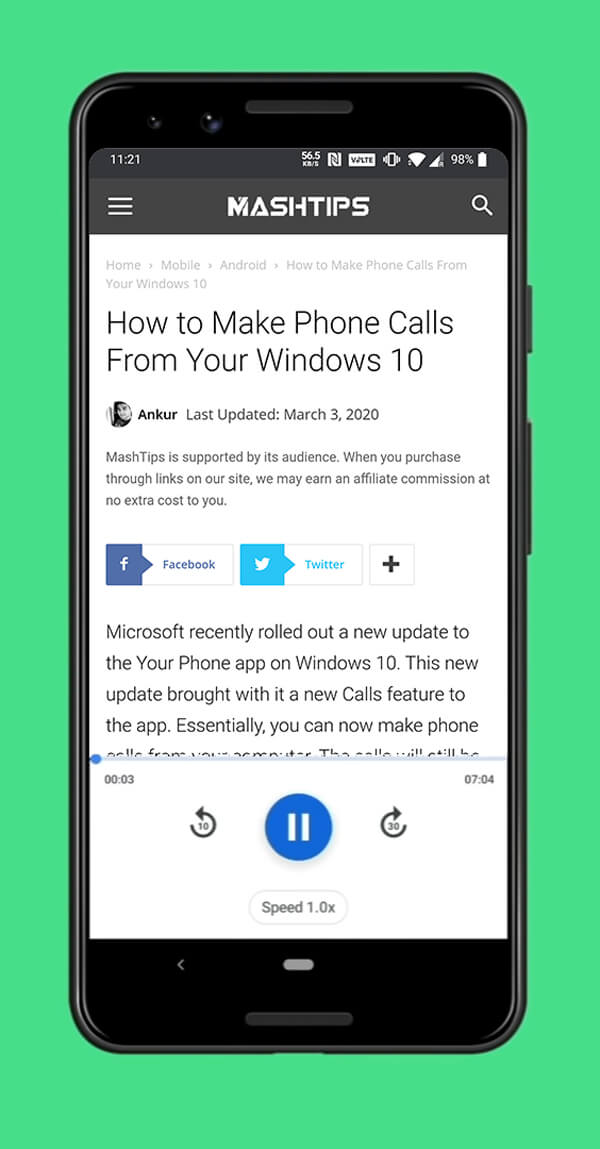 If you've received the update, Google Assistant will begin to read the web page. It will also show you the controls the way you see on the Google Podcasts app. These will let you play/pause, skip 30 seconds forward or 10 seconds backward. Google Assistant will also let you change the reading speed.
You can skip to a different section of the webpage by tapping on the screen. The screen will also highlight the text that the Assistant is currently reading. This allows users to follow along on the page as it is being read aloud.
Related: 15 Top Google Assistant Tricks for Android Users
Can Google Assistant Read Web Pages In Your Language?
Google has long been working on their text to speech engine before bringing it to webpages on Android. The feature has been available on every Android phone. As such, this new feature will launch with live translation for 42 languages. This will translate the webpage into your preferred language first. And then it will read it out loud to you.
This is certainly a great feature for those who often struggle to read English or another language on the web.