Most web browsers on the desktop have a built-in reading mode these days. And those that don't can get it with extensions. However, when it comes to your smartphone, browser extensions aren't really a thing, except for Firefox on Android. There is no such thing as a reading mode in Chrome for Android. Fortunately, there is a reading mode on Android that works across all browsers.
Recently, Google has been trying to push many Android updates through the Play Store and Play Services instead of actual Android updates. This is to help more users get access to these features. Reading Mode on Android is one such feature. It's a standalone app you can get from the Play Store.
What is Reading Mode?
If you already know what Reading Mode is, you can skip ahead to the next section. But if you're still wondering what we are talking about, here's a short version of it. Reading Mode is a special mode targeting web pages, in particular. It strips a webpage of all ads, images, and other distractions, leaving only text on the screen.
It's helpful when you really want to read the text. It is also helpful if you have some kind of reading impairment. Because reading mode also has options to change font size, font family, font weight, line height, background color, and text color. Reading mode on Android can also read the text out loud for you.
So, if you're looking for reading mode in Chrome on Android or any other browser, here's how to get it.
How to Enable Hidden Reader Mode In Google Chrome on PC or Mac
How to Use Reading Mode on Android
As already mentioned, the reading mode is available as a standalone app on Android that you can get from the Play Store for free. So, before we move ahead, that's probably what you should do. You can search for it on the Play Store or follow the link below.
Download: Reading Mode from Play Store
It should be noted that Reading Mode only works for Android 9.0 and above.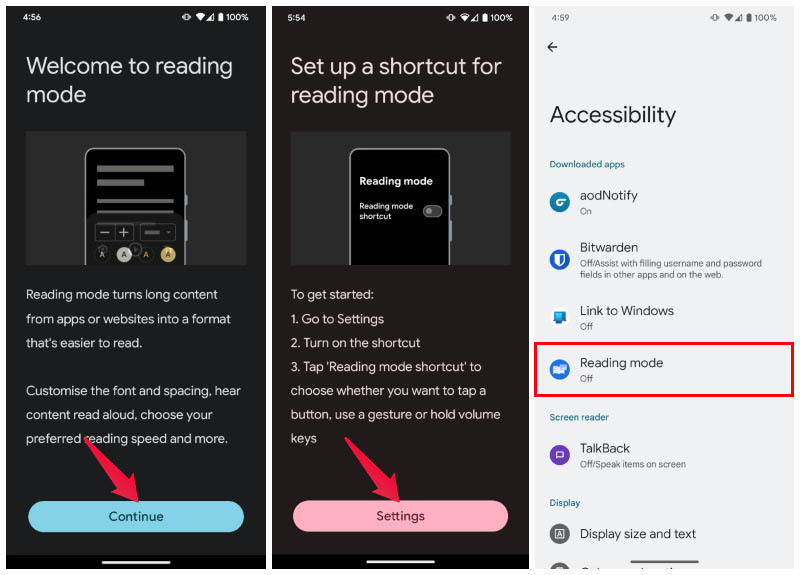 Open the Reading Mode app on Android.
Tap on the Continue button.
Next, tap on the Settings button.
This will take you to your device's Accessibility page. Select Reading mode here.
Toggle on Reading mode shortcut.
Tap Allow on the popup that appears.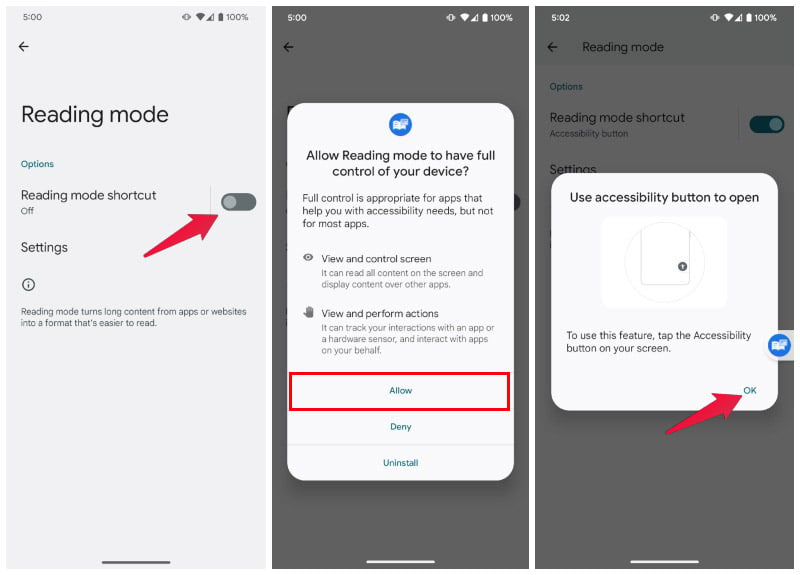 This will add a reading mode accessibility shortcut, which is just a floating button on the edge of your screen. Now, to use Reading mode, you simply have to tap on this button. To make your phone read the text out loud, just tap on the Play button at the bottom.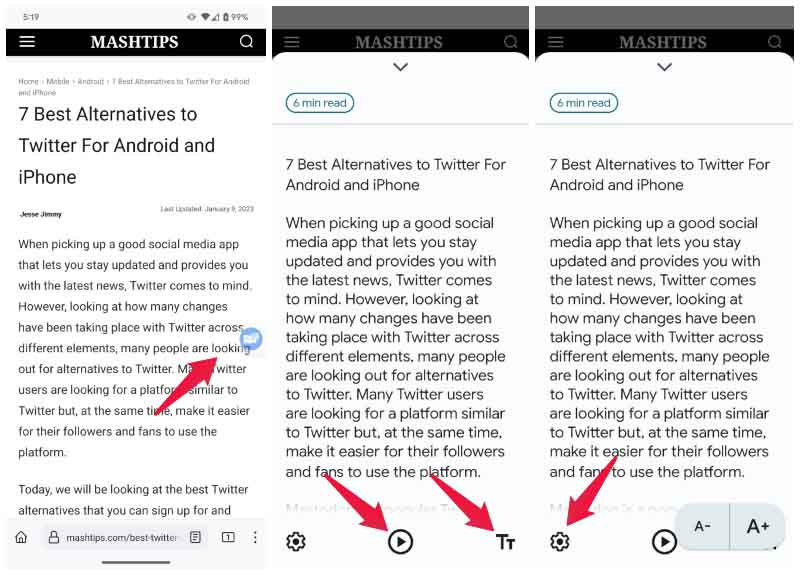 As mentioned previously, you can also customize the font size, font family, etc.. Font size can be quickly changed by tapping on the Tt button in the bottom right. You can also access this and other options by tapping on the Settings (gear) icon on the bottom left.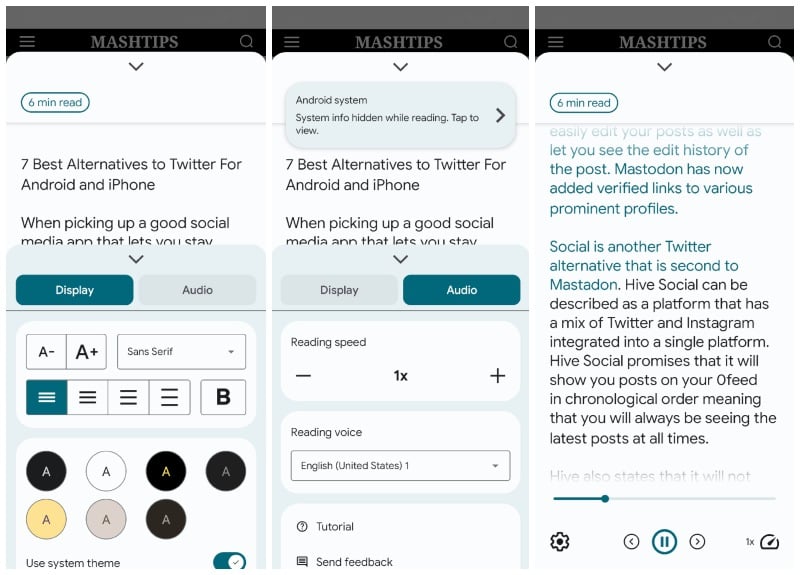 12 Best News Apps for Android and iPhone
Add A Quick Toggle for Reading Mode
Once you've installed and set up the app, just follow the steps below to enable a quick toggle for Reading Mode.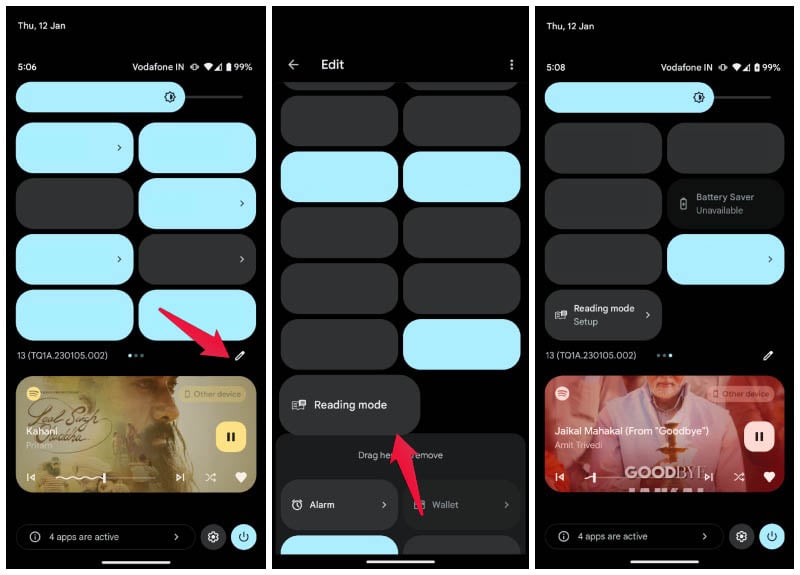 Swipe down twice from the top edge of your screen.
Tap on the Edit (pencil) icon.
Find and drag Reading mode, and quickly toggle upwards to the list of active toggles.
Go back or tap Done.
Unfortunately, the Reading mode does not work if you turn off the accessibility shortcut. In which case, this quick toggle is pretty useless since you already have a much easy-to-access shortcut on your screen all the time.
The reading mode feature on Android devices is a convenient and useful tool for anyone who reads a lot of digital content on their phone. By enabling this feature, you can reduce eye strain, improve readability, and customize the appearance of text to your liking. Whether you're reading an e-book, an article, or a website, the reading mode can make the experience more enjoyable and comfortable. It's a simple feature to enable and a great way to enhance your reading experience on your Android device.