There are dedicated iOS apps to Watch Movies. These apps are dedicated apps that built for iOS let you watch movies online. The apps are well organized with search functionality to find your favorite movies with few taps on the screen
Any movie and genre can be searched on these iOS free movie apps without any trouble. You want a comedy movie or a horror flick just open on of these free movie app and access them whenever you need to. They can be an excellent way to save oneself from tediousness on a long trip. There are movie streaming services like Netflix or Hulu that ask a monthly charge for the services.
With a smartphone or tablet running on iOS, you can watch these movies free with dedicated iOS movie app. Determining the which free apps for movies are best is a tough call. To lessen the burden and avoid the hassle of searching free movies, we listed the best iOS apps to watch movies.
YouTube
Daily billions of people visit YouTube for watching videos and upload some of their videos to share them. Nevertheless, it can also be used for viewing free movies whenever a person wants to. YouTube, the biggest video hosting service of the world, offering the users full feature length movies as well.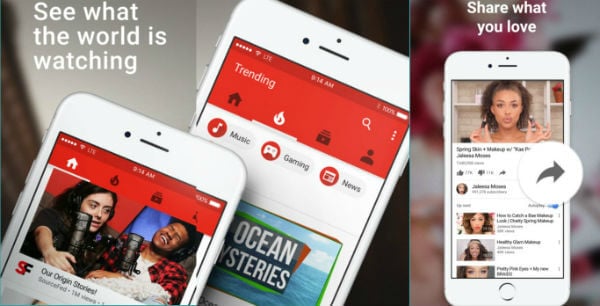 Just perform a quick search on YouTube to get the flicks uploaded on the site and see them without any trouble encountered. Google has also made a separate section for movies in YouTube but not all of them are free.
Download from iTunes
Movies by Flixster
For all the movies buffs out there, Movies by Flixster is the absolute answer for a daily craving of movies. Create your own personalized 'To watch list' of movies that is coming in the theaters soon.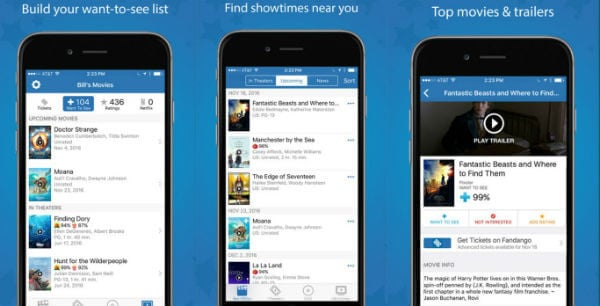 This app is quite good in interface and accessibility, but due to a lot of streaming apps, it often goes under the radar when a search of iOS movie apps. This app allows AirPlay for streaming content from iOS device to any other Apple TV.
Download from iTunes
Crackle Movies
Not every application contains the feature and characteristics that make to be called a 'must-have', but Crackle does so. It provides feature-length movies at no subscription cost allowing you to save on movies as well as TV shows to your list for watching later.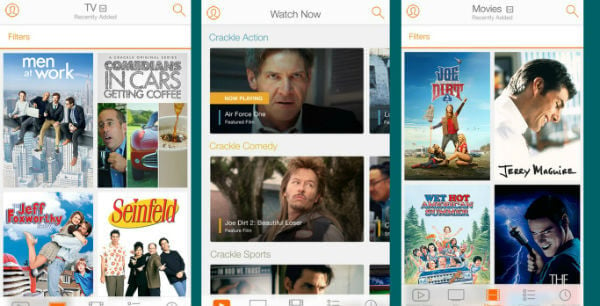 The videos are kept for a particular time and after it, the content is removed from the library. Crackle allows adjusting of the movie quality to function best in comparison to internet speed. The interface of the application is quick that make the users get best of the app.
Download from iTunes
Yidio
Want a handy iOS App to watch the movie that works when you want to watch free movies, then try Yidio. Filter the movies in more than one way, by premiere date, MPAA rating, genre and remove the ones that are being already viewed before. With the clean and intuitive user interface, you get the trending and latest content to browse the ones you want to see at the present moment. A person's viewing preference is saved in a list having all the content history in the app. Just tap the video icon of the opened content and it will lead to a new tab with full and precise information.
Download from iTunes
Netflix
Netflix is one of the best subscription services for TV Episodes and movies. Those who has already Netflix monthly subscription can download the movies and TV Episodes to their iPhone for offline watching. However, there are some restriction on this offline features and allowed only certain titles to download. Please refer the help page for iPhone users having any difficulty for downloading Title using their Netflix app.
Download from iTunes
Youko
Many people might not know that Youko is a video streaming service much like YouTube in China and has about 580 million unique views per month. Like YouTube it allows the users to watch and stream free movies present in its library without any trouble encountered. Anyone can view the full-length films and kill their time with ease. The app has two layers of access features, the first one available for searching and former one being quick access to various contents.
Download from iTunes
Snag Films
Not every film-viewing app has a collection of 5000 movies, but Snag Films has this huge catalog for free. It is a simple to use the app and allows you to share the films over the social networking sites. The app is divided in recently added, popular and other sections for movies. If you constantly use the app then the app will start recommending the films based on your watching style. Many movies can be watched in 720P and 1080P.
Download from iTunes
Popcorn Flix
Popcorn Flix is the answer to the search of the people looking to watch great movies for free regardless of their genre. All the good movies are a tap away and available for free. The interface of the app has more space and allows the users to access it for searching the movies to watch in the free time. It is very free to watch and allows you to enjoy any movie without any restriction. The extra room helps in finding as well as watching films that are worth the trouble.
Download from iTunes
Viewster
Another popular network that comes in form of app that allows online streaming of movies whenever needed. Viewster gives your original HD quality movies and also supports Apple TV giving you a widescreen viewing experience with ease. No need to sign-up and pay for the available movies in the library. The developers of the app provide fresh content on weekly basis and increase their unique variety content to cater the demands of the people. The simple navigation of Viewster makes it more addictive and appealing to use. It also shows you the details like synopsis and duration.
Download from iTunes
Movies & TV Shows
Developed by BIGSTAR TV, the app offers and inherits some of the best award-winning movies of the independent genre, foreign films, and documentaries. Movies & TV shows are the perfect apps for the people who to explore the films that are diverse and alternative to the typical Hollywood ones. Discover the great world of international cinema through this app and watch it in any part of the world. Download this app for some unique independent cinema watching.
Download from iTunes
Related: 7 Best Roku TV Streaming Channels to Replace your Expensive Cable TV
Not all iOS movie apps, cater the requirements and demands of the person. However, for a movie lover, it does allow to stream and watch, which most of them love to do. With these free movie apps, you can stream any movie on iPhone or iPad in a long journey or boring outing.