While reminders have been part of various productivity apps for a long time, date and time can be limiting for some people. They do remind us when and what to do, but often fail to remind us where to do it. That's where location-based reminders come in. Here are some of the best apps to create location-based reminders on the iOS platform.
Note that for location-based reminders to work, GPS has to be enabled which will reduce battery life. Also, you will see the reminder only when you reach that location or spot. If you are driving fast, you might miss it and may have to take a u-turn later. Trust me, it has happened to me.
Apps to Create Location-Based Reminders
One way to solve this issue is to choose a location that's a little before than the original spot. That way, you will be reminded in advance, en-route. Let's begin.
1. Google Keep (Cross-Platform)
Google Keep is a minimalist and popular note-taking app that resembles a sticky note kind of layout. They are colorful and you can quickly jot down thoughts or create quick notes. Just a few lines of text or create a to-do list before you add a reminder.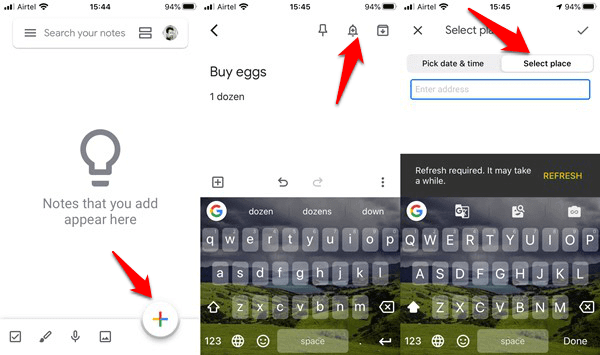 Click the big multi-color plus icon to create a text or checkbox note, select the alarm icon and choose your location here. Google Keep works on iOS, Android, Chrome, and Web. It offers features like advanced search, search by text, tag, and color, sync with Google Docs, attachments, OCR for the image to text, audio transcription with an audio file attached, and collaboration. To top it off, it's free. One of the best apps to create location-based reminders on iOS.
Download Google Keep for iOS
Also Read: Reminders on iPadOS: Everything You Need to Know
2. Apple Reminders (For Apple Users)
Reminders were recently updated by Apple to include location-based reminders, among other things. Note that in order to use this feature, you need to run the latest version of OS on all devices, otherwise, the sync won't work correctly.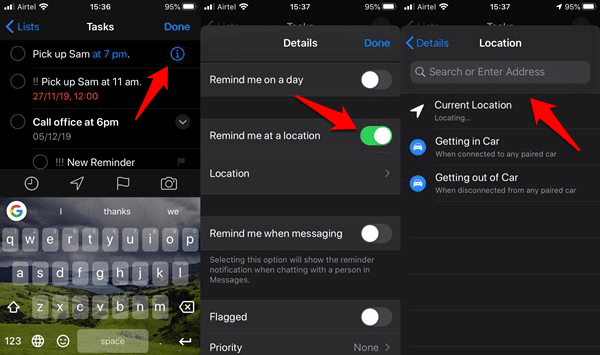 Just create a reminder and tap on the blue 'i' info icon. Toggle the Location option and choose where you want to receive the notification. Reminders has a functional and neat UI with smart lists, collaboration, Siri-support, iMessage integration, and attachments. And it's completely free and ad-free but only works in the Apple ecosystem.
Download Apple Reminders for iOS
Also Read: 10 Best News Apps for Apple Watch to Get Alerts
3. Todoist (For Professionals and Teams)
Todoist is a premium app that will cost you a monthly fee, but well worth it. More suitable for professionals and teams, both big and small. Just click on the '+' icon to create a reminder and bell icon to create a reminder.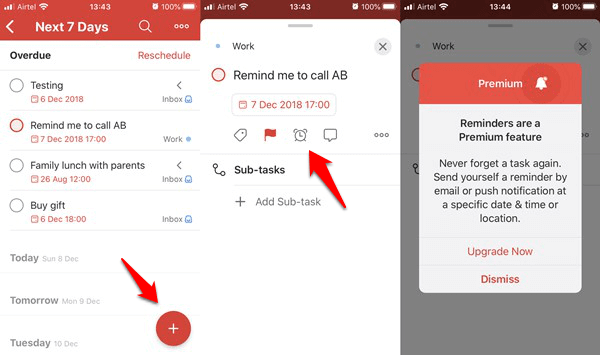 Note that you will need to subscribe to set reminders, date/time or location in Todoist. Other features include labels (tags) and priorities, subtasks, team members with roles, @members, third-party apps integration, and is available on all browsers, mobile, and desktop platforms with Gmail and Outlook integration as well. Todoist is, without a doubt, one of the best-paid apps to create location-based reminders on iOS.
Download Todoist for iOS
Also Read: How to Set Google Assistant to add Shopping List on iPhone Reminders?
4. WakeMeHere
The whole purpose of the WakeMeHere app is to offer a location-based reminder system that you can rely on. Just as the name suggests, you can set up a reminder quickly, with your task details, and set the location where you want it to pop-up.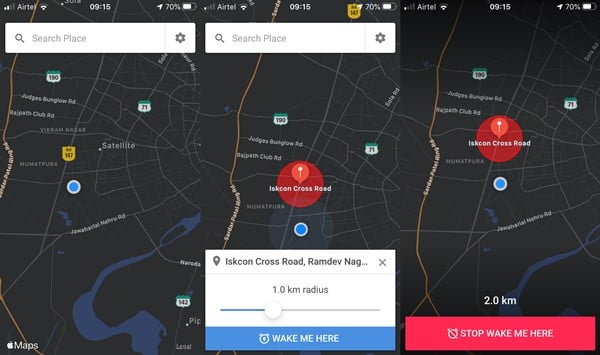 I never thought it like that but they gave an excellent example where you can set a reminder for your station. Now, you can sleep in peace. Instead of entering an address like in some apps, you can directly interact with the map and choose a location there. It was purpose-built with travelers in mind, but can be used for any purpose.
Remember the problem with location-based reminder apps we mentioned in the opening paragraph? You can set a radius in WakeMeHere so that the app will wake you before you reach your destination rather than when you reach there. That's both thoughtful and cool. It's free to use too.
Download WakeMeHere for iOS
5. Amazon Alexa
Amazon has been expanding its services constantly, with new features being added with every update. Earlier this year, the Alexa app for smartphones found itself with the ability to set location-based reminders on iOS devices. Because Alexa is an AI-powered smart assistant, you can create location-based reminders using voice commands on both your iOS smartphone or Alexa home.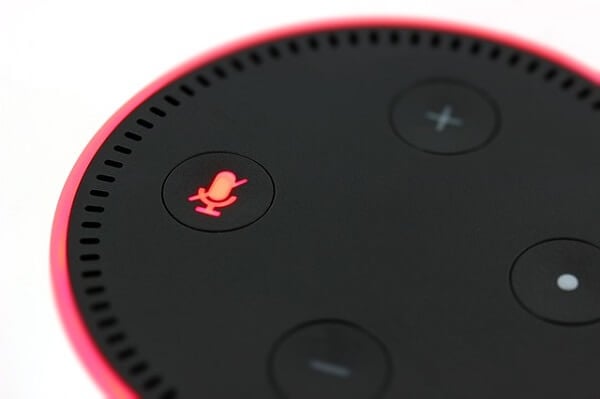 Just say where you want to be get reminded and of what. Pretty simple and easy. This is a boon for users of Alexa home devices because now, they don't have to use or even touch their smartphones to set the reminder. When you are away from the home speaker, you will receive a push notification on the phone instead.
Download Amazon Alexa for iOS
6. Checkmark 2
Checkmark is a popular to-do list app on the iOS platform. You can set and customize location-based reminders on it in three-steps, the dev team claims. And they are absolutely right. Create a reminder as you do in other apps, choose location instead of date, and set it. Finally, forget it.
Checkmark is not free like some other location-based reminder apps I shared above but is well worth the money. Other features include project, subtasks, multiple-location reminders, and more.
Download Checkmark 2 for iOS
These are some of the best apps to set location-based reminders on iPhones and iPads. Some of these apps are free while others are platform agnostic. Depending on your needs and what else you want from your new to-do list or note app, you can go ahead and experiment with one.
I would suggest Google Keep if you need something that can handle both notes and to-do lists with support for audio transcription. Use Todoist if you are a professional and handle a team. Try Alexa if you are already own an Alexa speaker at home. Checkmark is awesome, you can buy it. Finally, WakeMeHere is a cool option for travelers, something we all have inside us.