In earlier days, we were giving remote access to the PC to a trustworthy friend for troubleshooting purpose. After gaining the access the friend fixes or guide you on how to fix the problem. Here are the days where PCs are seldom utilized, and almost everything has gone mobile. Now the question is whether it is possible to mirror/cast your Android phone to another Android phone?
There is no direct solution to share Android screen (other than Android Simulators for PC) to a different Android device. However, there are a lot of apps to cast/mirror your smartphone screen to big screens, such as TVs. But that is focused on media experience, which doesn't help us to troubleshoot our android device. Worry not, for there are apps available (though limited in number) that can share your android smartphone screen to a distant android device.
Among those apps, let's see the best one and go through the steps to know how to mirror your smartphone screen.
Download the App

Among the few apps that are available for the Android phone to Android mirroring/casting, Inkwire is the best you can download InkWire from Play Store for free. This mirroring app comes from the famous ClockWorkMod family of Vysor, AllCast and so on which are some of the best apps in mobile to PC/TV casting category. This app not only make sharing/casting your screen possible, but you can also draw on the screen to give direction (a handy trick while troubleshooting) and voice chat.
Mirror Android Phones Screen
First, on both phones, we need to download the app (The phone with the screen to be shared and the phone that receives the mirror). Make sure both ends have a reliable network, preferably Wi-Fi.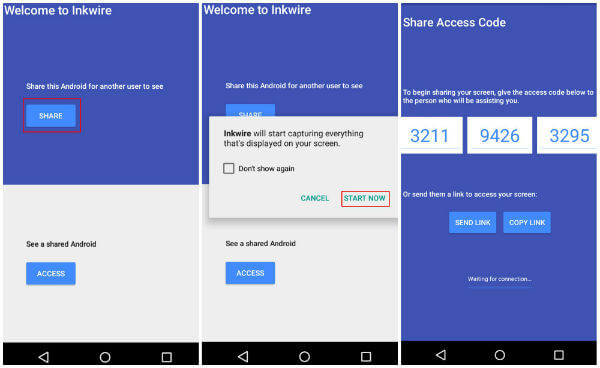 Now open the app on one of the phones and tap the share button, which will pop up a dialogue box with a warning and 'Start now' option below it. Tap on the Start now option. Now a page with a 12-digit access code will be displayed. We need to share this access code to the other participant (say your friend) to set up another phone.
Now your friend on the other end must open the Inkwire app and tap on the Access button. Next, the 12-digit access code sent by you is to be filled into the concerned box. Then tap on the Access button there. Now the second user, that is your friend can see your phone screen and click and show you what to do.
The Android App let you to request screen view from other app users and also you can do a voice chat while troubleshooting the issue on the phone. You can even draw on another screen to pint out something important when sharing the Android screen.
Also see: How to Mirror and Control Android from Ubuntu
Alternative Android Screen Share Apps
We don't want to say InkWire is the perfect solution to share Android screen. The app still has some lags while sharing the screen or media files. However, there are alternative solutions that you can try out depends on your requirement.
TeamViewer QuickSupport

TeamViewer is the name that you might be familiar a lot about it. It was 'the' name for remote access for Windows PCs from very early days itself. Now they have brought the same into Android phones. TeamViewer QuickSupport allows you to cast and give remote access to another Android device as well as PC. Out of the box, the app only lets you cast/mirror your device. If you wish to get remote access feature you must install an additional add-on. The app and add-on are free for personal use and the procedure for sharing the screen is similar.
Download from Play Store: TeamViewer QuickSupport
ApowerMirror

ApowerMirror can help you to cast your Android device to another, only if both devices are on a local network. Apart from sharing your Android screen to another Android, you can also cast it to iOS, Windows and Mac OS devices. But the downside is that remote access is only available via a Windows device. This free app also comes with a screen record feature.
Download from Play Store: ApowerMirror
Now you know the tool and procedure to mirror your android smartphone screen to another. You can now utilize this to get help from your friend. Or you can help the parents/grandparents who need your technical assistance to troubleshoot their Android phone. These apps even support media screen sharing that you can share the video playing screen with your friends.