Last year, Google released the Pixel 6 and Pixel 6 Pro. While the phones feature the same Google Tensor chip, plenty of differences make them stand apart. But the dilemma gets real when you have to choose between them, especially when you have the budget but still looking to save some money.
Here, let us compare the Pixel 6 and Pixel 6 Pro phones and decide which suits you the best. If you are looking for an even cheaper option, take a look at our comparison between Pixel 6 and Pixel 6a first.
Pixel 6 vs. Pixel 6 Pro
The Pixel 6 vs. Pixel 6 Pro matchup is not a fair one. If you're looking to buy one of these, the decision is not very difficult as long as you have the cash. That's because the Pixel 6 Pro costs around $300 more than the Pixel 6. Of course, the 6 Pro will have better specs. The price difference puts these two devices in entirely different leagues.
If you care about the money spent on smartphones, you might ask whether the Pixel 6 Pro justifies the extra $300. We can discuss the differences between both devices, but here's a quick side-by-side look for your convenience.
Google Pixel 6
Google Pixel 6 Pro
Display
6.4-inch
2400 x 1080 pixels
411ppi
90Hz
6.7-inch
3120 x 1440 pixels
512ppi
120Hz
Processor
Google Tensor with Titan M2
Google Tensor with Titan M2
Memory
8 GB
12 GB
Storage
128 GB
256 GB
128 GB
256 GB
512 GB
Rear Camera
50MP main
12MP ultrawide
7x Super Res digital zoom
50MP main
12MP ultrawide
48MP telephoto
4x optical
20x Super Res digital zoom
Front Camera
8MP
84-degree field of view
1080p at 30fps video
11.1MP
94-degree field of view
4K at 30fps
1080p at up to 60fps video
Battery
4614 mAh
5003 mAh
Dimensions
6.2 x 2.9 x 0.4 inches
207g
6.5 x 3 x 0.4 inches
210g
Amazon Link
Get Pixel 6
Get Pixel 6 Pro
Related: 10 Best Google Pixel 6 and 6 Pro Accessories You Must Buy
Pixel 6 vs. Pixel 6 Pro Design: Similar But Not the Same
Typically, phones that share the same name also share the same design. But that's not always the case. Sometimes, the expensive one gets a curved screen. Sometimes the smaller device uses cheaper materials. The Pixel 6, too, faces a similar situation. Pixel 6 Pro's display is curved at the sides, while the 6 has a flat display. If you've ever used a curved display smartphone, you'll know the flat screen is good.
The Pixel 6 Pro is also bigger, with a 6.7″ display, while the Pixel 6 has a 6.4″ display. The Pixel 6 isn't small, by the way; it's a 6+ inch device. But compared to all the Pluses and Pros in the smartphone world, it is more compact. Take a look at the size comparison between Pixel 6 and 6 Pro below: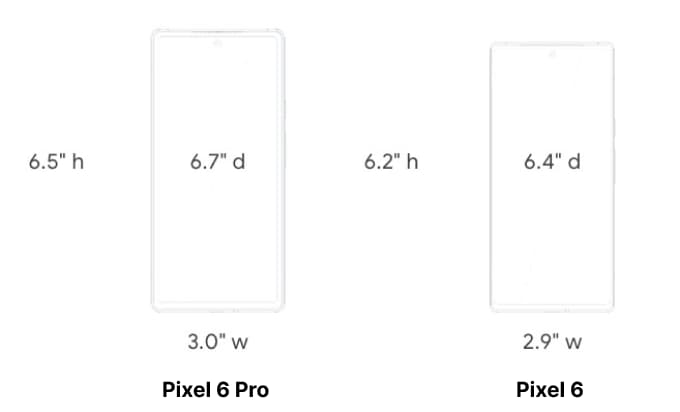 The Pixel 6 truly and objectively lacks the 1080p resolution and 90Hz refresh rate. Pixel 6 Pro offers a Quad HD+ display with 120Hz refresh rates. Pixel 6 and Pixel 6 Pro feature the glass sandwich design with an aluminum frame. The 6 Pro uses the latest Gorilla Glass Victus on both sides, while the Pixel 6 only uses Victus on the front. The back of the Pixel 6 is made of Gorilla Glass 6. If you look closely, you may also notice a big rectangular camera lens on the Pixel 6 Pro, which is missing from the Pixel 6.
Speaking of cameras, both phones feature the iconic camera bar, which is uniquely Pixel. Looking at either of these phones from the back, you can tell that this is a Pixel 6. There's no missing that huge camera bar.
Related: How to Hide Display Notch and Cutouts on Your Pixel Phone
Pixel 6 vs. Pixel 6 Pro: Performance
Pixel 6 and 6 Pro are powered by the same Google Tensor chip and have the Titan M2 security chip. But that's where the similarities end. The Pixel 6 packs 8 GB of RAM, whereas the Pixel 6 Pro ups it to 12 GB. You'll probably never need the 12 GB, you'll barely even use 8 GB, but an extra 4 GB is good for future-proofing. Then again, more RAM doesn't do much if the processor does not age nicely.
There are no other variants of either device with higher RAM options. When it comes to storage, both offer 128 GB base variants and a 256 GB option. Only the Pixel 6 Pro also offers a 512 GB variant. You'll be paying more than just $300 for that 512 GB variant.
Battery and Charging
With all that extra space inside the Pixel 6 Pro, it also fits in a bigger 5000 mAh battery. The Pixel 6 is limited to 4600 mAh, but it's not too shabby either. It should also be considered that the 6 Pro has a bigger display, more pixels to push with a higher resolution, and a more power-hungry 120Hz refresh rate. Overall, it would struggle to last as long as the Pixel 6 unless you lower the resolution or refresh rate.
When they run out of juice, both phones can be charged from 0 to 50% in 30 minutes, thanks to the 30W wired charging. It's not the fastest, but it's better than what Pixel phones used to have. Both phones do have wireless charging as well.
Related: How to Check Battery Health on Android
Camera Differences
Apart from the size, the cameras are the only other visually distinguishing difference between the two devices. You may not be able to tell how many megapixels they have, but the lack of a giant rectangular camera lens on the Pixel 6 is apparent. Or rather, the presence of it is evident on the Pixel 6 Pro.
Both the phones feature a brand new (for Pixel) 50 MP primary shooter. They also have the same 12 MP ultrawide camera. Pixel 6 Pro adds a 48 MP telephoto lens capable of 4X optical zoom.
The camera has always been the selling point for Pixel devices, and we're at a point where pictures are excellent no matter the size or price of a Pixel device. Even the Pixel 6a takes fantastic photos that will beat most smartphones, if not the latest and greatest. That also holds for the Pixel 6.
But the 6 Pro also has an 11.1 MP selfie shooter, while the Pixel 6 has an 8 MP camera on the front. This one is not a very big difference either. Although, it's these little differences that pile up and add to that 48 MP telephoto lens that makes a case for the $300 price difference between the two devices.
Related: 10 Best Google Pixel Camera Lens Kits
Should You Buy Pixel 6 or Pixel 6 Pro?
The Pixel 6 Pro does have many small wins over the Pixel 6. But the real question is if those differences matter. An extra 4 GB of RAM may not matter until 2026. The 512 GB storage space definitely will matter if you're someone who shoots a lot of videos, but you'll be paying even more than the extra $300. The higher resolution display on the Pixel 6 Pro will also look slightly better. But you probably can't tell the 90Hz apart from 120Hz.
Today's Deal: $364.00 Off
Today's Deal: $249.01 Off
The story of the rest of these slight differences is also similar. Nice to have, but very likely that you don't need it. So it all comes down to how bad you want that 48 MP telephoto camera. The Pixel 6 is a better buy than the Pixel 6 Pro. You'd be paying a hefty premium for owning a Pixel 6 Pro.