Are you searching for an important text message from someone but couldn't find it? It is possible that you might have unknowingly deleted that text message while clearing up space on your iPhone. Fortunately, there are some ways to recover the deleted text messages from your iPhone.
Let's find out how you can recover deleted text messages on your iPhone.
Recover Deleted Text Messages on iPhone Directly from iMessage
Since iOS 16, you can easily retrieve the deleted text messages on your iPhone without iTunes, iCloud, or any third-party app. According to Apple, you can recover any deleted message for up to 30 days after deletion. Let's see how to do that.
Open the Messages app on your iPhone. On the Home screen, you will see a new folder Recently Deleted near the bottom. Go ahead and tap on that.
In the new screen Recently Deleted, you will see the list of all recently deleted messages. For every conversation, you will see the number of days displayed on the right (e.g., 25 Days). This indicates the number of days remaining before the message will be permanently deleted.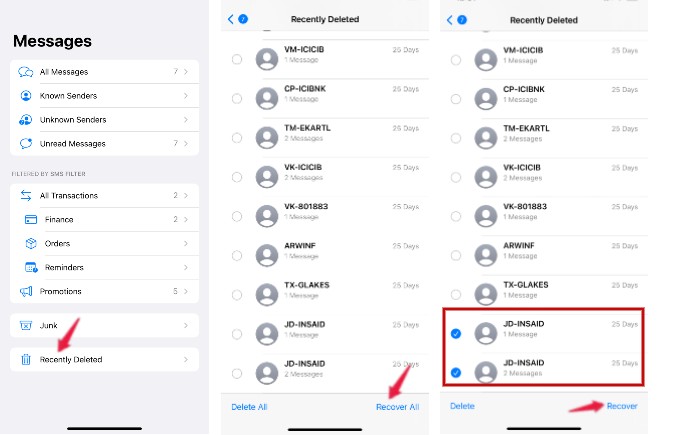 If you want to recover all the deleted text messages, tap Recover All at the bottom right. Or, if you want to retrieve a particular message, tap on the Checkbox displayed on the left of that message and then tap Recover displayed on the bottom.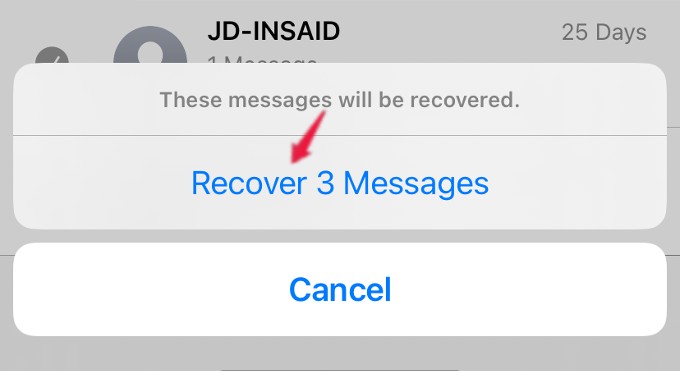 After you select either of the options, a confirmation pop-up will be displayed on the screen. Once you provide confirmation, the messages will be restored back.
Related: How to Edit and Unsend iMessage Text on iPhone
Retrieve Deleted Text Messages on iPhone from iCloud Backup
Are you someone who regularly or automatically backs up your messages and emails to the free iCloud storage? Then, you can retrieve the text messages, if they are not deleted before taking iCloud backup. Let's begin.
On your iPhone, tap Settings and your name.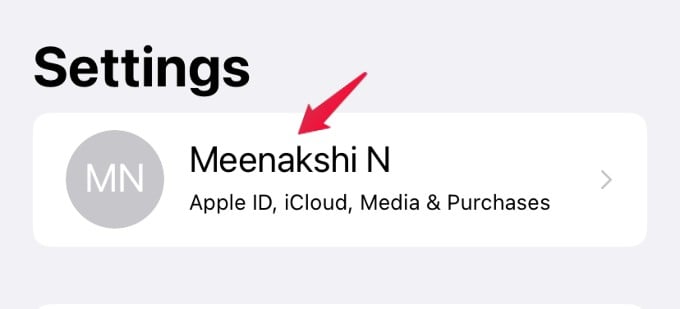 Next, on the screen titled APPLE ID, tap on iCloud.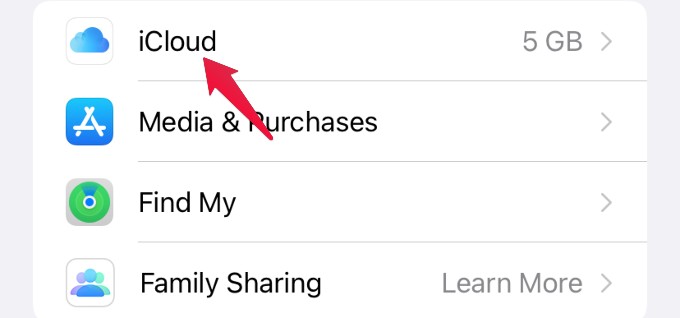 From the list of options shown, tap on iCloud Backup.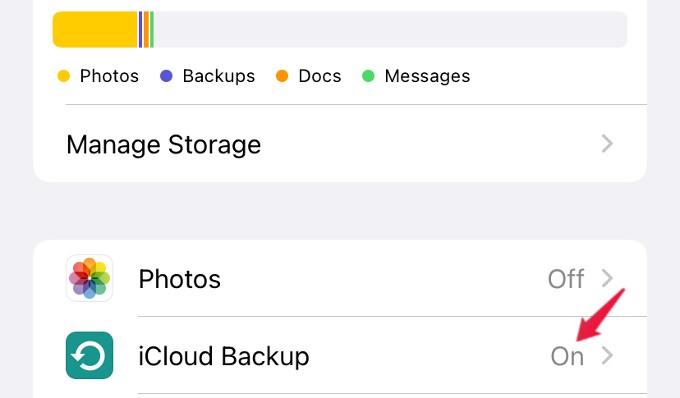 Here, check the time stamp of the last successful backup to iCloud. If you are confident that the backup was done before the deletion of messages, then you can restore the deleted messages using iCloud backup.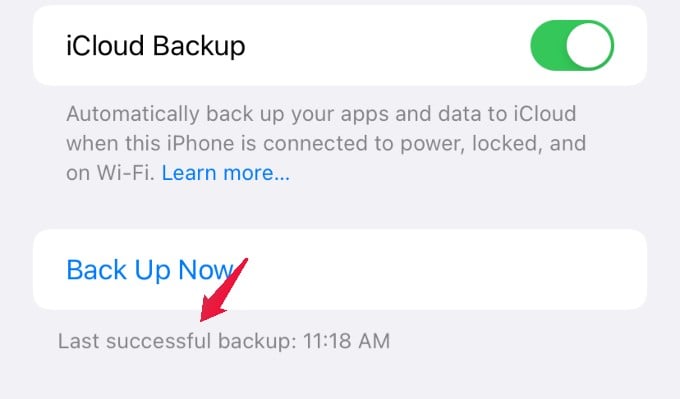 To do that, you need to erase your iPhone and restore it to the backup that occurred before the deletion.
On your device, navigate to Settings > General > Transfer or Reset iPhone.
From the next screen, tap Erase All Content and Settings. Next, you will be redirected to a new screen titled Erase This iPhone Go ahead and tap Continue to erase the contents of your device.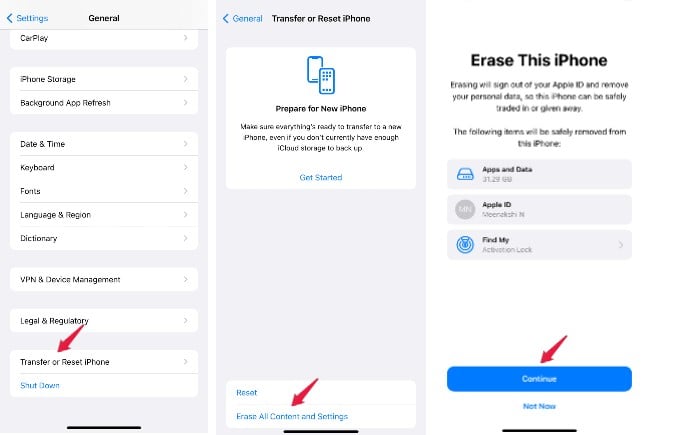 Now, your iPhone will restart like a new device. Follow the on-screen instructions till you come across the Apps & Data screen. In that, select the option Restore from iCloud Backup and select the recent backup before deleting the text messages. Once the process is completed, check whether the deleted messages are restored back.
Though this method will erase all your data, all your settings will be stored from the iCloud backup. Still, you might be required to sign to some apps again.
Related: Getting Annoying Spam Messages? Here Is How to Filter Text Messages on iPhone
Recover Deleted Text Messages on iPhone Using iTunes
Instead of iCloud backup, if you regularly back up all your iPhone's data to your computer, then you can retrieve deleted text messages using iTunes on a Windows computer. Let's see how to do that.
Before starting to restore data using iTunes, you need to disable Find My iPhone feature on your iPhone. On your iPhone, go to Settings and tap on your name. Next, tap Find My from the list of options displayed on the screen.
From the new screen Find My, tap Find My iPhone. On the next screen, toggle the field Find My iPhone to off. Then, you need to enter the password for your Apple ID to turn off Find My iPhone. Once you finish restoring the backup, you can enable Find My iPhone again.
Now, connect your iPhone to the computer using a USB cable. Once the devices are connected, iTunes will automatically open on your computer. If not, manually open iTunes app on your PC.
In the iTunes app, click on the phone icon located on the top left of the screen. If you don't see the icon, it means that iTunes is not able to detect your iPhone and you need to fix that to recover deleted text messages.
After clicking the phone icon, click on the Summary displayed on the new screen. Here, look for the section titled Backups. Under that, click on the button Restore Backup. (If Restore Backup is disabled, then select the checkbox titled This Computer on the left).

If you had not disabled the Find My iPhone feature, you will see an error message like shown below and you cannot restore the backup.

Otherwise, a pop-up titled Restore From Backup will be displayed on your computer. Go ahead and click the Restore button to restore the data to your iPhone.

After your device is fully restored, check if you are able to find the deleted text messages back on your iPhone.
Related: How to Retrieve Deleted Messages on Facebook Messenger
Get Support from Mobile Service Provider
Are you not able to recover the deleted text messages using iCloud or iTunes? Then it is most likely the messages were deleted before you took the backup. In such scenarios, you can contact your mobile phone service provider and explain the need to retrieve those text messages.
You can either contact the service provider by chat or a call and get support from them. If their office is nearby, you can also pay a visit to get things done quickly.
Retrieve Deleted Text Messages Using Third-Party Apps
If none of the above-listed options work for you, then you can try using a third-party app to retrieve the deleted text messages on your iPhone. But, this is not the safest option as the third-party app can access any sensitive information stored on your device. In case you are desperate, you can try out any of the below-listed paid apps to retrieve deleted messages.
Most of these apps provide a lifetime validity for the services. Before trying the app, we highly recommend you to check out their websites and read the complete functionality before spending money.
When deleted, most text messages are gone forever from your iPhone. But if you get lucky, you can use the above-mentioned methods to recover deleted text messages on your iPhone.