Safari is undoubtedly one of the best browsers out there. Even though Google Chrome has gained much popularity among netizens, Safari stays the favorite browser for iPhone and iPad users. Among its features, the in-built Reader View is pretty amazing, that can hide unwanted elements, images, ads, and scripts from a webpage, and make it easier for reading.
In this article, we will show you how to get Reader View on Safari on your iPhone and customize it.
Content
Enable Reader View for a Website in Safari on iPhone
Reader View on Safari enables you to read a blog post or long content, like this, without any interruption or distraction. Safari extracts the primary text contents and images from the page and removes everything else temporarily for you when you enable Reader View.
When you visit a webpage using Safari, you will see a message "Reader View Available" on the address bar. You can enable Reader View on iPhone for such websites or webpages to read it like an eBook.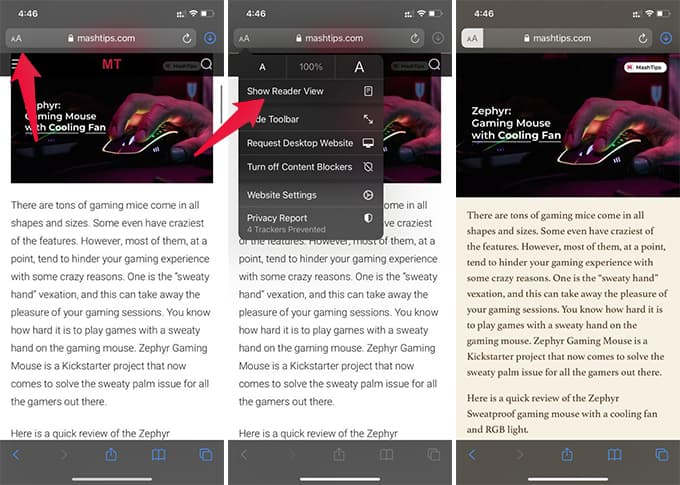 Visit the webpage on Safari you want to read using Reader View.
Long-press the "Aa" button on the left of the address bar to enable Reader View.
You can also tap the Aa button and choose "Show Reader View."
You can then see the Reader View for the webpage. It will keep the necessary information on the window and remove everything else. If the webpage is is another language, you can also translate the site on Safari right away.
Enable Safari Reader View Automatically for All Websites
If you are someone who loves the reading mode always, you can automate it. Safari is capable of loading the Reader View version of webpages automatically. Thus, you can avoid unwanted content on websites automatically.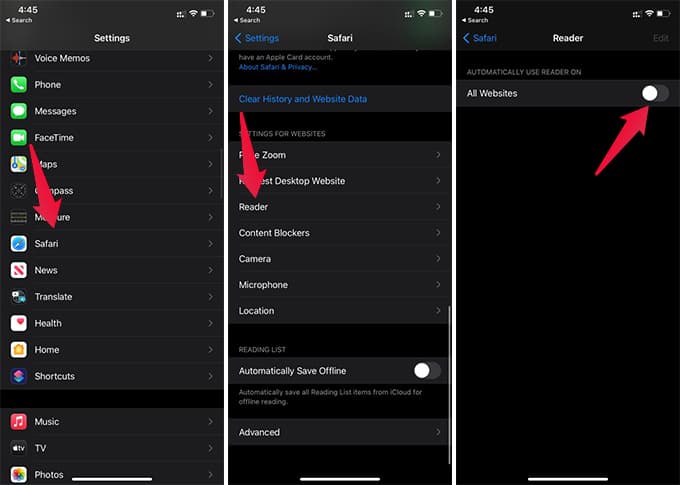 Open Settings on your iPhone.
Go to Safari from the Settings window.
Scroll down and tap "Reader."
Toggle on "All Websites."
After enabling, you will get auto reader mode for all supported webpages. In case you do not want, it is also possible to disable reader view for specific webpages.
Enable/Disable Auto Reader View for Specific Websites
When you enable Reader View for all websites, you will get the reader mode every time you visit most of the webpages. But, you can disable it for specific sites of your wish as well. If you don't like to read some news and contents using auto Reader View, here is how to enable or disable Reader View for specific Webpages in Safari on your iPhone.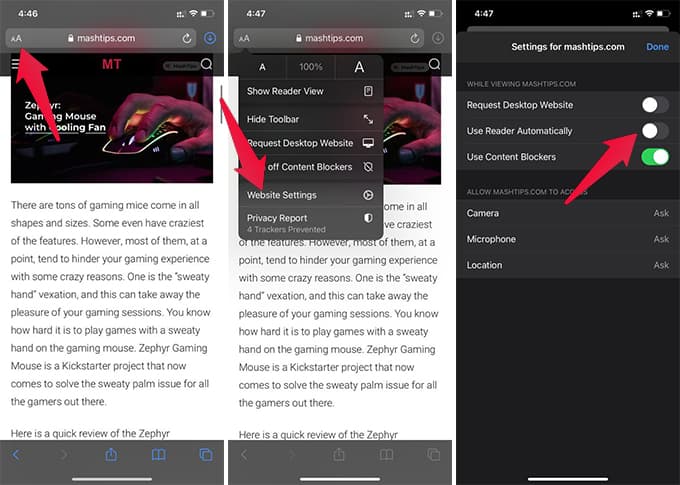 Open a webpage in Safari on iPhone.
Tap the Aa button on the top left corner.
Tap Website Settings.
Toggle on or off "Use Reader Automatically."
If you just turned off the option, the website will load in normal mode every time. You can manually switch to the Reader View when you want.
Related: How to Set iPhone to Automatically Close Safari Tabs
How to Zoom Webpages in Safari Reader View
Reader mode on Safari is made to ease your reading online. So, if you think a webpage has smaller texts that are hard to read, you can make use of the Safari Reader View. The Reader View can make the texts larger and zoom webpages easily.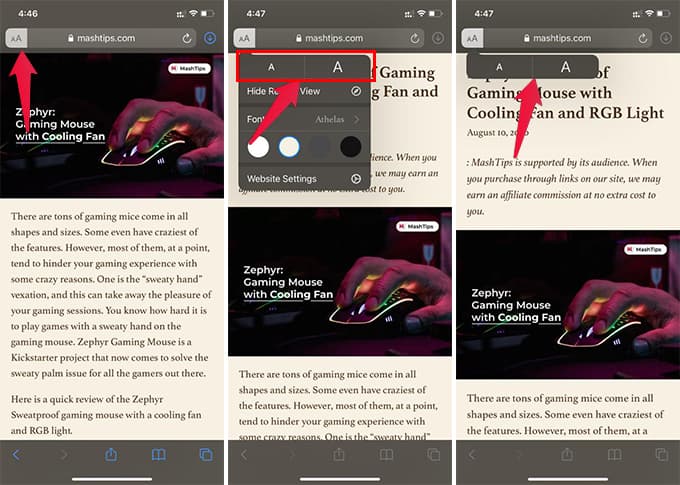 Visit a webpage and enter Reader View on Safari.
Tap the Aa button on the top left of the screen.
Tap small A or big A buttons to make text smaller or bigger.
You can thus zoom the text on the webpage, to the largest or the smallest. You can only zoom texts in reader view, and not in normal mode.
Change Font Style in Reader View in Safari
By default, Safari Reader View on iPhone displays the text in an old-book style, with yellow paper and grey text. The text font looks quite neat when you read something important on Safari. However, if you do not like it, you can change the font style in Reader View on Safari, iPhone.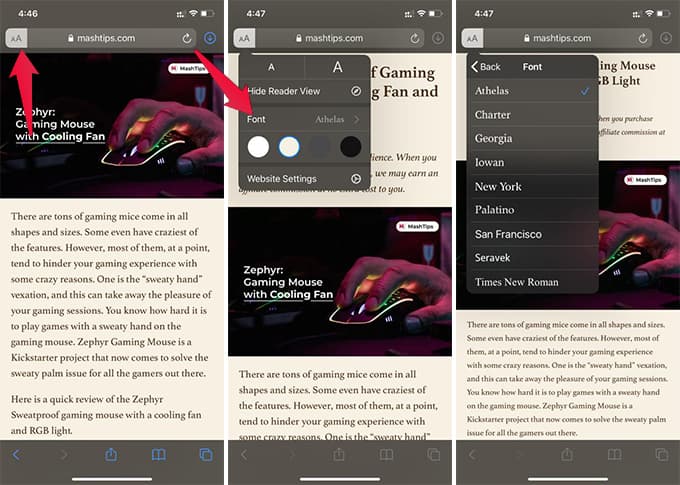 Open Safari and visit a webpage with Reader View on iPhone.
Tap the Aa button on the left of the address bar.
Tap Font option.
Choose a text font of your preference.
Change Page Color for Reader View in Safari
As I said, the default style of Safari Reader View is the old-styled yellow paper background and grey text. You can change it to various other colors, including dark grey, black, and pure white. Here is how to change page color for Reader View in Safari on iPhone.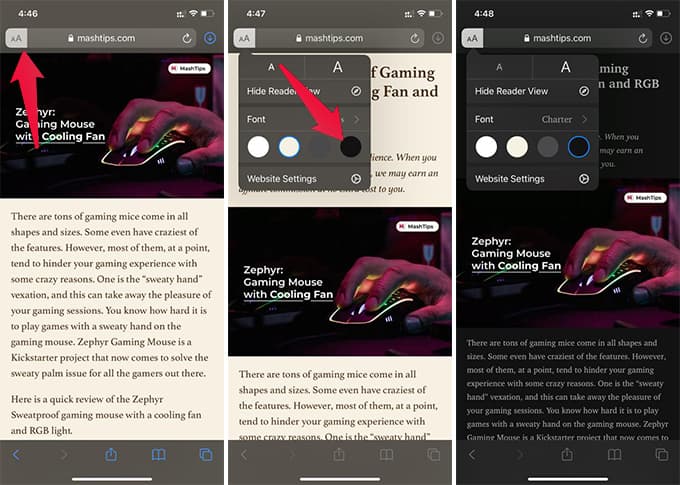 Open Safari on the iPhone and visit a webpage.
Long-press the Aa button and enter Reader View.
Tap the Aa button.
Below the "Font" section, choose from the color listed.
If you are looking for a theme that matches the dark mode on iPhone, choose black color. It will show the white text in a black background, which can help you save power and reduce eye strain.
Safari Reader View FAQs
How to turn on reader view in Safari?
On Safari for iPhone, you can long-press the Aa button beside the address bar to turn on reader view for a website.
How to view pictures in Reader Mode in Safari?
Reader View in Safari loads most of the images on the web page. If it doesn't, reload the webpage and turn on reader mode again. Even if the problem persists, you can turn off the reader mode in Safari to view all the images.
How to disable reader view is Safari for all websites?
If you want to disable automatic reader view for all websites in Safari, go to Settings > Safari > Reader > Toggle off All Websites from your iPhone.
Where is the reader button in Safari?
You can long-press the Aa button to enable and disable reader mode in Safari.
How does the Safari reader view work?
Safari reader view takes out the essential texts and images from a webpage and shows you. It removes the rest of the fancy elements, scripts, and other photos from the website.
Why is the Safari reader view available on some websites?
Safari reader view is available in most of the websites. But, some webpages might not be recognized by Safari as readable content. Such webpages will miss the Reader View in Safari.
Reader View in Safari is definitely a helpful feature when you are reading news and blogs. It can help you avoid annoying ads and popups on the window, and focus on the main content while reading.